Last Updated on
Our editors independently research the best products online to produce this list. We may receive commission on purchases made from the links below but this will never affect our product choices.
---
Top 10 Best Rice Cookers
When checking out and choosing which is the best rice cooker in the UK market, the one thing that may strike you is the array of options to choose from. It certainly feels as if owning a rice cooker is in vogue right now, but they are so easy to buy and use that it does make a lot of sense.
So, we will look at a number of different options for rice cookers out there on the market to decide on the best rice cookers. Some are more elaborate than others with what they can do, but they all have one thing in common: to produce perfect rice, even brown rice.
How we Compared Rice Cookers
To find the right rice cookers we considered multiple factors, including:
Size
Automatic warm function
Capacity
Ease of cleaning
Materials
Additional accessories
Our editorial team carefully researched and selected products that would suit a wide range of needs to take your kitchen experience to the next level. We set out this list after assessing customer reviews and evaluating pros and cons in line with the above comparison points.
Find more about our behind-the-scenes process here.
Rice Cooker Reviews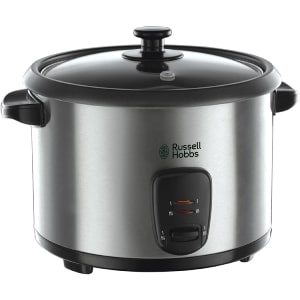 With a 1.8L capacity, this Russell Hobbs rice cooker is capable of cooking more than enough white rice for a hearty meal. The fact it also comes with the ability to keep rice warm for some time after cooking. 
The best thing about this rice cooker is the ease of use. It doesn't have all of these different cooking options as you will see elsewhere. Instead, it's more of a cooker where you switch it on and then allow it to move over to keeping rice warm once the cooking process is complete.
This model comes with an additional steaming tray, and that's going to be perfect for cooking fish and vegetables in your rice cooker. Of course, that's why it's also referred to as a steamer. 
Add in a spatula, measuring jug, and the fact that the cooker is very easy to clean. The cooker comes with a stainless steel base along with a glass lid. That makes it easy to keep track of what is going on throughout the cooking process.
Overall, this machine is all about delivering cooked rice without doing anything too fancy or elaborate. It does this with the flick of a button, and your cooked rice is going to be ready in a matter of minutes.
However, take note that it only comes with a few accessories. Also, you have to be careful and always remember to flip the switch to put off the heating feature.
Pros:
It comes with an additional tray for cooking fish or vegetables
Can cook up to 10 cups of rice at any one time
Keep warm function does perform exceptionally well
Very easy to clean
It comes with a spatula and measuring cup
Cons:
Could perhaps have done with a few more accessories
You may need to be extra careful and remember to flip the ON/OFF switch to put off the heating element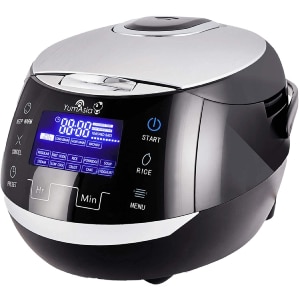 The first thing you will notice with this Yum Asia Sakura rice cooker is that it looks like it's from outer space with the digital screen. Also, it clearly can do more than simply delivering you some cooked rice.
It clearly states how it can be used to cook the best rice possible, and that applies no matter if you are dealing with long grain rice, white rice, risotto rice, or anything else. 
The rice cooker does have seven cooking processes, which will make a significant difference to the end results you are able to achieve. It should lead to you being able to produce fluffy rice, sticky rice, sushi rice, or anything else you desire. Also, don't forget the keep warm function.
But this cooker is more of a multi cooker than simply something that deals with cooking perfect rice. In this regard, it has to be about the best rice cooker due to how it can handle all sorts of things, from making yoghurt to porridge and everything else in between. Also, it does this via a press of a button, so using it is a breeze.
This particular model is glossy, but it's about more than just how it looks. It cooks rice in any way you want. It deals with basmati rice, brown rice, anything you want. As high-end rice cookers go, this is the best.
Overall, this rice cooker is exceptional! But, you need to be extra careful when washing it to avoid tarnishing it.
Pros:
It does a whole lot more than just cooking rice
It's easy to operate even though it has so many options
It's quick and easy to clean
It's relatively small in size considering what it can do
Cons:
If you are looking for something just to make fluffy rice, then this may be too involved
You may need to be careful washing the bowl, or it may tarnish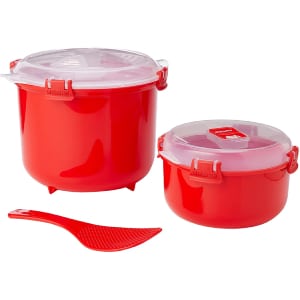 This microwave rice cooker is nothing special to look at, but if you are looking for a simple way to get the best white rice without spending a fortune, then this could be the ideal solution.
What you have here is a dish that will cook rice and other grains and even polenta. It comes with a 2.6L bowl, and that's pretty big.
The way it works is simple. The clips force the lid down, and it becomes almost like a small pressure cooker when placed in the microwave. It also has a steam release vent on the top, which will stop the pressure building too much and cause problems. Now, as rice cookers work, this is a basic one. It hardly has a keep-warm function, for example.
But as this is plastic, it does mean people worry about the materials, but there's no need in this instance. The plastic used is BPA-free, which means there will be no nasty chemicals or anything flying around.
This is the best rice cooker if you are looking for something cheap and easy to work with. As long as you can measure out the water to rice ratio and use a microwave, then it's going to do a good enough job for most people.
It does come with some limitations. It only has a few accessories, and its feature of cooking rice is not that needed by most people.
Pros:
It takes up little space and can be stored in a cupboard
You just use your microwave for cooking rice
It contains no harmful chemicals in the plastic
The clip lid does add so much pressure to help get the best-cooked rice possible
It's more basic than most rice cookers, but it still makes perfect rice
Cons:
You might only get a few accessories
You may not like using a microwave for rice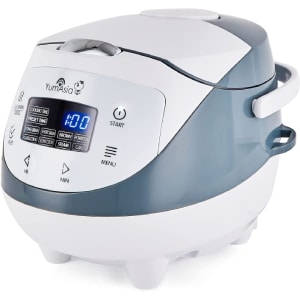 This is another model by Yum Asia, and it's easy to see why we have included it when you check out what this machine is capable of doing aside from being able to cook rice. 
First, it really is condensed down in size, so if you want a compact rice cooker, it is the one for you. You get a bowl that holds 0.63L, so don't expect to cook mounds of rice. That's just not going to happen, although this does still equate to three cups of uncooked white long-grain rice. But here's an important thing: this machine will always cook rice to perfection, and it does so at the touch of a button. Setting cooking times is easy with this model. 
The machine comes with a digital screen containing all of the different cooking options, and there are lots to choose from. It will cook rice, do slow cooking, keep rice warm, cake baking, the list is pretty much endless, and all done in this small machine.
The inner pot is also of high quality. It's manufactured from ceramic, and it's going to be easy to clean after use. It also has rice levels on the inside, so you can keep track of what you are putting into the bowl, and that will also make the cooking process a whole lot easier.
This model may be small, but it packs a punch in what it can do. If you want to get the best rice cooker on the market, but don't have the space, then this could fit the bill perfectly.
Since it is small, it may not be suitable for large families, so make sure to consider that. Also, you may need to wash it a bit more than usual to make sure you remove stains and unwanted smells.
Pros:
It packs so much into next to nothing
It does more than simply cook rice
It is very easy to clean
It takes up little space
It has a number of programmed functions
Cons:
If you have a large family or cook in bulk, then this may be too small.
You may need to wash the bowl thoroughly before use to remove that new smell.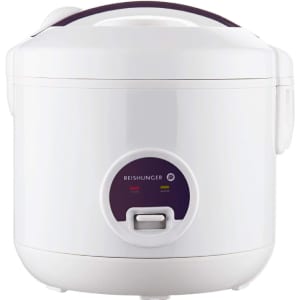 Cooking rice for a family means you need a big pot, and this Reishunger rice cooker and steamer is going to be able to produce enough rice for up to six people at a time. That alone will make this an attractive proposition for people in that type of situation.
The rice cooker doesn't hit you with too many functions. It's primarily for cooking delicious rice and has an on/off switch followed by the automatic keep-warm function. That should suffice, but it does mean you won't really be able to make a multitude of other dishes.
However, the best thing about this model is the way it stresses that it is practically impossible for you to go ahead and burn rice in it. The technology in the model simply does not allow that to happen. It doesn't just get things up to a boiling point and then forget about it.
They have also made it as easy as possible to use. There's no attempt at adding in all of these buttons and programs. Instead, it's all about cooking rice and getting the best brown rice or white rice possible.
There's not a lot more to say about this model, apart from its functionality, and it will cook for six people at a time. However, you don't think that this makes the machine big and bulky. Instead, it's a bit smaller than you would expect, so it needn't take up too much space.
If you are all about aesthetics, you may want to think carefully about getting this rice cooker as it is not as attractive as other models.
Pros:
It does cook a lot of rice
It makes life easier when it comes to its functions
It doesn't complicate matters by focusing pretty much just on rice
It's smaller than you would expect for it cooking so much rice
It won't burn even on quick cook mode
Cons:
Some people may have liked the option to cook more things
It's not the most attractive looking device
Joseph Joseph has built a pretty good reputation for themselves for innovative products, so it's interesting to see that they have moved into the microwave rice cooker market.
With this model, what you get is something that has a 2L capacity, and it's made of plastic. However, they make a lot of their products from plastic, so that's nothing unusual.
The idea here is that it's an all-in-one solution. You can measure the rice in the cooker. You can wash it and rinse it. You can then add water and cook it in your microwave. Also, it works with other grains, so it covers many bases in one thing, and that's pretty cool.
But they go one step further with the design. The rice paddle clips onto the top, and it then seals the lid down while it offers you a handle on either side. That is a genius design, but then there's the way it cooks rice.
To be honest, when you use this to cook rice, it does an adequate job. It's going to steam it in the microwave just as you would expect, and then washing all of the bits and pieces is easy enough to do. 
Overall, this rice cooker is more about how it does things from a design perspective than doing anything too elaborate with rice cooking. However, it's a good enough product that works as well as it needs to. Also, it's dishwasher-safe compared to others.
You just need to be careful not to mix things with colour in this rice cooker as it may stain the plastic. Also, you may need to wash it a bit more thoroughly to make sure you clean it properly.
Pros:
The design features are outstanding
It's a big enough pot for a number of cups of rice
The paddle as the handle is genius
It's easy to store in a cupboard
It works well with making rice in the microwave
Cons:
Don't mix things with colour in it as it may stain the plastic
It takes some washing to get the rice out of the sieve
With a 1.8L bowl, this rice cooker by Tefal is able to cook up to 20 portions at any given time, and that's quite impressive for a machine that won't take up too much space in your kitchen.
Tefal does make nice machines, and this rice cooker is another in a long list of brilliant products. However, they have sought to make things as easy as possible, so if you want a number of options and cooking methods, you will be disappointed.
Instead, what you have here is a basic rice cooker, but it does produce the best rice possible and does so with the minimum of fuss. It comes with an automatic cooking option, along with the ability to keep rice warm via the special keep warm function for some time. That's about it when it comes to options, but it's good enough when all you want to do is to cook rice.
The pot in the machine is non-stick, and it's also dishwasher safe, which makes life so much easier. The lid has its cool touch approach, which means you won't burn yourself when it comes to opening up the cooker. 
The rice cooker will calculate the time and keep track of the temperature resulting in rice cooking to absolute perfection. 
Overall, this cooker by Tefal is very easy to use, and we love that about it. However, it has a medium size, so it may not be ideal for some large families.
Pros:
The simplicity of this machine is a real winner
The fact the bowl is dishwasher safe is an added bonus
The cool touch lid stops you from hurting yourself
The automatic sensors mean you will have perfect rice every single time
It has a keep-warm function that works perfectly and keeps rice fresh
Cons:
It's limited with the things it can do, so it may put off some buyers
It's medium-sized for capacity
This rice cooker by Lekue may not be the first one that catches your eye, but it will be something that will definitely stick. If you want something that is very easy to clean, which means throwing it directly into the dishwasher, this is the perfect solution.
The design of this rice cooker has been created via science to give you the best-cooked rice possible. Also, the company states how it's good for cooking quinoa, so that may be an added bonus for some people, even though most rice cookers are capable of doing this.
This rice cooker is also faster than others. It can do four portions at a time, and it doesn't have to wait on water being boiled, as that can be the slow part in other rice cookers. 
The lid is also an ingenious design since it incorporates a colander to drain everything with ease. This is a great touch, and it could also be something that sways you toward potentially purchasing this product.
Finally, the design is such that you can cook the rice, drain it, and then serve it at the table, all with one pot. That will save on dishes being used, and then you simply throw it all into the dishwasher. It's as easy as that.
Overall, this Lekue dish does nothing spectacular when it comes to cooking rice. It does the basics, but it's another example of how the design of the product can make a huge difference.
However, you have to consider its small size if it is suitable for your cooking needs. Also, it is not that attractive, but if you are all about functionality, this is a good contender for the best rice cooker in the UK!
Pros:
The design is amazing
The way the lid allows you to drain the rice helps so much
Being safe dishwasher speeds up the cleaning process
Being able to serve rice in one dish means you reduce items being used
It covers the basics well, just as you would expect from rice cookers
Cons:
It's not the best looking dish, so not good for a fancy dinner party

It's relatively small at 1L capacity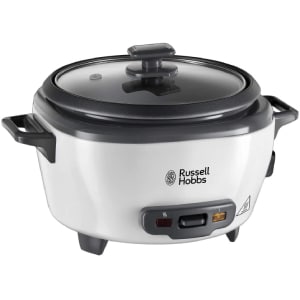 Another model by Russell Hobbs now, and this version can serve up to six people at a time, which is quite impressive. Also, it's not going to complicate matters when it comes to the cooking of rice, so don't worry about various programs as it doesn't have them.
Instead, it focuses on the basics of automatically cooking the rice and then flipping it over to that warm function when everything is ready. This does ensure you get the best-cooked rice possible, and Russell Hobbs certainly appears to have perfected the art of doing this in their rice cookers.
The key parts with this model are all dishwasher safe, so cleaning everything will be a breeze. This applies to both the bowl and the glass lid, so you have nothing to worry about.
The model also comes with a steamer basket included, so you are able to cook some amazing vegetables as well as different types of rice, so it's a bit more multi-functional than you may have been expecting.
Overall, this rice cooker is relatively small in size, considering it can cook six portions at a time. It covers the basics, and if you are looking for a straightforward rice cooker, then this is the perfect one to buy.
Since it is a small rice cooker, its capacity may not be enough for you, so you need to think carefully about that factor.
Pros:
It can cook for six people
It's all dishwasher safe
It will automatically cook rice and then keep it warm
You get a steamer basket included for vegetables, or even fish
It's one of the easiest rice cookers to operate
Cons:
If you like big portions, then its capacity may not be enough
It's few features may not be enough for you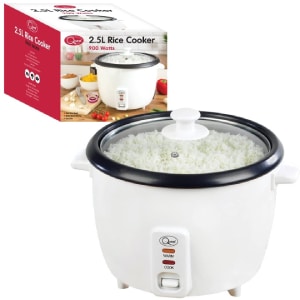 This rice cooker comes with a 2.5L capacity, and that's pretty big compared to so many others on the market! 
The bowl that's included is non-stick, and cleaning it will be easy enough. The machine itself covers the basics, but it's also going to provide you with the ability to cook other things such as stew or anything else you may put into a slow cooker.
The rice cooker will do the usual thing of switching over to the keep warm function once it knows the rice is cooked, and that's the minimum you would expect from this sort of item.
You are limited in that it doesn't come with a steamer basket, but it has a measuring cup and spatula, so measuring quantities is easy. 
Overall, there is nothing fancy about this rice cooker, but if you want something that does the job, then this model is not going to let you down at all.
However, you need to consider that it only has basic functions. So, if you are up for more features, you have to really think about whether this rice cooker is right for you or not.
Pros:
It's basic but works well
You can make stews and other things aside from rice
It's very easy to keep clean
It doesn't take up much space in your kitchen
It has an automatic warm function
Cons:
Some people may not like having so few options
It could do with a steamer basket
Buying a Rice Cooker – What to Look For
So what should you be looking for when it comes to buying a rice cooker? Well, several key features will stand out for most people. Also, it's best to know what to expect from the best rice cookers before you spend any money.
First up, they will all cook rice to perfection. That is an absolute given, and it's the main reason why people buy this appliance, to begin with.
However, you need to look beyond that and check to see what else it can do for you, as the best rice cookers can be used in various ways.
These devices can often be multi cookers. They can be used to cook a whole lot more than just rice.
Some will be limited to other grains, so expect quinoa, barley, or anything else along those lines to be included. On the other hand, some will also be able to steam vegetables and fish while others will go an extra step and help you to make casserole and stews, along with a whole host of other recipes.
Basically, you need to look at the model's functions and see how it correlates to what you will be using it for.
Dealing with the Size
You must also pay close attention to the size of the pot that comes with the rice cooker. There is so much variation that it covers rice cookers, perfect for couples up to large families and everything else in between.
The bowl size that comes with it is a good indicator of how much rice one pot can cook. However, most will tell you how many portions and what that equates to when it comes to the number of people.
But don't fall into the trap of thinking that a large number of people equates to a large machine. That's not always the case, as we have shown with some of the examples.
Don't Worry About the Keep Warm Side of Things
Something that you certainly don't have to worry about is the keep warm side of things. They all have this, apart from those rice cookers that are designed to be used in the microwave.
Even the most basic electric rice cooker has this function, and it's always going to be automatic. It's all done thanks to the way in which a rice cooker pays attention to the temperature of the pot and then flips over to keep it warm instead of always heating and cooking.
Look at the Extras
When buying a rice cooker, think about the different extras that come with the model you are interested in buying. Rice cookers will come with various extras, including steam baskets or trays, devices for cooking eggs, spatulas, measuring cups, and so on.
However, this is not universal. Some models are very basic and give you a spatula and cup, and that's it.
You should also check to see if they have to measure lines on the inside of the pot. That can certainly make a difference when it comes to getting the perfect water to rice ratio, as that's the key to getting that perfect rice every time.
What You Shouldn't Worry About
When buying a rice cooker, there are several things that you shouldn't worry about.
First, there's the way in which it cooks rice. You have the same approach no matter if you buy the cheapest model on the market or the most expensive rice cookers currently available. It all uses water and rice before the cooker takes over.
Also, don't worry too much about different options. Yes, it can be nice if you have a rice cooker that can also make porridge, but it's not the end of the cooker if it doesn't allow you to do this.
Size is not an issue either. They don't tend to be too bulky and are often smaller than instant pots or multi-cookers that are on the market. They are also easy to store and clean, with most being able to be thrown into the dishwasher and then forget about it all.
Things to Consider When Buying a Rice Cooker
But in order to simplify things, here are the key points you should consider when you are looking at buying a rice cooker.
Think about how many portions of rice it can cook at any given time
Make sure it can be washed in the dishwasher just to make life easier
Make sure you can easily keep an eye on the rice while it's cooking
Check the size and how easy it is to store the appliance when not in use
Apart from those different things, there's not much more to say when buying cheap rice cookers. 
Our Key Thoughts on the Best Rice Cooker
Even if you are new to the idea of cooking rice, rice cookers can change your life. You don't even need to worry about buying the best Japanese rice cooker money can buy. Instead, the best microwave rice cooker on the market may be perfect for you if you only cook rice every once in a while.
Don't complicate things if you are new to rice, even though these cookers can make a huge difference in making rice pudding, sushi rice, or homemade curry.
The fact you just need to plug them, add water and rice, switch them on, and then leave is an amazing thing, and that's one of the main reasons why we love them as a device.
The microwave versions can also work just well. However, you can forget the idea of steaming things at the same time as the rice since they can only do one thing at a time.
But overall, the best rice cooker for you is undoubtedly going to be the one that is capable of producing rice with as little hassle as possible. They are easy to use, easy to clean, and the main thing is that you know in advance what you are getting even before you add in the water and rice.
Also, they do always cover every type of rice, which means you can make a plethora of meals, and please don't forget rice pudding. It's going to produce even the perfect pudding every single time, and who doesn't enjoy the likes of that?
Our Overall Conclusion
So, what's our overall conclusion when trying to advise you on the best home rice cooker in the UK? Well, any of the ten we have listed above are going to perform well but you can go for Russell Hobbs 19750 Rice Cooker and Steamer. It's simply a case of checking what they offer and how it relates to your own needs.
Just because you are looking at the cheapest rice cooker doesn't mean it's the worst. Instead, these rice cookers are often just basic in what they do, and they focus on being the best electric rice cookers around without dealing with steaming vegetables or anything else.
There's no doubt that the best small rice cooker is going to change your life. The way in which it can ensure you get the perfect fluffy rice every single time will transform the way you eat your meal. So, check out each of our options for the best rice cooker in the UK have to offer and see which one fits the bill perfectly for you.
Additional Resources