Last Updated on
Our editors independently research the best products online to produce this list. We may receive commission on purchases made from the links below but this will never affect our product choices.
---
Top 10 Best Microwavess
Can you imagine a kitchen without a microwave in it? Probably not, as it has become one of those mainstays without which life would never feel the same.
But as you look at the market, you will notice that there appears to be an ever-growing number of microwave ovens out there for you to choose from. This makes life hard, but that should not be the case, as we have looked at the humble microwave oven and selected the best models.
So, let's check out our list of the best microwave in the UK!
How We Compared Microwaves
To find the right microwaves we considered multiple factors, including:
Usage
Additional features
Size
Materials
Functionality
Our editorial team carefully researched and selected products that would suit a wide range of needs to take your kitchen experience to the next level. We set out this list after assessing customer reviews and evaluating pros and cons in line with the above comparison points.
Find more about our behind-the-scenes process here.
Microwave Reviews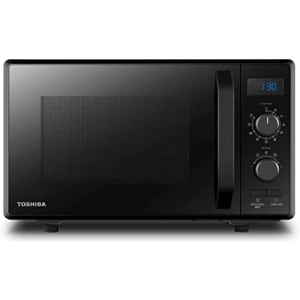 Our editor's choice is this model by Toshiba, and it's easy to see why we love it so much. Not only does it come with an energy-saving mode, but it offers you a crispy grill as well, and that's an impressive addition that you may not see in every model.
The problem with the older microwave oven was its ability to ruin some food, so Toshiba has sought to rectify that with this model. It's one of the many combination microwaves available now. It basically cooks the food from the inside moving out, and this is certainly a better way to cook food in general.
Also, it comes with five power levels, and eight cooking presets, and at 23L capacity, it's big enough for most dishes.
While the Toshiba 900w is a great choice, it does come with some disadvantages. The buttons may not be that efficient, and with the microwave's large size, it may not be ideal for smaller kitchens.
Pros:
The crispy grill doesn't leave food soggy
With multiple power levels and presets, you can cook all sorts of things in this model
23L capacity gives you enough space for all sorts of meals
The eco-mode will save you both money and energy
The microwave is very easy to use, and the key is it does a good job
Cons:
The buttons on the microwave may not be that effective
At 23L, it might be too big for small kitchens
This Panasonic NN combination microwave is about more than just heating food. It comes in at 27L, so that's pretty big in the realm of kitchen appliances, and it means it can hold a dinner plate inside easily, as that's not always possible with a small microwave.
In this model, the removable glass turntable is larger than most, but you don't think that all of this means this microwave is bulky. Instead, Panasonic has made sure it comes with a slimline design, so it doesn't take up too much kitchen space.
This model comes with an easy-to-use defrost function, a large control panel for easy use, and also has a junior menu. That means even those kids' meals can experience quick and easy cooking without everything being ruined.
This microwave is for more than just ready meals. It's not your standard microwave, but it's easy to use and is one of the best microwave ovens on the market right now.
However, it has some limitations. You may want to be careful when using it as it is quite complicated to use, and the power level might be difficult to adjust.
Pros:
It takes up little worktop space, which is due to a better design
The conventional oven is easy to operate via an impressive control panel
It uses inverter technology for more efficient cooking
It has a large litre capacity for bigger meals
Junior menu for kids
Cons:
It may be difficult to adjust the power level
Some people may find this quite complicated to use
This is the best value microwave on the market, and it's all connected to its rather compact size. At 17L, it's smaller than most, and while this is a manual microwave, it still offers enough functions to make your life as easy as possible.
This model has five power settings, while it also comes with a defrost function. This microwave doesn't have the same bells and whistles of more expensive models, but it does a wonderful job on ready meals as well as some basic cooking.
If you are looking for something basic, this is the best budget microwave that may fit the bill perfectly.
However, there are some things you need to note about this microwave. Its design is not that attractive, and its bottom could be prone to rust.
Pros:
Its compact size is a real bonus when you have limited space
The different power levels are enough for most forms of cooking
A manual microwave that is very easy to use
Small litre capacity makes it perfect for an individual
It does the basic things well
Cons:
The bottom could be prone to rust if not cared for correctly
It may not be the most aesthetically pleasing
Here we have another Toshiba model, and this 20L microwave oven is undoubtedly one of the easiest to use on the market. It comes with enough power levels to make cooking easy, and it's just a highly functional modern microwave.
Along with the cooking levels, it also has a manual timer, while it can cook, defrost, and warm things up according to your instructions. Its size is big enough for a dinner plate, but it's not too big that it will take up a lot of worktop space.
Overall, it's basic but highly functional, and if you are looking to warm up those ready meals, then this model is going to be perfect.
However, please note that this microwave only has a timer of up to 35 minutes.
Pros:
The dials are clearly marked and easy to use
It keeps things simple by restricting options to a basic microwave
It offers a comfortable capacity for most people
It even looks stylish while keeping things simple
Cons:
The timer only goes up to 35 minutes, so that may reduce your options
The dials may be a bit on the large side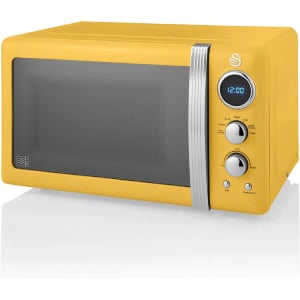 If you want a stylish digital microwave, then this model by Swan is going to be ideal. It has a retro design, but don't think that this is all about the looks, as it's about a lot more than that.
First, it has five power settings. Also, it has an easy cook option, which only the best microwaves seem to have today. As always, it comes with a defrost function, so you can take food straight out of the freezer, and this compact microwave is going to be able to deal with it. There's little doubt that this is the best microwave for looks, but only if you love that retro style!
Although the Swan Retro Digital can be considered the best microwave in the UK, it also has its downsides. Its design is not that pleasing to the eyes, and you may need to take extra care of it to avoid rust.
Pros:
It's going to look great in any kitchen
It's easy to use with simple digital options
The easy cook function is an advantage
The quick defrost makes it easy to get meals from the freezer and onto your plate
It's compact in size, so it won't take up a lot of space
Cons:
You may need to keep on top of cleaning to prevent rust
The design may not be to everyone's taste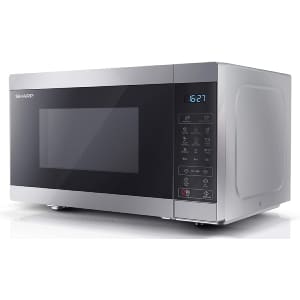 This 900W microwave by Sharp is one of the best grill microwaves on the market. A grill microwave is going to be capable of grilling food without destroying it, and that's not something that every combination microwave is going to be capable of doing.
The grill part has 1100W of power, and that makes a difference. It cooks rather than makes things soggy, and then you can switch between using it as a grill microwave or using it with conventional microwave power.
It also has a simple touch control panel for easy operation, so you can use this for defrosting food, grilling, or warming things up without any difficulty. It also has several auto cook menus included as well.
Meanwhile, you have to consider the drawbacks of this microwave. Some may find it difficult to use it, and everyone may not need the grill feature.
Pros:
It comes with a grill
It has a ceramic base that is resistant to scratches
The auto cook menus will make life a whole lot easier
The ease with which you can change between settings makes this one of the best microwaves around
Different power levels mean for multiple ways of cooking
Cons:
Grill may not be necessary for everyone
Some may find this difficult to function
This microwave by Russell Hobbs has a slick design, but that's not why we have included it here. Instead, it's because of its functionality.
At 20L, it's not a mini microwave by any means. Instead, it's big enough to deal with most meals without taking up too much space. It has five power levels and eight different auto cook options, and that's impressive to us.
But thanks to the design of the interior of this microwave, it's going to prove to be very easy to clean, and we love that about it. Even the best stainless steel microwave can prove to be tricky to get that food residue off, but this model by Russell Hobbs simply requires a quick wipe down, and it's done.
However, you have to consider the downside of this kitchen appliance. When used over time, its light may gradually fade.
Pros:
It has more than enough power levels and auto cook options to keep you busy
The digital timer makes it easy to adjust cooking times
It has a bright interior light making it easier to keep an eye on things
Wiping it down is easy, and that keeps your microwave hygienic
It has 800w of power, so more than enough to warm up those meals
Cons:
If in regular use, then the light can fade a bit over time
The outside may be harder to clean than the inside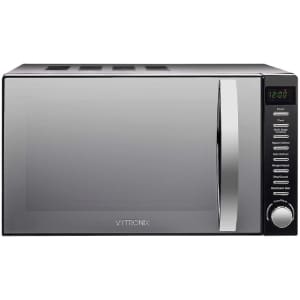 This digital microwave by VYTRONIX has a bit more of an industrial look and feel, which will help it blend into a number of kitchens when it comes to style. Also, at a 20-litre capacity, it's big enough for most people.
It has five power levels, while it offers you something called multi-stage cooking. This is quite impressive and is why we have included it in our list of best compact microwave options.
With the multi-stage cooking, it switches from defrosting to conventional cooking on its own. It senses when it's time to change tactics, so you don't have to worry about doing anything when it comes to the cooking process.
You have to take note, though. This microwave is quite big, so it may not be ideal if you have a small kitchen.
Pros:
Multi-stage cooking is a clear benefit with this microwave
It looks pretty spectacular, complete with a mirror effect on the door
It offers enough power levels to make things interesting when it comes to cooking
It has auto defrost included
It's easy to use
Cons:
While it looks good, the mirror door may be a pain to clean
May not fit into smaller kitchens
For us, this model by Panasonic is the best small microwave oven around. However, don't think that a small microwave oven means it's inferior in some way, as that is not the case.
At 20 litre capacity, it's the same size as so many others out there, but Panasonic has sought to create a slimline microwave that can sit with ease in your kitchen.
This particular model has a simple control panel to operate the microwave, while it also comes with 800W of power, so it can cope with cooking those jacket potatoes with ease. With five settings and a series of auto cook programs, you can set up this solo microwave and let it get on with its job. Overall, this microwave is not going to let you down. It's small, powerful, and easy to operate.
But, remember to consider its drawback. It is quite small, so it may not be suitable if you have a large kitchen.
Pros:
It's compact in size but not compact in performance
This solo microwave is easy to use, and at the touch of a button
It has child locks installed for safety
It has enough power settings and auto cook programs to keep you busy
It's easy to wipe down and keep clean
Cons:
It may be too small in some kitchens
It may look a bit outdated in some kitchens
Finally, we have yet another option from Russell Hobbs, and this time it's their Scandi Grey microwave complete with some 700W of power and a very cool design.
This digital microwave has a wooden handle, which makes it completely different from any other microwave on the market. That is where the Scandi style comes into its own, and there's no doubt that it looks amazing.
For cooking, you have five power levels and eight different settings. That's pretty standard, so there are no fireworks there to speak of. It also has a multi-stage cooking function which will make life a whole lot easier.
But overall, we love this microwave because of how it looks. It stands out, and for a good reason too.
It does have its limitations as well. Its wooden feature may not fit several kitchen designs, and it might take a while for you to get used to this microwave.
Pros:
It looks brilliant. Yes, we have said that before, but it's completely different
It has enough power levels and auto cook functions to keep you happy
It's relatively compact in size, just as solo microwaves should be
It's very easy to operate by anybody
Multi-stage cooking is a useful function
Cons:
700W may take some getting used to
Wooden features may not fit in every kitchen
How to Choose the Best Microwave Oven
As you can see from our microwave reviews, it's easy to find the best microwave under £100 that will last you for years without running into any problems. However, how do you find the best microwave for your needs?
Usage
The first thing to do is to think about what you will be using your microwave oven for. We have tried to cover the main reasons you may want to buy a particular model throughout our microwave reviews, so pay attention to that.
Do you need a grill function? Do you need an oven combi? Will you be defrosting frozen food on a regular basis? Do you want something on your kitchen counter, or does it need to be incorporated into your kitchen units?
The best microwave for you is going to be the one that meets those needs. However, as you can see, you need to be aware of those needs first.
Additional Features
But let's look a bit closer at what you should be looking for in a microwave.
Now, not everyone will have a microwave grill. That is a bit rarer and only available in certain models. The same goes with it having an oven function. You won't often find that in one of the solo microwaves where they stick to the basics.
Size
Also, don't be fooled by the litre capacity that comes with the microwave. Instead, check the actual physical dimensions of the model you are interested in, as that's the only sure-fire way of knowing how big this thing is going to be.
Materials
Furthermore, check what it's made from. Not every single microwave has a stainless steel interior. Instead, most are ceramic or acrylic, which will change how you clean and care for your microwave. Of course, that also changes the odds of things rusting if you don't look after it correctly.
Functionality
Finally, pay close attention to the cooking functions. While having auto cook is a great thing, it's not included in every model. If you are the type of person who wants to just walk away from your microwave and let it do its thing, then you might need that auto cook option.
So, this is what we would suggest in order to help you find the best microwave for your needs.
Look at where it's going in your kitchen. You want it to be able to fit without it being a tight squeeze.
Consider the litre capacity and whether it can hold a dinner plate. Use a plate as a guide to the size.
Understand how to clean it. Food is going to go everywhere in it, so you need to know how to get it sparkling.
Is it digital or manual? Which one do you prefer to use?
Is it just a microwave, or are you looking at a combi microwave with an oven function?
As you can see, there's not a lot to it when it comes to buying a new microwave. You only have several key points to take into consideration.
Conclusion
As you can see, we have covered an array of solo microwaves, the best combination microwave, and everything else in between that can be potentially considered as the best microwave in the UK. However, the main thing to take out of this is that getting a new microwave is easy, as they do mainly contain the same functions and do things in pretty much the same way.
It's all to do with whether you want a digital or manual or the space you have available. As long as you take those things into consideration, then any of the microwaves we have mentioned above will be perfect.
However, if we had to pick one, the clear winner is the Toshiba 900W Microwave Oven. It has a 23L capacity which is perfect for a dinner plate or a large Tupperware, and we love the eco-mode that will keep on saving you money even in years to come. With the easy-to-use controls and a grill for different cooking styles, you can't go wrong!
Additional Resources