Last Updated on
Our editors independently research the best products online to produce this list. We may receive commission on purchases made from the links below but this will never affect our product choices.
---
Top 10 Best Can Openers
Getting a new can opener doesn't have to be difficult. After all, there are a number of options out there on the market to choose from when it comes to can openers. However, there is an issue: whether you go for manual openers, a traditional can opener or an electric can opener.
Well, to make life that bit easier, we are going to help you find the best can opener UK stores have to offer. In the end, you will have to make a difficult decision to select the one you think is best for you.
How We Compared Can Openers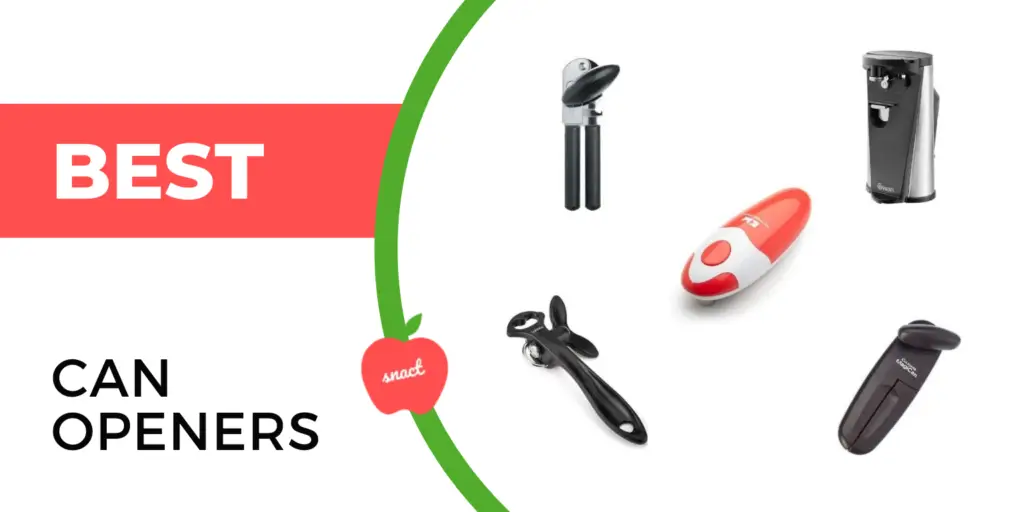 To find the right can openers we considered multiple factors, including:
Manual or Electric
Ease of Use
Functionality
Our editorial team carefully researched and selected products that would suit a wide range of needs to take your kitchen experience to the next level. We set out this list after assessing customer reviews and evaluating pros and cons in line with the above comparison points.
Find more about our behind-the-scenes process here.
Can Opener Reviews
Our editor's choice is this model by Swan, and it packs in everything you could ever want from a can opener. Not only will this model open cans, but it's also a bottle opener and a knife sharpener at the same time.
It has a completely hands free cutting operation, while it will also run an automatic stop and start function as well. Also, operating it is easy since it's a simple push of a lever, and your can opener kicks into action.
Overall, this can opener not only functions perfectly, but it's also going to look the part as well, thanks to the stylish design. The fact that it has a bottle opener included is just an added bonus.
Pros:
Automatic stop and start function
It looks very stylish and will be perfect in any kitchen
It also comes with a useful bottle opener
The knife sharpener is another good addition
Completely hands-free
Cons:
It may not have a manual function
It may struggle with thicker cans
For our luxury choice, we have this model from Kitchen Mama. It operates either left or right-handed, and it works well on both large and small cans with ease.
Furthermore, it runs via an easy to press button that makes it easier for people with dexterity issues such as arthritis to be able to operate the can opener without having to use any force whatsoever.
This is also an extremely safe can opener to use. It leaves a smooth edge, which can be an issue with other can openers where sharp edges are the norm.
This tin opener is ergonomically designed, and it's also available in a variety of colours. It may not include a bottle opener or anything else, but the one thing that's for sure is it does a great job when it comes to trying to open cans.
Pros:
Opens cans with a light push of a button
Ergonomic design so fits easily in your hand
Perfect for people with arthritis
Extremely safe to use
It doesn't leave jagged edges on the tin
Cons:
It may be tricky to get it in the correct position
If the can isn't perfectly circular, it may not work correctly
Next, we have this budget option from Culinare, and it's available in several different colours. Easy to use, it's more of a traditional opener, and it's capable of not only creating some smooth edges, but it will do so on pretty much any tin out there.
With this model, you are looking at only giving the turning knob a light push, and the cutting wheel will get to work. It clamps onto the can with ease, and it's going to open tins in seconds.
Aside from that, this is a very basic can opener, but it does the job it's intended for, and what else would you want from it?
Pros:
Simple design and a simple process
It clamps on easily to the can
It is not difficult to turn the handle
It will leave smooth edges on the can
It cuts around the can and not into it
Cons:
It may not be easy to remove the lid afterwards
It may be too big for some drawers
This can opener from OXO has a traditional look to it, but the best part about this can opener is the way it sits in your hand. It feels comfortable and offers a good grip, and that's more important in an opener than you would imagine.
Actually, the handles are contoured, which will make it easier to hold, so if you have an issue with your hands, this will help. It also comes with a snap button, which means the can is not going to go anywhere. This is not something that's included on all openers, so it's a nice additional feature.
Finally, releasing the tin opener from the can is a simple enough process. You only have to press a button.
Pros:
The handles are a perfect shape
The quick-release button makes life easier when getting the opener off the can
It does lock onto the can securely, so it won't let anything slip
The turning handle is large and easy to operate
It comes with the OXO guarantee
Cons:
It may not leave the smoothest of edges
It may require some pressure on the handles for it to work
Here we have an opener by Lantana, and if you want something with a smooth edge, then this is the can opener for you.
Thanks to this opener, you no longer have to worry about pieces of metal that can be left behind with some can openers. Instead, this can opener lifts the lid away, and it allows you to dispose of it without having to put your fingers in any danger.
With this model, the opener cuts through the seam, leaving a nice lip on the edge of the can. You then need to drop the lid into the bin for safe disposal.
If you are looking for a tin opener that does leave you with a safe edge, then this is one of the best tin openers on the market.
Pros:
It also comes with a bottle opener attached
It's very easy to use
It does leave you with a safe edge on the tins
The blade is sharp and highly effective
It comes with a good grip
Cons:
It can take some getting used to
The handle can be tough to turn, so it may be harder for people with mobility issues
This electric can opener not only comes with a relatively compact design, but it's also dishwasher safe. It can open not only cans of all shapes and sizes but also jars and even packaging. That in itself means it's one of the best electric can openers out there on the market, thanks to the range of functions it has at its disposal.
To help with taking the lid off a jar, it has a non-slip device, so the jar won't simply fall off and smash. Overall, this can opener will work with little effort on your part, which means it's good for people who have difficulty using their hands.
Pros:
It opens different items with ease
It is dishwasher safe
It works with no effort from you
You can wipe it clean with a damp cloth
It offers safe disposal of the lids due to the way it cuts
Cons:
It may not have a bottle opener function
It may be too big for some countertops
This can opener is hands-free, and that means it opens cans on its own and with no interaction from you. It works fast, is easy to use, and comes with a built-in magnet that holds onto the lid while cutting. As automatic openers go, then this is a great one to buy.

This model has an ergonomic design, and it's operated by AA batteries, so be sure to keep some extra handy. Also, it's designed to help people with arthritis, and that is something you won't see on every tin opener.

Finally, it's lightweight, it's easy to clean, and it is a can opener that functions exceptionally well at the job it was designed to do.
Pros:
It is automatic and does everything for you
The built-in magnet is strong and holds on with ease
It's operated by AA batteries
The blade only starts cutting when it's safe to do so
It's the best automatic can opener on the market
Cons:
It still requires you to attach it, which can be quite cumbersome at times
You may need to watch your fingers when you release it
If you are looking for the best can opener for elderly individuals, then this is the one for you. It doesn't have too many features, but it will be easy to operate while creating smooth edges instead of a sharp rim.
As an electric can opener, it means there's no manual turning required. All you do is place it on the tin and then press the button; it will open the tin, and then you simply need to remove the opener when done.
As it involves a single press of a button, you don't have to worry about holding onto anything. It deals with almost any sort of tin cans on the market, and it cuts them open with ease.
Pros:
Requires just one push of a single button to operate
The blade is safe, and you cannot hurt yourself
It requires no effort from you to operate
It removes lids without sharp edges
You can clean it with a damp cloth
Cons:
It uses AA batteries, but they can run out quite quickly
It may take a few attempts to get used to the magnet
This electric can opener from Kenwood is also an automatic can opener, which means it does the stopping and starting for you. It also comes with an integral knife sharpener along with a bottle opener, so it has a number of functions it can perform.
This opener also contains a lid magnet, and that means it has safe disposal, and you don't need to get your fingers close to any metal. To operate the opener, you push the lever, and it clicks into place. Then, the automatic can opener kicks into action and does everything else for you.
It comes with removable parts for easy cleaning, and the opener also comes with a non-slip base, which adds to the safety side of things.
Pros:
It's an automatic can opener
It has removable parts to help with cleaning
The magnet holds the lid, making everything safer
The start button is easy to operate
It has additional features with the bottle opener and knife sharpener
Cons:
It does take up some space in your kitchen due to its size
You must align everything perfectly for it to work
Finally, if you are looking for the best tin opener from an ergonomic perspective, then this is the one for you. It may not have that many features, but the non-slip handles will sit perfectly in your hands.
Also, even though it's a manual opener, it does leave a smooth edge when opening. It's made from stainless steel, and the entire thing is so easy to use with a simple turning knob to operate it.
It comes with a bottle opener attached to the can opener as well, and that's just a nice additional feature that you don't always get with can openers.
Overall, it's the way it is easy to hold this can opener that makes it so good. It's safe, easy to fit onto cans, and opens in seconds, so what else is there to want?
Pros:
The handles are easy to hold and comfortable
It has a bottle opener included with the can opener
It creates a smooth edge
It's easy to attach it to the tin
It's made from stainless steel
Cons:
It does require some pressure to get this manual opener to work
It can be quite fiddly to attach it at times
What to Look For in a Can Opener
When it comes to can openers, then you still have several things to think about before deciding which one to buy. After all, not all tin openers are going to be the same.
Manual or Electric
First, you need to choose between an electric opener or a manual opener. This is pretty easy to do as you should be aware of your own individual preference.
An electric can opener is best if you have problems with your hands. The ease with which it can be used is pretty amazing, and the best electric can opener is also going to have a strong magnet to hold onto the lid when in use.
Ease of Use
Also, with the best electric can opener, you want it to be automatic. Look for it to be operated with a simple lever before the blade starts cutting for you.
Regarding manual can openers, then we have included several options in our can opener reviews. While they don't tend to come with additional features, they should be able to open a range of cans with ease. Some manual options will also come with a magnetic lid holder, and that means it's easier to dispose of the lid of the tin once it has been cut.
With the different can openers on the market, you want to be aware of how easy it is for you to operate. An electric can opener will clearly be better for people with arthritis but do look for it to have non slip feet for safety reasons.
Functionality
With a can opener, many will now have a modern design, but that's not the most important aspect for people. Instead, it's how it removes the lid, as not all tin openers are the same. Also, while some have a magnetic lid holder, that's not something across the board aside from an electric can opener.
So, to summarise what to look for when looking to buy tin openers, we suggest the following.
Decide if you want to use an electric or a manual opener for your cans.
Decide if the knife sharpener is actually important.
Be aware of how it operates. Does it use a lever to engage the blade?
Can it open all cans, or is it selective?
How do you remove the lids from the opener?
Is it automatic, or do you need to engage the opener?
How do you clean it?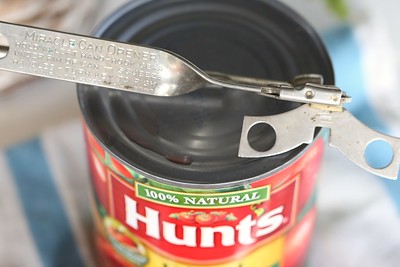 It should then become easier for you to select the correct tin opener for your needs by thinking about these points. As you can see, it's not asking for too much from you, but they are still important points and questions to answer.
Final Thoughts
Buying can openers is an easy thing to do. However, the tough thing is that there are so many tin openers to pick from on the market.
If we had to pick just one can opener, it would be Swan Electric Can Opener, thanks to its completely hands-free operation. Not only does it look stylish to suit any kitchen, but its 3-in-1 design means you will have less clutter in your drawers, thanks to the integrated bottle opener and knife sharpener.
No matter what you decide, the chances are that a tin opener from our list is going to be the perfect one for you. All you need to do is to find it.
Additional Resources