Last Updated on
Our editors independently research the best products online to produce this list. We may receive commission on purchases made from the links below but this will never affect our product choices.
---
Top 10 Best Toasters
A toaster will turn your plain and boring slice of bread into a crispy snack for breakfast. But it can do more than that; you could use a toaster for cooking bagels, English muffins, crumpets, teacakes, sweet potato toast, and all sorts of pastry.
If you're searching for a brand new toaster, we've got you covered in this guide. Whether you are looking for four-slice toasters or two slice toasters, we will give you insight into the different types of toasters available to buy. We'll be looking for the best toaster in the UK stores have to offer, and we also take you through some of the factors you should consider while analyzing some of these toasters.
Let's get down to it, shall we?
How We Compared Toasters
To find the right toasters we considered multiple factors, including:
Number of Slots
Shade Settings
Display
Preset Food Types
Defrost Setting and Reheat Setting
Dual Controls
Materials
Automatic Shut Down
Our editorial team carefully researched and selected products that would suit a wide range of needs to take your kitchen experience to the next level. We set out this list after assessing customer reviews and evaluating pros and cons in line with the above comparison points.
Find more about our behind-the-scenes process here.
Toaster Reviews
At first glance, you may think this is a typical 2-slice toaster, but it's designed with extra-long slots that can fit four slices of bread and thickly sliced bread, too. Of course, that clever design saves space and makes it possible to accommodate slices longer than average.
What's more, it comes with all the functionalities you might need to toast your bread, from variable browning setting, reheat function, cancel button, to defrost settings. Not to mention, it's equipped with an easy-to-lift function that makes it easier for you to remove bread from the toaster. It also features a crumb tray that collects bread crumbs, keeping your kitchen tidy and clean.
The big question is, can it fit bagels? If we're talking about extra-large bagels, it might be hard to push them through the slots. However, if you want to toast regular-size bagels and buns, this toaster won't be a problem.
Otherwise, it's a solid toaster with double walls and stainless steel housing that can withstand harsh conditions. As long as you maintain it regularly, it should make your breakfast for a couple of years.
You just have to remember, though, that it may not be suitable for extra-large bagels due to this toaster's size. Also, you have to consider that its housing may not be as durable as other models.
Pros:
Durable stainless steel housing
Two extra longs slots that can fit large slices of bread
Integrated bun warmer
Reheat option
Easy to lift function
Cons:
It may not be suitable for extra-large bagels
The housing of the toaster might not be durable
Dualit toasters are hand-built, and a unit like this could last for 10+ years before you need a replacement. Part of the reason is that it's made with the finest stainless steel that is unlikely to rust or corrode.
Another cool thing about it is the dual control feature. That means you don't need to power all four heat elements at the same time, and you can have different shade settings for each slice of bread. Better yet, if you want to see your toast without canceling the toasting cycle, you can use the peek and pop function.
Unlike other models, the Dualit 46205 is an impressive unit with a low power consumption rating. Beyond that, this Dualit toaster has one of the widest slots we've seen so far; it's not just for bread, but you can use it for cooking bagels, English muffins, teacakes, artisan loaves, potato waffles, and pastry. It even features a special bagel button that activates the bagel function.
While this toaster has some impressive features, it might not toast the bread on all sides in some situations, and the timer may not be the most reliable in getting the results that you desire.
Pros:
Peek and pop function
High lift mechanism
Extra-wide slots
Bagel setting
Cons:
It might not produce evenly toasted bread
May not be able to rely on the time
If you're looking for the best budget toaster with four slots, this toaster might be the best four-slice toaster for handling different tasks! 
The Breville VTT476 has a gloss finish matched with polished chrome on the edges. But what makes this 4-slice toaster exceptional are the extra-wide slots for bread, bagels, toasted sandwiches, and crumpets, making it easier for you to prepare a wide variety of pastries and get a perfect slice.
Talking about the settings, you get two hand levers on both sides with a lift and look feature that makes it possible to monitor your toast without interrupting the cycle. Other notable features include reheat, defrost, and a variable browning control with up to 9 shade settings. All the control buttons are illuminated, so it is easier to operate.
While this is the best 4-slice toaster, the housing is made from plastic, and the exterior cover of this four-slot toaster might not be as durable as expected. Since this toaster is on the smaller side, it may not be the easiest to clean, and it may take a little more effort to get the crumbs out from inside.
Pros:
Variable timing control
Removable crumb trays
High lift feature
Defrost and reheat setting
4-slice design
Cons:
It might be fragile
It may is not the easiest to clean
Russell Hobbs is one of the most popular toaster brands in the UK, probably because it has been in the business since 1955.
Unlike many toasters that only raise your slice of bread to a standard height, this stylish toaster comes with an extra lift feature to take it to a higher level so that you can check on its process. But that's not all; you can choose between 2 or 4 slots depending on your preference. You can even choose different colour designs from black, red, white, grey, and cream.
For the variable browning control, you get up to 6 different shades. Throw in the frozen, reheat, and cancel settings, and you have the complete picture. Even the slots are wider than average, so you could use it to toast bagels and thick slices of bread.
Unfortunately, it will probably take you longer to cook bread as compared to other premium toasters. What's more, it may not fit larger slices of bread due to its smaller size.
Pros:
Variable browning control
High lift feature
Frozen and reheat settings for dealing with frozen slices/frozen bread
Removable crumb trays
Extra-wide toasting slots
Cons:
It may take longer to toast slices from a fresh loaf of bread
It may not fit larger slices of bread
This 4-Slice toaster is lighter than most units on the market, and even better, Breville used stainless steel on the body to be easier to clean and maintain. Similarly, this four-slice toaster comes with non-slip feet and cord storage to improve safety.
Like most toasters in our guide, this unit is designed with extra-wide four slots so that you can have space for those big slices of bread and English muffins. If you want to keep the temperature consistent, you can use the custom brown settings on each side. The good thing is that you can toast four slices of bread simultaneously but get different brownish results in the four slices.
On the downside, this specific Breville toaster might not be as durable as expected. Taller slices of break may need flipping over halfway through as this toaster is a little on the small side.
Pros:
Independent slice controls
Lift and look function
Removable crumb tray
Defrost and reheat function
Mid-cycle cancel function
Cons:
It may be fragile in some instances
May not fit tall slices of bread
Behold, we have the smallest toaster on our list of the best toaster in the UK! '
Don't underestimate it, though; it can toast at least 60 slices of bread an hour. It uses a patented technology that automatically adjusts the toasting cycle based on the surrounding temperature.
But that's not the only thing that's automatic about it; once the toast is made and ready, it will pop up automatically. You can even check the bread while it's cooking without interrupting the cycle.
To be precise, the slots are 36mm or 1.4-inches wide; that is just enough to toast doughnuts, teacakes, and thick slices of bread. What's more, this two-slice toaster consumes less electricity than your average toaster, but you can increase the wattage if you want faster delivery.
It's almost perfect, except that it doesn't come with four slots. It could be difficult to clean the interior part of this two-slice toaster because of its small size, even though it comes with a concealed crumb tray.
Pros:
Automatic pop up
Peek and pop function
Bagel function
Extra-wide slots
Easy to clean
Cons:
It might be difficult to clean it
Two slots may not be sufficient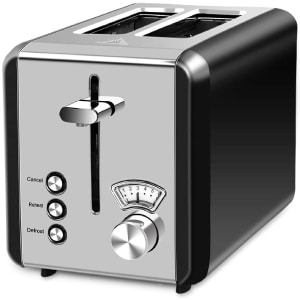 If there was an award for the best-looking toaster, this would take the spot! 
It's not cheap plastic either, and it will probably blend with the rest of your kitchen appliances. Even if we overlook that sleek design, you would still get a toaster with a high lift function, defrost feature, cancel function, and up to 6 browning controls.
The bread slot measures exactly 135mm long, 35mm wide, and 120mm deep. If you do the math, that is more than enough space to accommodate the medium-sized rectangular-shaped slice of bread that you buy in the supermarket.
Thanks to the double insulated shell, if the toaster is too hot, you won't get your hands burned. Since you don't want it to slide off your kitchen countertop, the manufacturer used non-slip feet and made it possible to keep the cord tucked away.
Just one itsy bitsy problem; some doughnuts and bagels are too big to fit in the slots.
Pros:
Double insulated shell
Removable crumb tray
High lift function
Six variable browning control
Three basic functions
Cons:
It might not be multi-purpose
Slots may be small for large doughnuts and bagels
This toaster has slots that are 27 centimetres long, making it the best long slot toaster in the UK! 
It has four different slots, which speed up the toasting process but also means you can toast bread of different shapes and sizes or four smaller slices at a time. Such slots make it easier for you to warm or toast different slices in a short period of time, saving your time and energy. 
This toaster features a browning function, which lets you toast bread to a certain level. The browning function makes it easier for you to toast the bread until it becomes crispy. Well, you can change the browning function based on your personal preferences.
It also features a defrost functionality, which makes it easier for you to warm up cold slices of bread straight from the fridge. Since this toaster comes with a bread crumb tray, it helps you keep your kitchen clean while you are toasting bread. 
However, this might not be too powerful for some users. Also, there may be times that your toasts are not made evenly when you use this toaster.
Pros:
Long slots for toasting extra long slices of bread
Bread crumb tray that keeps your working space clean
A defrost functionality
Various browning options that toast slices of bread to various levels
Four slots that can handle multiple slices of bread
Cons:
It might be too powerful for some users
It may toast some slices unevenly
How about a two-slice toaster that weighs half a kilogram? Believe it or not, it's made out of plastic with wooden accents, and it could be the best two-slice toaster UK stores have on the market. 
However, just because it's light doesn't mean it can't match up to the heavyweights; you still get the handy basic features such as adjustable browning control, toasting timer, defrost, reheat, and cancel settings.
One unique feature about it that will probably grab your attention is the self-centring function. What does that do? It helps to align your slice of bread while it's in the toaster so that it can brown evenly. Otherwise, you will find it easy to clean since it comes with a tray at the bottom to catch the toasted crumbs.
Unfortunately, this toaster might not have an automatic pop-up feature when your toast is made and ready. Additionally, some larger slices of toast may stick out the top, so you may have to turn them upside down to get even results.
Pros:
Self-centring function
Easy to clean
Lightweight
Defrost and reheat
Cord storage and tray for collecting crumbs
Cons:
May not have an automatic pop up
It may be too small for all slices of toast
If you're tired of guessing how long it will take to toast your slice of bread, this unit comes with a digital LED timer. It helps you keep track of the toasting progress and show how much time you've left until your cooked bread is ready.
What if you want to warm up or heat frozen bread straight from the freezer? No problem, just put it on the toaster and adjust the defrost function. Even if your toast is cool but wants to warm it without re-toasting, you could use the heating function.
The knob lets you choose the brownish shade on your bread up to 6 different levels. As soon as the countdown is done, the lever will pop up automatically, but you can lift it higher. Another interesting fact about this toaster is the 800 watts' power rating. If we make a close comparison with most toasters, this Morpilot toaster will save you energy costs in the long run.
Its biggest drawback is that it won't give the best result if you use it to toast just one slice of bread. For a consistent toasting result, you should use both slots at the same time.
Pros:
Easy to warm up frozen bread
Removable tray for collecting crumbs
Extra-wide slot
Defrost, heating and cancel option
Pop up lever
Cons:
It may not be consistent when toasting a single slice
It may take a while to heat up
Types of Toaster
Pop up Toaster
When you think about a toaster, you will most likely envision a pop-up toaster because it's the most popular type of toaster on the market. You can drop the bread into the toaster using a lever or push button and then wait for it to pop up when it is ready.
Once the bread is inside the toaster, it's cooked by heating filaments until it becomes crispy and brown. As soon as the cycle is complete, the thermal sensors send a signal to the toaster to automatically push up the cooked bread; hence the name "pop up toaster".
Toaster Oven
As the name suggests, these types are usually electric ovens that can be used to toast bread. They do more than that since you can use them for baking or broiling almost anything. Unlike a pop-up toaster, you need to put the bread on the racks that are arranged horizontally inside the oven. A warming rack makes it easier for you to heat up bread. However, not all toasters have a warming rack.
Once you've set up the bread, you can close the door and set up a timer until the toast is ready. However, most toaster ovens take longer to cook bread compared to a pop-up toaster; unless you're using a conventional toaster oven that comes with an in-built fan to speed up the process.
Nevertheless, toaster ovens are usually more expensive than pop-up toasters.
Conveyor Toaster
If you're working in a restaurant, a conveyor toaster would be better than a pop-up toaster. This is because a conveyor toaster is designed to cook many slices of bread at once. They're actually built with a heating element at the top and bottom of the stove, similar to a toaster oven; the only difference is that they have a chain-driven belt.
The biggest advantage of a conveyor belt is that you can produce toasted bread faster than using a toaster oven or pop-up toaster. In fact, a typical conveyor toaster can cook 300 to 1600 slices of bread an hour. Of course, a conveyor toaster is complex and way more expensive than a pop-up toaster.
Factors To Consider When Looking for The Best Toasters
Number of Slots (4 Slice Toaster or 2 Slice Toaster)
Most pop-up toasters available on the market usually have two or four slots. A two-slot toaster is small and doesn't take up too much space on the kitchen counter as compared to four-slice models. On the other hand, a 4-slice toaster will double your production speed but will occupy more storage space than a two-slice toaster. Four-slice toasters can handle more slices.
Another factor to consider is electricity consumption; a typical two-slice toaster will consume less energy than a 4-slice toaster.
Ultimately, it all comes down to your preference. If you don't have many people in the house, a two-slice toaster will be enough. But if you have a large family, a 4-slice toaster or a four-slot toaster would be convenient. Not to mention, a four-slice toaster might have variable width slots.
Can It Toast Bagels?
The best toaster shouldn't just cook bread, but it should be able to toast crumpets, teacakes, potato waffles, and pastry. However, the real test would be if the appliance is capable of toasting bagels. How do you do that? It's simple. Just pick a toaster with extra wide slots to fit bagels. It should also feature a bagel setting that helps you prepare bagels.
Shade Settings
Even though you can have a darker or lighter shade of toasted bread depending on how long you keep it in the toaster, you should have different shade settings for cooking your bread.
For instance, does your toaster give you the option to toast one side of the bread? What if you want to get a darker toast shade without waiting for too long? In other words, the more shade settings that are available, the better the quality of your toaster.
Display
Some toaster ovens are designed with a digital display that lets you view the countdown timer, shade setting, adjusted temperature, or any other setting. This would be helpful if you want to closely monitor the toasting cycle to avoid accidentally burning the food.
However, even though the display is an important feature to consider, you can still do without it, especially if you're using a pop-up toaster.
Preset Food Types
Since you won't just be using a toaster for cooking bread, it would be cool if it included a preset feature for different recipes such as English muffins, potato waffles, teacakes, crumpets, and pastry. That way, you wouldn't need to change the settings every time you're toasting something different from bread.
Defrost Setting and Reheat Setting
If you want to cook a slice of bread out of the freezer, the best toaster should be capable of defrosting the bread before toasting it. Similarly, a toaster should have a reheat setting that makes it possible to warm up your toast without cooking it again. If you're thinking about a microwave, it won't reheat better than a toaster since you will only get soggy bread that is too soft. A toaster is quite effective in keeping your toast warm.
Dual Controls
If you want your toaster to consume less energy, you should consider a unit that comes with separate or dual control for each slot. This will make it possible to heat only one slot instead of powering all the slots simultaneously, even if you don't need them. You will also have an option to toast two different slices of bread at the same time using different settings.
Materials
The most durable toasters are made of food-grade stainless steel. Besides the stainless steel being unaffected by fire or heat, it's resistant to rust and corrosion. It's also easy to maintain and clean. However, because steel retains heat, some toasters are encased by hard plastic to keep them cooler.
Some toasters have a glass on the side so that it would be easier to monitor the process and avoid excessively burning the food. If that is your preference, bear in mind that glass on a toaster requires more maintenance than stainless steel.
Automatic Shut Down
Don't you just hate it when you accidentally burn a toast, and you have to deal with the smoke alarm going off? Some modern toasters come with an automatic shutdown feature to prevent that from happening, although you may have to pay a premium price for more premium toasters. Alternatively, you can choose a unit that will alert you with a ding sound as soon as your toast is ready.
Otherwise, you should also consider a toaster that will automatically lift your slice of bread once it has been cooked.
How To Maintain a Toaster
The last thing you want is homemade bread crumbs building up inside your toaster and causing a fire hazard. To avoid that from happening, you should clean your toaster regularly.
Here are a few tips for cleaning and maintaining your toaster.
1. Always unplug your toaster and let it cool down before you clean it.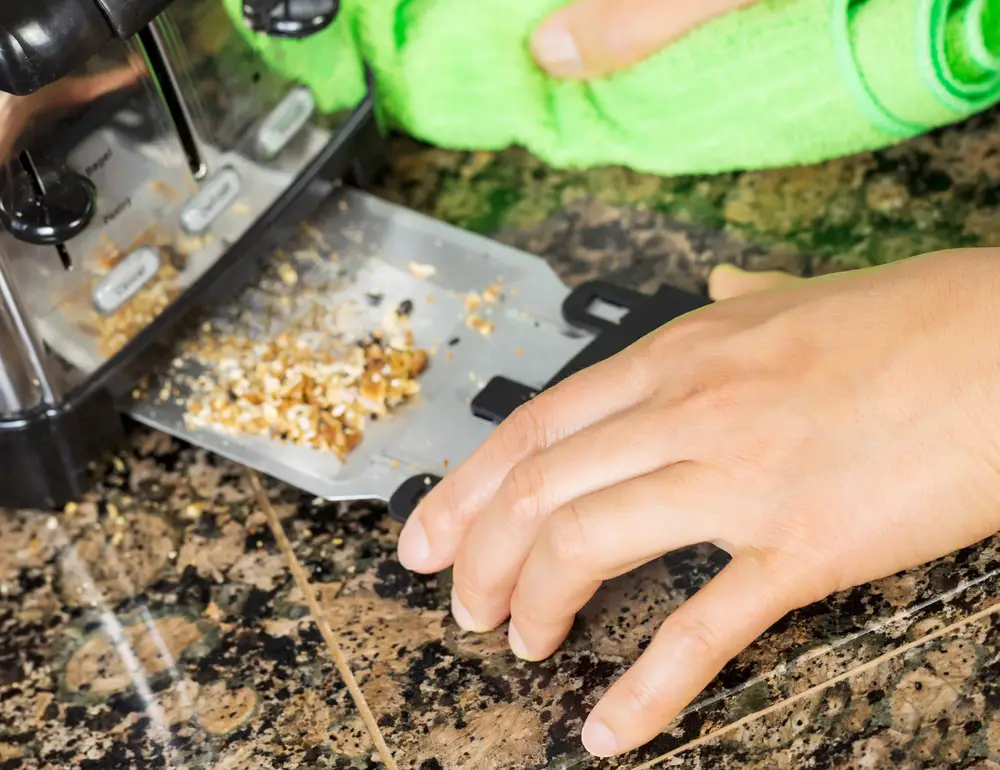 2. You can start by removing the crumb tray and shaking it upside down. Don't forget to clean the crumb tray using warm water mixed with liquid soap and make sure it is dry before placing it back inside the toaster.
3. If your toaster doesn't have a removable crumb tray, you can shake it upside down to get rid of the debris or lose crumbs.
4. Clean the interior of the toaster using a toothbrush or cotton cloth dampened in white vinegar. However, don't use sopping wet cotton or a toothbrush to clean the interior of the toaster.
5. Use a non-scratching cloth or sponge to wipe down the exterior.
6. Make sure that you deep clean the interior of your toaster once every month. Additionally, you should clear out the crumb tray every week.
7. Never immerse your toaster in the water. Likewise, you shouldn't spill water or any liquid directly on your toaster.
Conclusion
Truth be told, no toaster will last forever and just like any other machine. Both the four-slot toaster and the two-slot toaster have flaws. Every toaster that cut this guide has gone through a vigorous research process and testing to be worthy of the review. 
The Severin 2509 is the overall best option as the best toaster in the UK if you prefer versatility; it is also the best four-slice toaster. It is a four-slice toaster best for a wide variety of things. Ultimately, it's all up to you. You can either choose a four-slice model or a two-slice model. A four-slice model is ideal for handling more slices, while a two-slice model is ideal for small households. Whether you are looking for a 4-slice toaster or a toaster with two slots, make sure that you choose a toaster that produces a perfect toast.
Additional Resources