Last Updated on
Our editors independently research the best products online to produce this list. We may receive commission on purchases made from the links below but this will never affect our product choices.
---
Top 10 Best Bread Makers
Bread is a popular food for breakfast and dinner that many households will eat on a regular basis. Although making bread by hand is a fairly simple process, you can't beat bread makers for creating a fresh loaf at home. In today's article, we have searched for the best bread maker in the UK to help you get that perfect crust every time. We even included a buyer's guide to help you make your final decision.
Below are some top-tier bread makers that boast versatility and usability to make brown bread, white bread and more from the comfort of your home.
How We Compared Bread Makers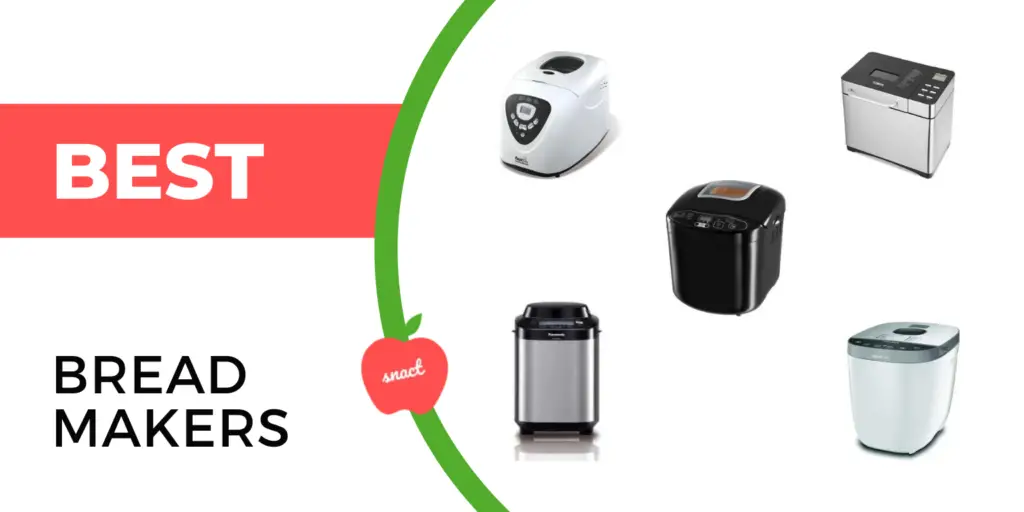 To find the right bread makers we considered multiple factors, including:
Delayed Timer
Bread-Size Capacity
Quick Bake Function
Various Programs
User Interface
Noise
Usability
Nut Dispenser
Gluten-Free Setting
Different Crust Colours
Our editorial team carefully researched and selected products that would suit a wide range of needs to take your kitchen experience to the next level. We set out this list after assessing customer reviews and evaluating pros and cons in line with the above comparison points.
Find more about our behind-the-scenes process here.
Bread Maker Reviews
Enjoy freshly baked bread at home with the best bread maker machine from Tower. This unit includes 19 pre-set functions to make a variety of loaves and cake, yoghurt, and more – all at the touch of a button.
An impressive feature of this bread maker is its crust control that allows you to choose from a light, medium, or dark crust for delicious crispy crusts that suit your tastes. It's also equipped with a keep-warm function to ensure that your bread is at a consistent temperature for up to one hour, so it's always fresh and ready for whenever you want it.
The 15-minute backup system keeps your bread maker working in the event of a power outage. That way, your baking will never be interrupted. Furthermore, the bread pan has a non-stick bread pan that makes it easier to clean up leftover ingredients once you've finished baking.
On the other hand, this bread maker might not be simple to operate if you're not technologically minded.
Pros:
Includes a 15-minute backup system
Keeps bread warm for up to one hour
Includes 19 pre-set functions for baking a variety of goodies
LCD that's simple to operate
Includes removable non-stick bowl
Cons:
It might be difficult for some people to operate
Some people felt that this bread maker could be quite noisy during use
This Panasonic bread maker includes a whopping 27 bake and dough modes to enhance your bakery skills in the kitchen. It also includes a digital timer of up to 13 hours, so you can allow your bread to be proof all day while you're at work and then come home to fresh bread at the end of a long day.
It includes a fruit and nut dispenser to mix additional ingredients, ensuring that they're evenly distributed throughout the loaf. There's even an automatic dispenser for yeast that drops in the ingredient at just the right time so that your bread can rise as it should.
Best of all, this is one of the best bread makers for perfecting your bread creations with the option of various loaf size settings. You can even choose the desired browning level for a crust that you'll love. Additionally, you can make homemade jam in this bread maker using the jam and compote mode.
However, some people reported that this bread maker offers inconsistent rising, which could be disappointing. Additionally, the outer casing might easily crack on surfaces.
Pros:
Includes a setting to choose your own browning level
Features 27 bake and dough modes
Fruit and nut dispenser mixes into the bread at the right time
Features a jam-making mode
13-hour digital timer
Cons:
The outer casing may not be durable
Some people reported inconsistent rising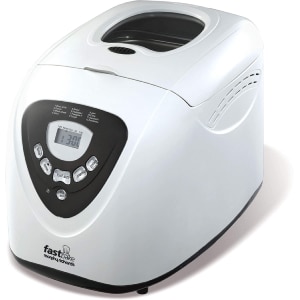 This Morphy Richards bread maker is equipped with 12 programs to make cakes, jam, and dough. Its simple interface makes it easy to operate, which is ideal for anyone who's not technologically advanced and makes it the best budget bread maker on our list. In fact, its cool-touch body and easy-to-read LCD display make it user-friendly.
Moreover, this Morphy Richards bread maker can make three loaf sizes: 1 lb, 1.5 lbs, and 2 lbs. It also offers three crust settings, so you can bake the bread to suit your preferences.
Best of all, this bread maker features a Fast Bake function that allows you to bake a loaf in under 50 minutes, great for busy individuals and those in a rush. Or, you can use the built-in 13-hour delay timer for overnight baking so that you can awake to fresh bread.
On the other hand, this bread maker may not include as many auto programs as other bread units on this list. Furthermore, some customers reported that the bread might not cook all sized loaves at the same density, potentially leading to different results.
Pros:
The interface is simple to use
Features a rapid bake function
The viewing window allows you to monitor your loaf's progress
The small design takes up minimal space on a countertop
Suits loaves up to 2lbs
Cons:
Different-sized loaves might have varying results
The paddle may get stuck in the bottom of your loaf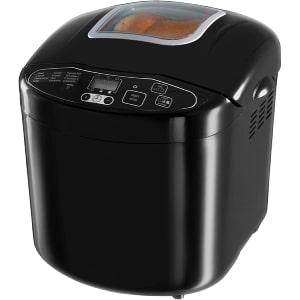 Not everyone has time to spare waiting around for a finished loaf, which is why the Russell Hobbs homemade bread maker boasts a 55-minute fast bake setting. So you can make delicious bread in a fraction of the time of other bread machines.
It offers 12 functions, including French bread, gluten-free bread, and wholemeal bread. Best of all, you have the choice of three crust settings to create a crispy crust or a softer texture based on your preferences.
Moreover, this affordable bread maker includes a seven-minute power cut-off memory function. This means that if you accidentally unplug your loaf bread maker or it switches off, it'll continue baking from where it's stopped until the power is restored. Another great feature is the Keep Warm function that automatically keeps your loaf warm for one hour after it's finished baking.
However, this digital bread maker might be noisy during use, which could cause some interference in your day-to-day life. You might also encounter the bread sticking to the paddle, resulting in some pieces having a hole in them.
Pros:
Dishwasher safe with a non-stick bread pan
Bake bread in 55 minutes with the bake setting
Includes a choice of three crust settings
Keep Warm function works for one hour
Easy cleaning thanks to the non-stick design
Cons:
Might be noisy
Bread might stick to the paddle when you're attempting to remove a loaf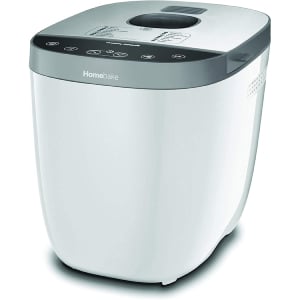 If you want to make gluten-free loaves, this might be the best gluten-free bread maker UK stores have to offer. Designed for a 2lb loaf, it includes a viewing window that makes it easy to monitor your baking process.
Most importantly, this bread maker features 14 programs, including ones offering a gluten-free recipe. Additionally, you can choose the crust colour and texture to suit your preferences. And, to perfect your gluten-free recipes, this unit includes additional instructions for guidance.
What's more, you can make freshly baked bread in only 90 minutes using the Fast Bake setting. All the while, you'll have the option of three different loaf sizes and five crust settings.
There are a couple of factors to keep in mind with this bread maker, such as the Fast Bake function may not be as quick as that on other bread machines. And, while its option of three bread sizes is great for making your own loaves at home, it's not necessarily ideal for large-size loaves.
Pros:
Small design for easy footprint
Includes 14 generous programs for making a gluten-free loaf
Option to choose a crisp crust or softer variety
Viewing window makes monitoring homemade loaves easier
Features a timer delay for flexibility while baking overnight
Cons:
Fast Bake setting might not be as quick as other bread makers
It might not be compatible with larger-size homemade loaves
The West Ben Hi-Rise is equipped with 12 digital settings to make French bread, sweet bread, gluten-free loaves, and there's even a custom setting for your own special creations. This custom setting is ideal if you're already familiar with bread making and want to do more than those basic bread recipes.
Best of all, this unit features dual knead blades that provide thorough dough kneading for a lighter taste while offering a higher rise. It also includes three levels of crust control: light, medium, and dark. So you can further enhance your bread's flavour.
Once you've added the ingredients to this bread machine, the non-stick pan provides an easy clean-up so that the bread maker handles all of the work for you.
However, it's possible that this bread maker might not include instructions, so you may have to be experienced to operate this appliance. Plus, it might not mix ingredients thoroughly, resulting in homemade loaves with an inconsistent texture.
Pros:
12 digital settings let you make a variety of bread
Receive the choice of three crust settings
Non-stick pan
Stunning, modern design that will complement any kitchen decor
Small footprint, so it won't take up much room
Cons:
May not come with instructions
Might not mix ingredients to create loaves with a consistent texture
Make more than bread with the Gastroback 62823; you can also make jam, cake dough, pizza dough, and even yoghurt. It even includes a defrost timer that makes it suitable for homemade cooking as well as baking. Best of all, its built-in display and delayed start timer provide you with a user-friendly design.
Moreover, it features 18 automatic programs to help perfect your loaves of bread and provide versatility for various breadmaking. Once you've finished making your homemade loaf, make use of the Keep Warm function, which will keep your bakery goods fresh and toasty for up to one hour until you're ready to eat your bread. And, when you've finished baking your bread, it's easy to clean, too.
Impressively, this bread maker includes a 15-minute rapid bake setting as well as three browning levels.
On the other hand, while this bread maker is compatible with loaves up to 1kg, it boasts a large footprint, which doesn't make it appropriate for smaller-size kitchens. Plus, you might find that the kneading blade remains in the loaf when you tip it out, and by the time you've dug the blade out, there's already a large hole in the bottom of the bread.
Pros:
Allows you to make a variety of baked goods
Includes a 15-minute baking time
Features three browning levels
18 automatic programs for baking different loaves
Accommodates loaves up to 1kg
Cons:
Large capacity might not make it appropriate for storing in a small kitchen
The kneading blade might remain in the loaf, leaving a hole in the bottom
Designed with a digital interface with smooth-touch controls, this is one of the best bread makers for usability. Plus, it offers a hassle-free process of making bread, and the handled lid and non-stick pan make it a breeze to retrieve your bread. The LCD display and viewing window are some additional components that aid in usability.
This touchscreen bread maker has 16 pre-set functions, including low carb, dough, yoghurt, and gluten-free loaves of bread. The pre-set cycles let you easily create a variety of bread types and other foods that require yeast.
Furthermore, its delay timer makes it appropriate for baking bread over 13 hours, so you can wake up to freshly baked bread in the morning. Also, the 60-minute Keep Warm function keeps a freshly baked loaf toasty until you're ready to eat it. Designed with an automatic ingredient dispenser for seeds, nuts, and other ingredients, this bread maker automatically adds the ingredients to your dough to ensure everything is evenly combined. Bake small (500 grams), medium (700 grams), and large loaves (1 kg) to suit your requirements.
Unfortunately, this unit's seed dispenser might release a loud sound, which you can't modify. Plus, this bread maker might not be suitable for making gluten-free loaves.
Pros:
Allows you to make a variety of foods, including yoghurt
Includes a 60-minute Keep Warm function
Features 16 pre-set functions
Suitable for three different-size loaves
LCD digital display makes it user-friendly
Cons:
The seed dispenser unit might release a loud sound
It might not be ideal for gluten-free bread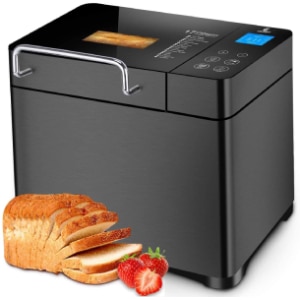 This bread maker comes with a unique non-stick ceramic pan and an intelligent fruit and nut dispenser to revolutionise how you bake bread at home. The detachable fruit and nut area adds additional ingredients at the optimum time for them to be combined evenly. Plus, the ceramic pan helps to make evenly baked bread and without the need for chemicals.
It's equipped with 360-degree surrounding baking technology to create fluffier bread, thinner crusts, and evenly brown colour. But its great features don't end there; this bread maker includes a 15-hour delay timer, a one-hour automatic Keep Warm function, and a 15-minute Power Interruption Recovery mode for fresh loaves of bread at any time.
Additionally, its large viewing digital window makes it easy to see your fresh bread being made without having to lift the lid and disturb the baking process. You can also select the cycle, crust, and loaf size from the settings to create a delicious, custom loaf.
Alternatively, this appliance might not include a recipe book, making it the best bread maker for beginners. Plus, the fruit and nut dispenser might sometimes spill contents outside of the bread pan, potentially creating a mess in the kitchen.
Pros:
Stainless steel design remains heat-resistant
Creates healthier and fresher homemade bread
15-hour delay timer and Keep Warm setting
Keep loaves fresh even during a power outage
Low noise during use
Cons:
May not include a book with various bread recipes
Fruit and nut dispenser might spill while adding ingredients
Enjoy fresh bread at any time with this bread maker that features a 13-hour timer. This timer lets you enjoy custom-made bread exactly when you want it. So you can come home from work to delicious dough or awake to a fresh loaf in the morning.
Suitable for all taste preferences, dietary requirements and food intolerances, the Brotilde bread maker lets you know what ingredients are in the bread you're making, whether you're going for a wholemeal loaf or a basic white loaf. For example, there's even a special program for making low-carb bread.
Above all, this bread machine features a combination of 14 pre-set programs that ensure a smooth, fully automatic baking process to help perfect your results. It also boasts a high-quality stainless steel case for a luxurious finish that makes it easy to clean. You can even operate the bread maker via a backlit LCD display for simpler functioning.
On the other hand, this appliance might not come with various other functions to make yoghurt, for example, or the option to make a gluten-free recipe. Plus, the mixing paddle might stick to baked loaves.
Pros:
14 pre-set programs to help perfect your loaves
Suitable for all dietary requirements and taste preferences
Keep Warm function is useful
Backlit LCD display improves usability in the dark
The viewing window lets you monitor your bread
Cons:
It might not include functions to make other foods like yoghurt
Mixing paddle might stick to the load
Factors to Consider When Buying a Bread Maker
Not sure how to choose the best bread maker in the UK? Then below are some factors to consider before you make your purchase.
Delayed Timer
This function is useful for making fresh loaves without having to switch on the appliance manually. So you can return home from work or wake up to a freshly baked loaf. The choice is yours.
Bread-Size Capacity
The best bread maker must offer the right loaf size for your needs. Consider a 1lb, 2lb, or 2.5–3lb appliance if you make bread for the whole family. Or better still, you can choose a unit that works for all sizes to make it versatile for everyday use.
Quick Bake Function
You don't want your bread to take hours to make, which is why there are various models that feature a Quick Bake function. These settings can make delicious bread in up to an hour, making it great for busy individuals.
This is clearly the main concern for bread makers because you don't want to have to wait a long time for your unit to bake bread. Without a Quick Bake function, the average bread machine takes around three-four hours to mix the ingredients, punch down, rise and bake. On the other hand, wholemeal bread takes longer to bake.
Various Programs
If you want your bread maker to do more than simply bread, there are versatile appliances that allow you to make jam, yoghurt, banana bread, and more.
User Interface
No matter how many great qualities your large or small bread maker has, it's important that you can operate it effectively, meaning that it must have a user-friendly interface appropriate for you. Most high-end appliances feature an LCD display that's easy to operate and shares all of the included programs on the screen. However, some users who aren't technologically minded find a touchscreen bread maker quite complicated and would prefer a bread maker that features built-in buttons for easier use. Consider your preferences when perusing through the best bread makers out there.
Noise
Some bread makers can be quite noisy when making bread, which can cause inconvenience if you choose an automated setting that prepares a loaf through the night. Take a look at the decibels to choose a bread maker that is appropriate to your surroundings and needs.
Usability
Several factors can enhance usability, such as a viewing window, which allows you to see the bread you're baking without having to lift the lid. Additionally, a non-stick paddle and baking pad prevents the dough from sticking to the base, so you don't have to scrape the appliance at the end of the bread baking process. With non-stick appliances, the loaf simply glides out smoothly each time.
Nut Dispenser
If you want to add seeds and nuts to your bread, you'll want an appliance with an automatic dispenser that mixes in the ingredients at the exact right time for the best results.
Gluten-Free Setting
You might want to research bread makers that offer a gluten-free setting to accommodate all dietary requirements if you're going to make gluten-free recipes.
Different Crust Colours
Finally, you can choose the best bread maker to make a basic white loaf or opt for an appliance that provides different crust colours to suit you and your family's needs.
Final Thoughts
We hope you enjoyed these bread maker reviews and better understand which appliance is best for you. For the ultimate bread maker and the best bread maker in the UK, we recommend the Tower T11005. It includes 19 functions to make a considerable selection of baked goods. It also boasts a 15-minute backup to continue working if there's a power outage.
Which of these bread appliances stand out to you? Or do you have some other recommendations you'd like to share? Either way, let us know your thoughts in the comments.
Additional Resources