Last Updated on
Our editors independently research the best products online to produce this list. We may receive commission on purchases made from the links below but this will never affect our product choices.
---
Top 10 Best Kitchen Bins
If you would like to know what the best kitchen bin in the UK is right now, then you have come to the right place. We will walk you through those items that we feel represent the perfect kitchen bin on the market and choose from the options.
A kitchen bin is just one of those items that we all need. However, there's no need for them always to be so ugly if you are concerned about it.
So, the best thing to do is to start working through the various options to see what is in store when choosing the best kitchen bin for your own needs.
How We Compared Kitchen Bins
To find the right kitchen bins we considered multiple factors, including:
Size
Number of Compartments
Easy to Clean
Operation Type
Our editorial team carefully researched and selected products that would suit a wide range of needs to take your kitchen experience to the next level. We set out this list after assessing customer reviews and evaluating pros and cons in line with the above comparison points.
Find more about our behind-the-scenes process here.
Kitchen Bin Reviews
First up, we have this model by Tower, and it's a great kitchen bin for pretty much any home. As a 58L size bin, it's relatively large from a capacity point of view, and yet it still manages to look quite small when compared to other options.
But this kitchen bin is something a bit special. It contains a motion sensor that will then result in the bin opening without you having to touch it. This is a great additional feature that doesn't come with the average bin.
But that's not all. After five seconds have passed without any activity, this bin closes independently. It does stop you from needing to touch the bin at all. 
Overall, aside from looking pretty cool and having different colour options available, it's a fact you don't have to touch the bin that marks this one out as being the best on the market.
On the other hand, one thing to note about this kitchen bin is that you need to be extra careful with the motion sensor. Once this breaks, it won't be easy to use this bin.
Pros:
The lid opens automatically for you
The lid closes on its own after five seconds
It has a large capacity for large families
It is crafted from stainless steel, so it is a solid bin
It will look nice in your kitchen
Cons:
It would have been slightly better with a recycling compartment
If the motion sensor breaks, it might be difficult to use the bin
Joseph Joseph is a name often linked to innovation and quality design, and this bin is no different from what you would expect. 
This bin is huge with a 90 L capacity, and it is made from stainless steel. That means it really shouldn't rust at any point. It also comes with an odour filter, so those days of your rubbish stinking out your kitchen should be a thing of the past.
But something we do love with this bin is they claim it will never rip your bags. How often have you gone to empty the bin only for that to happen? Well, with this bin, you don't need to worry about general waste emptying itself all over the floor. Overall, this bin is slick and stylish. It does compress things pretty well, allowing you to make full use of its capacity.
Unfortunately, it does come with some disadvantages. You should consider this bin's size as it might be too large for your preference.
Pros:
It has a huge capacity
It has an odour filter that can be changed
It won't rip your bags
It may be large, but it is space-saving due to its design
It is made from stainless steel
Cons:
It may not come with a different recycling compartment
It may be too large for a single individual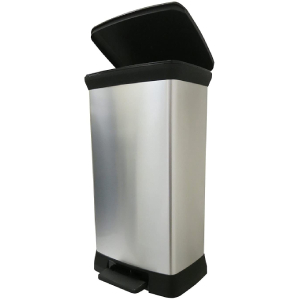 If you are searching for the best kitchen in the UK offering the best value, but without looking like it, then this model by Curver could be perfect. With a 50L capacity, it's not the smallest of bins on the market, and it will certainly offer enough space for the rubbish for the average family.
It operates via a foot pedal, so at least there's no need to touch the bin at any point. It is made from plastic but has the appearance of metal, and they state you leave no fingerprints all over the bin as well. 
The bin also comes with a holder to keep the liner in place. It is a nice little touch that does make a difference. 
Overall, there is nothing elaborate or fancy about this pedal bin. It operates well, doesn't take up too much floor space, and will sit perfectly well in the average modern kitchen.
Meanwhile, please note that this bin can be quite small in size. So, if you have a large family, this might not be the one for you.
Pros:
The bin has a large capacity without being too over the top
It is fingerprint-proof
The pedal works sufficiently well
The bin holds the liner in place
It won't rust or corrode
Cons:
If you are a large family, then this bin might not be big enough
It may not allow for recycling 
If you need to have a stylish bin in your kitchen, then this Bo Touch bin by Brabantia could be the perfect solution. This model has two compartments, one measuring 11L and the other 23L.
This kitchen bin will also save space as it can easily sit tight against the kitchen wall. Keeping on top of the cleaning with both bins is easy as the top is quick to remove before entering the two compartments.
It has a soft touch mechanism to open, and the lid will then close quite silently. However, if you are in the market for a stylish kitchen bin, the Brabantia BO touch bin is certainly the one for you.
However, one thing to note is that it may not be ideal for large families as it has a smaller capacity than other kitchen bins.
Pros:
It has a wonderful design
It has a soft close lid that is silent
It comes with recycling bins included
The bin lid is easy to remove for cleaning
It saves space
Cons:
It may not have the biggest capacity
It may be quite wide even though it's not deep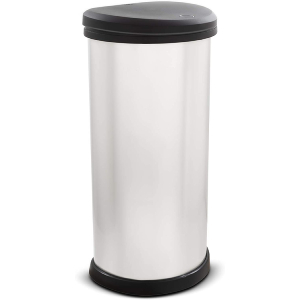 This 40L bin is one of the best bins on the market, searching for something with a touch top. With just the lightest of touches, you will be able to open the bin with ease. Also, closing is just as easy, even though it involves touching the bin lid.
This bin is also exceptionally lightweight, and that's a good thing. Also, with it having a smaller capacity, it does mean it won't even be too heavy when emptying. 
This is also one of the best kitchen bins on the market if you want something better for the environment. This is thanks to 70% of the bin being made from recycled plastic. Overall, it's the easy mechanism that we love with this bin. 
Unfortunately, this bin may not have enough capacity for large families. Also, it does not have recycling included, which may be a concern for you.
Pros:
It has a nice sized capacity
The bin itself is light
The touch top works exceptionally well
It is mainly made from recycled plastic
It has a liner holder included
Cons:
Large families may need to empty the bin more frequently
It may not have a recycling bin included
This Amazon Basics bin is available in 5L, 20L, and 30L capacities, and it's surprising how much rubbish you can get into such a small bin. It does mean it can fit in a small corner of a busy kitchen with ease. 
This compact kitchen bin comes with a soft close lid that is almost silent. It's operated via a foot pedal, and with its size, it's also easy to get the correct bin liners. The bin liner is then held in place to move around when in use.
These bins are also fingerprint-proof and also resistant to smudges. It should continue to look pretty good for a long time, and that is why we have it as one of the best kitchen bins on the market.
One thing to consider is that this bin is quite small. So it might not be the one for you if you have a large family.
Pros:
The small size can work well for many kitchens
The pedal works quite easily
The soft-close lid means no banging
Bin liners fit with ease
It is resistant to smudges
Cons:
It may not have a recycling bin included
If you have a lot of waste, then this may be too small
Among the best kitchen bins in the UK is this model by Tower. If you want a recycling bin, you should go for this one. 
This model comes with three compartments. On the top, you have two bins, each of 25L, while the bottom provides you with a 50L bin capacity. That means you have different options for your waste and recycling.
This is also a sensor bin in that the bin opens as you approach it. Also, there are options to move the bins around, so you don't need to have them stacked upon one another. One can easily become a food waste caddy while the others deal with your household waste.
This model is made from stainless steel, but it's also protected to ensure you cannot leave fingerprints and smears all over the body. So, this stainless steel body will continue to look brand new for longer.
However, one thing to consider with this kitchen bin is that it takes a lot of space.
Pros:
It is a sensor bin, so it is more hygienic
It offers you ample space for recycling and general waste
It has a stainless steel body, so it is made to a high standard
The lid closes softly and quietly
It won't smudge with your fingerprints
Cons:
It may take up quite a lot of space
If the sensor stops working, then it may ruin the effect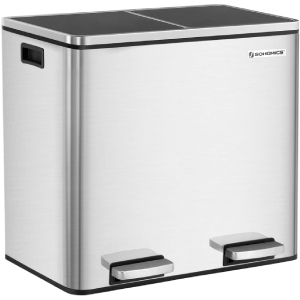 If you want a kitchen bin with many compartments, then this model stands out from the other kitchen bins on the market. It comes with two compartments, each holding 24L, and the removable inner bucket makes it easy to keep this clean.
This is also a pedal bin, and we see it as one of the best kitchen bins on the market because of its dual capacity, the quality of the inner bucket, and it will sit perfectly in most kitchens. As pedal bins go, this is one of the best out there.
Furthermore, thanks to the two compartments, this may be the best kitchen recycling bin on the market. Also, it looks like a modern kitchen bin, so it's a winner in multiple ways.
However, please note that this bin has a smaller size than other models. So, if you have a large family or are looking for a bigger bin, this might not be the ideal choice.
Pros:
The inner bins are easy to remove
The pedal works well
It's easy to get bin liners for the model
It allows you to recycle more effectively
It is stylish and takes up less space than you would imagine
Cons:
You may need to empty the waste part frequently due to the size
It is quite low down, so it may be problematic for some people
Next on our list for the best kitchen bin in the UK is the Simplehuman CW2017.
This 40L capacity bin by Superhuman may not be classed as a large kitchen bin, but it's still a multi-compartment bin in a slick and slim kitchen bin. This model comes with a butterfly lid, and this is designed to open even under countertops. It's a cool feature, so this is quite a designer kitchen bin, in all honesty.
This model does come with a steel pedal, so it won't just break. Also, the lid is silent when it closes, and a silent close lid is something every bin should come with. Overall, its slender design hides an impressive capacity in this bin, and that is why we love it so much.
On the other hand, it's important to note that this bin is quite small, which may not be the right choice for you if you have a large kitchen or a lot of waste to dispose of.
Pros:
It offers two bins in one 
It has a silent close lid
The inner bucket is easy to remove
Fitting a bin bag is easy
The steel pedal is brilliant
Cons:
The waste part is quite small as a capacity, so it may not be suitable for larger kitchens
The lid stays open for longer than is often needed
This bin comes with a 60L capacity, so it is on the large side as kitchen bins go. However, don't then think this kitchen bin will take up too much space as it won't. 
This bin is also one of the best touch bins on the market. You will then find it easy to remove the lid to empty the inner bucket when required. Also, if you use their bin liners, it will be easy to attach them, and there's no overhang, which is always ugly. Overall, this is a large touch-top kitchen bin, so if you generate a lot of waste, this will be perfect.
Meanwhile, you may need to change bins after extended use as its base can become rust after a while.
Pros:
It can hold a lot of rubbish
The touch top works well
It hides the bin liner well
It is fingerprint-proof
It takes up less space than you imagine
Cons:
They may not have the most common sizes in bin bags
The base can become rusty over time
Choosing the Best Kitchen Bins for Your Needs
So you have checked out the different options listed above, and rest assured that there is the perfect bin even for a busy family. But then, how do you go about choosing? Well, we have a few tips.
The Size
Kitchen bins come in all shapes and sizes, but knowing how often you want to be emptying them is important. Also, it depends on your kitchen. Look at not only the capacity but also the dimensions of the bin. The two do not always correlate to one another.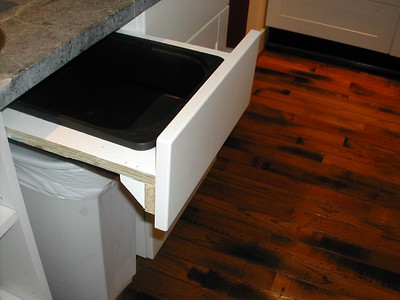 Is Recycling Important?
Something else to consider is whether or not you want to recycle. For many, recycling is important. You may want to check the number of compartments included in your kitchen bin if it is for you. However, be aware that this will reduce the capacity for your normal waste.
How Easy Is It to Clean?
Be aware of how you can clean your bin. Kitchen bins will come with either a removable inner bucket, which is easier or fixed. If hygiene is a major issue, the removable inner bucket is your only real option.
How Does It Work?
The final thing to look at is how it works. By this, we mean how you open the bin. For this, you have three main options. The first is by using a sensor that sees when your hand is near. This means you can open it without touching it.
The next is the pedal bin, and this is the most popular. It means you do not have to touch the bin aside from your foot, so it's a good option. 
Finally, there is a touch-top bin. They also work well, and the touch top only means the slightest touches.
Overall Conclusion
Finding the best kitchen bin in the UK is not that hard, and there's a reason why we have selected the Tower T80904RB model as our editor's choice. For us, hygiene and dealing with kitchen bins are never easy, but the Tower bin is undoubtedly the best sensor bin in the market. It just makes the process easy.
But overall, any of the bins we have listed in our list will suffice. Each one is great on its own merits, and we are sure they will be capable of doing the job they are intended for with ease.
Additional Resources