Last Updated on
Our editors independently research the best products online to produce this list. We may receive commission on purchases made from the links below but this will never affect our product choices.
---
Top 10 Best Blenders
Are you on the hunt for the best blender in the UK stores have to offer? These cool spinning machines can make multiple types of healthy smoothies, protein shakes, peanut butter, cocktails, sauces, frozen drinks, fruit jam, whipped cream, hot soups, and frozen desserts. They are also quite effective in grinding coffee beans.
However, sometimes choosing the best blender can be like looking for a needle in a haystack. Lucky for you, we've done our homework on the best blenders, and in this article, we'll review the top blenders for your kitchen. Other than that, we will take you through some of the most important things that you should consider while purchasing the best blender.
Whether you are looking for jug blenders, the best stylish blender, or the best blender for a small kitchen, you will come across the right blender for your needs by the end of this guide.
Let's get down to it, shall we?
How We Compared Blenders
To find the right blenders we considered multiple factors, including:
Motor Power and Rotation Speed
Blades
Speed Control And Other Settings
Jug Material
Noise Level
Easy to Clean
Accessories
Warranty
Our editorial team carefully researched and selected products that would suit a wide range of needs to take your kitchen experience to the next level. We set out this list after assessing customer reviews and evaluating pros and cons in line with the above comparison points.
Find more about our behind-the-scenes process here.
Blender Reviews
This Kenwood blender has multiple attachments that hold various amounts of fruit and veg smoothies and food ingredients. It also features an 800-watt motor, which is powerful enough to blend different types of ingredients.
What's more, this power blender has an extra-long neck so that you can blend mixtures directly in their containers without worrying about splashback or doing more washing up. 
Moreover, this power blender uses a patented technology that effectively produces finely blended mixtures even if you're using nuts and ice. It also comes with several speed settings, including a turbo mode, making it easier for you to prepare light creams, pastry mixes, and egg whites. Not to mention, it is the best food blender on our list.
There have been some reports of it not being the easiest to clean, and the materials may stain rather easily.
Pros:
A powerful 800-watt motor
Very durable
Plastic and stainless steel construction
Several speed settings
Fast and efficient
Cons:
It may not be the easiest to clean
Plastic may stain if using colour foods such as beetroot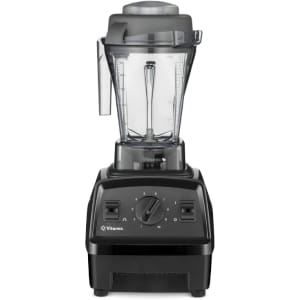 If you want a high-performance blender for commercial purposes, this would be a good option. For starters, it comes with a 1.4-litre container made out of BPA-free Tritan plastic that is non-toxic and doesn't scratch easily, improving durability.
On top of that, it's fitted with a stainless steel blade and a 2 HP motor, making it one of the most powerful blenders. It has up to 10 variable speed controls and a pulse setting, giving you a wide array of options to choose from while you are blending various ingredients to get a smooth consistency. In other words, this blender is effective in making smoothies, baby food, grounded nuts, hot soup, ice cream, mixed batters, sauces, and dips.
Quite impressive, you don't even need to clean it in a dishwasher. Just add warm water to the blender and a drop of liquid soap to the blender container, and it will clean itself in 60 seconds.
Unfortunately, this blender might not come with basic blender accessories. 
Pros:
Variable speed control and pulse setting
Stainless steel blades that last for a long period
High-performance motor
Self-cleaning feature
1.4L container
Cons:
It might not have extra accessories
The plastic lid may not be so durable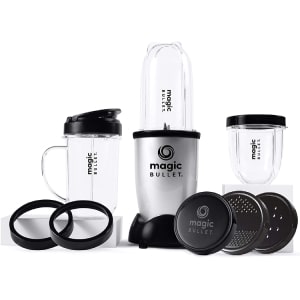 If you love traveling or camping, the NUTRiBULLET Magic would be a good option for you as it's small, lightweight, and the best value blender on our list. It will even fit in your bag without taking too much space. Despite its sleek and compact design, the motor can deliver up to 200W.
The kit includes just about everything you need from a smoothie mug, short cup, tall cup, stainless steel blade, steamer, lip rings, re-sealable lid, and a flip-top jug lid. Of course, you can easily disassemble the cups and lids and throw them in the dishwasher to clean.
Sure, this Nutribullet blender might not have a lot of control settings like a conventional blender, but you can use it to blend, mix and process most types of recipes from diced onions, chop fruits, smoothies, soups, and desserts.
There is just one thing, though; this personal blender might not effectively grind frozen foods or ice. It's also too small to make a green smoothie for more than one person.
Pros:
200W motor
Easy to clean
Microwave safe personal blending cups
Easy to use
Lightweight
Cons:
It might not be suitable for frozen foods
It might be small for some users
This jug blender features a powerful motor that can deliver up to 1,000 watts, equivalent to 21,000 RPM. This Ninja blender is one of the most powerful blenders; it is also a soup maker. 
Of course, 21,000 RPM is more than enough to blend not just fruits and vegetables but also seeds, nuts, and ice. What's more, this jug blender is fitted with a 1.7-litre, thermal-resistant, sturdy glass jug, which is bigger than what you would find on most units. The glass material featured on the 1.7-litre jug can withstand high temperatures.  
Another cool feature of this best soup blender is the automatic control settings with a digital timer to blend up to 8 different recipes. However, if automatic settings are not your thing, you can still control them manually. It also comes with a splash-free lid and a tamper that makes it easier to blend without spilling the liquid, making it easier for you to keep working spaces clean.
Just when you think it couldn't get any better, the engineers behind it added a built-in heating element. That means you can use this blender to boil water or make soup or chicken noodles. It comes with a recipe booklet, guiding you while you are working on various types of recipes.
While this unit ticks all the boxes you would expect in a high-performance blender for half the price, it weighs about 5 kilograms which may be heavier than most units on our guide.  
Pros:
1.7-litre capacity
Self-cleaning capability
Up to 6 manual speed settings
It includes a recipe booklet
It comes with a tamper
Cons:
It may be heavy for some users
It may cause spillages in some situations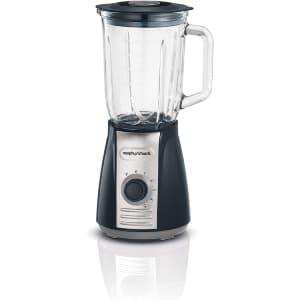 If you're searching for the best blender in the UK for crushing ice, this Morphy Richards Jug Blender might be a good deal. It comes with a 600W base motor that effectively makes different types of sauces and shakes. 
It features stainless steel blades that are ideal for blending hard frozen fruits and crushing different chunks of ice. Plus, it is also effective in blending soups!
Even though it uses a manual control panel, you get up to 5-speed settings and a pulse option, making it easier for you to blend various ingredients. Moreover, it uses a safety lock system to prevent spillage when you're making a smoothing. 
Of course, you can easily separate the jug from the motor if you want to clean it in the dishwasher. On that note, too, the jug has a capacity of 1.5 litres, offering you enough space to blend different quantities.      
The only problem? The motor is covered with plastic material, which may make it fragile. 
Pros:
Stainless steel blades
Easy to clean
Five-speed setting with pulse for dealing with crushed ice
1.5-litre jug capacity enough to hold various ingredients
Safety lock system
Cons:
The cover plate housing the 600W motor of this blender might be fragile.
It might not be as durable as expected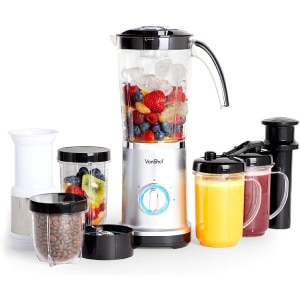 How about a multi-function appliance that is not just a blender but also a juicer and a grinder that can help you blend smoothies directly from fruits? With this purchase, you get a versatile kit with 17 pieces, including two blending jars, two drinking cups, a juicer filter, a blending jug, and a pouring spout.
This blender from Vonshef also has a wide array of attachments effective in grinding coffee beans, preparing protein shakes, and blending milkshakes or smoothies.
But that's not all; it's fitted with stainless steel blades and a plastic jug that is durable. It only weighs about 1 kilogram which is considered lightweight for a countertop blender.
When it comes to controls, it only has two-speed settings and a pulse function. Such settings and functionalities are ideal for blending, crushing, and grinding ingredients at different rates. While it's designed with a 220W base motor that may not be too powerful, it delivers enough power to start a whirlpool effect that moves the ingredients in the jug from the top part to the bottom part. 
However, this jug blender may take longer than average to blend fruits or food.
Pros:
Multi-purpose blender
It comes with extra accessories
Stainless steel blades
Lightweight
Easy to clean
Cons:
The motor power might not be adequate for some tasks
It may start leaking after some time
With a motor with a power rating of 220 watts and blades that can rotate at a speed of 22,000 rotations per minute, this could be the best smoothie blender in the UK!
Even better, you can switch between cross and flat blade attachments on the motor base to work on different types of ingredients. The flat blade included in the Uten blender is suitable for handling multiple types of fruit and vegs, generating smoothies that can be drunk easily due to the smooth consistency.
On the other hand, the cross blade featured in this Uten blender is ideal for crushing, chopping, grating, and grinding a wide array of ingredients. Due to its versatility, it's efficient in crushing ice seeds and nuts and blend vegetables and fruits within a short period.
But if you just want to extract some juice out of various types of fruit, you can do it using the juicing attachment that this blender features. Similarly, the kit comes with a grinding attachment that you can use to process coffee beans and spices.
Other items included in the package include a 1.25L jug, three covers, two bottles, and two blending cups.
The control panel is manually operated, and you only get up to two-speed settings and a pulse switch. The cool thing is, the appliance can self-clean using the pulse control setting.
The 220W motor seems to be its biggest drawback. Let's just say this is the type of blender that you can use at home but not for commercial purposes. 
Pros:
Multifunctional blender
Easy to use
Up to 22,000RPM
Effective in crushing ice and hard materials.
1.25-litre capacity
Cons:
It may not be powerful enough to handle some tasks
It may be noisy for some users
This Breville blender is powerful enough to handle various tasks easily! That is why this blender is included in our top 10 list!
It has a gloss finish, which makes it look attractive and stylish. It also features a 700W motor, which is powerful enough to handle various blending tasks. It has five speeds for blending vegetables, crushing ice, and making different smoothies.
The jug has a 1.5L capacity, which is big enough to accommodate various ingredients. Not to mention, this blender packs an ergonomic lid, which makes it easier for you to add various ingredients into the mixture. All the parts of this blender are detachable, making it easier for you to clean the blender. Plus, it can clean the parts easily with a dishwasher.
Furthermore, the base of this blender has some non-slip feet that keep the whole unit sturdy while you are blending various ingredients. This helps you keep your kitchen clean.
The biggest drawback with this mixer is that it might be too loud for some users.
Pros:
The 1.5-litre jug is big enough to hold various ingredients
An ergonomic lid that can be opened or closed
A powerful motor
Non-slip feet that help you keep your kitchen clean
It can clean the parts easily with a dishwasher
Cons:
It might be too loud for some users
The lowest setting may be too fast for some tasks
According to the manufacturer, this blender is fitted with a durable motor that can last up to 30 years! That is a bold claim, and we're yet to verify it, but what we can say for certain is that the blender uses a powerful 1200W base motor.
It's also one of the quietest jug blenders on our guide, and we can confirm it has been accredited by 'Quiet Mark', an organization that accredits high-performance appliances with low noise in the UK. To top it off, it comes with a thermal-resistant glass jug that lets you blend ingredients using cold and hot water.
Another interesting feature is the cool aesthetic; it uses three push buttons and a knob to adjust the speed. If you press the auto button, you can choose different recipes using the knob, from ice, smoothie, soup, to dessert. But if you want to operate it manually, you can choose up to 4-speed settings.
The biggest disadvantage of Magimix 11610 may be the size and weight. It could be cumbersome to carry because it's too heavy for a smoothie blender.
Pros:
4 in 1 multifunctional blender
Easy maintenance
Very durable
Cold mix technology
Designed to dampen the noise
Cons:
It may be heavy for some users
It might not be as durable as expected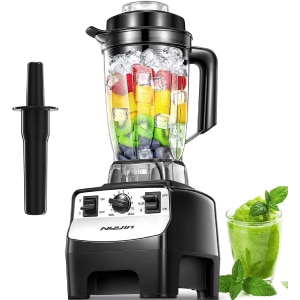 If you're looking for a high-performance brilliant blender or smoothie maker, this could be a good option for you. Astonishingly, it has a 2000W motor base with up to 35,000 RPM; most blenders don't even come close to crunching those numbers. Do you know what that means? You could blend almost any smoothie recipe in a few seconds.
In addition to that, this high-performance blender has up to 10 adjustable speed settings and a pulse function. From speed 1 to 6, you can make basic recipes, including chopping ice and chopping salads. But once you take it up a notch higher to between 7 and 10-speed settings, you could use it to grind meat, coffee, and nuts.  
One of the safety standards of this unit is it is designed with overload and overheat protection. Surprisingly, this smoothie maker doesn't make a lot of noise despite its powerful motor. That's not all; how about a 2-litre container that can withstand both hot liquids, hot ingredients, and cold liquids?
Unfortunately, this smoothie maker uses a plastic jug that might retain a smell after making a smoothie. However, you can get rid of the smell if you use hot water to clean it.
Pros:
Ten adjustable speeds and a pulse function
Easy to clean
Advanced safety features
Temperature control
Self-cleaning capabilities
Cons:
It might retain the smell
It might not be quite effective in crushing ice
Common Types of Blenders
Immersion Blenders
Otherwise known as a stick or hand blender, an immersion blender doesn't come with a jug of its own. Instead, you get a handheld stick with rotating blades on one side that can be submerged in a jug. Due to this, you can use an immersion blender with any container; you have the advantage of blending large ingredients to fit in a conventional blender jug.
Since you can use immersion blenders directly on cooking pots, they're convenient when you're blending soup that is too hot to ladle into a jug. The best stick blender has to be versatile. However, you have to be careful so that you don't splash or cause spillage of the content in the cooking pot.
Besides that, immersion blenders are easy to clean and don't take up much space once they are stored in kitchen cabinets.
On the flipside, immersion blenders can be cumbersome to operate because you need to hold it down and press the switch until you're done. Not to mention, they are noisy, and if you accidentally move the blades to the edge of the bowl, you could potentially damage the blades and container holding your ingredients.
Another thing; stick or immersion blenders don't deliver the best results if you're creating a smoothie with ice or seeds. Nevertheless, immersion blenders are perfect for soups or smoothies that use powder mixed with liquid.
Conventional or Countertop Blenders
Conventional or countertop blenders are the most common types of blenders on the market. A typical countertop blender comes with a one or 2-litre jug connected to a motor base with blades.
Unlike an immersion blender, conventional blenders are not flexible or portable; you have to keep them in one place during the whole operation. However, countertop blenders are more powerful and efficient than immersion blenders because they have stronger blades. Countertop or conventional blenders make consistent smoothies even if you're using grains or ice.
The disadvantage? Countertop blenders are often more expensive compared to immersion or single-serve blenders. Besides that, most conventional blenders occupy a lot of storage space.
Single Serve Blenders
Otherwise known as personal or bullet blenders, these blenders are smaller than average blenders with a typical length of between 13 to 16 inches. In other words, a single server blender should be small enough to fit in your car cup holder. The best small blender should have
Since they are small with a compact design, personal blenders are less efficient than conventional blenders. To be specific, they might not be the best blenders if you're grinding ice, nuts, or frozen foods. Additionally, you can only make one or two cups of smoothies out of those blenders.
On the bright side, single-serve blenders are convenient if you're traveling or going out camping and want something small and compact that can fit in your bag. They're also cheaper than countertop blenders.
How To Choose The Best Blender
Motor Power and Rotation Speed
As it goes, the higher the wattage power, the higher the rotation speed of the blender, and the more effective it gets. That means blenders with higher wattage power and rotation speed will make better smoothies at a shorter time.
Here is a breakdown of what to expect:
Below 300 Watts: Most blenders in this category are basic with low power output. Sure, they can blend most ingredients but don't expect them to grind seeds and ice consistently. They also take longer to get the job done.
300 to 600 watts: Any blender with a power rating between 300 to 600 watts should deliver at least 20,000 rotations per minute (RPM). This should be the sweet spot if you want a blender to process soups, food, and smoothies. You can also break down ice and nuts but expect a moderate texture in such liquids.
600 watts to 1100 watts: At this range, you should have a blender with a speed of up to 24,000 RPM. With this much power and efficiency, you should process your peanut butter and flour; basically, you shouldn't have a problem breaking down most tough ingredients.
Over 1100 watts: Most blenders with over 1100 watts are classified as high-performance or commercial blenders. They don't just blend hard and soft ingredients, but the blades spin so fast to generate heat to warm up your food or drink. We're talking about blenders that have a speed of up to 40,000 RPM! However, you have to dig deeper into your pockets to grab one of those.
Blades
Did you know the blades' shape and design play a huge role in the consistency of your blended food or drink? Usually, there are two types of blades you will find in most blenders; flat blades and cross blades. The type of blade that you pick should depend on what you want to process.
For instance, a cross blade with four or six prongs would be ideal if you like to grate or chop food most of the time (good for tougher ingredients). On the other hand, flat blades designed with prongs that are slightly bent upwards may be convenient if you blend fruits, powder, coffee beans, whole grains, and ice cubes.
If you're having difficulty deciding which blade design to choose, you should opt for a blender that lets you switch the blades.
Speed Control And Other Settings
The best blenders or smoothie makers should have multiple and varying speed control settings; we recommend anything from 3 to 10-speed with a pulse button. What's more, you should consider blenders with automatic speed control for specific food or drink prescriptions such as smoothies, milkshakes, ice crushing, or hot liquids. However, some people prefer blenders that let them change the speed manually.
Some blenders may also feature an ice-crushing setting, offering you multiple ice-crushing functionalities that give superb results.
You have different options from the digital display, analogue, and push buttons for the control panels. Whichever your preference, it doesn't matter as long as the blender is efficient.
Jug Material
Most blenders have containers that are made out of plastic, glass, or stainless steel. A glass jug doesn't retain smell or stain, but it could easily break if it accidentally falls on the floor or on a hard surface. Not to mention, glass is heavier than plastic. While some glass jugs might be generally heavy than expected, they can be carried easily from one point to another.
Plastic doesn't shatter easily, but it's susceptible to various scratches and easily absorbs the smell. On the other hand, stainless steel is very durable, but you won't see the food or drink while blending it.
So which is the best jug material? Most top-performing blenders have containers made out of BPA-free plastic that doesn't scratch easily. However, if you prefer a glass jug on a powerful blender, make sure you choose something thermal shock tested, so you won't have a problem with the glass jar as you are crushing ice.
Noise Level
Is there such a thing as a quiet blender? Not really, unless you're using an immersion blender or a compact personal blender. However, some of the best blenders use rubber gaskets and extra housing material on the motor to reduce noise. A few blenders are also packaged with noise-reducing covers that you can put over the containers when processing food or fruits to dampen the noise.
Another way of figuring out the noise level is to look at the decibel rating labeled on the package to tell if you are buying the quietest blender or the noisiest blender, depending on your personal preferences.
Is it Easy to Clean?
Believe it or not, some top-shelf blenders have self-cleaning capabilities. All you need to do is mix liquid soap and water and push a button to activate the blender's self-cleaning functionality. Of course, you need to give it a quick rinse to finish the job.
Alternatively, you can choose a blender that allows you to remove the blades and container so that you can clean them in a dishwasher. If you have a blender that can disassemble, it should have a gasket or O-ring between the jug and the base to prevent leakage.
Accessories
If you're opting for a countertop blender, you should opt for the best premium blender with extra accessories that will make it easier to process the food than other blenders. For instance, the best conventional blenders have tampered so that you can push ingredients closer to the blades.
Better yet, you can choose tested blenders with extra accessories such as coffee grinders, food processor bowls, and drinking cups. You can even go a step further with a multi-purpose blender that can also be used as a juicer, grinder, and food processor.
Warranty
If you want to predict the durability of a blender, look at the warranty. Most top-quality blenders have a warranty of 1 to 5 years. In most cases, the longer the warranty, the better the quality.
However, most manufacturers offer limited warranties on different parts. For instance, you could have a 5-year warranty on the motor but a 1-year warranty on the container. For that reason, make sure you read the fine print before you make that purchase.
How To Maintain Your Blender
If you want your blender to last longer, you need to maintain it occasionally.
Here are a few tips on how you can take care of your blender.
1. Make sure you clean your blender as specified in the manual after processing food or drinks. However, avoid immersing the motor in water; instead, you can use a damp cloth to wipe it.
2. Regularly inspect the blades and drive clutch. If you notice they're loose or worn out, it's possible to replace them.
3. Make sure you unplug and disassemble the blender before you clean it.
4. If your blender needs to be lubricated, it's better to use a food-grade lubricant to grease it. Avoid vegetable-based oils since those tend to freeze the gears.
5. Don't overload the blender. If you overload it, you can potentially damage the blades or motor.
6. Never operate a blender while it's empty. Similarly, don't put utensils inside the blender and run them.
7. If you notice abnormal vibrations, unusual noise, or leakage when running a blender, you should get it serviced.
8. To avoid liquid spilling on the motor, ensure you securely lock the lid before operating the blender.
9. When storing the blender, keep it in a well-ventilated area away from moisture.
10. Avoid putting big chunks of food or fruits into the blender; smaller pieces will blend easier and quicker.
Blending Made Easy
When choosing the best blender in the UK, you have to go with your gut instincts and what you intend to use it for. The Kenwood HDP 406 might be a suitable option for you if you are looking for a versatile blender that can handle various types of tasks. It features an 800 W motor that effectively blends sauces, soups, dips, and vegetables. 
Apart from that, the Kenwood HDP406 is quite durable and can be used for a long period without developing any complications.
Additional Resources