Last Updated on
Our editors independently research the best products online to produce this list. We may receive commission on purchases made from the links below but this will never affect our product choices.
---
Top 10 Best Woks
You got that wrong if you think that all woks are the same. You have woks made of different materials, one or two handles, sizes, and so many other things to consider.
A wok is a traditional Chinese form of cooking, but don't think you need to stick to Asian dishes. That's not the case at all. Instead, modern woks can be used in a variety of ways. The number of dishes you can create in a wok will be mindblowing.
Of course, that makes things slightly harder when it comes to knowing which wok you should buy to best produce your stir fry. So, let's go through some important options that we believe are worthy of your consideration.
Here are our top picks for the best woks in the UK. Read on!
How We Compared Woks
To find the right woks we considered multiple factors, including:
Heat source
Material
Size
Cleaning and maintenance
Our editorial team carefully researched and selected products that would suit a wide range of needs to take your kitchen experience to the next level. We set out this list after assessing customer reviews and evaluating pros and cons in line with the above comparison points.
Find more about our behind-the-scenes process here.
Wok Reviews
Our editor's choice is this carbon steel wok by the guys at Craft Wok. This is a traditional hand hammered style, and it comes with a round bottom and measures 14 inches.
This is a heavy wok at 2.1kg, and that's because it is crafted from 1.8mm carbon steel. That makes this wok a big deal, but it also means you can use it repeatedly to produce that perfect stir fry.
This model also comes with a stainless steel helping handle, which will stay nice and cool even when cooking. As traditional woks go, this is one of the best. It is heavy and has high enough sides, and if you season it correctly, you will have the perfect non-stick wok.
But here's an important point. It has a rounded bottom, and it's not suitable for an electric stove or induction cooking. It just won't allow the heat to warm up the entire pan. 
Pros:
It is hand hammered, giving it unique cooking feel to it
The carbon steel is heavy-duty, and that means it will transfer the heat with ease
The helper handle is solid and makes it easier to use the wok
This traditional wok can be used with metal utensils
At 14 inches, it's the perfect size for most dishes
Cons:
It may be too heavy for some people
It may not work on induction stoves due to the rounded bottom
This STAUB cast iron wok comes with a glass lid, stopping all the spitting that comes with cooking a stir fry. Furthermore, it also has a grid insert which is easy to move, and it means there's more space to cook larger quantities in this wok.
As it has a flat bottom, it means you can use it on a variety of stoves, including induction hobs. 
It comes with an enamelled interior, which makes it resistant to scratches and helps it to last a long time. Also, it is dishwasher safe, and we can't say that about every wok.
This is not a deep wok, so it may not be the best option if you want to deep fry something. However, this is more than just being a good wok. Instead, it works exceptionally well with high heat cooking, and it is one of the best woks on the market that comes with a lid.
Pros:
The glass lid makes for easy viewing of what is going on with the food
The flat bottom means it can work on even induction hobs
The interior is scratch resistant, and it should last a long time
It can be thrown in the dishwasher to get it clean
It looks cool considering it comes in colours, unlike most woks
Cons:
It's not the deepest of woks, and that may change how you use it
Cast iron may not be for everyone
Next up, Tefal has this simple wok, but it simply doesn't always mean it's a poor wok. Instead, this wok has some technology included, courtesy of Tefal.
We have their Thermospot technology, which will let you know that the searing heat is covering the entire surface of the wok. This is great if you are new to using a wok and if you are not quite used to the concept of how a wok heats the entire surface of the pan.
Also, this model is compatible with induction hobs, and sometimes not even the best woks on the market are suitable for that type of cooking.
It does come with what they refer to as a power resist coating. That does mean it has a non-stick surface, and it's tough to break through that surface to do the seasoning yourself.
Overall, this basic wok is not seasoned, but it's going to do a decent job of your stir fry. Also, if you are particular with the appearance, please note that this wok looks more like a frying pan.
Pros:
The thermospot technology does help you to work out when the wok is hot enough
At 28cm, it's a reasonable size wok
It is compatible with cooking on an induction cooker
It's easy to clean
It has a non-stick coating, so if you don't understand seasoning, then this helps
Cons:
You may have to season this wok yourself
It looks more like a frying pan rather than a wok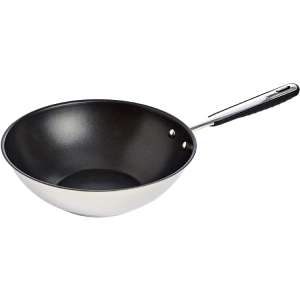 This may be one of the best woks in the UK you can buy for induction cooking. 
The Amazon Basics Stainless Steel Induction is made from stainless steel and is finished off with a Teflon coating on the interior to turn this into a non-stick wok. From a look's perspective, it's certainly not in the same league as traditional woks, but it's not ugly either.
The base of this wok is small and round. That's what makes this the perfect solution for induction cooking. It's also deep enough for deep frying as the sides are high, and the non-stick coating covers every single inch of this wok.
The handle comes with a soft grip on it, and this is certainly comfortable to use with no need to worry about heat being transferred either. 
On the other hand, the main disadvantage of this wok is that it is not as deep as the traditional ones. Also, it may be difficult for you to add the seasoned layer.
Pros:
The small round bottom means you can direct the heat with ease
The Teflon coating does provide a reasonable non-stick coating
The deep sides make stir-frying easy
It can be used on any stove, and not just induction
It has an easy pour lip which is a nice additional feature
Cons:
It may not be as deep as a traditional wok
You may find it difficult to add your seasoned layer
This 12.5″ wok may not be the biggest around, but it has to be one of the best looking. It comes with a wooden lid, which matches the wooden handle, which, unfortunately, means it's not good for the dishwasher. 
This carbon steel wok has a hammered base, and that base may be small, but it still has a flat bottom making it suitable for being used on any stove. To get the best out of this wok, you need to go through the seasoning process, giving it the non-stick coating you are looking for.
Overall, this carbon steel wok is gorgeous to look at, and it's going to be the perfect companion for stir-frying regularly.
While this is one of the best woks in the UK, it can be time-consuming to clean it as it is not dishwasher-safe.
Pros:
It can be used on any stove or hob
The carbon steel makes it easy to go ahead and season this wok
It has deep sides, so it can be used for deep frying even though it's relatively small
The wooden handle and lid are gorgeous to look at
This traditional carbon steel wok spreads heat across the surface with ease
Cons:
You may not be able to see through the lid

It may be time-consuming to clean as it is not dishwasher-safe
This wok by Zwilling not only comes with a glass lid, but the wok also has two handles to make life easier when it comes to swirling things around.
Crafted from stainless steel, it has a flat enough bottom to be used on any stove. So, if induction is your thing, this is a non-stick wok that can work for you.
It is made from three layers of forged aluminium, which will spread the high heat used in cooking evenly across the entire wok base. That means you can cook things perfectly and with absolute ease.
However, more about the handles; they are ergonomically designed to make life easier for you. It also has a special pouring rim, so you have better control when you want to pour out any sauces you have made.
One thing to note with this wok is that it tends to discolour after continued use. So, if you are particular with the appearance, this wok may not be for you.
Pros:
The two handles make using this wok a whole lot easier
The pouring lip is a great addition
The glass lid makes for easy viewing
The aluminium spreads the heat evenly for better cooking
Highly versatile pan
Cons:
It may discolour quite quickly if you don't care for it correctly
It can be tough to create the non-stick coating through seasoning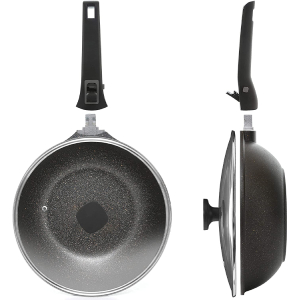 If you are looking at saving space, this is the best wok for you. It comes with a removable handle, so it is easy to store it away, no matter the size or shape of your cupboards.  
You can also use this 28cm wok on any hob or stove. Also, as you can remove the handle, you can put this in the oven, which means you can crisp up any dishes or finish things off once you're finished on the stove. 
Crafted from aluminium, it does spread the heat evenly across the pan. That's what you want with the best woks out there, and this one won't disappoint. 
Unfortunately, it also has its disadvantages. You may need to be extra careful when using this wok as it might get damaged easily.
Pros:
The removable handle is a great space-saving device
Being able to put it in the oven is great
The aluminium does make cooking easy
It has a non-stick coating included
It's easy to clean this wok
Cons:
It may not let you add your coating
The handle might get damaged easily
Carbon steel woks can develop their non-stick coating, and this model is one of the best woks around for that very reason. The best non-stick wok will make it easier for you to cook amazing stir-fries, and you can do so with less oil.
This model comes with a flat bottom, while it also features a glass lid and a sturdy handle made of wood. You can use this wok on all hob types as it does provide even heat distribution through the base.
The non-stick on this wok is of pretty high quality, but you should also try to add your own through the cooking process. If you aren't sure how to do that, don't worry, as seasoning is very easy to do.
Things to note when using this wok is it may not be dishwasher safe. Also, it is quite heavy and may not be ideal for people who are smaller in size.
Pros:
The fact it can be used on all hobs is a real bonus
Carbon steel is of the highest quality
The handle has anti-scalding properties
It doesn't contain any toxic properties
The glass lid makes for easy viewing of your stir-fries
Cons:
It may not be dishwasher safe
It may be too heavy for some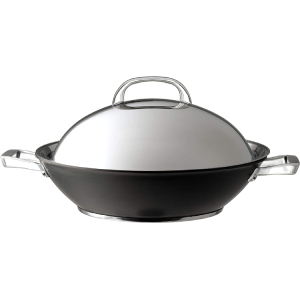 This wok comes with a lifetime guarantee, and that's not something that happens too often. With the lifetime guarantee, it does mean they are confident you will love the wok, and that it's not going to let you down.
This is a large wok, and while it can go on a gas hob, it can also be put into the oven if you have an oven that's big enough. It also has cast stainless steel handles, and then there's the non-stick surface that's also included.
We love that you can use metal utensils on this model and that it's oven safe. A number of non-stick pans cannot be placed in the oven, so that's a real bonus.
Also, as well as being oven safe, it's also dishwasher safe, so when it comes to caring for it, this is perhaps the best wok on the market.
However, please note that it is bigger and may not work well with you, especially if you are a small person.
Pros:
The fact it's oven safe is a major advantage
The non-stick application is great, and it's easy to season as well
The size means it's perfect for family cooking
Heat conduction is easy with the stainless steel
This wok is also easy to care for
Cons:
The wok may be too big for some people
It's pre-seasoned, but it may not be the best
Finally, we have this wok by Michelangelo, and this model comes with all types of add-ons. From a glass lid to a steam rack and frying basket, it means this is a good wok for all sorts of cooking. 
Whether stir-fried, steaming or deep frying, this wok has you covered. 
The interior in this model is a blend of ceramic and titanium. It is non-stick, which is what you want for your wok, and it is both ovens safe and dishwasher-safe, so you don't have to worry about cleaning up after a long cooking session.
However, it is a big wok, which may not be ideal for a small kitchen space. Also, it may lose its non-stick feature over time.
Pros:
The extra additions you get with this non-stick wok are excellent
The fact it's dishwasher safe helps
The high sides make it safer when using hot oil
It works well on an induction hob
The coating will prevent rusting
Cons:
The non-stick might come off this wok after extended use
It's not a small wok so that it may take up more space
A Complete Guide on How to Buy the Right Wok
Buying the right wok is going to be easier than you may have initially thought. You see, a wok is far more versatile than most people realise. They think you can do little in it, but that's not the case with the average wok.
So, here is how you can end up with the right wok for your needs.
Understand Heat Sources
Not every wok is suitable for all of the different available heat sources. For example, you cannot use a round-bottomed wok on an induction hob. If that's what you own, then a wok with a flat base is going to be best because it needs maximum surface area to be able to work efficiently.
Suppose this sounds like you. Check for the best wok for induction hob cooking. That's going to be included in our wok reviews above.
Understand Materials
As well as heat sources, also remember to check out the materials. For example, we have the best carbon steel wok UK markets offer, but carbon steel is not where it ends.
Instead, you also have cast iron and stainless steel, but carbon steel is the most predominant and popular market. However, you need to understand the concept of seasoning to get the most out of it. 
Look at the Size
Size is important; a wok can come in all sorts of measurements, and you also need to think about the depth. Don't just opt for a good looking wok. The appearances may tick all the boxes, but you need to know if it will work on your heat sources, as well as whether or not it's big enough for your stir-fries.
Caring for It
You also need to be aware of how to care for your wok. Is it able to be put into the dishwasher? Do you need always to season it? Learn more about how to look after your wok before purchasing, as it will mean you make the right decision at the first time of asking.
It's easy to find the best woks for your purpose. You need to know if you prefer traditional carbon steel and deal with the non-stick coating.
The Advantages of a Good Wok
A good wok comes with several advantages. Not only can it withstand high temperatures, but you can easily cook a quick meal for the whole family. 
These high temperatures will lead to you stir-frying like a professional. Also, your non-stick wok will last for some years, which is especially true if you own cast iron woks. Cast iron takes on a good patina that will also add to the overall cooking experience.
A non-stick wok can put up with so much use and punishment. Also, while a lid of some sort may be useful at times, it's not a necessity.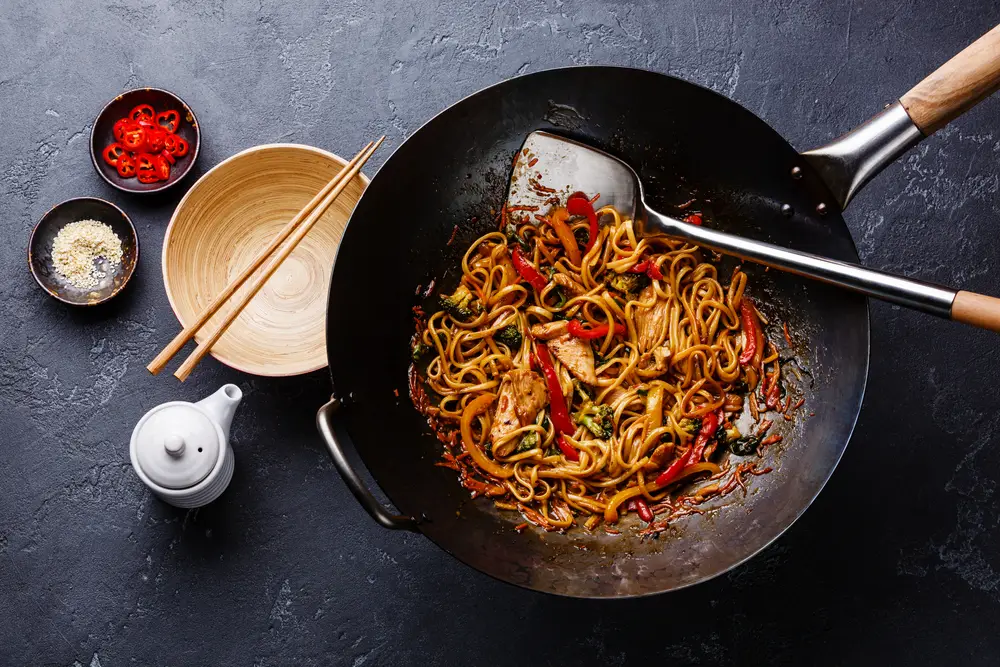 If you want to produce quick, healthy meals in basically minutes, then a wok will end up being your best friend.
Conclusion
Our picks are definitely among the best woks in the UK. However, if we have to choose, we will go with our editor's choice, the Craft Wok Traditional Hammered. This wok is made from carbon steel and is big enough to handle large cooking. It has a non-stick feature, making it even more durable and long-lasting.
A wok is an amazing pan to have in your home. You can use it for more than just stir-fries, and the way it can lead to the heat being so evenly distributed does mean you get the perfect cooking temperature. It is even an easy way to cook, so if you have limited experience in the kitchen, then a wok will end up being a great choice as it's difficult to go wrong with it.
Choosing the material is up to your personal preference. Some people prefer an iron wok, while others prefer carbon steel. Be aware of the weight of some woks, and consider getting one with two handles if this is a problem.
But overall, non-stick woks are going to be a good investment. They will last for years and will continue to help you produce some amazing food that goes beyond stir-frying. You will undoubtedly find a wok that fits your needs in the list above.
Additional Resources