Last Updated on
Our editors independently research the best products online to produce this list. We may receive commission on purchases made from the links below but this will never affect our product choices.
---
Top 10 Best Oven Thermometers
The best oven thermometer in the UK customers can buy is more than just a must-have purchase for professional chefs. A good oven thermometer is worth an investment in the accuracy of your oven and the quality of your cooking.
A stainless steel oven thermometer can give you a more precise and accurate reading even if your oven comes with a built-in gauge for checking oven temperature. Many experts believe that an affordable oven thermometer gives you more control over your cooking by ensuring you can read the exact temperature inside your oven at any moment.
The only question is, how do you choose the best oven thermometers for your needs? With our oven thermometer review guide, you'll soon know everything you need to know about the ideal oven thermometers for your kitchen.
How we Compared Oven Thermometers
To find the right oven thermometers we considered multiple factors, including:
Display
Material
Precision
Upper-temperature rating
Our editorial team carefully researched and selected products that would suit a wide range of needs to take your kitchen experience to the next level. We set out this list after assessing customer reviews and evaluating pros and cons in line with the above comparison points.
Find more about our behind-the-scenes process here.
Oven Thermometer Reviews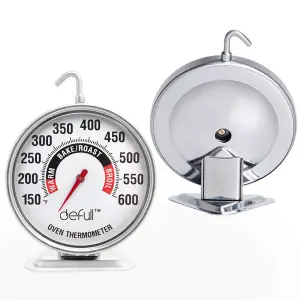 Clarity is key to a great oven thermometer experience, which is why this oven thermometer is first on our list.
You want to be able to check the internal temperature of your oven at a glance, so you can leave your food to continue cooking if the temperature range isn't exactly ideal. Fortunately, this Defull extra-large oven thermometer makes it easy to get all the information you need quickly.
With an extra-large 2.75-inch dial, you'll have no trouble checking the temperature range of your oven rack in a matter of seconds. This oven thermometer can accurately monitor from 150 to 600 degrees Fahrenheit for exceptionally accurate kitchen cooking.
If you tend to have trouble keeping your food at the correct temperature and don't want to rely on a meat thermometer after taking your food out of the oven, the Defull product has you covered. Depending on your needs, you can stand it on the oven rack or hang it from the shelf. Plus, Defull offers a fantastic 1-year warranty and 30-day return option for peace of mind.
One slight problem is that you won't detect the temperature of shallow liquids or sauces with this thermometer, which may be a problem.
Pros:
An excellent, large display is easy to read
Can hang or stand on the oven rack
High-quality and oven safe material
Safe for use around food
High-quality after-sales service
Cons:
It may not be suitable for checking some foods
The clip can be a little less secure than required
Simple and effective, the CDN Proaccurate stands as one of the best oven thermometers to help you make the most of your cooking habits. This convenient, high-quality product comes with fantastic strong materials throughout, so it can continue to give you an accurate reading of your oven temperature year after year.
Convenient for beginners using oven thermometers for the first time, this CDN Proaccurate thermometer comes with stainless steel material throughout. The commercial-grade stainless steel construction should ensure you don't have to replace your thermometer too frequently due to general wear and tear.
If you like the idea of instant-read thermometers, the easy-to-read display on this oven thermometer is sure to appeal to you. There's a large 5cm dial, so you can quickly and conveniently see the best oven temperature for your needs through your oven window or oven door. The product also comes with a wide base for placing on oven racks or a hook so that you can hang it instead.
This product comes with a five-year limited warranty for peace of mind. That's great if you want to feel confident that you're investing in a high-quality item.
One thing to note with this oven thermometer is that the font is too small for some people.
Pros:
Can hang or stand on your oven rack
The large display is easy to see anywhere
Stainless steel construction for durability
Excellent long-term performance
Warranty included
Cons:
The font may be a little small for some
May struggle with accurate readings in some scenarios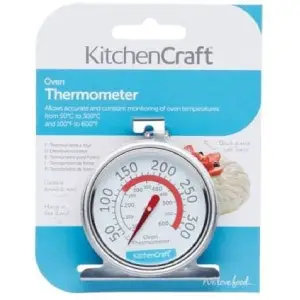 If you're looking for a temperature reading solution for your oven that shows Celsius clearly, this KitchenCraft product could be perfect for you. Ideal for ensuring you reach the required temperature with your meals, this product will ensure you know what kind of heat your food is being exposed to at any given time.
One of the best oven thermometer products on the market, the KCOVENTH product from KitchenCraft is oven-safe and easy to use. You'll be able to track temperature changes with no problem. The thermometer has colour-coded safe zones to help you track when your food is ready to be checked so you're not constantly taking it in and out of the oven.
The red zones will help you avoid removing food from the oven too early. What's more, this product is versatile enough to work with virtually any oven. You can track heat up to 300 degrees Celsius, and there's a 12-month guarantee for peace of mind.
With an easy-to-read display, anyone can start tracking their food temperature changes in no time. There's also a hook or stand option, depending on how you want to use it.
Meanwhile, even though this is considered the best oven thermometer in the UK, you still need to be extra careful as its glass might crack when not properly used.
Pros:
Easy-to-read display with large numbers
Stainless steel design for durability
Suitable for hanging or standing
Works in a wide range of ovens
It comes with a 12-month guarantee
Cons:
Glass may crack quite easily if not used with caution
It may not be suitable for people who want to see both Fahrenheit and Celsius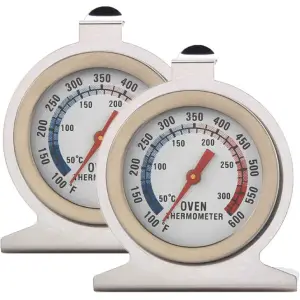 If you're cooking simultaneously with more than one oven, you need to make sure you have accurate readings of the temperatures for both of them. 
The best oven thermometer will allow you to keep track of different temperature settings between two ovens or keep both ovens at the same temperature. This pack of two from INRIGOROUS is perfect for dual oven cooking.
Ready to sit on your oven shelf, this set of oven thermometers ensures you can keep your ovens at the required temperature for all kinds of cooking. The clear display will show you an exact reading of the temperature in a matter of seconds, with access to both Fahrenheit and Celsius options. You can read up to 600 degrees Fahrenheit or 300 degrees Celsius.
The set of two oven thermometer products instantly upgrades your cooking experience by ensuring you can keep track of the rising heat in your appliance. These thermometers even come with colour-coded zones to help you track the safe temperatures for your dishes. The blue zones indicate your oven is too cold, while the red zones on the oven temperature gauge may indicate they're too hot.
Some of the easiest to use products in our oven thermometer review guide are great for beginners and easy enough to set up, with a hook or stand option.
The only major disadvantage of this oven thermometer is that it might suddenly crack after continued use.
Pros:
High-value pack of two for two ovens
Excellent accuracy for both Fahrenheit and Celsius
Great for tracking two oven thermometers at once
Suitable for hooking onto racks or standing on shelves
Colour-coded temperatures show you when food is likely to be cooked
Cons:
Glass may crack over time with regular use
It may be difficult to hook onto some shelves
Ideal if you're looking for an oven thermometer that's easy to use and highly accurate, the KitchenCraft MasterClass oven thermometers have a simple display and a large dial. 
A convenient chef aid or an ideal way to improve your cooking experience, this thermometer is easily installed into your oven the same way like most products on our oven thermometer review list. You can hook the device onto an oven rack.
Great for keeping track of different temperatures at a glance, this easy-to-use thermometer will ensure you can always see the true temperature of your oven. There's no wiring or complex digital setup required. Hook the thermometer onto your oven rack and check the crystal-clear display whenever you need an update.
Suitable for tracking both temperature measures, the simple display can go all the way up to 600 degrees Fahrenheit or 300 degrees Celsius. The increments of either 10 degrees Celsius or 50 degrees Fahrenheit are also easy enough to follow when you're in a hurry to make the most of your cooking.
This convenient tool is easy for anyone who wants to make the most of their oven and ensure its temperature is heating up correctly. There's even a five-year guarantee for peace of mind.
On the other hand, you may need to be extra careful when using this thermometer as its glass lens may crack after extended use.
Pros:
Great multi-option temperature tracking
Hooks easily into an oven rack without taking up too much space
Accurate temperature readings
Clear display in both Fahrenheit and Celsius
No complicated setup
Cons:
It may not be ideal if you're looking for a stand-up thermometer
Glass lens can crack over time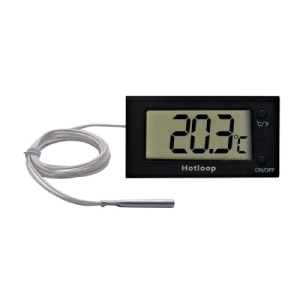 If you're committed to keeping track of the exact temperature of your oven at all times, you might want to upgrade from a basic stainless steel oven thermometer to something more tech-savvy. Digital thermometers can offer a higher degree of accuracy to ensure you're always reaching your desired temperature for better cooking. This oven thermometer from Hotloop combines digital functionality with durable stainless steel for a great result.
More tech-savvy than most oven thermometers, the Hotloop digital thermometers are easy to use and fantastic for various use cases. Place the cable of the affordable oven thermometer into your oven, and you'll be able to track the temperature of the oven on display. There's no need to peer through your oven door or window at the oven thermometer inside.
This digital thermometer offers exceptional accuracy for temperatures ranging from 0 to 300 degrees Celsius. What's more, the heat-resistant and high-performance thermometer is easy to read, so there's no need to worry about trying to see tiny digits when you're cooking. Add a battery when you're ready to start discovering the benefits for yourself.
However, as you may discover when conducting your oven thermometer review, there's only the option to read in Celsius, which might be problematic for some.
Pros:
Easy to read digital display
Excellent accuracy for tracking exact temperature
It doesn't involve looking through your oven door
Made with durable stainless steel
The probe can be used with both oven and BBQ
Cons:
It may not be suitable if you want to measure Fahrenheit
It can be a little basic for some professional chefs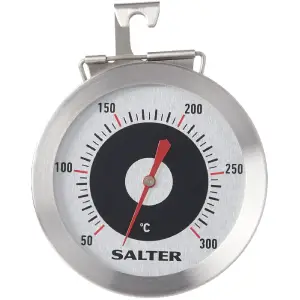 Another great option for the best oven thermometer, the Salter Kitchen thermometer, is an adjustable chef aid with a strong stainless-steel construction. 
Like most oven thermometers, this product is entirely oven-proof and ready to handle all kinds of temperatures. The large and easy-to-read display will ensure you can always ensure your oven is in the right temperature range.
If you're looking for the best oven thermometer in the UK for long-term use, this strong and durable stainless steel oven thermometer from Salter Kitchen could be perfect for you. You can either sit the thermometer on your oven shelf for an accurate temperature reading it hang it off an oven rack, which is ideal when you don't want to take up too much oven space.
The adjustable functionality also means you can update the performance of your thermometer over time if you notice the temperature reading isn't quite as accurate as you'd like. There's a bold, easy-to-read dial, a glass lens, and a bi-metal thermometer sensor, all working together to give you the most reliable results without the need for a digital screen.
This oven thermometer is also equipped with a two-year guarantee. If you have any issues with the temperature readings, you can always reach out to the manufacturer about a return.
One thing to note if you opt to get this thermometer is that it may take time to get accurate temperature readings.
Pros:
Great for an accurate temperature reading fast
High-quality stainless-steel thermometer
Convenient chef aid with a large dial for easy reading
Two-way hook and compact size for easy placement in the oven
Highly durable glass lens for long-term performance
Cons:
It may take a while to adjust your thermometers to get the most accurate temperatures
May need to be placed close to the food you're cooking for accurate readings
Forget the bells and whistles of complex kitchen utensils with this Chef aid stainless steel kitchen thermometer!
During our oven thermometer reviews, this was one of the most straightforward products we found, ideal for chefs who know their oven is pretty accurate – but not accurate enough. The highly durable stainless steel thermometer hangs or stands in your oven to show you exactly when your food is cooked.
With a large dial, so you can easily read the temperature without peering into your oven, this Chef Aid stainless steel oven thermometer is great for all kinds of users. The product will show you high temperatures in both Celsius and Fahrenheit so that you can adjust the temperature according to your requirements. The clear glass display is also perfect for offering temperature reading information at a glance. For even better ease of use, there are colour-coded sections to help you.
The Chef Aid oven thermometer will help you find the best oven temperature by showing you via red and blue zones when your oven is hot and cold. There's no complex setup required, and the stainless steel material ensures your product should continue to offer an accurate temperature reading year after year.
However, although it is not a disadvantage, please note that this thermometer is not dishwasher-safe. 
Pros:
Shows a wide temperature range in Celsius or Fahrenheit
Hangs or stands in your oven
Easy to use with a clean, simple display
Durable stainless steel design for long-term use
Easy to clean and maintain
Cons:
It may not be dishwasher safe
It might not be the best oven thermometer for hanging on a shelf
The best oven thermometer may also be the simplest for some would-be chefs. 
An easy-to-use thermometer will quickly become a natural part of your cooking routine. This Invero Universal oven thermometer ensures you can quickly update your oven and keep it at the right temperature whenever you're cooking or baking.
Like most oven thermometers, the Invero Universal oven thermometer will hook onto the wire shelf in your oven, so you don't need to set up any wires. Though simple, the Invero stainless steel oven thermometer still stands out as one of the best oven thermometers for accurate temperature readings in Celsius (50-300) and Fahrenheit (100-600).
The clear dial is easy to read, with a large face where you can see 10-degree increments of temperature with ease. The commercial-grade stainless steel finish also ensures you can continue to use your device in the oven for as long as you like. 
On the other hand, please keep in mind this thermometer might not be dishwasher safe.
Pros:
Great for checking if your food is cooked fast
Ideal alternative to standard meat thermometers
Reads highly accurate temperatures in Celsius and Fahrenheit
Commercial-grade stainless steel
Glass lens (in laboratory quality)
Cons:
It can be quite small for some users
May have some inaccuracies with high temperatures
It might not be dishwasher safe
Great for taking up minimal space in your oven, the Taylor TYTHOVENSS oven thermometer will show you whether your food is properly cooked in no time. 
This chef-approved oven thermometer is oven safe, with stainless steel throughout and a strong glass dial. You can easily and quickly monitor cooking temperatures up to 300 degrees Celsius.
With a handy clip and built-in stand, the Taylor TYPTHOVENSS oven thermometer can be conveniently positioned almost anywhere in your oven in no time. You can stand the thermometer on your baking trays too. The large three-inch display gives you accurate readings in no time. This large display means the Taylor thermometer competes with some of the best oven thermometers for readability.
Promising excellent accuracy and precision, the oven thermometers from Taylor are tried and tested to ensure great performance. There's even a five-year guarantee included, which is a lot more than you would get from most oven thermometers.
Unfortunately, this might not be the best oven thermometer for you if you prefer to measure Fahrenheit.
Pros:
Excellent warranty from the manufacturer
Clip or stand oven thermometer
One of the best oven thermometers for a large display
Excellent stainless-steel design
Measures up to 300 degrees Celsius
Cons:
It may not be suitable for measuring in Fahrenheit
It can be difficult to clip in the oven at first
What Is the Best Oven Safe Thermometer?
As you can see from our oven thermometer reviews above, there is a wide range of options on the market for today's would-be chefs. Oven thermometers come in a variety of designs, including digital and manual. The best oven thermometers for your needs will depend on you.
If you want an oven-safe thermometer, the most important thing you can look for is its durability. The top oven thermometer will usually feature a stainless-steel body and a highly reinforced glass face for the dial. Remember, your standard meat thermometer probably wouldn't hold up against constant exposure to heat in an oven, so you need something stronger.
Which Oven Thermometer Is Most Accurate?
It can be difficult to determine which oven thermometer is the most accurate. Place the oven thermometer in different locations around your oven to see whether you get the best readings when your thermometer is close to or far away from your home.
To test your oven temperature accuracy, place the thermometer in your oven at different points and record the temperature. You should get a pretty accurate reading for your cooked foods in most cases.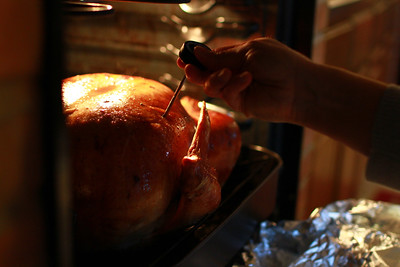 Where Is the Best Place to Put a Thermometer in the Oven?
The best position for an oven thermometer will depend on various factors, including the type of oven thermometer you're using. An oven thermometer with a probe might sit within the actual food. On the other hand, a digital thermometer will sit outside the oven.
Placing the thermometer on the left, right, front and back of the oven will help you to test whether you have any cold spots. Most manufacturers recommend placing your oven thermometer next to your food when cooking.
How Do I Check the Temperature of My Oven?
To test the temperature of your oven, the best thing you can do is hang an oven thermometer in the centre of the middle rack and heat it for at least twenty minutes to a setting of at least 350 degrees. Take a temperature reading with your oven thermometer to see if your oven reaches the right temperature.
Choosing Your Oven Thermometer
Your pick for the best oven thermometer in the UK will often depend on various factors, including whether you want your oven thermometer to be dishwasher safe, digital, manual, or equipped with a probe. While there's no one-size-fits-all, the reviews above should give you a good starting point.
Our favourite oven thermometer is the Defull Extra-Large and Clear. It's clear and easy to read when you're in a hurry to check your oven thermometer temperature, and the product is also wonderfully easy to use. You can accurately monitor temperatures with this oven thermometer and upgrade your cooking in no time.
Additional Resources