Last Updated on
Our editors independently research the best products online to produce this list. We may receive commission on purchases made from the links below but this will never affect our product choices.
---
Top 10 Best Espresso Machines
Love the taste of espresso and how it uplifts you in the middle of the day? Then it's time to treat yourself to the best espresso machine in the UK market. These appliances are simple to use, and some models even require minimal effort on your part.
In today's article, we're exploring the top 10 espresso machines tailored to your needs and offering a range of features. We've catered for all kitchen spaces, sizes and more so that there's an appliance to suit everyone.
Start your day with a full-bodied aroma, rich shot and light creamy consistency that delivers every time with our best picks below!
Discover the Best Espresso Machines
Coffee machines are such a great way to enjoy barista-level coffee without visiting coffee shops several times a week and eating at your wallet. The best machines can buy below to help you kit out your home or office kitchen. We've intentionally created a diverse selection to help you choose the right espresso machine for your needs.
How we Compared Espresso Machines
To find the right espresso machines we considered multiple factors, including:
Automatic or manual
Dimensions
Grinder
Drink variety
Water tank capacity
Temperature control features
Steam Wand
Our editorial team carefully researched and selected products that would suit a wide range of needs to take your kitchen experience to the next level. We set out this list after assessing customer reviews and evaluating pros and cons in line with the above comparison points.
Find more about our behind-the-scenes process here.
Espresso Machine Reviews
This is the best home espresso machine you can buy for many reasons. Firstly, it allows you to customise your espresso for great tasting coffee that everyone will love—no matter how strong or weak you prefer your espresso shot.
This espresso maker includes 15 bar pressure, enabling you to enjoy delicious espresso coffee with a rich aroma and creamy top layer. Best of all, this appliance also includes a cappuccino system and can create a range of milk-based drinks thanks to the built-in milk frother, whether you use freshly ground coffee or coffee pods.
Above all, this coffee maker is easy to maintain and clean, thanks to the removable drip tray that makes keeping on top of wiping down surfaces much easier. This drip tray is even dishwasher safe.
This machinery also includes a safety feature where the machine switches off immediately after being turned on if the frother button isn't off. Doing so prevents any mishaps with milk frothing in your face should there be any milk remaining. The De-Longhi Scultura also boasts a high-capacity water tank to accommodate a large household.
Unfortunately, as this espresso maker includes built-in buttons on the interface to customise your coffee, these buttons might easily get worn with regular use. Furthermore, some customers noticed that the machine drips heavily while making hot beverages, which might be an inconvenience and result in more cleaning.
Pros:
Stylish metal finish with chrome detailing
Includes a cappuccino setting to froth milk for milky coffees
Easy to clean and maintain
Dishwasher-safe drip tray
Safety feature with the milk frother
Cons:
Display buttons might get easily worn with regular use
The machine might drip heavily while making coffee
This Sage coffee machine is stunning to look at, functional and takes up minimal space on your kitchen countertops. 
What's more, it comes with an array of accessories for first-time espresso users. These include a trimming tool, one-cup and two-cup single and dual wall filter basket, a stainless steel milk jug, Allen key, water filter holder and water filter.
This espresso maker lets you enjoy decent coffee at home or in the office with balanced flavours and even coffee extraction using a low-pressure pre-fusion method. As a result, this machine can balance and manage sweetness, bitterness and acidity for the perfect bean to cup coffee every time.
This Sage espresso machine includes a 1,600W Thermocoil-integrated stainless steel water bath that accurately controls water temperature. Above all, it automatically purges the heating system after it steams to ensure that the released water does not burn the delicate coffee beans at the right temperature. What's more, the built-in milk frother allows you to enjoy creamy milk to suit your preferences. 
Most impressively, you'll receive guidance on whether this espresso machine needs maintenance or cleaning, thanks to the maintenance indicator. So you'll always be in the loop regarding its status.
On the other hand, this espresso maker might not include a built-in grinder, which some customers might be looking for. Additionally, this appliance might take longer to initially heat up compared to other espresso machines on this list.
Pros:
Maintenance indicator keeps you on top of cleaning
The stunning and elegant stainless steel finish
Includes built-in milk frother for creamy, milky coffee
Includes an array of accessories for first-time espresso drinkers
Accurately controls water temperature to prevent lukewarm or burning results
Cons:
It might not include a built-in grinder
It might take longer to heat up than some appliances on this list
Make tasty espresso on the go with this portable espresso machine! 
This best-budget espresso machine doesn't require a battery or electricity as it uses manual operation only. As a result, you get to enjoy ample flexibility to try new flavours and take your espresso everywhere.
Despite its portability factor, you don't just have to use this espresso maker for on-the-go ventures. Instead, you can keep it in the office or at home without taking up much space. Additionally, it's simple to operate. Simply add boiling water and ground coffee to the Minipresso GR to enjoy up to 50 ml of warm espresso. Then, apply some pressure and pump a couple of strokes to extract the perfect espresso every time.
When it's time to pour your hot drink into a cup, turn the Minipresso GR upside down: this design ensures that you're more likely to get every last drop of your coffee. Once you've filled this portable espresso maker with coffee, it can create up to three-four cups of espresso, which is great for sharing among guests.
On the other hand, this mini espresso machine might not include accessories sold separately. Furthermore, it might not come with a drip tray and could be prone to leaving coffee as you pour. 
Pros:
Portable and lightweight, making it ideal for taking on the go
Simply to operate with only a couple of steps
Makes 3-4 cups of espresso once full
It doesn't require a battery or electricity to make espresso 
Its design means that you're more likely to get every last drop out of the coffee
Cons:
It might not include accessories
It might not include a drip tray to catch any extra coffee as you pour
For a more traditional espresso maker that you can display at home, the De'Longhi Dedica Style makes an excellent option. Measuring only 15cm wide, it exudes a sleek appearance that won't take up much room in kitchens while enabling you to enjoy handcrafted coffee in minutes.
This espresso machine includes a milk frother and drip tray, making it ideal for making lattes and cappuccinos and not just espressos. This coffee maker's milk frother creates creamy foam, while the 15 bar pressure pump results quickly. Its height and design even accommodate tall latte cups. 
You'll never have to wait too long to enjoy an espresso shot since this espresso machine heats up in only 30 seconds, making it a great way to start your day or energise you in the afternoon. Furthermore, the Thermoblock heating technology ensures that you never have to wait too long to access hot water, ideal for making a cosy herbal tea.
Most impressively, this coffee maker includes a cup warmer to keep your mugs toasty and ready for use—perfect for a winter's day. To further enhance this appliance, its energy-saving automatic stand means that the machine switches off when it's not been used in a while, ensuring that you're not wasting money.
Unfortunately, it might only accommodate up to two cups on the cup holder, which means that you may have to keep refilling the machine if you have guests over. In addition, it doesn't feature an LCD, which might not be ideal for technophiles.
Pros:
Includes a Warm Cup feature
Thermoblock heating technology heats the water quickly
Design accommodates tall latte cups
Stunning design that accentuates any room
Includes a drip tray and milk frother 
Cons:
It might not be large enough to accommodate several people 
Lack of a digital display might not be appealing to everyone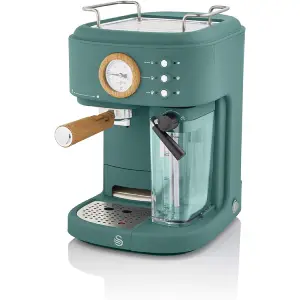 Next on our list is the Swan Nordic One Touch! This is the best espresso machine in the UK for looking for something stylish.
Available in five colours—Cotton White, Green, and Blue—this espresso machine is simple but highly functional. The combination of stainless steel and wood accents provides a stylish finish. It also exudes modern minimalism to complement any kitchen setup.
But this espresso maker isn't futile; it provides a high-performance thanks to the 20 bars of pressure and an outstanding 90-second preheating time. Therefore, the Swan Nordic On Touch espresso machine is ready to make great coffee in just a couple of minutes—great for your morning energiser.
Most impressively, this espresso machine boasts a simple one-button operation to make the brewing process effortless for you every day. This is great for making a single espresso shot or accommodating a large group.
Additionally, this unit includes a measuring spoon and coffee pressure for barista-level coffees every time. And the removable drip tray catches drips and spills, so your countertop won't be a mess or stained after making coffee.
Finally, this appliance includes a 1.7-litre detachable water tank and 500ml detachable milk tank, providing plenty of room for coffees without having to refill the tanks all the time.
Unfortunately, the appliance might be prone to stains if you don't wipe away any coffee stains instantly. So bear in mind that you'll need to keep up with maintaining this unit.
Pros:
Generous-size water tank and milk tank
Simple to use with a one-button operation
Stylish, modern design that enhances your kitchen
20 bars of pressure for grinding coffee
Includes a measuring spoon and coffee pressure for ease of use
Cons:
90-second preheating time might be longer than other units on this list
The material finish might make it prone to coffee stains
Do you love your espresso to have milk froth that makes your hot drink creamy? Then the Bonsenkitchen 14 Bar is the best espresso machine for you!
This espresso maker is best for milk frothing to create thick, creamy coffees to your liking. Best of all, this espresso machine includes a 15 bar pressure with a steam nozzle to quickly foam milk. Therefore, you can quickly prepare espresso, latte, cappuccino and more the easy way.
It provides easy espresso-making with a 1,450-watt portafilter for instant hot water that can be used in coffees or espresso drinks. Designed with a control knob, simply turn the dial left to make coffee or right for a milky coffee texture. This user-friendly design makes this one of the best home espresso machines for newbies.
Once you've finished making your coffee, it won't take long or require a lot of energy to clean this espresso machine. That's because the drip tray and bubble are easily removed to simplify the cleaning process while minimising any mess in the first place. 
Finally, this espresso machine boasts a movable water tank of 1.25 litres, enabling you to make 8 to 10 cups of coffee without refilling the tank. As a result, it's great for homes and offices for fast operation in a short time.
Unfortunately, this might be one of the loudest espresso makers when making espresso-based drinks. So you may need to consider your environment and housemates before purchasing this unit.
Pros:
Easy to use with a simple dial
1.25-litre water tank makes up to 10 cups of coffee with no need to refill
Produces thick, creamy milk with the built-in milk frother
Can accommodate filling two cups at once for ease
Heats up water quickly
Cons:
15 bar pressure might be lower than the other home espresso machines on this list
It might be too loud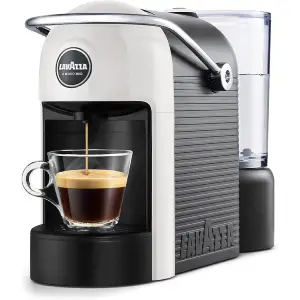 This is the best small espresso machine to store in a petite kitchen at home or in the office that makes delicious morning coffee and finely ground coffee that you and guests will love.
It is designed with soft lines and an elegant shape. This espresso coffee machine will attract attention in all the right ways. Plus, you needn't be a coffee connoisseur to operate this appliance because the buttons and indicators make it simple. In particular, it has to Stop and Go backlit buttons that put you in control, so you experience delicious coffee at the touch of a button.
Play around with flavours with a selection roasted and ground along with a slow extraction process that locks in flavour for longer. Due to this coffee maker's small form, its water tank capacity measures 0.6 litres, which is ideal for a one- or two-person household, and it includes a transparent tank. That way, you can see if you need to top up the water at a glance.
Most impressively, this is one of the best coffee machines for heating up in minimal time. In just 25 seconds, it'll heat water, so you don't have to wait around, which is great for rushed mornings. 
Unfortunately, while this espresso machine provides you with plenty of control, you're responsible for pressing the Stop button once the machine has poured enough coffee. So if you're new to operating a coffee machine or turn away for a second, you might encounter some over- and under-poured cups of coffee.
Pros:
All components are dishwasher-safe
Backlit buttons make it easy to use and put you in control
Provides a choice of roasted and ground coffee
It heats up in only 25 seconds
Includes a used capsules drawer 
Cons:
Water tank capacity might be too small for some
Requires attention to stop when the spout pours coffee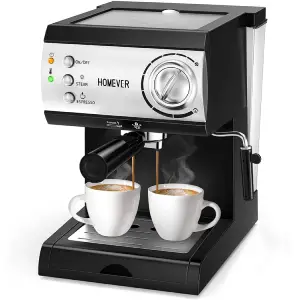 This coffee machine looks like something you'd find in a small coffee shop due to its traditional design. It lacks a high-tech interface that benefits this coffee maker since it's easier for non-technophiles to operate and provides an easy interface.
This ground coffee espresso machine features two independent thermostats to enhance each hot beverage's aroma and milk foam to its optimal condition. In particular, the milk frother enables you to prepare cappuccinos, lattes, mochas, iced coffees, and so much more. 
This appliance boasts a 15 bar pressure for rapid coffee-making while it heats up within 40 seconds to produce a high-quality espresso that's thick and creamy. It is configured with a 1.5-litre water tank. This espresso machine encourages the sufficient preparation of several cups of coffee at once. 
Best of all, you can tailor the two cups of espresso to your liking, which is great for serving drinks to two people who have different preferences. In particular, you can adjust the strength and quantity of the coffee. 
Finally, this espresso machine includes a water tray that's easily removed for cleaning. All the while, this machine's design allows you to prepare coffee cups of different heights, which is a characteristic that not all coffee machines offer.
Unfortunately, this coffee machine might be noisier than others on this list. Plus, it can also vibrate in use, so you'll need to supervise during operation to hold your mug in place to prevent any spillages. 
Pros:
Generous-size 1.5-litre water tank
Milk frother ensures thick, creamy milky drinks
40-second warm-up time 
Compatible with tall coffee cups
Option to adjust two espresso settings at once
Cons:
It might be quite noisy during use 
It might vibrate slightly during use and cause spillages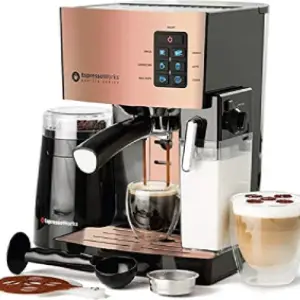 Are you looking for an all-around espresso machine? Then you should consider getting the EspressoWorks 10 Pc!
This coffee machine is an all-in-one appliance that includes all of the features you need for delicious-tasting coffee. It includes two premium double-walled espresso cups and two high-quality double-walled cappuccino glasses, making this a great gift.
It delivers 19 bars of pressure for a powerful and premium pump to make a variety of hot drinks, including espressos, lattes and cappuccinos. 
It is engineered with a 240-volt plug-in electric coffee grinder. This espresso machine creates coffee grounds from coffee beans to save you the hassle. And if you're passionate about coffee, you'll appreciate that fresh ground coffee is certainly what makes the flavour more impactful. Additionally, you'll receive a measuring spoon and tamper to easily scoop and measure the exact amount of coffee beans you need. 
Furthermore, this espresso machine includes a built-in heating tray that's always prepared to drink your cups warm. And the high-quality portafilter with single and double-shot baskets allow you to choose your amount, letting the machine handle the rest of the steps. 
For those who prefer a thick, creamy hot drink, you'll love the built-in milk frother with an adjustable control knob that achieves the exact consistency you love while remaining easy to fill and clean. 
Finally, this 10-piece machine kit comes with 16 cappuccino art stencil templates. So you can make a cup of coffee exactly like a true barista with latte art. Finally, its 1.4-litre detachable water tank is the perfect capacity for hosting parties. It can make up to 19 shots of espresso.
Unfortunately, this espresso machine has a large footprint, making it too big for storage in small kitchen spaces. It's also worth bearing in mind that it might create quite a bit of spillage when making hot drinks.
Pros:
Includes an electric coffee grinder for a bean-to-cup machine
Measuring spoon and tamper allow you to get perfect results
It comes with 16 art stencil templates
Generous-size 1.4-litre water tank
The built-in heating tray keeps mugs warm
Cons:
Footprint might be too big for small spaces
It might create a bit of spillage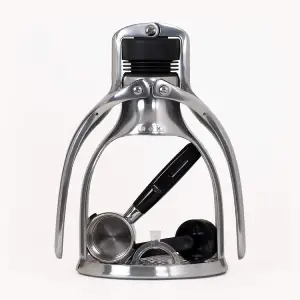 The EspressoGC Rok is an awesome choice if your priority is convenience.
It is designed for convenient use. This espresso machine takes up minimal space in your kitchen or office. It's simple to use, too. Just fill the portafilter with coffee grounds, tamp down and lock it in place.
With this espresso machine, you're in control of your drinks. That means you'll be pulling down the arms to apply the pressure you need for a truly tasty espresso. The amount of resistance and pressure is completely up to you. One espresso shot is recommended for around 25–30 seconds of extraction.
You can even create lovely, frothy milk with an additional manual frother. This is an ideal add-on purchase if you relish in cappuccinos, lattes, flat whites and more. Give yourself the variety you deserve. 
Alternatively, this coffee machine might not include a built-in grinder, so you'll have to either purchase a separate one or buy store-bought ground coffee (which we know is never as fresh as grinding it yourself). Plus, it might be quite tiresome for beginner espresso-makers to get used to.
Pros:
Robust, durable design that's built to last
It comes with a 10-year guarantee
It puts you in control of espressos
No completed digital interface, just manual labour required
The small design makes it great for minimalist spaces
Cons:
It might not include a grinder
It might be tiring and laborious for first-timers 
How to Choose the Best Ground Coffee Machine
Not sure which is the best espresso machine in the UK? Here you've reached the part in the article where we share the main features to consider to help you choose.
Automatic or Manual Espresso Machine
Manual espresso machines require you to generate high pressure by hand using the lever or piston. Along with creating this pressure yourself, you're also in charge of other aspects of making an espresso, including grinding the coffee, weighing out the correct dose, packing and tamping the filter basket, and more. 
Many baristas might say that manual machines provide the best coffee because you have more flexibility in making the entire brewing process yourself. But you should also expect that it'll require time to perfect your espresso drinks as that won't happen immediately. However, a manual machine often provides a fun aesthetic that makes the appliance a standout piece in your kitchen. So choose the best manual espresso machine that suits your kitchen's decor.
Kitchen Space
The coffee machine's footprint is another factor to get clear in your head before running out to the shops. Bigger isn't always better—especially if you have a small kitchen or want to discreetly place the espresso machine in a corner in the office's kitchen. So take measurements of the available space you have. Bear in mind that you'll probably keep your espresso machine on display at all times, so weigh up if you have enough space to work around it.
Built-in Grinder
Some espresso machines come with a built-in grinder so you can make fresh coffee grounds at home and then add them to the machine. This provides the best results for fresh espresso. But this isn't a necessary feature if you already have a separate grinder or are happy to continue buying store coffee ground. 
However, not all grinders function the same, so it's worth looking into what grinder is included. For the best results for a non-bitter taste, opt for a conical burr grinder, which is much more effective than a blade grinder, although they cost more.
Drink Variety 
If you want plenty of variety of filter coffee, research the best cheap espresso machines and pod machines that offer a range of drinks from espressos to mochas to lattes. This enables you to accommodate guests and have an all-in-one coffee machine that replaces going to the coffee shop. There's no right or wrong answer because maybe you'd prefer a simpler espresso machine with only one or two functions; you know what you like, and your chosen espresso machine should resemble that.
Water Tank
While we covered the espresso machine's footprint, you'll also need to keep in mind the size of the water tank. Most range from 1–1.5 litres, depending on your needs. It's best to edge towards the end of the range to accommodate multiple guests without having to fill up the tank after every cup constantly. It's much more efficient to fill up the tank once than several times.
On the other hand, you might only plan on making one cup of coffee each time, so a large-capacity water tank isn't necessary. To decide the right size for you, consider how many cups of coffee you plan on making at one time.
Temperature Control Features
Your chosen coffee machine needs to offer excellent temperature control to provide proper extraction, which typically consists of a thermostat or a pressure switch. Plus, everyone wants their coffee hot. Many espresso machines require that you take control and supervise the machine to ensure that the temperature reaches the right temperature for the best moment for extraction.
A digital temperature controller has an algorithm that controls how the heaters operate to maintain the temperature. This means that you're less restricted in using the machine as you choose the desired temperature, and the machine will match that. This technology ensures that the temperature comes out the same every time, potentially helping to save money on electricity by not overheating the water.
Steam Wand
To go back to the consideration earlier of choosing a coffee machine with more than one feature, you might want an espresso machine with a built-in milk frothing system. This enables you to make silky, frothy milk-based drinks without any manual labour. 
How to Take Care of Coffee Machines
It doesn't matter whether you're considering cheaper espresso machines or luxury models; it's still important to learn how to care for and maintain your appliance for excellent longevity properly. 
It's best to keep on top of any spillages and mess rather than waiting for a huge problem to arise before you have to replace the machine altogether. A good habit is wiping down the steam wand after each use. This ensures that splashes of milk don't dry onto the wand and that there's no bacteria buildup from leftover milk. Ensure that the cloth you use is dry. 
Furthermore, before you make each espresso, we recommend flushing the ground head since oils from old coffee grounds can add a nasty, unwanted flavour to your cups of coffee.
More Through Cleaning
These daily habits set your machine up to last a long time, but you'll need to engage in a more thorough cleaning routine than just the points above. In particular, scrub the group heads down with a soft brush to remove any old coffee grounds. Follow up with a detergent that's safe to use with your coffee machine, and repeat until the group head releases clean water. 
We mentioned earlier that you would need to wipe down the clean wand with a clean, dry cloth after every use, but you'll need to go a step further to keep your espresso machine in tip-top condition. So, remove the tip and let it sit in a bowl of warm water and detergent for 30 minutes to overnight (leave it longer for more dirty wands).
Also, clean the draining hose to prevent coffee grounds buildup that could block the lines. Finally, focus on cleaning the drip tray (rinsing away any old leftover coffee) and the filter basket.
Every Six Months
Around twice a year, you'll want to clean the grinder and your steam wand thoroughly using special detergents. You might even need to replace these items if they've become dirty beyond repair, which is a much better choice than risking a bitter aftertaste or nasty bacteria buildup. 
Choose a detergent compatible with espresso machines and soak the wand and grinder in the solution, ensuring that you leave enough time for the mixture to soften both items.
Check the Water
The biggest issue with espresso machines is not using fresh, clean water. Since most coffee/espresso contains water, it makes sense that this main ingredient needs to be fresher. Plus, poor water can shorten the machine's life and require repairs and even an entirely new appliance. 
You can prevent this from happening by using filtered, softened water, which isn't difficult to achieve. Firstly, you'll want to test the water (a home softening system will do the trick.) The total water hardness should be between 35 and 85 ppm. If the result is out of this range, it might be worth investing in a water softener to enhance the water quality.
The Benefits of Owning an Espresso Coffee Machine
There are so many reasons why you'd want to consider espresso machines at home or in the office.
Save Money
Reduce your trips to coffee shops by investing in coffee machines instead. On average, it's around £3 for a cup of coffee from a store, and if you indulge in store-bought coffee every day, that amount can quickly add up. Fortunately, a home coffee maker provides you with an array of hot drink options—such as lattes, cappuccinos, espressos and more—to deliver the caffeine rush you love without spending a fortune daily. 
Impress Guests
If you're considering owning an espresso machine at the office, this is a great way to impress potential customers/clients to visit your space. By offering a delectable coffee flavour when they arrive, you'll provide them with a warm welcome using fresh coffee beans. This gesture instantly sets the tone that you're a professional and caring person wanting to accommodate others.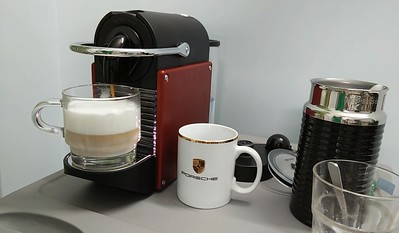 Moreover, an espresso machine in the office also keeps employees happy. Helping to save them money, keep them energised and make them feel considered/thought of, an in-office coffee appliance means makes them more likely to appreciate their office comforts and thank you with hard work and kindness.
Get More Control Over Your Coffee
Finally, having your espresso appliance gives you plenty of control over the flavour, intensity and texture of your coffee. You become more in control of the overall taste with so many options to choose from.
You can even add flavoured syrups to your drink and play around with frothed milk to make it feel like you're experiencing a store-bought drink. And you can experiment with aromas, flavours and textures every day.
The Winning Espresso Machine
Overall, we hope that this article helped to inspire you to be a part of the 95 million cups of coffee drank every year in the UK. All the choices included in this list are great and will surely make an awesome additional appliance to your home. However, if we could only choose one espresso machine as the winner, we would say that the De'Longhi Scultura is the best espresso machine in the UK. This appliance creates an entire range of hot drinks and delivers 15 bars of pressure to create a rich aroma and creamy texture on top.
Which of the above espresso machines stand out to you, or do you have any additional recommendations for the best espresso machine in the UK? Share your thoughts and feedback in the comments!
Additional Resources