Last Updated on
Our editors independently research the best products online to produce this list. We may receive commission on purchases made from the links below but this will never affect our product choices.
---
Top 10 Best Dehydrators
A food dehydrator is one of those devices that you may have initially wondered why you would use one, but after you do for the first time, then there's no going back.
This awesome kitchen appliance is used to dehydrate or dry different types of food, such as meats, vegetables and even fruits. But why dehydrate them? This prevents food from spoiling right away and ensures that harmful bacteria do not breed in it. Furthermore, the dehydrating process allows the food to retain most of its nutrition even if you consume it later.
Getting a food dehydrator does come in handy. However, that then leads to a problem. What exactly are the best food dehydrators in the UK market? Well, we will work through what we see as the best device for making dehydrated food at home, and then at the end, we will cover the key elements you should be looking out for to get the best food dehydrator for your needs.
So, let's get into it all.
How We Compared Dehydrators
To find the right dehydrators we considered multiple factors, including:
Size
Material
Dehydration method
Our editorial team carefully researched and selected products that would suit a wide range of needs to take your kitchen experience to the next level. We set out this list after assessing customer reviews and evaluating pros and cons in line with the above comparison points.
Find more about our behind-the-scenes process here.
Dehydrator Reviews
First up, we have this food dehydrator by the guys at VonShef, and with five tiers, it means you can get a lot of food on there.
The first thing you notice is that it does have plastic trays, but that will allow the warm air to move around the dehydrator easily. It comes with a flow-drying mechanism. That means the moisture is removed from the food without losing all of the good, which means you have a healthier result.
Also, the temperature control is easy to operate, so you can judge the level of warm air you want to have at any given time. Overall, the size, the amount of food it can handle, and the ease of use make this food dehydrator one of the best around.
Unfortunately, it may not be ideal for small kitchen spaces due to its size. 
Pros:
With five tiers, it has a lot of surface space
The temperature control is just a turn of a dial
The trays are easy to move
It allows for warm air to move around freely and with ease
It has a vent at the top to stop it from overheating
Cons:
If you have a small space, this will take up quite a bit of it
It could be a bit faster at working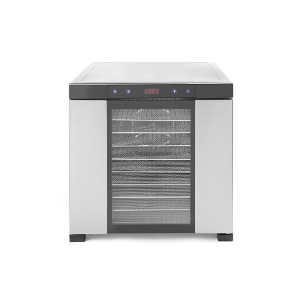 As food dehydrators go, this is one of the best out there on the market. With ten layers, you can get a lot of banana chips out of this device.
In this instance, Sous Vide state how their food dehydrator manages to dry out both the inside and outside of the food, giving you some real dried results. There's no doubt it works well, and it still does this without you losing the goodness.
Also, the fans are silent, and you have a timer included, so no need to worry about leaving everything alone.
Removing the racks is done instantly, so you can add in or take away whenever you want and do so with ease. Overall, the size of this food dehydrator mixed in with the timer function helps this version stand out.
However, please note that this dehydrator takes a lot of space, so it may not be the best option if you have a small kitchen or limited space.
Pros:
The timer is very easy to set up
With ten removable trays, you will never be short of beef jerky
It is very easy to keep clean
It dries through the food giving you a better result
The fans are almost completely silent
Cons:
It is big, so you need space to house this device
It isn't the nicest of options to look at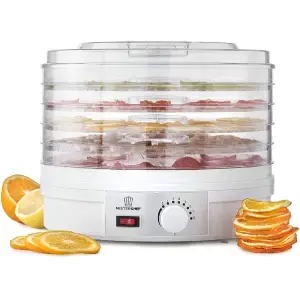 The MisterChef food dehydrator not only offers the best value, but it still offers more than enough space thanks to coming with five tiers. It works by circulating hot air throughout the machine, and it's completely transparent so that you can keep an eye on things.
All you need to do is place the food on the trays, set the temperature, and switch your food dehydrator on. MisterChef has sought to make it as easy as possible so that you can have some of that beef jerky or other dehydrated foods in next to no time.
Unfortunately, the temperature settings may not be clear, and the construction may not be as sturdy as others.
Pros:
The transparency does make it easy to check how things are progressing
Setting the temperature is easy with the dial
It has ample space for creating enough dehydrated food
It shuts off automatically when done
It comes with a 2-year warranty
Cons:
The temperature settings could be better explained
It doesn't feel as sturdy as other versions
This model by Kwasyo is also a great choice for the best dehydrator in the UK.
It comes with six tiers, which means it can hold a lot of apple slices. Operating this model is easy, as it is at the touch of a button. The silent fans then circulate the warm air from the heating element to ensure you have perfectly healthy, completely dry snacks.
The LED smart panel does make it easy to know what is going on from the temperature range to how long it is left. It means using this food dehydrator is not a problem, and you should have the perfect result every time. What's more, it comes with several recipes, which makes a real difference when trying to master the art of dehydrating fruit.
However, one thing to consider is this dehydrator has an industrial design, which may not go well with several kitchen designs.
Pros:
With six tiers, it holds a lot
The controls are easy to operate
The motor helps dry the food out with ease
It's pretty silent compared to other models
The recipes you get with it are a real bonus
Cons:
It does look quite industrial so that it won't be perfect for every kitchen
The temperature can sometimes feel a bit off
This food dehydrator by HOMCOM is more in line with drying out fresh fruit rather than anything else. However, it can still work with other food, including dried herbs.
The drying space is pretty substantial for such a small device, and you should have the same temperature across each tier. One useful addition is adjusting the space between each tray, which helps produce something evenly dried.
Overall, this model has easy-to-adjust temperature settings, and it should prevent you from drying out your apple chips too much.
However, please note that this unit may take longer than other dehydrators to achieve the best results.
Pros:
It is relatively compact
Being able to adjust the space is a great idea
The temperature control is easy to use
It offers a large amount of enclosed space
It works with a variety of foods
Cons:
It takes some time to get the best results
It could do with a timer setting
If having five trays is too little for you, then this Sous Vide Tools version comes with six. Made from stainless steel, it comes with more of a state-of-the-art approach to its design, while it also does a decent enough job of dehydrating food.
This model tends to work on lower temperatures, but that helps dry foods out completely rather than doing just half a job. This model also uses a horizontal airflow, and that does help with the various trays.
As a tray dehydrator, you want this even temperature, and setting the temperature on this dehydrator is easy and precise. But it's the cleaning part we love. The stainless steel racks are easy to remove, and they need a quick wash before they are as good as new.
Meanwhile, while this is a great dehydrator, it does not come with a timer. Also, it has a bigger size, so it might not work well if you have limited space in your kitchen.
Pros:
Removing the trays to clean them is very easy to do
It does work with drying out everything slowly
It's very easy to set the temperature on this device
The stainless steel trays will last for a long time
It offers ample space for your product to dry out
Cons:
It may be a bit too bulky for some people
There might be no timer included
If you are looking for healthier snacks but where meat is involved, this model by 52 Degrees South is the best dehydrator in the UK for you.
Not only is it very easy to put together, but it is also very easy to clean at the same time. You can make your food, and it is one of the best food dehydrators around when you want to focus on meat.
It does have a very basic approach to it. Don't expect much of a temperature range or timer with this model. It's all about keeping an eye on how things are doing, and they make this easy by having three clear sides. Overall, this food dehydrator is basic but highly effective, so if you want to dry out the meat, then this is ideal.
However, please note that it does not come with many functions. So, if you want something more top-of-the-line, this might not be the best choice for you.
Pros:
It's easy to see what's going on
It holds a reasonable amount of meat to be dried out
It's very easy to clean
It looks stylish
It won't take long to assemble it
Cons:
It may be limited in what it can do
It may not have much in the way of functions
This food dehydrator by TurboWave looks more like a microwave than a food dehydrator. This model comes with five trays, and it does provide even dehydration throughout the different layers thanks to the integrated fan.
Dials control this food dehydrator, and at least they also offer an easy guide as to how different long foods will take when using this dehydrator. However, the appearance makes this one stand out and has easy cleaning and functionality.
One thing to consider is this dehydrator may rattle a bit. Also, it may not come with a timer, so you have to time it yourself, which can be a challenging task.
Pros:
The five layers work well and provide ample space
The dials are easy to use and work well
It's very easy to clean as it's dishwasher safe
It provides even dehydration to each level
It is relatively quiet
Cons:
You may have to judge the time on your own
It's quieter when you have something on each layer, or it might rattle a bit
This electric food dehydrator from Cooks Professional comes with five trays and adjustable temperature control. This does make it exceptionally easy to control the temperature, and it can be very precise, unlike most dehydrators on the market.
It works via air circulation, which leads to the dehydrator working more evenly. It also provides great value when you look at the amount of food that you can place in the dehydrator at one time.
But this model also comes with an adjustable timer that can work up to 72 hours. Once again, most dehydrators don't have this function, so it's a nice additional feature.
On the other hand, this dehydrator can be noisy. Also, it might be challenging to use at first, but you will get the hang of it over time.
Pros:
The digital display is easy to read
The temperature is easy to control
It has a large capacity over the five tiers
It is easy to keep clean
It takes up little space compared to others
Cons:
It may take some time to get used to how to operate the device
It might be a bit noisier than others
Our final option for the best dehydrator in the UK is this one from Andrew James, and it comes with six tiers, which is slightly more unusual with food dehydrators. The amount of food that this can hold is impressive, and you will never run out of dehydrated food ever again.
It comes with both an adjustable thermostat and timer, so keeping control of what's going on should not be a problem. The trays themselves are also easy to stack, and it works by circulating the air leading to a more even result. In addition, this version is very easy to clean, and it's also more energy-efficient. But do keep in mind that it's a large food dehydrator.
On the other hand, this dehydrator is bigger, which might not be ideal if you have limited kitchen space. Also, it isn't quiet.
Pros:
The amount of space it has available is amazing
It is very easy to clean
The temperature setting is easy to adjust
It has a timer included
It is more energy efficient
Cons:
It is very large
It can be a bit noisy
What to Look For in a Food Dehydrator
All the options we have listed above are great food dehydrators. But, if you are still confused about which one you should get, we have made a complete buying guide below on what should you be looking out for when buying a food dehydrator.
Size
Dehydration works better when food is laid out on a tray. That takes space, so keep that in mind when it comes to the food dehydration device you plan on buying. Look to see how many layers or tiers it has, and keep in mind that even five tiers can often fit in small spaces.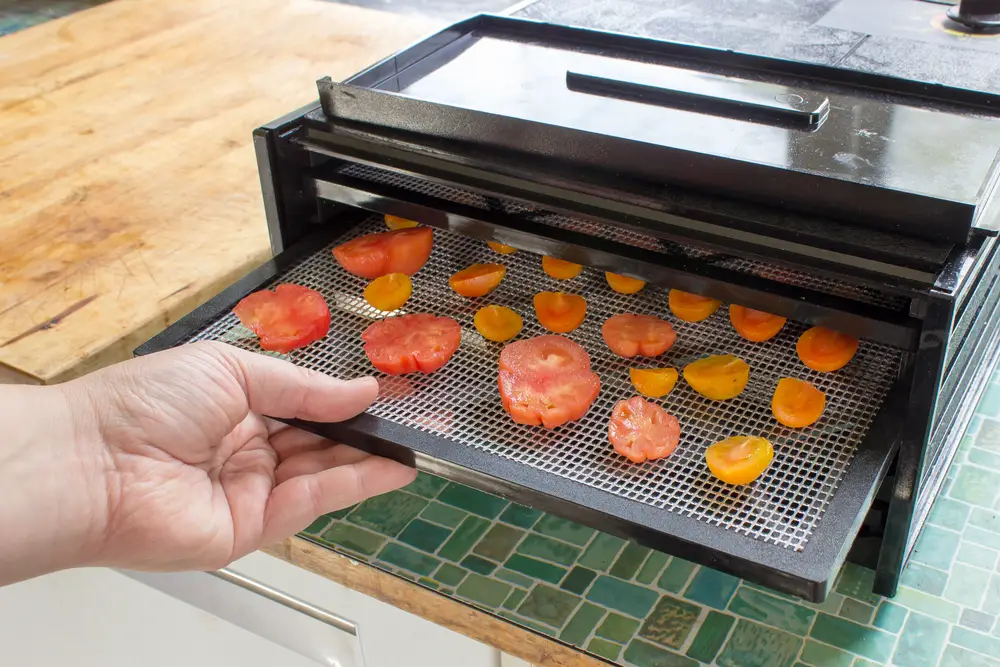 Material
How the food dehydrator is made is important. The tray will often be either plastic or metal, but all will allow easy drying of the fruit or meats.
But one additional note. Plastic is often a bit harder to clean, so do keep it in mind if that bothers you. However, stainless steel can look quite industrial, but that's not always the case.
Dehydration Method
You should also be aware of the dehydration method in the device. You see, you can dehydrate things in several ways, but they all use heat as a source.
The key is removing the moisture from the items, and the heat is how items are dried out.
You want to be able to control the temperature inside the dehydrator. The temperature should vary according to what you are drying. You should also know the drying time required to draw out all moisture from the fruit, vegetables, or meat.
Removing moisture is a delicate art. Do it too quickly, and you will damage your fruit or vegetables. Dehydration may end up only taking place on the outside and not the inside. That is not what you want.
Also, you want air to circulate to allow it to hit all the trays. Food will dehydrate at an even rate, which applies to meats or anything else when you do this.
Additional Points to Remember
The best food dehydrators should be able to provide you with a temperature range that is easy to control. You can do this either digitally or via dials. The best food dehydrators use digital controls to make things more precise.
It should be clear that the food dehydrator works by moving air around from the heating element. This does then change the temperature range, but as we just said, food dehydrators should work by allowing you to fix the temperature range with absolute precision to get the best results.
So when thinking about trying to buy the best food dehydrator, we recommend the following.
Be honest with the size you need, as this influences the number of trays included.
Be aware of the dehydrating process and whether the food dehydrator helps you with timing.
Know if it's for fruits and vegetables or if it focuses entirely on meat.
How easy is it to clean the food dehydrator? It really should make it as easy as possible.
Is there a temperature range on it? If not, then it will make life harder.
How big is it? Some trays are larger than others, so dehydrators do vary in size.
Keep those points in mind, and you should have no real problem finding the best food dehydrator for your needs.
Conclusion
Throughout these food dehydrator reviews, the main aim has been to provide you with a range of options for dehydrating food. The act of dehydration is not an easy one. It takes time and a whole lot of drying for it to be effective.
If we had to pick the best dehydrator in the UK, it would be the VonShef 5 Tier Food Dehydrator. With the 5-tiers, it has a lot of space for all of your foods and an easy-to-use temperature adjustment dial to cook a range of different items.
Whether it be fruit, herbs, vegetables, or meats to make jerky, drying them out will now be a lot easier with the best food dehydrator UK customers can find. You can then look forward to having some healthy snacks whenever you want them, and at least your food dehydrator needn't be noisy and annoying while you wait for it to produce the result.
Additional Resources