Last Updated on
Our editors independently research the best products online to produce this list. We may receive commission on purchases made from the links below but this will never affect our product choices.
---
Top 7 Best Frying Pans
We spend a lot of time in the kitchen, and it's virtually impossible to rustle up healthy, delectable dishes if you don't have the right cookware. That's why, in today's article, we're sharing our top 10 choices for the best frying pan in the UK that makes cooking more enjoyable, helps to create mess-free pours, and generally makes mealtimes more pleasurable. Please continue reading to explore our top picks to assist with everyday cooking.
To help you discover the best frying pans on the market right now, we've included a diverse list of 10 frying pans we highly recommend.
How we Compared Frying Pans
To find the right frying pans we considered multiple factors, including:
Size
Non-stick frying pans
Materials
Handles
Additional features
Our editorial team carefully researched and selected products that would suit a wide range of needs to take your kitchen experience to the next level. We set out this list after assessing customer reviews and evaluating pros and cons in line with the above comparison points.
Find more about our behind-the-scenes process here.
Frying Pan Reviews
The Lodge L8SK3 measures 26.04cm. This frying pan is ideal for frying meat and vegetables and offers excellent versatility for using both indoors and outdoors.
It features an assist handle that allows you to lift and manoeuvre the frying pan during cooking easily. That way, you can easily make adjustments in the kitchen to ensure that all food is thoroughly cooked. Best of all, the two subtle side lips provide simple and mess-free pouring.
Additionally, this cast iron pan ensures equal heat distribution for rapid and efficient cooking—no matter the dish you're rustling up. And it's pre-seasoned for a natural, easy-release finish that also acts as a non-stick coating.
On the other hand, this frying pan's pre-seasoned base might scrape off with regular use, which could contribute to flakes going in your food. Plus, the pan be might be cumbersome, making it difficult for some people to hold—especially once it's carrying food.
Pros:
Cast iron material is an excellent heat conductor
Handle makes it easy to move around the kitchen
It comes pre-seasoned for a non-stick coating
Subtle side lips provide mess-free pouring
Long-lasting materials and design
Cons:
The pre-seasoned base might scrape off into food
It might be heavy for carting around the kitchen
Induction friendly, each pan in this three-piece set is compatible with a grass, electric or halogen stovetop. Moreover, you'll receive a 20cm, 24cm and 28cm frying pan, making this set ideal for new homeowners or those looking for a matching, versatile set.
Above all, each of these non-stick pans heats up quickly and evenly and boasts a durable, non-toxic aluminium body that conducts high heat with precise temperature control. You won't encounter any hot spots for inconsistent heat while cooking various dishes.
These non-stick pans feature a scratch-resistant coating that's made with a stone-derived material for a stunning finish. So food slides right off the non-stick layer, and you won't have to use as much oil. This non-stick performance minimises chips, peels and flakes.
On the other hand, these non-stick frying pans might be slightly off-balance, resulting in slight tipping when you use each non-stick pan on the stove. Plus, these frying pans arrive with their riveted stainless steel handle separate, so you may have to attach them yourself.
Pros:
Non-toxic materials used
Non-stick base won't fake, peel or chip
Includes three non-stick frying pans for excellent versatility
It uses a combination of aluminium and cast iron for durability
Heats evenly and quickly
Cons:
Pans might be off-balance
Handles arrive separate, so you might have to attach them yourself
This 24cm frying pan is ideal for frying, browning, and searing various dishes from vegetables to meat. Best of all, it's desired to be suitable for various cooking outputs, including electric hobs, gas hobs, hot plates and induction hobs.
Additionally, its stylish, black coating makes a great addition to any kitchen while remaining scratch-resistant to help it last longer and look newer. Above all, this frying pan boasts a cool-touch handle with a soft grip that remains cool to the touch to enhance comfort and safety in the kitchen. The handle also includes a hole for holding a silicone spatula or metal utensils while you cook.
Finally, this pan's surface includes a non-stick coating and aluminium base that's easy to clean, minimises the need for oil and prevents ingredients from sticking to the surface. It also allows high heat to ensure that food is cooked evenly every time.
However, this frying pan has a concave base that might reduce heating efficiency and require more stirring from you to cook dishes evenly.
Pros:
A hole in the heat-resistant handle is useful for holding utensils
The non-stick coating reduces the amount of oil needed
24cm size is ideal for cooking large dishes
Handle is cool-resistant
The scratch-resistant base for longevity
Cons:
The concave design might not result in even heat distribution
The handle might come loose and require tightening
This is the best non-stick frying pan set on this list, for it includes two different-sized frying pans measuring 20cm and 28cm to cater to both smaller and larger dishes.
Designed with a non-stick coating on both frying pans, you won't need to spend a while in the kitchen cleaning this cookware after use. It's also dishwasher safe to assist your kitchen duties further. Best of all, you needn't use as much oil to help with healthier eating.
The best part about this frying pan two-piece set is Tefal's patented Thermospot technology that lets you know once the pan has reached its optimum cooking temperature, helping to lock in vitamins and flavour. Furthermore, these frying pans provide even high heat distribution and avoid hot spots to prevent burning parts of your food. And the handles are oven safe up to 180 degrees.
Alternatively, the non-stick coating might wear off after around 12 months, so you may need to season the frying pan yourself once you notice that food is beginning to stick to the base.
Pros:
Oven-safe handles
Includes two sizes: 20cm and 28cm
Brand's Thermospot technology allows the pans to reach their optimum temperature
Non-stick coating prevents food from sticking to the base
Brand's technology seals in vitamins and flavour
Cons:
The non-stick coating might wear off quicker than the other pans on this list
It might not be suitable for a glass electric hob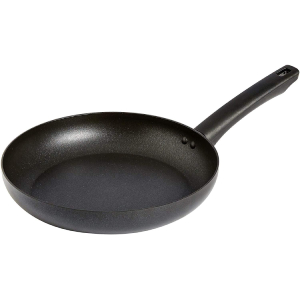 This is the best non-stick frying pan on our list for several reasons. Firstly, it features a titanium-plasma and Dakin non-stick coating for effortless cooking in that food or grease won't stick onto the surface.
Moreover, this non-stick frying pan is made of aluminium for excellent heat retention so that this cookware gets warm quickly and stays that way. It's also suitable for various heat sources, including induction cooking and is oven-safe up to 175° C. Above all, this non-stick frying pan includes a stay-cool Bakelite handle for convenient lifting and carrying. At the same time, the built-in hole makes it convenient for storing. This is unlike most non-stick pans that don't offer a convenient, user-friendly handle.
This non-stick frying pan has a large surface area of 28cm x 5cm with a wide, flat base and flared sides. It makes it easier for flipping and turn food while cooking. One good feature is it is also dishwasher safe for quick cleanup after use.
Unfortunately, due to this non-stick pan's design, most of the oil might raise to the sides, leaving virtually non left in the middle, which could cause problems with consistent cooking. Plus, this frying pan might not be compatible with large induction rings.
Pros:
Oven-safe up to 175°C
Wide, flat base and flared designs makes it easier for flipping and turn food
Aluminium material is excellent for reaching high heats
Generous-size surface area
It gets warm quickly and retains heat
Cons:
It might not be suitable for large induction rings
Oil might fall to the sides, leaving minimal oil in the middle
This cast-iron frying pan measures nearly 32 cm, making it ideal for cooking and preparing larger dishes. Its cast-iron base also provides a smooth base that acts as a non-stick surface to prevent food buildup while requiring less oil for cooking.
Best of all, this frying pan can help to increase your iron content by as much as 20%. This frying pan is versatile for cooking and compatible with ovens, stoves, grills, and more with a smooth, even shape. It can also handle a range of heat sources such as gas, induction, ceramic-glass top stoves and more.
Since this frying pan boasts a smooth material, it's really simple to clean. You can use a stiff brush and warm, soapy water. It's quick and easy to remove any food residue in a few moments.
On the other hand, this non-stick frying pan might not be dishwasher safe and require a hand wash instead. Furthermore, you might need to rub a coating of oil onto this pre-seasoned pan after every wash to keep the surface non-stick, which might become a lot of maintenance for some people.
Pros:
It can help to increase your iron content thanks to its cast-iron material
32cm measurement is ideal for preparing large dishes
Non-stick surface for easier cooking and cleanup
Suitable for a variety of cooking methods and heat sources
Durable and long-lasting material
Cons:
It might not be dishwasher safe
It might require seasoning with oil after every wash to keep the base non-stick
Featuring a glass lid that locks in flavours, this frying pan provides easy simmering, so you can monitor food as it cooks without removing the lid.
This frying pan can enhance cooking adventures thanks to its non-stick surface that prevents warping while protecting stovetops from scratches. This frying pan has a natural granite surface that's made of coating colours.
Above all, the soft-touch, ergonomic handles make this frying pan easy to hold while cooking or transferring food to a dish.
It also boasts a generous-size 30cm capacity that makes it a great addition to a busy household's kitchen. The non-stick surface with aluminium alloy conducts heat evenly with no hot spots. Furthermore, food fries are evenly on the surface and easily slide off into a dish once ready.
On the other hand, this pan's non-stick ceramic coating can begin to come off after only a few months of use, so you may need to keep on top of seasoning this frying pan so that it cooks evenly. Plus, its colouring can begin to fade quickly.
Pros:
30cm size makes it suitable for a large household
Non-stick coating prevents food from sticking to the surface
A transparent lid allows you to monitor cooking without disturbing heat distribution
The handle is comfortable and ergonomic to hold
Granite surface is durable and luxurious
Cons:
The non-stick coating might begin to wear off quickly
Base colouring may fade quickly
Things to Consider When Buying a Frying Pan
To help you choose the best frying pan in the UK for you, we've created an easy buying guide below with the most important features to consider during the buying process.
Size
Your frying pan needs to be the perfect size for your household—whether that means just cooking for one person or four. A 24 cm frying pan is ideal for cooking for two people, whereas a 30 cm+ frying pan makes a better size for three or more people or for cooking large batches. You'll also want to consider the food that you typically cook. For example, you'll need a larger frying pan for cooking fried eggs.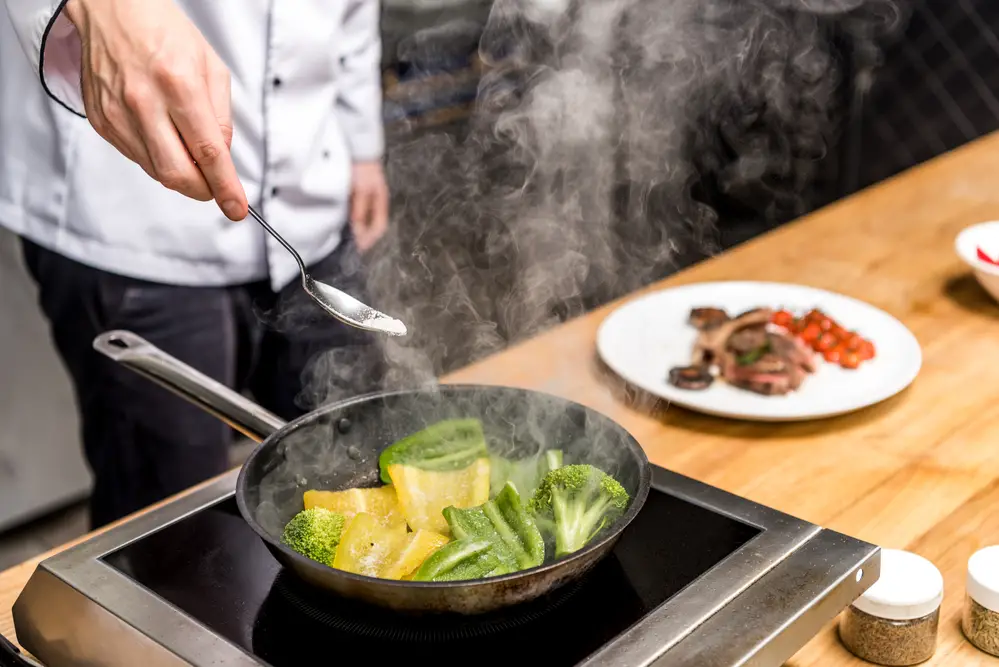 Non-Stick Frying Pans
Non-stick frying pans are certainly a popular type of cookware and for many reasons. A non-stick surface means that you don't need additional oil or butter to cook delicate foods, helping to reduce your fat intake. Best of all, a non-stick coating prevents food from searing onto the bottom of the pan while ensuring that the kitchen cleanup process is quick and easy since any ingredient remains will slide off under the tap.
Frying Pan Materials
Another big consideration is the frying pan's materials, which each have their benefits.
Aluminium pan: Resistant to rust and corrosion, lightweight, durable, and provides excellent heat conduction
Aluminium clad stainless steel pan: Excellent heat conduction, induction-ready and also resists corrosion
Anodised aluminium pan: Excellent heat conduction; and scratch- and dent-resistant 
Stainless steel and aluminium pan: Excellent heat conduction; induction-ready; dishwasher safe; and corrosion and rust-resistant 
Stainless steel and copper pan: Excellent heat conduction
Steel Pan: Induction-ready and excellent heat conduction
Handles
Your frying pan needs a handle, but not all handles are the same. For example, a stainless steel handle won't conduct heat as well as non-stick frying pans with an aluminium handle, enabling it to remain cooler while you're cooking at high temperatures to minimise accidents.
Alternatively, silicone is another popular material used for frying panhandles because it provides a comfortable, ergonomic grip while remaining lightweight. However, a silicone handle isn't suitable for high-temperature use, so you'll need to be extra careful when handling the frying pan.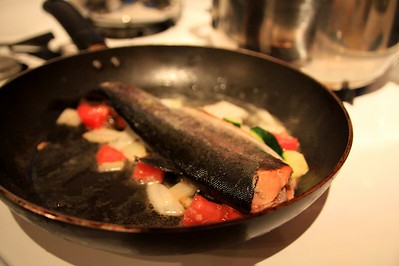 Some other features are included in frying panhandles, such as holes for convenient storage or holding metal utensils while you take a short break from stirring food.
Additional Features
Finally, there are some other features that the best non-stick pans include, such as a flat design to prevent excellent heat retention and prevent food from sliding over to one corner. This is preferred to a concave design, which, while it heats up quicker in the centre of the pan, doesn't always cook food evenly, especially if you have a large portion. Another useful feature is side lips, which helps to reduce messes when transferring food and sauce onto a dish.
The Best Frying Pan in the UK
There are plenty of frying pans available in the UK, and we hope that these frying pan reviews help clarify that. However, if we have to choose which is the best frying pan in the UK, our top choice is the Lodge L8SK3. 
This particular frying pan offers a pre-seasoned base to improve heat distribution and efficient cooking while ensuring that food and sauces don't burn the base. Moreover, this frying pan includes two side lips for mess-free pouring, useful when serving food. 
Which of these frying pans stand out to you? Or if you have any other recommendations for the best frying pan to buy. 
Additional Resources