Last Updated on
Our editors independently research the best products online to produce this list. We may receive commission on purchases made from the links below but this will never affect our product choices.
---
Top 10 Best Coffee Grinders
If you are looking to upgrade your personal coffee setup at home or are on a mission to have the best cup of coffee possible, coffee connoisseurs agree that the best place to start is with freshly ground coffee beans. So, if you do not already own a coffee grinder, you should probably strongly consider getting one for your home.
However, with all of the different styles of coffee grinders and all of the many options, it may seem like a somewhat daunting task to find the right one for you and your home's specific coffee drinking needs.
Do you think you could benefit more from a burr grinder or a blade grinder? Electric or manual?
Fortunately, we are here to help. This article covers the top 10 list of reviews for the best coffee grinder in the UK and explains how to choose the best one for your specific needs in a helpful buyer's guide. After you explore our favourite options, you should be ready and excited to pick out a great coffee grinder so you can start drinking freshly ground coffee as soon as possible.
Read on!
How We Compared Coffee Grinders
To find the right coffee grinders we considered multiple factors, including:
Electric or manual
Grind capacity
Grind quality
Brewing method
Adjustable grind size
Our editorial team carefully researched and selected products that would suit a wide range of needs to take your kitchen experience to the next level. We set out this list after assessing customer reviews and evaluating pros and cons in line with the above comparison points.
Find more about our behind-the-scenes process here.
Coffee Grinder Reviews
The Krups F203 is our top Editor's choice and could be the best electric coffee grinder on our list as well. This traditional electric blade coffee grinder is quick and easy to use and has a compact design style that is sure to fit into any kitchen. 
This classic coffee grinder features a single grind speed and allows you to grind enough coffee for up to 5 cups worth of grounds per batch. Simply add the beans, replace the lid, and press down on the top until it has ground to your preferred size. Hold down longer, and the powerful stainless steel blades within should reach a fine espresso grind in a matter of seconds.  
In addition to coffee beans, this electric coffee grinder is also able to grind fresh herbs and spices, giving you some added versatility. Just make sure you clean it out before grinding beans again, or you may get an unexpected flavour in your next cup of coffee. For added safety and to help prevent potential messes, a safety switch is built into the design so it will not operate unless the lid is firmly in place.  
However, you should know that it is not the quietest grinder available, so it may wake up the house if used early in the morning, meaning it could get noisier than you have expected. Due to the blade grinder design, you can also expect some inconsistencies in the grounds produced but overall. 
Pros:
Quick and easy to use an electric blade grinder 
Compact design style 
Durable stainless steel blades 
Grinds coffee and spices 
Lid activated safety switch 
Cons:
Inconsistent grind size may be possible 
You may be unable to adjust grind size automatically
It may not be the quietest 
If you are looking for a luxury option or the best burr coffee grinder in the UK, we strongly recommend the Baratza Encore. It is an easy-to-use electric stainless steel conical burr grinder with a clearly marked grind adjustment dial so you can make different-sized coffee grinds for different brewing methods with ease. 
Conical burr grinders are known for producing more consistent grinds, leading to better tasting cups of coffee, and this conical burr grinder is no exception to this. It has exceptional grind quality with 40 different grind settings, so you can grind coffee beans for multiple brewing methods. 
The clearly marked adjustment wheel also makes it easy to keep track of your favourite number settings and change between them based on the type of coffee you are making at the moment. 
This conical burr grinder also features a power knob for a continuous grind function as well as a quick power button to grind enough ground coffee for one cup. Another bonus for this grinder is that it has an 8 oz bean hopper located on top. Not only does this feed the conical burrs, but it also allows you to store backup coffee and grind large batches without having to continuously reload the container. 
The Baratza Encore might not be ideal for finer espresso grinds, even with all of the grind size settings. Some reports indicate lower durability overall, and while running, it isn't necessarily the quietest electric coffee grinder out there. 
Pros:
Easy to use electric style grinder 
Good for larger batches
Top-quality conical burr grinder design 
Quick grind button
40 grind size adjustments 
Cons:
It may not be the quietest grinder 
Lower durability may be possible  
It may not be ideal for espresso grinds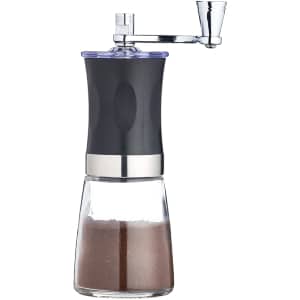 The KitchenCraft Le'Xpress is our top choice for the best budget coffee grinder and might be the best manual coffee grinder as well. This manual burr coffee grinder has a sleek design style and is easy to clean, making it great for casual coffee drinkers and coffee lovers alike. 
The Le'Xpress contains two ceramic burr grinders that are highly durable and should never rust. The rest of the grinder consists of stainless steel with a glass grind container for the base. A twist knob, similar to one on a fresh pepper grinder, allows you to adjust the size of the grinds. It does a great job grinding coffee from coarse for a French press to a medium-fine grind for filter coffee in a regular coffee machine. 
To help you grip the grinder while in use, it has a textured midsection that is easy to hold. After you grind your coffee beans, you can also remove the glass jar base and put any leftover grinds in the fridge to keep your coffee fresh and chilled. As an added bonus, both the base and the jar can be washed in the dishwasher for quick, labour-free cleaning. If you are also looking for a somewhat portable coffee grinder option, this option delivers. It is compact in size and doesn't require any mains power or batteries to operate. 
Comparatively, the Le'Xpress burr grinder could have a less precise grind size adjustment due to its unmarked knob, so you may want to think carefully about how this limitation can affect you. Other potential drawbacks include it potentially having a slower grind speed than expected and possibly not grinding fine enough for some espresso machines. 
Pros:
Ceramic grinders will not rust 
Adjustable grind size
Easy to store extra grounds 
Dishwasher safe base and jar
Durable stainless steel handle 
Cons:
Grind adjustment knob may be less precise
May grind slower than expected  
It might not grind fine enough for some people
When it comes to a user-friendly design, the De'Longhi KG79 is one of our top choices. It has easy access to coffee bean and coffee grind containers and easy-to-use controls that make grinding coffee beans super simple and fast.
The KG79 is an electric burr coffee bean grinder. Like other electric burr coffee grinders, it excels in producing an even, consistent coffee grind. It features an easy-to-use grind size dial with 17 different size settings, so you can make coffee grinds for a French press, coffee machine, or espresso machine with the turn of a dial. It also features a timer dial that automatically makes the amount of coffee needed for anywhere from 2 to 12 cups of coffee at a time.  
In addition to the advanced grind settings, De'Longhi gave this burr coffee grinder a large bean hopper capacity that is perfect for larger families and storing extra coffee beans. If you choose not to keep your grinder on the counter, built-in cord storage helps keep things tidy and don't worry. It will automatically shut off if the bean or ground coffee holder is extracted.  
Be aware that it is possible 100% of the grinds will not fall into the container, causing the need for a small amount of cleanup, especially after a fine grind. Additionally, some people think it does not grind fine enough for espresso machines, and the timer may not be completely accurate, leading it to produce more ground coffee than a necessary per cup.
Pros:
Large bean hopper capacity 
17 grind size settings 
The simple, user-friendly style 
Electric burr grinder design
Automatically grind amounts up to 12 cups 
Cons:
The container may not catch all of the grinds 
It might not be ideal for espresso
The timer may not be 100% accurate
Often, cleaning a coffee grinder can be as easy as brushing it off. That's why some of the best coffee grinders come with a cleaning brush, the UUOUU Mini included. This electric blade grinder is also compact, quiet, and of course, easy to clean.
We love that this electric blade coffee grinder is quick and powerful, bringing your fresh coffee grounds in a matter of seconds. Even with all the power, it is still relatively quiet compared to other top electric grinders. The stainless steel blades contained within are versatile and can be used for grinding spices in addition to coffee beans. We recommend this grinder for small to medium-sized batches as it can make about 8 to 9 cups of coffee per batch. 
As we mentioned, this coffee grinder comes with a convenient cleaning brush to help prevent clogs and wipe away ground dust and coffee bean oils. When used regularly, you should be able to achieve a tasty cup of coffee with every brew. The Mini also has built-in cord storage underneath, so you can easily tuck it into a cabinet when it is not being used. The Mini has a lid-activated safety switch and an easy-to-grip design style for ease of use. 
Like other blade grinders, this grinder lacks automatic grind settings and instead requires you to grind coffee for more or less time to achieve the preferred size of grinds. Compared to electric burr grinders, you can also expect a less consistent grind size overall.  
Pros:
Quiet operation 
Built-in cord storage
Cleaning brush included 
Compact, powerful, and quick
Durable stainless steel blades 
Cons:
Less consistent grind size may be possible
You may find fewer auto grind size adjustments 
It may not be ideal for larger batches  
If you are seeking a coffee grinder with a wide range of settings that allow you to produce anywhere from coarse to finely ground coffee, the Melitta Molino could be the right choice for you. It made our best coffee grinder in the UK list because of how quick it produces coffee grounds and how easy it is to use overall. 
The Melitta Molino contains two flat burr grinding disks that are capable of producing a consistent grind quality that makes a delicious cup of coffee. It features a cup timer that times for 2 to 14 cups per batch. Our favourite feature is the handy grind size adjustment wheel with 17 different grind settings. It allows you to easily switch between coarse and fine ground coffee for an espresso machine, French press, or a typical coffee machine.  
For added convenience, Molino electric burr grinders have a detachable grind plate and grind collection container so you can extract them for cleaning or simply to empty and refill. These burr grinders also have a 200g bean hopper capacity for storing extra coffee beans and an automatic shutoff function if the bean hopper or collection container is opened. 
While we really like this burr coffee grinder, it is possible some of the coffee dust will scatter outside of the machine, causing the need for some minor cleanup after use. Additionally, it is not really ideal for kitchens that are short on space, and while it produces consistent grinds, it is not the quietest. 
Pros:
Flat burr grinder design 
Up to 14 cup grind timer 
17 grind size settings 
Automatic shut off to prevent messes 
Detachable grinder plate and collection container
Cons:
It might not be ideal for smaller kitchens 
It may not be the quietest electric grinder 
Coffee dust could spread on the countertop 
When it comes to power, you will want quite a bit in your coffee grinder, especially if you plan on grinding more than just coffee beans. With the Duronic CG250, that's just what you'll get, a lot of power in a small package. 
What's more, this may also be the best coffee grinder for espresso on our list.  
This stainless steel blade grinder features a powerful 250-watt motor that is able to grind nuts, spices, and coffee beans easily with the touch of a button. It has a push-down top to activate and can make about 7 to 8 cups per grind, which is good for families and households of almost any size. 
Aside from its powerful motor, one of the best traits of this grinder is its removable stainless steel bowl. The bowl easily comes out, making it easy to clean and also easy to fill and dump. It also has rubber feet for enhanced stability while you are grinding and cable storage built into the bottom of the canister for tidy storage. 
Possible drawbacks for this option include having a less precise adjustment when it comes to the size of the grounds produced and potentially having somewhat inconsistent grinds when compared to burr grinders. Lastly, the plastic base on this coffee grinder may prove to be less durable due to a plastic piece on the bottom, but overall, we still think this makes an excellent choice if you are looking for a small but mighty coffee grinder for your home. 
Pros:
Good for finer espresso grinds
Removable stainless steel bowl
Powerful 250-watt motor
Able to grind nuts, spices, and coffee beans
Easy to use and clean
Cons:
Less adjustable grind size may be possible
It may produce inconsistent grinds
The plastic base could be less durable
If you are in search of a great portable option, the Groenenberg Stainless Steel manual coffee grinder should be near the top of your list. This sleek-looking burr grinder is compact in size while also being easy to clean and easy to use, with no batteries or mains power required.  
This burr grinder is highly durable due to its carefully crafted, high-quality design. It contains two heavy-duty ceramic burrs, which are rust-resistant paired with a stainless steel canister and components. Aside from its compact overall dimensions, we love this coffee grinder as a portable option because it has a removable hand crank to further minimise its size during transport.  
Groenenberg burr grinders feature a grind size adjustment mechanism that allows you to change grinds based on your preferred method of brewing at any given moment. Each batch can make up to 4 cups of coffee at a time, and there is no need to worry about it overheating if you do multiple batches, thanks to its manual design style. Another bonus for this burr grinder is that it comes in sustainable packaging to minimise waste. 
Keep in mind that this burr grinder has a smaller capacity due to its portability, which makes it less than ideal for larger batches, especially if you consider that it is not the fastest burr grinder available. In addition, it has a somewhat less precise grind size adjustment mechanism that is not marked in any kind of way, so you may have to experiment a bit. 
Pros:
Great for travelling 
Easy to clean and use
Removable hand crank
Stainless steel canister and components
Ceramic burr grinder design 
Cons:
It may not be ideal for larger batches 
Less precise grind size adjustment may be possible
It may not be the fastest grinder 
If you want to make more than a cup of coffee with your grinder, the Andrew James electric blade grinder comes highly recommended. This is our top choice when it comes to versatility because it is multi-functional and has sharp blades powered by a strong motor. 
This powerful blade grinder allows you to grind more than just coffee beans. With it, you can also grind nuts, herbs, seeds, oats, curry paste, and spices with ease. The Andrew James grinder features stainless steel blades to get the job done and a clear top so you can monitor the size of the grounds in real-time. It has a push-top activation and is capable of grinding beans for up to 10 cups of coffee per batch. 
Regardless of what you decide to grind, this blade grinder will accomplish the task easily and quickly. In fact, you may be surprised how fast it chops through even the coarsest of materials. For added comfort and control, these grinders are built with an easy-grip shape. They also come with a 2-year manufacturer's warranty to help give you peace of mind with your purchase. 
Possible design drawbacks for the Andrew James blade grinder include it not being the quietest while running and it having the potential to overheat faster than expected, meaning you should not plan on regularly grinding multiple batches back to back if you want to preserve the integrity of the motor. Also, this is not the easiest option to clean, seeing as how the bowl is not removable.
Pros:
Highly versatile design
Easy-grip shape
Powerful stainless steel blade grinder
Up to 10 cups of coffee per batch 
Quick grinding capability 
Cons:
It could overheat faster than expected 
It may not be the easiest to clean 
Less consistent grind size may be possible
It may not be the quietest grinder 
The Shardor electric coffee grinder is a wonderful choice if you are looking for a quick solution that will get you on your way to a fresh cup of coffee in just a few seconds of time. This grinder also has a compact size making it good for smaller homes with one or two people or if you are trying to save some kitchen space.    
Shardor electric coffee grinders contain fast and powerful motors that are able to create fine coffee grounds in as few as 10 seconds. With all this power and speed, they are also highly versatile and are able to grind through sugar, herbs, nuts, spices, and of course, coffee beans with relative ease. 
Each Shardor blade coffee grinder comes with a cleaning brush that has a scoop on the opposite end. This makes adding and emptying coffee easier and also helps you maintain the overall cleanliness of the blades and bowl as easily as possible. In order to complement the compact design, built-in cord storage is located in the base. The cord is also extra-long, giving you a bit more mobility. The base is also adorned with rubber feet to help enhance stability. 
Be aware that this blade grinder could have a less precise grind size when compared to burr grinders. It is also not ideal for larger batches due to its restricted capacity, and it has the potential to overheat faster than expected, further reinforcing the fact that it is less than ideal for more than a couple of coffee drinkers. 
Pros:
Speedy grinding 
Brush and scoop included 
Versatile grind capability 
Long power cord with built-in storage 
Great for one or two people 
Cons:
Less precise grind size may be possible 
Smaller capacity may not be ideal for larger batches 
It could overheat faster than expected
Coffee Grinders Explained: A Buyer's Guide
You have come to the end of our list of the best coffee grinder. Now, it is time to explore how we chose the products we did and how you can choose the best option for you and your home's specific coffee consumption needs.
You will also learn in this section more about the basics of coffee grinders. While it may seem that they are not as important, these pieces of info can help further help you determining which coffee grinder will work out best for you.
You will learn about the different coffee grinder types and how they are different from each other. All of them have their own advantages and disadvantages. By knowing these details, you can compare them better and decide which you will choose in the end.
What Are the Different Types of Coffee Grinders?
Most commercial grinders that are found in homes are either burr grinders or blade grinders. While they both grind coffee beans, the actual grinding process varies from one type to the other. Other grinders do exist, but we will focus on these two because they are most likely the only types you will encounter. Not to mention they are the only two types on our list.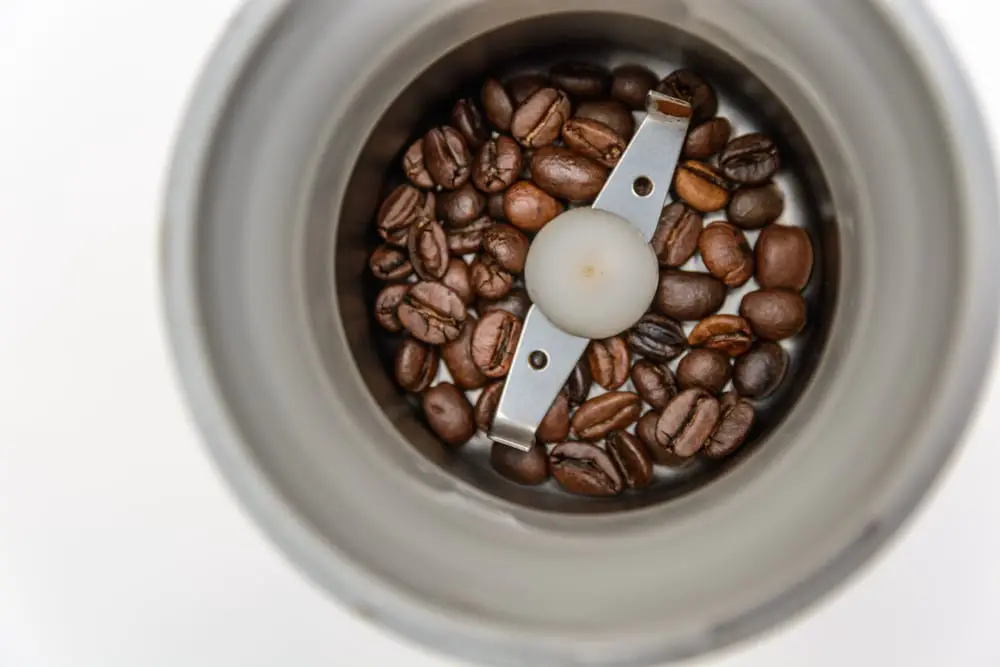 Burr
Burr coffee grinders feature two abrasive surfaces that rotate and grind ingredients in between the two surfaces, known as burrs. Burr grinders can be either electric coffee grinders or manual coffee grinders. Most burr grinders have conical burrs that are cone-shaped. However, flat burr grinders also exist. 
Flat burrs are great for grinding espresso, but they are often more expensive than conical burrs. Both styles of burr can be made from either ceramic or stainless steel. The best burr coffee grinders have an adjustable grind size, so you can easily make a variety of grinds for different brewing methods.  
Blade
Blade coffee grinders feature two propeller-like blades that spin rapidly to chop and grind ingredients in the surrounding cup. Blade coffee grinders are the most common type of coffee grinder found in homes, probably because they are typically less expensive and work at rapid speeds. 
However, one of the main drawbacks to blade grinders is that they often produce a less consistent finished product with varying grind sizes across the batch. For many people, this will not be viewed as a significant issue, but if you are trying to get serious about your coffee, a consistent grind can be important when it comes to achieving the best possible flavour in your cup. 
Do you think a burr grinder or blade grinder would best suit your coffee needs and preferences?
What to Look for In the Best Coffee Grinder
Aside from the type of grinder you want, a few other things to consider will help you pick out the perfect coffee grinder for you. Let's find out what they are!
Electric or Manual
As we mentioned above, burr grinders can be manual grinders or electric grinders. If you are unsure whether you want a burr grinder or a blade grinder, this might be a good place to start.
If you prefer a quiet grinder that doesn't require mains power or batteries to operate, hand coffee grinders should be your top choice. Hand grinders are also super quiet, so no need to worry about waking other members of your family who may still be sleeping in the morning when you brew coffee.
Of course, hand grinders do require a bit more effort on your part. That is where electric grinders come into play. Electric grinders are super fast and can often grind enough beans for a cup in just a few seconds. They are much noisier than hand grinders, but electric grinders are the way to go when it comes to speed and convenience.
Grind Capacity
When comparing and choosing a coffee grinder, you will also want to consider how many cups of coffee you typically brew at one time. If you want to brew a lot of coffee in a single batch, you will probably want a coffee grinder with a larger grind capacity.
Coffee grinders typically are capable of making anywhere from 2 to 15 cups of coffee per batch. This is a big range so pay attention to a grinder's capacity to determine if it is the right option for you. How much coffee is enough coffee for your home's needs?
Grind Quality
The consistency of the grounds often determines grind quality. Consistent grinds are known for creating a more even and consistent flavour profile. When the grinding process works correctly, it will produce flavourful, aromatic grounds. When a coffee grinder has a lower grind quality, you are likely to encounter larger chunks which can impede the brewing process.
Brewing Method and Adjustable Grind Size
Lastly, you should consider what type of brewing method you generally use. Espresso coffee, filter coffee for regular coffee machines, and French press coffee all work best with different-sized grinds. If you prefer French press coffee, you will want a grinder that can produce coarser grounds. Filter coffee is best with medium grounds, and French press coffee is best with finer grounds.
If you switch between different brewing methods, you will want to choose a coffee grinder with adjustable grind size. Many burr grinders have an adjustment mechanism that either brings the burrs closer together or further apart.
Blade grinders simply need to be turned on for longer to produce finely ground beans. This is another one of the reasons that blade grinders are so well-liked, but you should also know that this means you can also over grind your coffee beans, something that is not possible with a burr grinder.
What Are the Benefits of Using a Coffee Grinder?
Is grinding your own coffee really worth it? Buying fresh coffee beans and grinding them at home takes a bit more effort than buying pre-ground coffee beans, but most coffee lovers agree, it is indeed worth the extra time and effort on your part. Add a lot of sugar or milk to your coffee.
It may be a bit more difficult to tell the difference between pre-ground coffee and freshly ground coffee beans, but if you drink your coffee black, the difference can actually be quite noticeable. One of the main reasons to grind your own coffee beans is that it can significantly reduce the overall bitterness of your brew. Grinding your own coffee beans also releases more aroma and helps to keep your coffee fresher for longer.
The Right Grinder for You
After reading through all of our coffee grinder reviews and the buyer's guide, we hope you have a better understanding of what kind of grinders are available and what to look for when choosing one for your home. What option on our best coffee grinder in the UK list is right for you and your coffee drinking needs?
Our favourite is the Krups F203. We love that it is a compact electric blade grinder that is quick and easy to use. It features durable stainless steel blades that grind enough beans for up to five cups of coffee and can also grind herbs and spices in addition to coffee beans. It also has a handy safety switch and can be stored in tight places easily.
Keep in mind, with Krups F203, inconsistent grind size is possible. There is no automatic adjustment for grind settings, so you'll have to gauge by appearance, and the F203 may not be the quietest option available. However, for all of the reasons listed above and more, we still think it makes an excellent choice for most coffee drinking homes in need of a coffee grinder. Is it the best coffee grinder for you?
Let us know what you think in the comments below.
Additional Resources