Last Updated on
Our editors independently research the best products online to produce this list. We may receive commission on purchases made from the links below but this will never affect our product choices.
---
Top 10 Best Induction Hobs
The best induction hobs present an excellent alternative to traditional gas or electric hobs. Firstly, they cook quicker and are also energy-efficient. Secondly, they look fantastic and are usually easy to operate.
But how do you choose the best induction hob in the UK? If this is something you are considering for your kitchen, we have chosen ten top induction hobs for your benefit – enjoy!
How We Compared Induction Hobs
To find the right induction hobs, we considered multiple factors, including:
Size
Installation method
Control panel
Safety features
Power level
Material
Our editorial team carefully researched and selected products that would suit a wide range of needs to take your kitchen experience to the next level. We set out this list after assessing customer reviews and evaluating pros and cons in line with the above comparison points.
Find more about our behind-the-scenes process here.
Induction Hob Reviews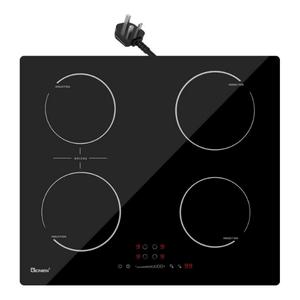 Our top pick is the GIONIEN Plug-in Induction Hob: this brilliant model has a host of useful features. Firstly, it doesn't require hardwiring. You can simply plug it directly into a 13 Amp socket to use it, which is convenient for those who have minimum DIY skills.
This induction hob also has a classic four-ring design, so you can cook multiple items at once. You can control each hob separately via the central lockable control panel. You can select which hob to control and then use the slider to change the temperature. There is also a handy timer feature for precise cooking.
We also like the stylish black finish of this hob. The glass is durable and will look fantastic in any style of kitchen. If you want to cook larger items, there is also a bridge zone. This feature allows you to combine two of the hobs together for greater heat output.
Although this is a great product, it may not be the perfect induction hob. Firstly, some could find the power display difficult to read. Also, when cleaning the surface of the hobs, you could find that it can occasionally leave smears.
Pros:
It can be plugged directly into a standard 13 Amp socket instead of hardwiring
It has a simple installation process with mounting clips
Advanced induction technology for greater energy efficiency
It has a range of safety features, including a child lock and residual heat indicator
It has a special bridge zone so that you can combine two cooking zones
Cons:
Some may find the power display difficult to read
You could find that the hob's surface can smear when cleaning
The CIARRA CBBIH4BF 7200W induction hob is another top option and has overall dimensions of 590x520mm, so it should fit comfortably in many size kitchens, but it does require hardwiring.
For cooking, this induction hob has two flex induction zones. These can be changed to suit different sizes of pots and pans. You can also combine them or just use one zone – it really adds a level of flexibility to your cooking.
When cooking larger quantities of food or short on time, you can also use the boost setting. This boosts the power by up to 50% and, as a result, can save 35% of your cooking time. This induction hob is also energy-efficient and benefits from a simple but effective touch control panel.
This is a great induction hob, but it may not be without a few potential issues. For example, when cooking, the hobs can be really noisy compared to a traditional hob. Secondly, you could find the seal tape used for packaging is difficult to remove during installation.
Pros:
High power output with a power rating of up to 7200W
It has four separate flexible cooking zones that can be controlled individually
Has a power boost setting to boost cooking output by up to 50%
Simple touch controls for easier use
Excellent safety features, including a child lock
Cons:
You could find this induction hob to be quite loud when turned on
The seal assembly tape can be difficult to remove for installation
The NOXTON 4 Zone Induction Hob is a solid choice if you want great value for money. This induction hob has four separate rings with power outputs of 2000W, 1200W, 2000W, and 1200W. As a result, you can enjoy flexibility in your cooking.
We also like that this induction hob has a low energy consumption and an excellent set of controls. You can adjust the temperature to nine different settings and use several different cooking modes.
This NOXTON induction hob has a polished glass top with a sleek black finish in terms of design. It looks great, but it is also functional. For installation, this induction hob requires hardwiring, and this should be done via a professional electrician – it can use a 220-240V connection.
This is a great energy-efficient hob, but it could have some minor problems. Firstly, you could find that eventually, the hobs can leave marks if you don't maintain them properly.
Also, the digital timer display may stop working eventually with parts of the numbers not displaying properly.
Pros:
It has four high-powered burners, each with touch controls
Each hob heats using nine power levels for greater cooking control
Stylish polished black glass design that is easy to clean
It also has good safety features, including rounded edges and a timer key
Its energy-efficient design can save up to 90% on energy use
Cons:
You could find over time that the hobs can mark
The timer display may eventually stop displaying properly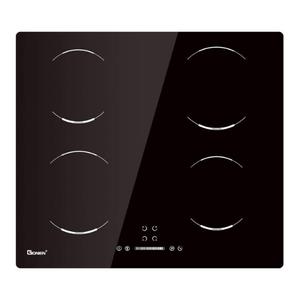 GIONIEN has several entries in this list, and the GIONIEN GIB464SC is a top choice if you want an induction hob that is easy to use. This is due to the simple touch controls. It has four touch buttons to select one of the four hobs. You can then change the temperature setting using the slider below.
This is also an induction hob that is incredibly easy to clean. The black glass surface wipes quickly, and you should be able to keep your new hob sparkling.
If you regularly cook with large pans, you will like this induction hob's space. The four zones are evenly spaced, and there is plenty of room in-between to fit four items at once – regardless of the size. There is also a good selection of safety functions, including a control panel lock and auto safety switch off.
This is a great large induction hob, but it may not be perfect. Firstly, you could find it difficult to use all four hobs simultaneously due to power limitations. Secondly, it may be tricky to use at lower cooking temperatures for simmering due to the pulsing on-off technology of the hobs.
Pros:
Simple control panel with intuitive temperature control
The sleek glass finish is easy to maintain
Plenty of space between each of the four cooking zones for larger pans
A timer function can be set for each zone from 9 to 99 minutes
The cooking power is spread evenly due to the magnetic fields of the hobs
Cons:
You may find that it is difficult to use all four zones at once
You could have difficulty trying to simmer using the different heat settings
If you want an induction hob that will fit neatly into your kitchen space, the GIONIEN Frameless Induction Hob is a top option. This is also a versatile hob due to its flexible zone controls.
Instead of four separate rings, this induction hob has two heating zones. You can control each zone independently and combine them to create one large cooking area: this could be suitable for BBQs or for cooking with large pans.
For peace of mind, this hob also has several safety functions. Firstly, it has a child lock. Secondly, it also has residual heat indicators, so you should never burn yourself. Lastly, it also has an auto safety switch-off function.
Aside from safety, this induction hob works great, looks great, and is also energy efficient.
Although this is a great induction hob, it could have some minor drawbacks. Firstly, you could find the residual heat indicator can be erratic and occasionally not work properly. Also, as with most induction hobs, this GIONIEN model is noisy during operation.
Pros:
Zone induction hob with two large zones
The heating zones can be combined, which makes it perfect for BBQs
The control panel uses simple touch controls
It also has a stylish black glass surface for quick cleaning
Each zone has three different cooking functions to choose from
Cons:
The residual heat indicator function may not work perfectly
Some may find the hobs are quite noisy when operating
If you want to reduce your energy bills and positively impact the environment, the COOKPAD 4 Rings 6400W Induction Hob is a good choice. This is a brilliant energy-saving model due to its 6000W output and power boost feature.
You can boil 2 litres of water nearly three times faster than traditional ceramic or gas hobs. Aside from this, the hob is also easy to use and has some top safety features. For example, it has an automatic safety shutdown feature.
We also like the accuracy this hob provides for cooking. You can set a timer for each hob from 0-99 minutes. Also, you can control each hob separately with nine different heat settings.
Lastly, this hob looks stylish with its black glass finish. You should also be able to clean it quickly and keep it looking new.
This COOKPAD induction hob is a great choice, but it could have a few small problems. Firstly, you cannot place anything other than induction pans on the hobs; otherwise, a loud noise is emitted. Secondly, some customers have found the glass to be damaged on delivery.
Pros:
The surface is made from smooth crystal glass that looks smart
Touch controls for quick and easy operation and temperature control
Each cooking zone has a timer function from 0 to 99 minutes
Has a total potential power output of up to 6000W
It also has a power boost function to improve cooking times
Cons:
Cannot place anything else on the induction hobs, or they make a loud noise
Some customers have reported receiving damaged induction hobs on delivery
The Russell Hobbs RH60IH401B is another great model that offers some of the best touch controls available. The touch buttons allow you to quickly select one of the four hobs and adjust the temperature with ease. This means you can keep on top of your cooking and easily do tasks like making stir fry or boiling water simultaneously.
For installation, this hob requires hardwiring, but an electrician should do this quickly without too much cost.
This hob is also highly efficient due to the built-in pan sensors. This means that when you place a pan on the hob, it will detect the outline of the pan and only apply heat to that area. As a result, there is no unnecessary lost heat.
This Russell Hobbs induction hob is a brilliant option, but that doesn't mean it's perfect. For example, it uses a pulsing on-off function, making it difficult to simmer items at lower temperatures.
Also, this is not the quietest of inductions hobs when cooking at higher power ratings.
Pros:
It has a simple control system that is centrally placed
Each cooking zone can be controlled separately with varying temperatures
It also has a child lock feature for improves safety
It has a residual heat indicator, so you know if the induction hobs are still hot
Stylish cooking surface made from polished black glass
Cons:
The induction hobs pulse on and off at lower settings which could make simmering difficult
These inductions hobs can be quite noisy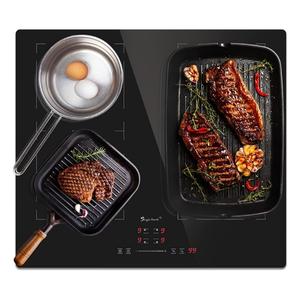 The Singlehomie Flexi Zones Induction Hob is a great choice if you regularly do BBQs. This is due to the flexible cooking zones. This hob has four zones, to begin with. However, you can control them and combine them to make one large cooking area on which you could place a bbq tray, for example.
Aside from this, the hob also has quick cooking and heating features and gives you great control via the touch controls. For example, you can use nine different power levels to do anything from boiling to simple heating.
If you want to cook quicker, this induction hob also has a boost function to improve cooking speeds and heat output.
This is one of the best induction hobs for BBQs from our induction hob reviews. However, you could find it tricky to clean. This is because it can only be cleaned when fully switched off. Also, due to the mechanism of the hobs, this Singlehomie product may not be amazing for simmering foods.
Pros:
This zone induction hob has two large cooking zones
Has a total potential power output of up to 7200W
Each hob has nine power levels, including melt (1-3), and rapid boil (8-9)
It has some great safety features, including auto shut-off protection
It uses a simple slider touch control panel
Cons:
It can only be cleaned when completely switched off
You could find it difficult to simmer foods
The COVERCOOK Flex is an excellent induction hob for those who have a larger family. If you regularly cook for multiple people or a family of 4 or more, this is a good choice. This is due to the larger size of the glass and the large heating areas.
We also like that this induction hob is suitable for low-heat cooking. Oftentimes induction hobs struggle with simmering and lower heat. However, this hob has special technology that ensures you can easily cook and simmer at lower temperatures.
This is a great flexible zone induction hob, but it could have some small drawbacks. For example, if you use the hobs plugged in, you could struggle to use all four zones simultaneously. Also, these hobs are relatively noisy during cooking.
Pros:
Can cook at low powers effectively
It has a stylish control panel and glass top
In total, it has five different cooking zones ranging from 1500-3600W
Each zone can be controlled separately using the central control panel
It also has a timer set for each zone
Cons:
You may find that it is difficult to use all four hobs if not hardwired
This induction hob could be incredibly noisy when cooking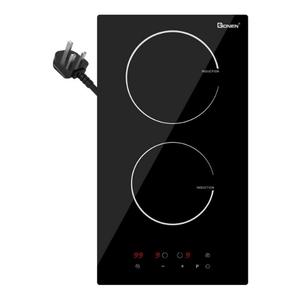 The last option for our best induction hob in the UK list is the GIONIEN Domino GIT230SP, ideal for those who want a smaller induction hob. This is a simple 2-ring model that is approximately half the width of most conventional induction hobs.
It has all the other features you would expect from a GIONIEN product, including safety functions, a sleek black finish, and versatile touch controls. We also like that it has timer functions for both hobs that can be programmed between 0-99 minutes for precise cooking.
This is a great portable induction stovetop, but it could still have some minor niggles. Firstly, the instructions may not be written clearly, and you could have some difficulty interpreting them.
Secondly, the underside of this portable induction hob could protrude from worksurfaces and could require extra work to install flush.
Pros:
Simple plug-in installation with no hardwiring required
Two cooking hob zones, both with their own controls
Can select a cooking time of up to 99 minutes for each hob
Small and portable design that can fit in many kitchen layouts
It has a sleek black finish that looks fantastic
Cons:
Some may find the instructions to be unclear
You could find that the underside of the unit can protrude from work surfaces
How to Choose the Best Induction Hobs?
As you can see, it can be difficult knowing which induction hob to choose due to the volume of choice available! We hope you have some idea of which could be suitable for you from these induction hob reviews.
To help further, we have provided a short buying guide including the main considerations to make when purchasing an induction hob.
Installation – Plug-in or Hardwired
Firstly, look at the type of installation in terms of electrical requirements. There are two installation methods for induction hobs – plug-in or hardwired.
The plug-in method is the easiest and great for those with no DIY skills. All you have to do is simply plug the power cable into a standard socket that has the minimum power output required. In most instances, this is a standard 13 Amp socket. Although this is easy, it can also limit the number of pots and pans you can use simultaneously.
Alternatively, many induction hobs must be hardwired. This means that they do not have a plug, but the wires must be attached to an existing electrical circuit. The complexity of this can vary from model to model, and it can be daunting. However, the benefit here is that a hardwired hob generally has greater power output.
Number of Hobs and Cooking Zones
Secondly, look at the number of individual hobs or zones.
So many induction hobs now have special cooking zones. Instead of hobs, heat can simply be applied to a specific region of the hob surface. Also, these zones can often be combined, which is great for cooking larger items or even BBQs.
In contrast, you can also still get products with four separate hobs. This is a more traditional design and is easier to use as the zones are clearly defined.
Consider what you will use the hobs for and how many pots and pans you would typically need to use for cooking. This will let you see if you need a six-ring induction hob or a smaller model with only two or four hobs.
Ease of Use of the Control Panel
The standard design of induction hobs today is to have touch controls. You will rarely find an induction hob with knobs. This is due to the layout and materials used. In most instances, the hobs are covered with a single piece of glass, and thus it would be difficult for knobs to be incorporated into this design.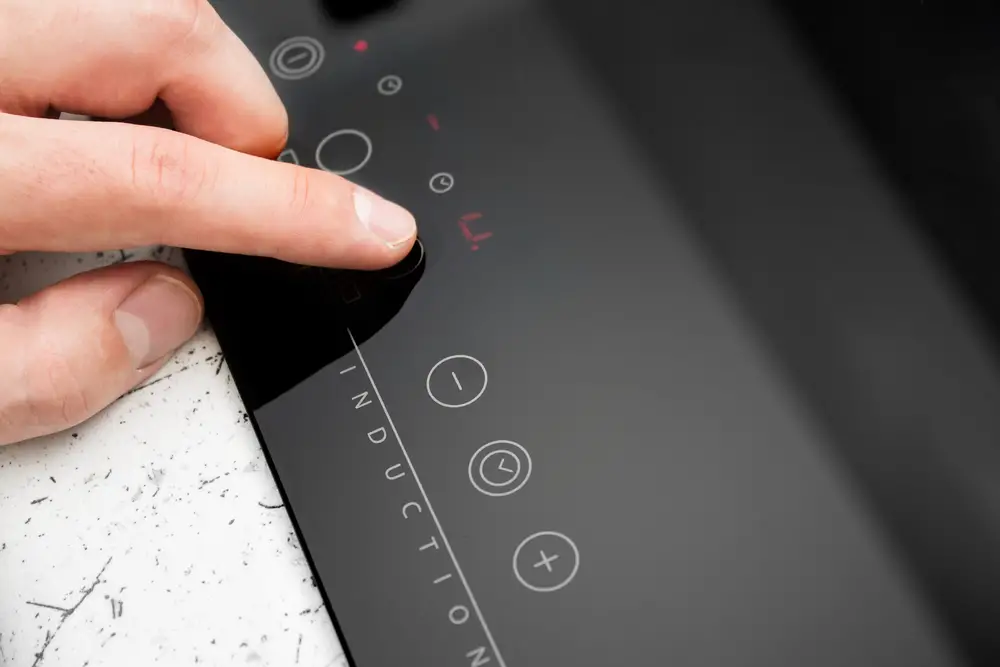 As a result, most induction hobs have a simple touch panel. This will usually include separate controls for each hob. Also, many induction hobs have a timer function and a power boost function.
These are nice to have, but you may not find them necessary. Think about your cooking style and whether features like a power boost function or timers would be useful.
Safety Features
Lastly, you should also look at the safety of the induction hobs. Due to the intense heat, induction hobs can be more dangerous than gas hobs or electric hobs.
However, most models have a myriad of safety functions. The most common is a child safety lock. This effectively locks the control panel so that children cannot accidentally turn it on and burn themselves.
Also, this type of hob often has automatic switch-off features and a residual heat indicator that shows when the hobs are still hot.
Induction Hob FAQs
Can I Use a Normal Pan on an Induction Hob?
No! A traditional electric hob uses electrical conduction, whereas induction cooking uses magnetism. Both induction pans and hobs have a magnetic field which creates the complete circuit and thus generates the heat.
Standard kitchen appliances do not have special magnetic fields, and thus nothing would happen if you placed a standard pan on an induction hob.
What Are the Disadvantages of Most Induction Hobs?
While the best induction hobs can save energy and time, they have some drawbacks. Firstly, they are generally more expensive than traditional electrical or gas hobs.
Also, in most instances, you must invest in a new set of induction cooking pans which can also be expensive. Lastly, due to how induction hobs work, they can be much louder than traditional hobs.
Can You Damage the Cooking Surface by Using the Wrong Pan on an Induction Hob?
No. If you use the wrong pan, the hob simply won't do anything. However, you must be careful when lifting and using pans as you can easily scratch the glass surface of the jobs.
Conclusion
We hope you have found this guide on the best induction hob in the UK beneficial. Induction hobs are excellent choices if you need to upgrade your kitchen, move into a new house, or simply want something more energy-efficient. These hobs cook fast without using as much power and energy as traditional hobs.
Any of the ten options listed above would make an excellent choice. However, our pick for the best induction cooktop hob is the GIONIEN Plug-in Induction Hob GIT470SP.
This hob is one of the easiest to install as you can simply plug it into a standard 13 Amp socket. Also, it looks great with its stylish glass finish. You will also find the hob easy to use, and it offers maximum cooking control via the control panel and touch buttons.
What do you think about our options? Let us know and leave a comment below!
Additional Resources