Last Updated on
Our editors independently research the best products online to produce this list. We may receive commission on purchases made from the links below but this will never affect our product choices.
---
Top 10 Best Food Flasks
If you're on the hunt for the best food flask, you're in the right place.
A durable and resilient flask that you can take with you on the road, to work, or on your next picnic isn't just a great way to store hot and cold drinks. With a versatile food flask, you can replace your old and unpredictable food jar with something that can keep your food hot, and ready to eat.
Protective food flasks, otherwise known as soup thermoses, are vacuum insulated and sealed products ideal for keeping food warm or cold (depending on your needs). The tough part is figuring out which product is going to deliver the best results. That's why we're here to help.
How we Compared Food Flasks
To find the right food flasks we considered multiple factors, including:
Capacity
Functionality
Materials
Design
Our editorial team carefully researched and selected products that would suit a wide range of needs to take your kitchen experience to the next level. We set out this list after assessing customer reviews and evaluating pros and cons in line with the above comparison points.
Find more about our behind-the-scenes process here.
Food Flask Reviews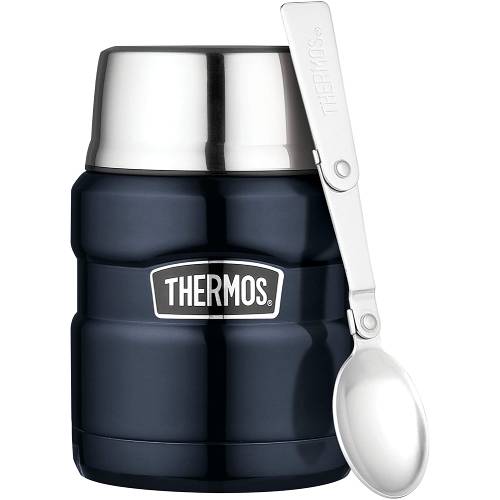 There's a reason why Thermos is one of the best-known brands for food and drink protection. This Stainless King steel food jar is perfect for transporting oats, soups, and all kinds of alternative foods and liquids. The vacuum insulated lid also doubles as a bowl.
This easy-to-clean insulated stainless steel flask from Thermos can keep food hot for up to 9 hours, and cold for up to 14 hours. There's a full-sized folding spoon included for convenience, and the BPA-free structure is totally cool to the touch, with a sweat-proof exterior. Thanks to a 5-year guarantee, you'll rest easy with this product.
Not only do you get a stainless steel spoon and an extra-wide mouth for easy access, but it's also available in a range of colours including cranberry red. Unfortunately, the rubber seal can break somewhat easily, and the food seems to struggle to stay hot unless you fill it to the top.
Pros:
Full-size stainless steel food jar
Thermos branding to retain heat or cold
Excellent attractive design with insulated lid
Insulated lid doubles up as a serving bowl
Stainless steel spoon included for hot foods
Cons:
Heat may dissipate when the thermos isn't full
Rubber seal can break and may reduce vacuum performance
One of the most attractive food flasks on the market today, this insulated product from Valira has it all. With an excellent capacity of 1 litre, this high-insulation food jar is great for hot and cold beverages, as well as keeping your lunch warm.
Practical and attractive, this easy-to-use food container helps to keep heat in with a stainless steel construction and double-wall insulation. The lid helps to protect your lunch from contamination, and the BPA-free inner containers are perfect for holding your food.
Whether you're looking for insulation for warm or cold foods, this product will keep ice cream cold or soup hot for up to 6 hours. There's even a handle to make it more portable. Liquids can spill a little if you knock the thermos over, however. Additionally, the flask can sometimes dent easily.
Pros:
Stainless steel double wall insulated flask
1-litre capacity for soup, oats, and more
Excellent BPA-free inner containers protect cold and hot water
Leather strap for easier carrying
Designed to keep food and drinks cold or hot for up to 6 hours
Cons:
May not be completely leakproof
The flask can dent if you're not careful
Con 3
With plenty of room for your hot drinks, soup, and even cold treats, the Stainless Steel King flask by Thermos is great for life on the go. This vacuum flask will hold up to 710ml of food and keep it hot or cold depending on your needs. The King food flask comes in various colours to suit your needs and features a resilient construction.
Whether your lunch is hot or cold, Thermos has you covered. This product can keep hot food warm for up to 9 hours, and cold food cool for 14 hours. The durable stainless steel structure keeps food hotter for longer. What's more, the vacuum lid doubles as a bowl for your piping hot soup.
Compared to other flasks, this food jar is easy to use as a cup or food container. There's a wide mouth that allows a hassle-free filling and pouring. Plus, all of the colours are sweatproof and cool to the touch. This product even comes with a 5-year guarantee. This product is better at protecting cold foods than hot foods, however, and there's no carrying handle.
Pros:
Available in a range of colours
Ready to use as a hot or cold lunch container
Up to 710ml food capacity
Vacuum lid also works as a soup bowl
Wide mouth for ease of use
Cons:
Can struggle to keep some foods hot
May be harder to transport with no carry handle
If you're looking for the best soup flask to make your lunch more convenient, the WisFox insulated stainless steel jug could be perfect for you. This multi-functional food flask comes with a 750ml capacity, with plenty of room for soups, oatmeal, liquids, and cold desserts.
Equipped with a storage bag for transportation, a full-sized folding spoon, and a sponge brush for cleaning, the Wisfox food flask has it all. Choose the colours that you prefer, and you can easily transport this warm food flask to your office or car. The lid can act as a separate cup or bowl for your soup, and there's even a storage space for your folding spoon.
With an 18-month warranty, the Wisfox flasks will give you peace of mind when it comes to finding a product that can keep boiling water and soup hot. Unfortunately, these food flasks do have an odd smell when you first use them. Additionally, the Wisfox might not be able to keep hot drinks and food for as long as some alternatives.
Pros:
Leakproof hot and cold food flask
Carry bag and folding spoon included
Insulated stainless steel design for durability
Available in various colour options
Full-size 750ml capacity
Cons:
May only maintain a warm temperature for food and drinks
Food flask can have an odd smell when you first use it
Ready to keep your food at the perfect temperature in any situation, this 720DEGREE WunderJar food flask is one of the best food thermos options around. The compact design and 450ml capacity make this product the perfect choice for your office or school trips.
With premium-quality materials throughout, the 720DGREE food jar is one of the most impressive flasks on the market. The completely BPA-free design features stainless steel for durability, and a valve release button to remove excess pressure from warm and cold food.
There's an extra-wide mouth to make filling your flask with soup easier. You also get double-wall vacuum insulation with an extra copper layer to keep food warm for up to 9 hours or cold for 16 hours. This flask is even available in a range of colours. Unfortunately, the rubber ring can fall off quite easily. The heat will also reduce faster if you don't fill the flask completely.
Pros:
Wide mouth for filling your flask with soup or drinks
Double-walled insulation for hot or cold beverages
Double-wall and vacuum insulation keeps food cold for 16 hours
One of the best vacuum flasks for easy to clean simplicity
Environment-friendly materials
Cons:
May work best when filled completely
Rubber seal on the lid may break easily
You'll be ready to take your soup with you wherever you go with the Milu insulated flasks. These 450ml capacity food flasks are equipped with a range of extra accessories, including a folding spoon and a bag for transportation.
Designed to be completely leakproof, this high insulation food flask from Milu keeps the temperature of your food at just the right level. The wide opening makes it easy to fill your flask and retrieve your food. Plus, you can even use the lid as a bowl.
If you're looking for the best hot food flask for life on the move, the Milu insulated flasks keep meals and drinks hot for as long as 6 hours, or cold for 10 hours. One issue is that it can be difficult to clean compared to some alternatives. You might also find that the vacuum seal keeps food warm, rather than hot.
Pros:
Convenient 450ml capacity for soup and drinks
One of the best food flasks with accessories, including spoon and bag
Suitable for hot, warm and cold food or drinks
Wide opening size to make filling easier
Attractive design
Cons:
May keep only food warm instead of hot
These flasks can be difficult to clean compared to some
If you're looking for something a little different to your standard food jar, but has the same reliable function, the WINKYES Big Wave could be ideal for you. This environment-friendly soup container comes with a double-wall vacuum insulated design to keep meals warm for 12 hours or cold for 24 hours.
One of the few double-walled food flasks that can maintain the food's temperature this long, the WINKYES big wave offers exceptional performance. There's a leakproof lid so you can take drinks and meals with you on your daily commute. Plus, you get the added benefit of protecting the environment.
Every time you buy one of these food flasks, the company plants a tree in your name, helping to reduce your environmental footprint one food flask at a time. This is a great alternative to a stainless king food jug, but it can be quite difficult to clean. You may also find that these food flasks are too tall for your needs.
Pros:
Environment-friendly design and 'plant a tree' policy
Keeps food hot for up to 12 hours and cold for 24 hours
Leak-proof vacuum insulation lid for peace of mind
Flask holds up to 750ml capacity to keep drinks cold or food warm
Double-wall performance
Cons:
Can be hard to keep clean compared to other food flasks
Maybe too tall to use with a spoon and similar products
Designed to keep your food at the ideal temperature for longer, these food flasks from Prime Horizon have a 500ml capacity and stainless steel structure. Alongside a leakproof and BPA-free food flask, you also get a free insulated travel bag and a folding spoon. Plus, there's a gift box if you're not the one who's going to use the flask.
Available in a selection of colours, this leading food flask is one of the most attractive around, with a convenient 500ml capacity for your soup or to keep drinks cold. The double-walled insulation and vacuum lid keeps food hot for up to 6 hours or cold for up to 9 hours.
Alongside an elegant design, these safe and durable food flasks also feature a bonus carabiner, foldable spoon and a carry bag for transporting your meals. The vacuum insulated material is also rust and leak proof. However, you may find it's better for cold food than hot. This food flask may be small for those interested in a king food flask, too.
Pros:
Double-walled vacuum-insulated steel food flask
Keeps food hot for up to 6 hours and cold for 9 hours
Carry bag and foldable spoon included with flask
Safe and durable materials for your soup
Available in different colours
Cons:
Maybe too small for some people
Could be one of the better flasks for cold food, but not great for warm
If you've been keen to get your hands on a Thermos Stainless King food flask, but you want something a little more fun to look at, this could be the product for you. With the same materials as other Thermos stainless king food flask models, this FUNtainer keeps food hot and protects cold drinks while looking fantastic.
One of the more appealing options for those with a sense of style, this Thermos food flask comes in a range of designs that are ideal for children. Each jug comes with a wide opening for easy access. Like other Thermos products, you can also keep foods at the temperature that's right for you with hot or cold performance.
Earning some of the impressive food flask reviews around, this product looks great and performs well, too. However, the size may be too small for some adults. The product only keeps food hot a short time, too.
Pros:
Attractive design with stainless steel centre
Suitable for hot food and cold beverages
Available in a variety of designs great for children
Temperature control for up to 290ml of soup or other food
Easy to clean and transport
Cons:
Size could be too small for some adults
May not be able to maintain high heat temperature for long
The Esbit food flask promises excellent protection if you're looking for the best food flask to keep food hot. These vacuum insulated food flasks are made with high-quality stainless steel that is free from any dangerous BPA or external ingredients.
Suitable to keep soup at a high temperature, or cold desserts cool for longer, this Esbit food container is ideal for life on the go. The rough surface is great for those who need help maintaining an ergonomic grip, and the lid on this flask can also work as a bowl.
Built according to the highest standards to protect your hot food, this flask is both durable and attractive, with a wide opening so you can pour the contents or fill it easily. Unfortunately, it can only retain heat for around 6 hours, which isn't as long as some alternative flasks. You might also find that the paint peels after a while.
Pros:
Suitable for 1 litre of cold drinks or hot food
Wide opening to make pouring soup easier
Ergonomic grip design
The lid on the flask also works as a bowl
Good for maintaining heat or cold products
Cons:
May not keep food hot for as long as you would like
Paint can peel from the outside after a while
How to Choose the Best Food Flask
Whether you're looking for the best soup flask, or you just want a product you can rely on to keep your food and drink at the right temperature, there are tons of options available on the market today. Choosing the right product means considering the unique needs you have as a consumer. Here are some points to consider when choosing your food flask.
Capacity
The best food flask can hold plenty of food for you and your family. Some people will only need a small capacity if they're choosing food flasks for snacks or children. Others might require a full litre of space for all the soup that they want to carry with them. Consider the capacity of your insulated flask carefully, as they can range all the way from around 300ml to 1 litre in quantity.
Functionality
The best soup flask should come with vacuum insulation and a double wall design to keep the right temperature of your meals longer. Whether you choose a Thermos food flask or another option on this list, consider the extra features you might need.
Some flasks come with carry bags that make them more portable, while others have their own foldable spoon for extra convenience. You should also look for a wide mouth to make pouring easier.
Materials
The best materials for your flask can make it more effective. Some products come with insulation that allows them to keep food hot for as long as 12 hours or cold for up to 24 hours. However, the structure of the flask and the lid will make a huge difference to how long your food lasts.
Metal flasks and stainless steel are the most common for those who want 12 hours of temperature protection, and they're often easier to clean. Make sure your materials are BPA-free and durable enough to withstand the test of time. You may not get a 50-year guarantee, but some warranty is often useful.
Design
Finally, think about the design of your food jug. Other than materials that preserve warmth and keep your food in excellent condition, your flask will also need to look great. Check for extra features that make it easier to carry, like a durable ergonomic grip or a small leather handle. The design should be backed up with a warranty, too.
Choosing Your Food Flask
The best food flask will always be dependent on your unique needs and preference. Think about how much food you have to bring, and how long you need your flask to keep your meal at the right temperature.
Our number one choice for the ideal food flask is the Thermos Stainless King food jar, perfect for storing all kinds of liquids and foods. This product comes with a 5-year guarantee and it can keep food hot for 9 hours or cold for up to 14 hours. It's also available in a variety of colours to match your style.