Last Updated on
Our editors independently research the best products online to produce this list. We may receive commission on purchases made from the links below but this will never affect our product choices.
---
Top 10 Best Induction Pans
So, you want to know all about the best induction pans in the UK, and who could blame you? But with so many options out there in the market, it can be confusing as to which induction pan you should choose.
However, life can be somewhat easier when you have a guide that helps you work your way through this vast number of pots and pans out there specifically designed as induction cookware. From ceramic frying pan to non-stick coating or stainless steel pots – the options are plentiful.
But help is at hand. We have looked at ten different cookware options for pans designed for induction hobs. They cover various price ranges as well as materials, and this is what we have found.
How We Compared Induction Pans
To find the right induction pans we considered multiple factors, including:
Suitability
Material
Easy to Clean
Extra Features
Our editorial team carefully researched and selected products that would suit a wide range of needs to take your kitchen experience to the next level. We set out this list after assessing customer reviews and evaluating pros and cons in line with the above comparison points.
Find more about our behind-the-scenes process here.
Induction Pan Reviews
For us, this product by Morphy Richards has to be the best induction pan set on the market. As pan sets go, this covers every base.
It is an eight-piece set, and includes three saucepans, a milk pan, a frying pan, two steamer inserts, and a stockpot. It has everything you need for creating a myriad of dishes on your induction hob.
Crafted from stainless steel, they are suitable for all induction hobs. However, one nice addition to this set is the way it handles heat distribution. The set comes with an aluminium Thermocore encapsulated base. It means the heat is spread evenly across the base of the pan, and it's not focused purely on a small area. This creates a more even heat, and things will cook better.
But these pans are not perfect. They are not oven-safe, and that may be something you need in a set. Also, be careful and don't allow things to stick when cooking. It can be tough removing some marks, as it's straight onto stainless steel, rather than having any type of non-stick cooking.
Pros:
Suitable for all types of induction hobs
Dishwasher safe
Ergonomic handles are suitable for both left and right-handed people
Glass lids have steam vents that prevent cracking of the glass
Spreads heat evenly across the base of the pots
Cons:
May not be suitable for the oven
May be difficult to clean and get stubborn marks off
Aside from bearing the name of Jamie Oliver, what you have here is a set of hard anodised pans that should be capable of withstanding a lot of use in the kitchen.
This 5-piece cookware set comes with a frying pan, two saucepans, a stewpot, and a saute pot which varies slightly compared to most induction based sets. The base metal is aluminium that contains a high-quality non-stick coating. This coating is made of titanium, which is more resistant to scratches, so your pan won't be ruined the first time you use it.
Additionally, this set offers well-balanced heat distribution. Plus, the frying pan and saucepan set tells you when the optimum temperature has been reached, thanks to its Thermo-Spot technology. Each pot is not only dishwasher safe but also oven safe.
On the slightly negative side, you must keep the lids away from the dishwasher as there are reports that they are slightly more fragile when washed in this way.
Pros:
Heavy, sturdy, and durable
High-quality non-stick coating on each pan
Suitable for all hob types
Offers perfect heat distribution for all types of cooking
Easy to clean
Cons:
Lids may not last in the dishwasher
Metal utensils may damage the non-stick coating
If you want a simple set of saucepans, then this option from Tefal is something to consider. Containing three different sizes, they provide you with a set of pans that will work on all induction hobs.
This set contains a 14cm milk pan and both a 16cm and 18cm saucepan. Manufactured from stainless steel, they offer excellent heat coverage. They are also resistant to rust and corrosion, thanks to a layer of chromium covering the pans.
They also come with a nice internal measuring guide to make it easier to judge things while cooking on your hob. Plus, they are dishwasher safe and provide you with everything you would expect from a set of induction pans.
On the flip side, they are oven safe, but only to a low temperature of 180 degrees for up to an hour.
Pros:
They spread heat well over the base, offering even cooking
Chromium layer provides added protection from rust
Suitable for induction hobs
Soft-touch handles eliminates the chance of burning your hands
Non-stick coating
Cons:
May not be suitable in the oven for extended periods
The lid may prove difficult to clean to the edges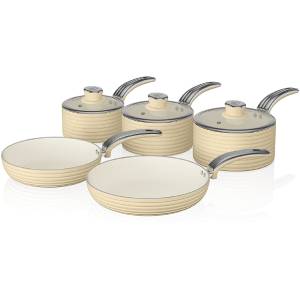 If you want to go down the retro road, then this set by Swan is ideal. Suitable for all induction hobs, it provides you with ample cooking options – thanks to the range of pots and pans.
This set comes with two frying pans, as well as three sizes of saucepan, so you are well covered. Both the pots and frying pans have a non-stick ceramic coating that enables healthier food cooking and is easier to clean.
You can start cooking with these pots and pans straight out of the box. The lids also contain steam vents for added safety. And, with stay-cool handles, you don't have to worry about burning yourself. However, it's the appearance of these pots that makes them stand out. The cool, retro design doesn't take anything away from the fact that these pots are perfect for your induction hob and any sort of cooking you can imagine.
On the flip side, the pots are not oven-safe, but that may not be a big deal for most people. Also, it's perhaps best to not put it in the dishwasher due to the non-stick coating.
Pros:
Two great sized frying pans are included in the set
Comes with a ceramic non-stick coating
Suitable for any type of hob
Very easy to clean
Stunning retro design cookware for your kitchen
Cons:
May not be suitable for the oven
May not be dishwasher safe
This 13-piece stainless steel set offers ample options for cooking. With easy-to-change handles and a stacking option, storing this cookware is also surprisingly easy.
Storing frying pans, or any pan, can be tough. This cookware set by Tefal eliminates that problem with a unique stacking method, meaning it takes up less space than most frying pans. Simply unhook the handle, and move it to another pan.
Crafted from stainless steel, it comes with a Titanium base that works perfectly with an induction hob. It allows the pot to distribute the heat evenly across the base, so cooking becomes easier. Also, titanium is used for the non-stick coating inside the entire set.
The only real problem with is that it has too many options for people who are not cooking regularly. A slimmed-down cookware range may be best in those situations.
Pros:
Suitable for every induction hob
Both dishwasher and oven safe
Non-stick frying pan and other pots have removable handles
Range of sizes included
Easy to store stackable design
Cons:
Too many options may be a problem for some people
May discolour slightly due to heat over time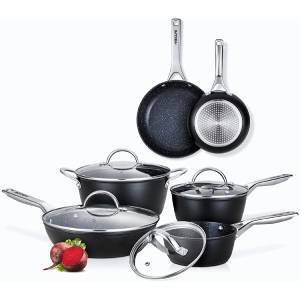 It may not be a familiar cookware name, but this set comes with a guarantee that it's suitable for your induction cooker. Offering ten pieces, getting food on the table will be easy with this set.
Made from aluminium, each pan has a strong coating and is resistant to rust. The ergonomic handles provide added comfort whether your flipping pancakes or sauteeing your onions. They even feature a hole in the end, so you have the option to hang them, or you can use this to hold your wooden spoon or spatula.
It could provide the perfect setting for you to cook your favourite food with a forged base as it moves the heat across the base with ease. Meaning your food will heat up evenly. Also, the glass lids make it easy to check your food's progress.
The only possible problem is for those with a small kitchen. Each pan does take up some space. Hence, if that's an issue, then a more condensed set may be best.
Pros:
Each pan has a thick coating
Strong and heavy pots
Sturdy lid on each pot
Ergonomic handles
Easy to clean
Cons:
May take up too much space for some people
The handle is metal and may get hot while you cook
An induction pan need not be ugly, and this cookware set is certainly cool to look at. Finished in an orange coating, it provides you with several options – thanks to the six different pans.
Each pan in this Cusibox set is manufactured to a high standard, and it comes equipped with two frying pans, a stockpot, and three saucepans. Suitable for any induction hob, each pan also has a non-stick coating that will withstand a lot of wear and tear.
This set is easy to clean, and cooking will require less oil – thanks to the non-toxic coating. The pan is made from aluminium which will heat food more quickly than other options.
The only problem is the handle is also metal. It may get hot when in use, so be careful with each pan as it's easy to forget how heat may travel.
Pros:
Fantastic colour makes them stand out
Heavy pan set
A non-toxic coating used in each pan
Suitable for any induction hob
Very easy to clean
Cons:
The handle may heat up during use
Water may become trapped in handles after washing
Including three different sizes of saucepans and two frying pans of various sizes, this cookware by Tower is the perfect starter set for a small household.
Thanks to the Cerasure non-stick coating, you don't have to worry about using too much oil. Hence, it provides healthier alternatives to all of your family's favourites. This coating also allows for easy cleaning, as any leftover food can be simply wiped away.
The lightweight and durable design also feature stay-cool handles and tempered glass lids for your benefit and safety. The bonded aluminium base provides even heat distribution and makes it ideal for induction hobs of any kind. What's more, the classic grey design will look stylish in any kitchen.
Unfortunately, this set is not safe for oven cooking. So, you will have to transfer your meals to an oven-safe dish if you need to finish off your pasta bake or stew in the oven.
Pros:
Classic, stylish design
Cerasure non-stick coating
Easy to clean
Perfect sizes for a small family
Stay-cool handles
Cons:
May not be safe for oven cooking
The non-stick coating may not last forever
This set from Amazon Basics features non-stick induction pans that provide everything you need for cooking.
It comes with two frying pans as well as three saucepans. Made from aluminium, each pan will spread the heat evenly to cook your food well. Every pan also comes with bakelite handles, so no need to worry about them getting too hot. The lids trap the heat, further allowing to cook food more efficiently.
On the other side, you need to make sure you place these pots perfectly to work on induction hobs. Anything off to one side will result in this cookware taking longer to heat up.
Pros:
Bakelite handles that won't burn when on an induction hob
Each pot or pan has non stick coating
Enough cookware options without taking up too much space
Strong 24cm frying pan included
Aluminium construction
Cons:
Must be sure of positioning on induction hob for it to work
May have to be careful with utensils to preserve the non-stick coating
With a classic design suitable for any induction hob, this 12-piece set offers you every possible option you could ever want from your cookware.
Whether you want a normal-sized pan, a frying pan, a pan for making stock – everything is here for your induction hob while also being compatible with gas and electric stovetops. Made from stainless steel, they also include the usual non-stick coating and a sturdy lid.
The best feature of this set is the measuring scale featured on the inside of each pan. This allows you to measure the liquid contents, which is a great bonus if you struggle with portion sizes.
However, be careful with certain foods and if you have hard water, as it may lead to some discolouration over time. Also, you must clean it straight away to prevent problems.
Pros:
Wonderful range of pots for an induction hob
Heavy and comes with a guarantee of even cooking
Provides perfect heat distribution
Handy scale on the inside
Non-stick coating
Cons:
You may need to watch food closely to stop it from burning
Some food may discolour the base of the pan if not cleaned properly
What to Look For When Buying Induction Pans
Reading an induction hob pans review is one thing, but knowing what to look for in these reviews is something else. So, what sort of things should stand out?
Suitability
First, check that each pan is indeed suitable for an induction hob. Any induction pans will have the induction symbol mentioned, so watch out for it. The best pans for induction hobs will always clearly state that they are perfect for this type of cooking.
This applies to both a saucepan and frying pans. Alternatively, it may also mention the set is suitable for any hob, and that's going to mean induction is included.
Check out for aluminium and stainless steel materials, as these are most commonly found in induction compatible pans. An easy way to check if a pan is compatible is to see if it is magnetic. If a kitchen magnet sticks to the base of the pan, it will work on your hob.
Material
Aside from their compatibility, the material of your pans can also come down to personal preference and whether you want a steel pan or ceramic cookware to place on your induction hob.
However, this has more to do with how the pans heat up and distribute the heat while it sits on the hob. The best induction pans in the UK should spread the heat evenly. This feature is important on an induction hob to ensure that food is cooked well, no matter where it sits in the frying pan or pot.
It's worth noting that even cast iron is going to work on an induction hob. It does work well with the heat. So if you prefer cast iron, then don't overlook it as an option for pans for induction hobs.
Easy to Clean
Of course, cleaning your cookware is a big concern. Nobody wants to be standing there scrubbing frying pans for hours simply because it doesn't have a non-stick coating.
Also, check to see if they are dishwasher safe, as this will also make life a lot easier.
Extra Features
Consider if an oven-safe feature is important, as not all these induction pots and pans will work in the oven. If you use the oven a lot, then this is a factor to take into consideration. However, you will generally find an induction pan won't remain in the oven for too long.
Also, look out for tempered glass lids with steam vents and handles that will remain cool whilst cooking. The best induction saucepans should not burn your hands when trying to lift them.
The Matching Set for Your Hob
For us, the best induction pans in the UK must be the Morphy Richards induction cookware set. It's the best induction cookware as it provides you with enough cooking options, no matter what type of food you like to prepare.
It works well on any induction hob, while the non-stick coating is second to none. If you are looking for a complete set, then this will be the perfect option. We love the Thermocore encapsulated base, as well as the fact that this 8-piece set has got you covered no matter what you plan to cook.
Additional Resources