Last Updated on
Our editors independently research the best products online to produce this list. We may receive commission on purchases made from the links below but this will never affect our product choices.
---
Top 10 Best Dutch Ovens
Dutch ovens are a highly versatile kitchen essential, and no home should be without at least one for cooking and serving up slow-cooked stews, roasts and even baking bread.
While there is no shortage of excellent Dutch ovens to choose from on the market, finding the right model at the right price can be a bit of a challenge. That is why we created this article and compiled our top choices to help you and hopefully make it easier for you to choose the right product that suits your needs.
So, what are you waiting for? Here's our comprehensive guide to finding the best Dutch oven in the UK for hassle-free cooking!
Read on!
How We Compared Dutch Ovens
To find the right dutch ovens we considered multiple factors, including:
Size
Material
Lid
Weight
Handles
Our editorial team carefully researched and selected products that would suit a wide range of needs to take your kitchen experience to the next level. We set out this list after assessing customer reviews and evaluating pros and cons in line with the above comparison points.
Find more about our behind-the-scenes process here.
Dutch Oven Reviews
This enamelled Dutch oven by cast iron cooking ware specialists Lodge has all of the performance, practicality and quality of premium models at a much more affordable price, making it our favourite overall and editor's choice. 
With its 5.67-litre capacity, this Lodge Dutch oven is one of the best dutch ovens and a great all-rounder; use it for hearty family suppers, stews or even baking bread. It can be used on all cooking surfaces, including induction cooktop, and is oven-safe up to 260 degrees C. 
This model features cast-iron loop side handles for easy handling of cast iron for excellent heat retention and heat distribution for superior cooking results. The smooth porcelain-enamel finish makes it easy to clean and ensures greater longevity, while its stylish looks mean it won't look out of place on your dinner table. 
While this is undoubtedly one of the very best Dutch ovens around for the money, bear in mind that it is recommended that you hand wash it only. Also, the curved walls could mean that you have less surface area at the pot's base for browning joints of meat. 
Pros:
5.67-litre capacity
Oven safe up to 260°C
Cast-iron loop side handles
Smooth porcelain-enamel finish
Cons:
It may be best to hand wash only
Curved walls could mean a smaller area for browning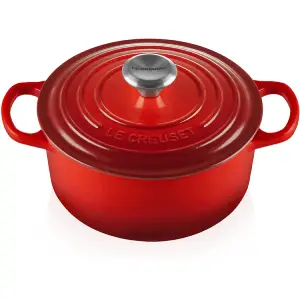 If you are looking for the very best of the best, you'll want to take a closer look at our luxury choice – Le Creuset Signature selection, renowned as the "Rolls Royce" of Dutch ovens.   
This 24cm round casserole pot and the lid have a good 4.2-litre capacity, making it a perfect choice for four to six servings family meals. This traditional Dutch oven features a durable, stain-resistant enamel coating and can be used on any cooking surface, being also grill and oven-safe up to 260 degrees C.
It has stylish looks with its embossed name and stainless steel knob. The lid of this outstanding Le Creuset Dutch oven is also specially designed to be extra tight-fitting to ensure that your food doesn't dry out for tender, tastier results when slow cooking. 
On the downside, the main drawback of this wonderful Dutch oven is its rather hefty price tag, although it should last to be passed down to the next generation. Also, at 4.31kg, you may find it a little heavy for its size. 
Pros:
4.2-litre capacity
Large side handles
Tight-fitting lid
Dishwasher safe
Cons:
It may be a bit expensive
It could be too heavy
Our best value pick amongst the best Dutch ovens is this easily affordable model from Vivo by Villeroy & Boch. It is highly functional and easily matched with your existing cookware; thanks to its stylish matte black finish, this cast-iron Dutch oven is a fantastic value for money. 
With its 24cm internal diameter measurements, this round dutch oven has a generous 4.2-litre capacity, making it a great go-to option for your soups and stews. It is also an excellent choice for high-temperature searing on any hob, plus you can then go straight to the oven before finishing off your dish under your grill and then serving it up at the table where it retains heat. 
The self-basting lid helps retain moisture and ensures your meat remains tender and juicy throughout the cooking process. The smooth enamelled bottom ensures that this cast iron pot won't damage your kitchen surfaces, while the stainless steel branded knob adds a touch of class. 
Given its 5.32kg weight, when full, this Dutch oven may be too heavy for some, so bear this in mind if you have any wrist or hand issues. Also, the handles could do with being just a little larger to ensure you get a tight hold on it with your oven gloves on. 
Pros:
4.2-litre capacity
Self-basting lid
Cast iron with enamel coat
Stylish black matte finish 
Cons:
It might be heavier for your preference at 5.32kg
The handles could be larger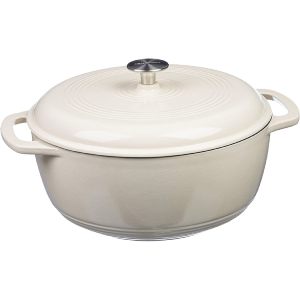 If you are looking for a small Dutch oven and don't want to pay over the odds, check out this model by Amazon Basics. 
Available as a four-litre or small 3.1-litre casserole pot, if you don't regularly cook for a crowd or have a small oven, this cast-iron Dutch pot could be just what you need. Its cast-iron construction makes it highly durable and excellent at retaining heat from your hob or oven at temperatures up to 204 degrees Celsius. 
Thanks to its enamel coat, you can also use this Dutch oven for marinating and storing your food while ensuring that the cast iron remains protected from acidic foods. The loop side handles make it easy to transfer from your hob to your oven and over to your table for serving. 
Unfortunately, this Dutch oven is not dishwasher safe, so hand washing is recommended. Make sure that you use it cautiously on glass or ceramic hobs as it may cause some scratching. 
Pros:
4-litre or 3.1-litre capacity pots
Oven safe
Loop side handles
Comparatively lightweight at 1.2kg
Cons:
May scratch glass and ceramic hobs
May need hand washing
The next on our list for the best Dutch oven in the UK is the Lodge Pre-Seasoned L8DD3 Dutch Oven. Undoubtedly, it is our best 2-in-1 pick and possibly the most versatile double Dutch oven on the market. 
The best Dutch oven for indoor or outdoor cooking, it's compatible with all hob types, BBQs and even campfires. Remove the lid from this 4.73-litre cast iron Dutch oven, and it becomes a handy 26cm frying pan for searing, frying and sautéing. What's more, as there is no lid, you can also use the main base part as a lid when baking no-knead bread. 
Ideal for stews, casseroles and your weekly roast, as well as baking and frying up breakfasts, this multi-purpose Lodge Dutch oven and skillet features integrated side handles on both sections with a tight fit between the oven and lid. Pre-seasoned and ready for use, this cast-iron Dutch oven is an excellent all-rounder and ideal for cooking both at home and in the great outdoors. 
On the downside, this cast iron double Dutch oven pot may need re-seasoning before use, although you will need to regularly re-season as with all new cast iron cookware. Bear in mind that the handles are fairly small, so make sure that you have thin heat-resistant oven mitts to use with it. 
Pros:
4.73-litre capacity pot with 26cm skillet
Integrated side handles on lid and base
Pre-seasoned cast iron
Suitable for indoor and outdoor use
Cons:
You may need to re-season before use
The handles could be bigger
The Helios Casserole Dish by Aiglefeu weighs just 1.5kg, making it an interesting choice if you are looking for a lightweight Dutch oven that is not a cast-iron model. 
It is made from aluminium. This Dutch oven heats up fast and features two layers of PFOA-free coating to prevent your food from sticking to the interior. Like cast iron versions, you can also use it on any hob, including induction, and it is oven-safe up to 230 degrees C. 
Thanks to its 4.5-litre capacity, it's a good size for one-pot family meals, plus the self-basting lid will help to keep your roasted meat joints nice, tender and full of flavour. Two silicone pot holders are included, plus an oven glove to make it easier to remove it from your hot oven. 
Bear in mind that this model may be less durable than some cast iron enamel-coated Dutch ovens. Also, the lid coil is tighter fitting to lock more moisture in, so you may want to check and top up your liquid level occasionally.  
Pros:
Lightweight aluminium construction
Two layers of PFOA-free non-stick coating
Suitable for all hobs and oven-safe up to 230°C
Self-basting lid
Cons:
The lid could be tighter fitting
It may not be as durable as enamel coated cast iron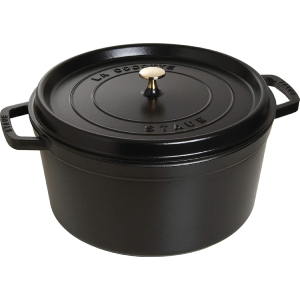 Looking for the best cast-iron pot specifically handmade in France? Look no further than this cast iron cocotte from premium iron cookware crafters Staub! 
Large enough to cook a whole chicken for festive gatherings or batch cooking, this large cast-iron pot has an impressive 12.6-litre capacity. Highly practical and stylish, this dishwasher-safe enamel Dutch oven features two ergonomic handles and a metal lid knob that can resist temperatures up to 250 degrees C. 
Thanks to its internal enamelled surfaces, this model is highly durable and scratch-resistant, designed to last a lifetime. The special drop structured lid ensures continued self-basting of your food for a better taste, texture and flavour. All in all, it's an excellent choice for perfect both searing and slow cooking with exceptional heat retention. 
While this Dutch oven is close to perfection, bear in mind that at 11.2kg empty, you may struggle to lift it when it's full. Also, at 21.4cm tall, it can be a bit of a tight fit for smaller or double ovens, so make sure that you measure before you buy. 
Pros:
Large 12.6-litre capacity
All hobs and oven-safe up to 250°C
Special drop structured lid
Dishwasher-safe
Cons:
It could be too heavy when full
It may be too tall for smaller ovens
If you are looking for something with an ergonomic design, then the 23100 Cast Iron Pot by Nuovva is the best Dutch oven in the UK for you. It features deep ergonomic side handles, making it easier to lift it in and out of your oven.
This pre-seasoned cast-iron Dutch oven has a generous 4.7-litre capacity, suitable for most family slow-cooked meals as well as braising, baking and sautéeing. Use it on all hob types and even over open fires in your garden when BBQing. This model is also oven-safe.
Thanks to its curved, cast iron lid, this Dutch oven helps to keep your meat joints tender and full of flavour. The handles make it easier to carry to your table, even with thick oven gloves, while the stylish black finish will match any table setting. What's more, this Dutch oven is very competitively priced, ideal if you are on a budget. 
Like all cast iron pots, although it has been pre-seasoned, you may need to season it again on arrival. As cast iron needs regular maintenance to keep rust at bay, if you are not familiar with caring for cast iron cookware, you may find an enamel-coated Dutch oven to be easier to maintain. 
Pros:
4.7-litre capacity
Deep side handles
Pre-seasoned cast iron
Suitable for all hob types, ovens & open fires
Cons:
Enamel-coated versions may be easier to maintain
May need extensive seasoning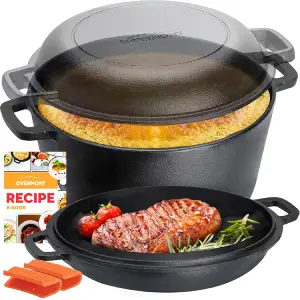 Similar in size and design to the Lodge L8DD3, this Cast Iron Dutch Oven for the UK market by Overmount also features a handy reversible lid that doubles as a skillet, ideal for outdoor use over an open fire.
With its five-litre capacity, you can easily cook for four to six persons with this round Dutch oven for camping, plus the lid can be used for frying your campsite breakfast, saving you space on packing up your kitchenware in your car. It has four handles, two on the lid and two on the base, making it easy to carry, even when hot. 
Complete with two silicone handle protectors to ensure the safety of your hands and a recipe book for inspiration, this Dutch oven would make a nice gift set. Thanks to the casting iron's longevity and excellent heat retentive properties, it's a good choice for frying, sautéeing, braising, and baking both outdoors and in.
The main drawback to this Dutch oven is its weight, at just under 6kg, it is only really suitable if you're car camping or using it in your garden on the BBQ. Bear in mind that this non-coated cast-iron Dutch oven may require extra pre-seasoning before use to ensure it stays rust-free. 
Pros:
5-litre capacity
Double handles
The lid converts to a skillet
Includes recipe book and two silicone handle covers
You can use it outdoors over an open fire
Cons:
May need seasoning before use
It may be fairly heavy, weighing 5.9kg
The last option of our best dutch ovens is the Uno Casa enamelled cast-iron dutch oven. Uno Casa is a brand specialising in enamelled cast ironware: it's not just the name that stands out; their products do too, made by some of the best Chinese enamel cast iron artisans. 
Thanks to its large 5.7-litre capacity, you can use this Dutch oven for large family meals and bread baking. Its black enamelled interior and red enamel exterior mean that you won't need to worry about seasoning it, plus you can use it for cooking and storing acidic foods.
The self-basting lid has little bumps on the inside to ensure that the evaporated liquids drip back down, flavouring your food. The handles on this Dutch oven are a good size, plus you also get two silicone pot holders, plus a mat to place it on when it's hot. 
On the downside, the enamel finish could be more durable, so take care when using and cleaning this pot. Also, the base may be too thin for high heat cooking on your hob, so stick to slower cooked dishes for better results.  
Pros:
Large 5.7-litre capacity
Lid doubles as a self-baster
Internal and external enamel finish
Includes silicone mat and pot holders
Cons:
The finish could be more durable
The base may be too thin for high temperatures on the hob
What Is a Dutch Oven?
Traditional Dutch ovens are multi-purpose, thick-walled casserole dishes with a tightly fitting lid. Typically made from cast iron, they are highly durable and a great way to go from hob to oven then straight to your table, without switching pans, pots and dishes.
Cast-iron Dutch ovens usually have oval shapes and can be used to cook a huge variety of dishes, including roasted meats, stews, and even to bake bread, giving you a nice thick crusty finish with a standard household oven.  
What to Look For Before Buying a Dutch Oven?
Here are some of the factors you need to look out for if you still opt to explore more choices of the best Dutch oven in the UK.
Size
What size Dutch oven should you buy? First of all, consider how many people you regularly cook for or, if you batch cook, how many servings you tend to make in one go.
Like many kitchen appliances, most dutch ovens are available in a wide variety of sizes, so you may want to pick up a couple of different ones for different occasions.
Bear in mind that if you are stuck between deciding on two sizes, you'll probably be better off going with the larger model in most cases and simply filling it up less when you are cooking smaller dishes.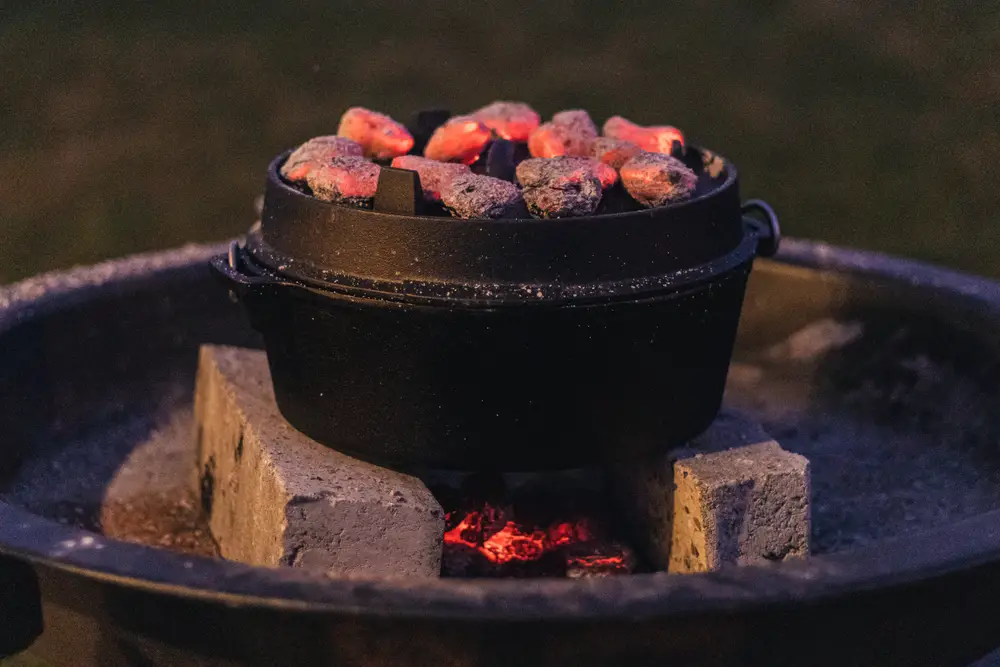 Here below, we have outlined the most common sizes of the best Dutch ovens to help you make your choice.
Three Litres and Under
Small Dutch ovens are great for side dishes or even for serving up mini individual portions of cassoulet to your guests. 
Four to Five Litres
Great all-rounders, these small to medium Dutch ovens can be used for family meals, baking bread and roasting small joints of meat. Their convenient size makes them easier to handle than larger, heavier versions. This size is typically the best dutch oven for bread in the UK.
Six Litres and Over
A good size for large family meals or if you like to cook once and eat twice for your whole household. 
Material
Thanks to their excellent heat retention and outstanding durability, cast-iron Dutch ovens are generally considered the best. However, you can also find aluminium and stainless steel alternatives. 
Remember that cast-iron Dutch ovens take quite a bit of maintenance: you will usually have to season your new cast iron cookware. Otherwise, choose one slightly higher-priced Dutch oven with an enamelled cast iron finish. The finish will protect the cast iron from your food and water, making it automatically non-stick and much easier to clean.
Lid
The best Dutch oven in the UK will have a tight-fitting lid to retain moisture and flavour. Lids with self-basting designs often incorporate small raised sections so that evaporated cooking juices condense and drop back down onto your food. Some models have a 2-in-1 design that allows the lid to double as a skillet or inverted use when cooking bread.
Weight
The best Dutch oven UK models are renowned for their heavy-duty cookware items typically made of cast iron! If you have difficulty carrying heavy weights, make sure that you consider your Dutch oven's weight before you purchase. Don't forget to also account for the weight of your meal. A standard 4-5 litre cast iron Dutch oven weighs around 5-6kg when empty. 
Handles
As Dutch ovens are heavy items, you'll want to look for a model with good size handles that you can get a good grip of with your oven gloves on. You don't want to be struggling with a large quantity of boiling food and a heavy cast iron pot straight out of the oven.
Conclusion
As you can tell, we're massive fans of Dutch ovens, and if you don't already own one, it's time you invest in one.
The overall best Dutch oven in the UK for value, performance and ease of use has to be the Lodge Enamelled Dutch Oven – our editor's choice. It has a generous 5.67-litre capacity, while its smooth porcelain-enamel finish is non-stick and maintenance-free.
Use it on all hob types or in your oven up to 260 degrees C. All in all. You won't find a better Dutch oven for the money. 
Additional Resources