Last Updated on
Our editors independently research the best products online to produce this list. We may receive commission on purchases made from the links below but this will never affect our product choices.
---
Top 10 Best Stove Fans
Are you looking for a way to stay warm this winter without having to spend more? You need a stove fan if you have a flat-topped wood, gas or multifuel stove. These small, innovative devices are completely heat-powered with no additional running costs. Stove fans create gentle convection currents without cold drafts to ensure that your entire room feels warmer and more evenly heated. Find the best stove fan in the UK for your home this winter and make the most of your fuel with our best stove fan reviews and stove fan buying guide.
How We Compared Stove Fans
To find the right stove fans we considered multiple factors, including:
Dimensions
Number of Blades
Operating Temperature Range
Overheating Protection
Our editorial team carefully researched and selected products that would suit a wide range of needs to take your kitchen experience to the next level. We set out this list after assessing customer reviews and evaluating pros and cons in line with the above comparison points.
Find more about our behind-the-scenes process here.
Stove Fan Reviews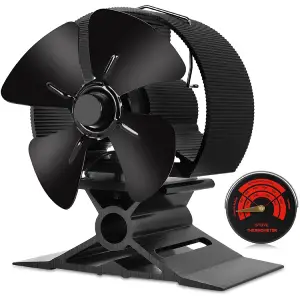 Our editor's choice, the Small Size Stove Fan by Cwlakon, makes an excellent choice for any wood burner. Even if your wood-burning stove is installed in a fireplace with minimal height, its compact design should still be small enough to fit on your stove, blowing hot air out into and around your room. 
It measures just 12.5cm high. This compact heat-powered stove fan features an improved four-blade design for increased air circulation and quiet operation. Simply place it upon your stove, and as it heats up, the stove fan starts automatically, preventing a large amount of heat from simply disappearing up your chimney. 
It is made with durable anodised aluminium construction. This little four-blade stove fan is built to last, being highly corrosion-resistant. Thanks to the bi-metallic strip on its base, should your stove reach a temperature higher than recommended for this device, the metal will expand, causing your fan to become raised off the stove surface, preventing fan overheating and motor damage. 
Self-regulating and quiet, this mini stove fan comes with a small stove thermometer to allow you to control your winter heating better. All in all, this option is a great buy for the money and a well-designed, durable product that can help you to save money on keeping warm this winter.  
Bear in mind that as this is a small fan, if you have the available space for a larger model, you may be able to benefit from more air displacement, or you could purchase a second mini version. While the included stove thermometer gives a good general guide, it may not be accurate.
Pros:
Compact: 12.5cm height

Four blade design

Durable anodised aluminium construction
In-built overheating protection
Quiet operation
Cons:
The thermometer may not be very accurate
Small size may not displace very much air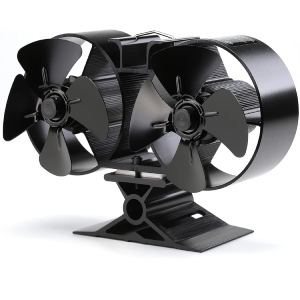 Our luxury choice is another great log burner stove fan for small gaps above inset stoves. The Crsure SF-T84 has double fan heads. If you don't have much space around your stove, then this compact design featuring double fan heads could save you space rather than opting for two individual models. 
Thanks to its low height, measuring just 13.7 cm tall, not only is this model best for small spaces, but it is also highly effective yet discrete. Each fan head contains four blades for a total of eight to ensure that the warm air radiating from your burner is more effectively circulated in your room. The newly designed blades on this four-blade stove fan ensure that you get maximum air displacement and quiet operation.
Its resistant anodised aluminium construction ensures good longevity, as does the in-built overheating strip on the base. This self-regulating eight-blade wood burner fan makes an excellent choice and even comes complete with a thermometer for a warmer room and fewer cold spots when using your burner. 
While this log burner stove fan is comparatively discrete looking, unfortunately, you may find that the stove thermometer looks a little cheap. Bear in mind that, like most good stove fans, this four-blade stove fan may not be suitable for use at temperatures over 350°C. 
Pros:
Resistant anodised aluminium construction
Double fan heads with eight blades in total
Low height: 13.7cm
In-built overheating strip
Low noise operation
Cons:
It may not be suitable for use over 350°C
The thermostat may look a little cheap
The Tomersun SB-122 4 Blade Stove Fan is our best value pick with its low price and high-quality construction. Whether you are looking for a reasonably priced model to save yourself some money or just want to try out how well a stovetop fan would work in your home, the SB-122 is hard to beat in terms of price. 
This four-blade heat-powered stove fan benefits from a durable anodised aluminium construction for high corrosion resistance despite its low cost. Just as with higher-priced models, the base comes complete with a bi-metallic safety strip that works to protect your fan from overheating for a longer, more effective lifespan. When your stove's surface reaches 300°C, the safety device gently raises the front of the base automatically, protecting the fan for unrivalled motor life.
The four-blade design is effective and has been specially formed to ensure quiet operation even at top speeds. Thanks to its extendable handle, relocating this fan to find the optimal placement upon your stovetop is much easier and safer. CE and RoHS, this fan is a great buy for the money. If you have doubts about purchasing a stovetop fan and don't want to spend a lot, this model makes an ideal first-time buy. 
At 21cm tall, this four-blade heat-powered stove fan could be too tall for some fireplace burner stoves. Also, it may be less suitable for large rooms unless you were to take advantage of its low price and purchase two of these wood-burning stove fans to displace more air effectively. 
Pros:
Near silent operation
Efficient four-blade design
Bi-metallic safety strip
Durable anodised aluminium construction
Extendable handle
Cons:
It may be less suitable for large rooms
It could be too tall for some fireplace burner stoves
If you don't have a large wood-burning stove, you may be looking for the best small stove fan. Choosing a model with a compact design will enable you to have better placement options for increased efficacy and improved heat distribution. 
The Voda VDSF624B is 22cm tall, 19 cm long and 12 centimetres deep, making it suitable for the vast majority of freestanding burners. It is made from non-corrosive anodised aluminium. This four-blade heat-powered stove fan won't mark your stovetop or become discoloured. Thanks to its relatively large base, this stovetop fan is particularly stable, and it heats up quickly to start circulating air as soon as your stove reaches around 85°C.
The fold-down carry handle makes it easy to relocate or remove this fan as needed. At the same time, the bi-metallic safety device in the base helps protect the thermoelectric motor from overheating. Its four-blade design works well to quietly ensure warm air is better circulated in your room for a more even temperature. Sturdy, stable and a good size, on the whole, it's a great buy for the money. 
On the downside, if your wood-burning stove is inset, you may not have enough space above your stovetop to accommodate this 22cm tall fan. Also, note that this model may be less suitable if your stove regularly reaches temperatures exceeding 345°C, as you will then need to remove the fan from your burner. 
Pros:
Non-corrosive anodised aluminium construction
Fold-down carry handle
Four blades
Stable base
Bi-metallic safety strip
Cons:
It may not be suitable for inset stoves
It may have to be removed if the stove is over 345°C
If you are looking for the best four-blade stove fan, make sure you take a closer look at our top pick, the Lumamu SF-334. Measuring 18 cm tall by 18 cm wide, this model benefits from four fast-spinning blades with an improved design to ensure a more even heat distribution throughout your room. 
The SF-334 gets to work quickly with a low starting temperature of just 50 degrees C. Use the fold-down carry handle for easy repositioning to get the best performance from your 4-blade stove fan. The higher the temperature of your stovetop, the quicker the fan will turn. The durable anodised aluminium construction is hard-wearing with excellent heat conductivity levels. 
Thanks to its in-built overheat protection system, your fan will be slightly raised to help to protect the motor as it reaches the maximum operating temperature. A magnetic stove thermometer is included with your purchase to help you to keep your stove fan and burner operating at the best temperature.
Bear in mind that this wood-burning stove fan has a fairly low optimum operating temperature of 80-250°C, which could be too low depending on your stove type, build and fuel. Also, while this four-blade heat-powered wood stove fan is not particularly noisy, you may find it slightly irritating if you don't have some background noise playing. 
Pros:
Effective four-blade design
Carry handle for repositioning
It starts working at just 50°C
In-built overheat protection system
It includes a magnetic stove thermometer
Cons:
The optimum operating temperature may be too low
It could be quieter
The Tomersun GoodPOY-00001 is our best three-blade stove fan pick: it is reasonably priced with all the quality and features of higher-priced models. Quiet yet effective, whether you are looking for a bargain or are on a tight budget, this stove fan is a popular wood stove fan choice. 
Three blades allow for more powerful airflow, creating less pressure on the motor than standard fans. Also, at 22 cm high, this model is a good size, provided you have a freestanding burner that is not tightly enclosed within a fireplace. Thanks to its durable aluminium construction, this stove fan is also an excellent heat conductor allowing the thermoelectric motor to work efficiently.
This wood-burning stove fan is lighter than many others on the market, weighing just 530g. It is easier and safer to relocate to find the optimum position using the top carry handle. Complete with built-in overheating protection to ensure that the motor does not get too hot when your stove reaches 300°C, this budget-priced three-blade fan stove is worth trying.  
The Tomersun GoodPOY-00001 is not intended for use on stoves where the surface temperature exceeds 350°C, so if your stove burns hotter than average, this heat-powered fan may need to be regularly removed. Also, it may occasionally need manually starting. 
Pros:
Three-blade design for better airflow
Durable aluminium construction
Top carry handle
Lightweight 530g
Inbuilt overheat protection
Cons:
May occasionally need starting manually
It may be less suitable for very hot burning stoves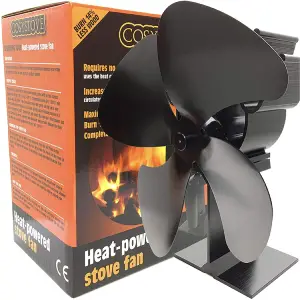 Another great choice for the best stove fan in the UK is the Original Cosystove CSF3. It is one of the most popular stove fans in the UK. 
It prides itself on boosting the heating efficiency of countless wood burners up and down the country. Unlike most of the competition, the Original Cosystove comes complete with a free care guide full of useful advice on placement, as well as care and maintenance tips with information on fuel and burn problems. 
Thanks to its anodised aluminium build, this heat powered four blade stove fan is sturdy and a highly effective heat conductor. Its four blades have been redesigned for extra efficiency and improved airflow to ensure the reduction of cold and hot spots in your living space. Its low starting temperature means that you will feel the maximum benefit from your stove sooner for extra fuel savings. 
Quiet when in use, this wood stove fan is designed with all standard flat-topped wood, gas and multifuel stoves. It comes complete with a blade adjustment tool, so you can easily make any necessary adjustments to ensure an optimal operation as your stove heats up. The care guide indicates how to get the most out of your Cosystove fan.  
On the downside, while this four-blade heat powered fan runs pretty much silently when it is running at full speed, like all stovetop fans, it will make a slight noise – so bear this in mind. Also, given its height of 22.5cm, it may not be suitable if your stove is inset or has limited space above it.
Pros:
Anodised aluminium build
Four blades with redesigned technology
Low starting temperature 
Quiet operation
It includes an adjustment tool and guide
Cons:
May make a slight noise at full speed
It may be unsuitable for inset stoves
This four-blade stove fan by Luckyda is one of the sturdiest fans for log burners, weighing 1.17kg. Its anodised aluminium construction ensures high durability and excellent thermal conductivity, complete with redesigned blades for a whisper-quiet operation. 
Its efficient four-blade design ensures a good air displacement rate, depending upon your stove's surface temperature. Use the extendable handle to safely reposition your stove fan to ensure it is in the best place for maximum efficiency, for a warmer home without burning extra fuel. 
Using a heat powered stove fan, which is eco-friendly being self-powered, could help you stay warm this winter without using extra resources, plus it is completely automatic with no maintenance required.  
This fan is designed for extra durability thanks to its inbuilt overheat protection. It consists of a bimetallic strip in the base that raises your fan in case of high temperatures. It also comes complete with a magnetic stove thermometer, so you can always ensure that your stove is not burning too hot for your fan. 
With an optimum operating temperature range between 80-250°C, this fan may not be suitable for all wood-burning stoves, so check that your stove surface temperature will be low enough for optimum operation before purchasing. At 23 centimetres tall, this model may be unsuitable if you have limited space available above your stovetop. 
Pros:
Anodised aluminium construction
Extendable handle
Sturdy 1.17kg
Efficient four-blade design
Magnetic flue pipe thermometer included 
Cons:
Recommended operating temperature may be too low 
Large size may be less suitable for inset wood burners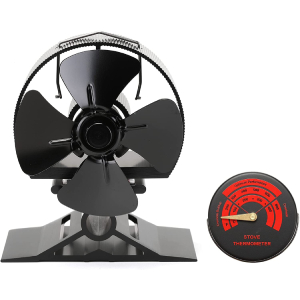 The Crsure SF-524 is another great choice if looking for a high-quality stove fan.
If you don't have a lot of vertical space above your stove or are looking for a discrete stove fan, the Crsure SF-524 Four Blade Stove Fan could be your best option. It measures just 12.5 centimetres high. This compact stove fan is popular for wood-burning stoves installed inside open fireplaces. 
Thanks to its fan blade redesign, this is a very quiet stove that circulates a maximum of warm air from your stove around your room. Its premium anodised aluminium construction will not rust or discolour. This fan is designed to be used at normal stove operating temperatures, from a minimum temperature of 50 up to 340°C, self-regulating its speed dependent upon your stove's burning temperature. 
This mini stove fan comes complete with a user manual to help you to ensure that you place your stove fan in the best location on your stove. It also includes a magnetic flue pipe thermometer so that you can verify that your stove is burning with the recommended temperature limits for your stove fan. The extendable carry handle allows you to make easy position adjustments to ensure that you get the best performance from your stove fan. 
As with many budget flue pipe thermometers, you may not get a highly accurate temperature reading from the model included with this log burner stove fan. Also, this may not be the best stove fan in terms of durability, although it has recently been upgraded to help address this issue.
Pros:
Compact size – just 12.5cm high
Premium anodised aluminium construction
Almost silent operation
Extendable carry handle
It includes a magnetic flue pipe thermometer
Cons:
It may have some durability issues
The thermometer may not be very reliable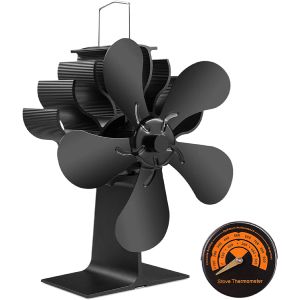 The upgraded Pybbo Stove Fan circulates warm air around your room almost silently with its effective five-blade design. 
It measures 19.3cm high with a maximum width of 16.1cm across the blades. This five-blade stove fan is the best wood burner fan for most freestanding wood-burning stoves. 
It is made with an anodised aluminium base and blades. This stove fan has good thermal conductivity and is highly wear-resistant. With a high recommended surface temperature of between 70-340°C, this stove fan is a more suitable choice for wood burners, and it can even withstand between 350-400°C at maximum stove temperature, unlike many similarly priced models that must be removed at 345-350°C maximum temperature. 
When your stove does get too hot, this model uses a bi-metallic safety protection strip to raise your fan's base out off your stovetop gently. This helps to reduce the amount of heat transferred to the motor allowing it to cool, preventing overheating. This stove fan includes a handy magnetic thermometer to ensure your stove is burning at optimum levels, so you won't have to guess how hot you're burning.  
On the downside, the blades on this stove heater fan are quite fragile, so you'll need to make sure that you do not drop it. Despite its anodised aluminium construction, the base may change colour with frequent use, although this will not affect the fan's operation. 
Pros:
Effective five-blade design
Overheating protection
Near silent operation
Anodised aluminium base and blades
It includes a magnetic flue pipe thermometer 
Cons:
Blades may be a little fragile
The base may change colour with frequent use
Is It Worth Buying a Stove Fan?
If you haven't already used a heat powered stove fan, you may be wondering if it's worth buying a wood-burning stove fan in the UK. Our advice, if you own wood-burning, multifuel or other compatible stoves, it is worth getting at least one stove fan. 
Without a stove fan, the heat generated by your stove will naturally rise upwards to your ceiling, meaning you have to sit right next to your stove to get warm and will probably burn more fuel than you need to. Installing a stove fan means you will no longer be exclusively relying upon your stove radiating heat; your stove fan will add convection to help to even out the temperature throughout your whole room.
Here are some of the main advantages of the best stove fans:
Heat-Powered 
As stove fans are heat-powered with no other external power required, you won't have to spend money on electricity or batteries to keep your running. So, once you've paid the purchase price, your stove fan will essentially run for free using the heat from your stove.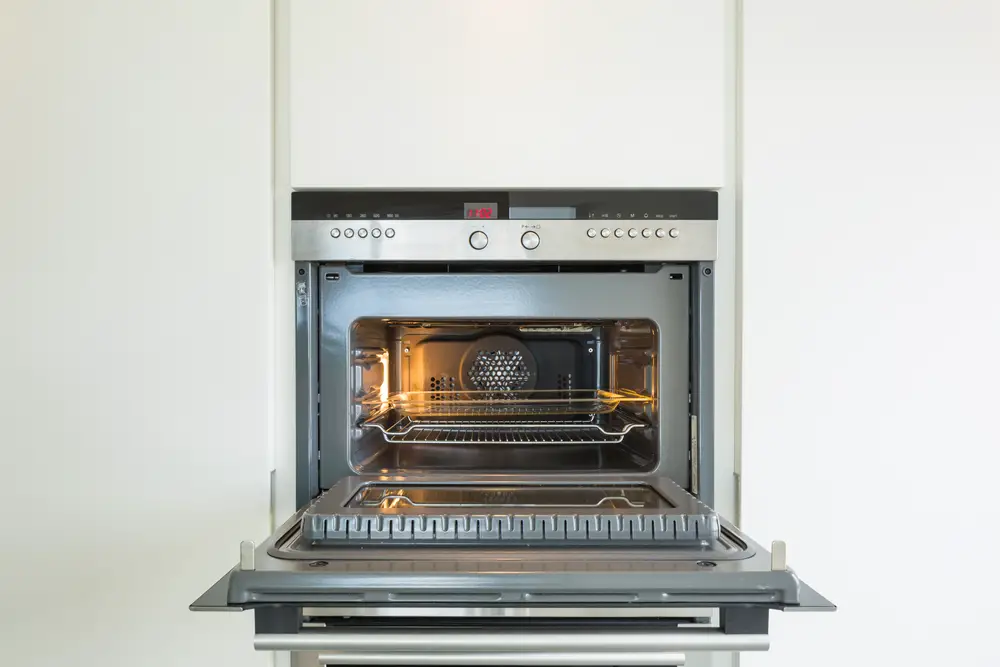 Improve Warm Air Circulation 
You'll notice a reduction in hot and cold spots around your room for greater comfort. You won't have to sit right next to your wood-burning stove to feel the warmth.
Lower Fuel Consumption 
With better air circulation, you will use less healing fuel as you use all of the warmth that your stove produces for a warmer room without burning more fuel.
Automatic Operation 
Once you have placed your stove fan in the recommended position, it will operate automatically, so you can simply forget about it and enjoy the warmth.
No Gusts of Air 
Stove fans do not create strong air currents like traditional fans so that you won't feel a hot or cold gust. The best stove fans create a very gentle airflow that mixes cold and warm air throughout your room for a more even temperature, ensuring all your stove's heat doesn't remain at ceiling height. 
How to Choose the Best Stove Fan
There are plenty of different stove fan models to choose from. Wondering which is the best stove fan in the UK for your home? Here are some of the essential features to consider when choosing between our top heat powered stove fan reviews. 
Dimensions
Possibly the single most important factor to consider, make sure that you consult the exact dimensions of your stove fan before you buy. You'll need to ensure that you have enough space around your wood-burning stove to accommodate your fan's height and diameter. 
While this is seldom a problem for freestanding wood-burning stoves, if yours is set in an existing fireplace or if you have an inset stove, you may need to look for a mini fan stove. Otherwise, if you have the space for a larger model but fail to read the product description and focus on the details, you may end up with a much smaller model than you were hoping for. 
Number of Blades
You can find many stove fans with two, three, four or even five blades. While fewer blades are generally associated with better air circulation, more blades make for a quieter fan. Your blade angle will also determine how much air it can displace per revolution, which depends on the speed, which depends on your stove fan's surface temperature.
You could opt for a five or four-blade model if quiet operation is an absolute priority or a three or two-blade model for more effective air circulation. In general, however, the number of blades will not make a huge difference to either of these factors, certainly not as much as with a traditional cooling fan. We recommend choosing a fan that appeals to you in how it looks, as the number of blades has a largely aesthetic value for this type of fan.  
Recommended Operating Temperature Range
Another important factor to consider, especially with mini stove fans, is the recommended operating temperature. While larger models can generally be used up to temperatures around 350°C, smaller ones may need to be removed at lower temperatures which may not be ideal if you like a roaring fire.
It can be helpful to check how hot your stove's surface temperature is on average before purchasing a stove fan. This will allow you to eliminate any unsuitable models from your research. Otherwise, choose an appropriately sized model with a high operating temperature and a stove thermometer so that you can keep an eye on how hot your stove is burning.
Overheating Protection
Using your stove fan at higher than recommended temperatures could cause damage to the motor. Most stove fans come with built-in overheating protection in the form of a bi-metallic safety strip. The idea is when your stove fan's base reaches the maximum temperature, the metal in the protective strip expands, causing your fan's base to raise slightly, lowering the surface area in contact with the hot stovetop.
Bear in mind that while such protective devices can help prolong the lifespan of your stove fan, if it is regularly exposed to temperatures above the maximum limit, then the fan's motor is still likely to become damaged. For this reason, you should always read through the user manual and verify that your stove is within the recommended temperature range. Some stove fans will need to be removed from your stove above certain temperatures.
How Does a Stove Fan Work?
A stove fan works by running off the heat provided from your stovetop, meaning you'll need a hot, flat surface for your fan to work correctly. It is equipped with a thermoelectric module, and heat powered stove fans need a heat differential to function. The base needs to be hot to heat the lower end of the module, while the fins at the top of the fan's stand help keep the upper part of the module cool.
When a heat difference is established, heat passes across the semiconductors, allowing electrons to flow, powering the electric motor inside your stove fan. For this reason, it is essential that you correctly position your stove fan to ensure that it works correctly. 
Where Should You Place a Stove Fan?
You must pay close attention to positioning your stove fan for the best results. Some people fail to pay enough attention to the manufacturer's stove fan positioning advice, or in some cases, the information provided with the product is inadequate. Even the best stove fans will fail to work if they are not correctly positioned. 
If your stove fan is not working correctly or fails to turn quickly enough at the recommended temperature, then you may need to adjust its placement. As stated above, stove fans need a heat differential to function. That means that there must be a difference in temperature between the top and the bottom of the unit – simply placing it on the hottest part of the stove will not work. Stove fans require both heat and cool air. 
Your stove fan should be positioned so that it will draw cool air over its fins. Do not position your stove fan in front of the flue or stovepipe, as this will not allow it to cool sufficiently to operate at maximum speed. It is also recommended that you do not place your stove fan at the front of your stove for this very same reason. 
For the best results, position your stove fan at the rear of your freestanding wood burner, allowing it to draw in cooler air from behind your stove. If your stove is located near a wall (under 10cm distance), your stove fan will struggle to draw insufficient cool air. In this case, we recommend locating your stove fan along the side of your stovetop, positioned so that it is angled towards the centre of your wood-burning stove. This will allow your stove fan to draw in cooler air from beside your stove, creating a more powerful temperature differential for improved performance.
Many people simply set up their stove fans as if they were using a traditional cooling electric fan at the front of their stove, expecting their stove fans to blow warm air directly onto them. As you will have seen by the above explanations, doing so will result in substandard performance. While setting up your stove fan at the rear or side of your stovetop may at first seem counterintuitive, it will bring about the best levels of performance and ensure that your room is more evenly heated throughout with a gentle airflow. 
Conclusion
Stove fans are an ingenious invention, and using one will help you stay more comfortably warm this winter. Wondering which stove fan to choose for your log burner? The best stove fan in the UK is our editor's choice, the Cwlakon Small Size. 
Compact in size, the Cwlakon is designed to fit on almost any stovetop, even if you are short on vertical space. It features a symmetrical four-blade, compact design that runs quietly and effectively. You can use the built-in overheating protection and a stove thermometer for a prolonged time. It is made from durable anodised aluminium. This mini stove fan is an excellent buy for the money and worth placing on your stove this winter. 
Additional Resources