Last Updated on
Our editors independently research the best products online to produce this list. We may receive commission on purchases made from the links below but this will never affect our product choices.
---
Top 10 Best Potato Mashers
A potato masher is one of the most basic options available for kitchen appliances. Sure, you could always use a more elaborate food processor, but a standard manual potato masher will often do the same job just as well. A handheld potato masher is easier and faster to clean than a full appliance.
If it is time to get rid of your old masher and you're after the perfect gadget to replace it, you have come to the right place. We curated this top potato masher list to help you find the best potato masher in the UK or the best potato ricer in the UK, based on your preference in tools and possibly your preference it mashed potatoes, as you'll soon learn.
So, without further ado, let's get started with our top choices!
How we Compared Potato Mashers
To find the right potato mashers we considered multiple factors, including:
Materials
Ease of cleaning
Storage
Our editorial team carefully researched and selected products that would suit a wide range of needs to take your kitchen experience to the next level. We set out this list after assessing customer reviews and evaluating pros and cons in line with the above comparison points.
Find more about our behind-the-scenes process here.
Potato Masher Reviews
The Anpro Stainless Steel Potato Ricer is a great all-around choice. This durable stainless steel ricer can make extra smooth mashed potatoes and be used to puree carrots, mash sweet potatoes, shred cheese, prepare baby food, or even juice citrus fruits.
These potato mashers feature a soft silicone handle that is slip-resistant and comfortable to hold while you work. It easily hooks onto the edge of different-sized bowls for a more steady and self-contained mashing process.
The 0.3 cm hole diameter on the head of the Anpro Stainless Steel ricer is a bit larger than other options. This makes pushing food through the ricer easier and less labour intensive, which can be very useful when making food for more than a couple of people.
Unfortunately, the pan support piece on the end of this potato ricer may not be very durable, and dishwasher cleaning isn't recommended. Also, the handle may be a bit shaky, but overall, if you want a smooth potato masher, this could make a great choice.
Pros:
Highly versatile ricer 
It makes extra smooth mashed potatoes
Soft silicone handle 
Stainless steel construction 
 0.3 cm hole diameter 
Cons:
The pan support could be less durable 
It might be suitable for the dishwasher 
The handle may be a bit wobbly 
If you are looking for a potato masher or ricer with a luxury quality build, we recommend Chef'n FreshForce masher. It makes lump-free, smooth mash that easily turns into fluffy mashed potatoes with the addition of milk and butter.
The thick vertical handle on this potato masher features a dual gear design which gives you more leverage and amps up your pressing power. Chef'n FreshForce estimates this can increase pressing performance by as much as 65% making light work of your recipe.
The FreshForce potato ricer has a removable stainless steel basket that makes cleaning much easier, especially considering its ultra-fine holes. In addition to mashing cooked potatoes, you can also use it for making homemade baby food, like a garlic press, or for making riced cauliflower. We also like that the horizontal handle is sized perfectly to rest on the lip of bowls while you work.
The removable bowl is dishwasher safe, but you should not clean the device itself in the dishwasher. The mashing process can also be a bit messy with this potato ricer, and it has a heavier and bulkier design overall which some people may find tiring.
Pros:
Dual gear design 
Sized to rest on the lip of bowls 
Removable stainless steel bowl  
Makes lump-free mash 
Can also mash other root vegetables
Cons:
It may not be entirely dishwasher safe 
It can be a bit messy 
It may have a heavier and bulkier design 
The Zulay Kitchen Silicone Coated Potato Masher comes at an excellent value for mashing large potatoes. It easily makes chunky mashed potatoes with a bit of elbow grease and just a few minutes.
The thick handle on this tool enables a better grip while you mash potatoes. It has a large head with an S-curved design that doesn't clog easily. The head is constructed out of stainless steel and is coated in silicone. This makes it both rust-resistant and non-scratch.
When you are done mashing potatoes, this masher is dishwasher safe, so a thorough cleaning is quick and easy. Thanks to the dimensions, it will also fit inside most kitchen drawers, and lastly, it is available in a variety of bright colours.
The only downside to the Zulay Kitchen potato masher is that it is somewhat less versatile, so it may not be the right masher for you if you want to make baby food, mash other vegetables, or prefer a smooth mash. It also has a bulkier design, and it's best to use it in larger pots.
Pros:
Non-scratch silicone coating
Rust-resistant stainless steel 
Dishwasher safe 
Variety of bright colours available 
Excellent value masher 
Cons:
It may not be ideal for lump-free mash 
It may be somewhat less versatile 
It may have a bulkier design 
Our favourite plastic potato masher is the Joseph Joseph 20140. It is a simple yet highly effective potato masher tool that is best used for making chunky mashed potatoes.
The Joseph Joseph 20140 potato presser is made from sturdy but lightweight polypropylene plastic making it easy to hold and use. The handle is wide enough to grip firmly and has a non-slip grip for added comfort.
Another perk of the plastic construction is dishwasher safe, so there is no need to fuss about the small holes during cleanup. We also like that the entire masher is well sized and will conveniently fit inside pots and pans of almost any shape and size.
The Joseph Joseph 20140 is not the most efficient option for making larger batches of mashed potatoes due to its smaller overall size, and it may not be for you if you prefer a smooth mash. In addition, Joseph Joseph boasts that you can use the edges to scrape pans, but we found this to be impractical.
Pros:
Lightweight design 
Dishwasher safe
Non-slip grip 
Compact size 
Sturdy plastic construction 
Cons:
It may not be a smooth potato masher 
It might not scrape pan sides 
It may not be ideal for larger batches 
We chose the Jamie Oliver JB8500 for the best potato ricer in the UK with a soft-grip handle. Its handle has dual silicone panels and an ergonomic shape, so it's comfortable to hold while you mash potatoes.
The Jamie Oliver silicone potato masher head is made from brushed stainless steel. It features smaller holes in the centre and larger holes on the outside, facilitating a more consistent, smoother mashed potato in the end. As a bonus, the handle has a built-in silicone side scraper to help you remove mash from the sides of your bowl or pan.
This silicone and metal potato masher are dishwasher safe. It also facilitates easy storage as it can lie flat inside a drawer or be hung from the handle.
Compared to other top options, the Jamie Oliver JB8500 silicone and stainless steel potato masher is heavier and may prove less durable. Lastly, it is not for use on non-stick pans, but it still makes delicious mashed potatoes with little effort.
Pros:
Soft grip handle 
Silicone side scraper 
Brushed stainless steel body
Varying hole sizes 
Dishwasher safe 
Cons:
It may be less durable
It may not work with non-stick pans 
It may have a heavier design 
Instead of choosing between a ricer or a masher, you could always choose to have both, and with the Grunwerg and OXO Good Grips Combo, that is what you'll get. This top-quality ricer is paired with an OXO product masher to give you the best of both worlds with one single purchase.
The Grunwerg and OXO Good Grips Combo are made with top quality materials for advanced durability. The ricer and the masher are stainless steel and feature ergonomic handles. The ricer also features a fine grid with very small holes and more than rice potatoes.
The stainless steel OXO Good Grips smooth potato masher also has a silicone addition to increase comfort and make it slip-resistant and easy to use, thanks to its D-shaped handle. Both the OXO masher and ricer are dishwasher safe.
Be aware, the ricer doesn't feature a soft-grip handle, and while it is dishwasher safe, they recommend hand washing. It is also a bit heavy, but we still recommend this option for ricing and mashing potatoes.
Pros:
It makes smooth and chunky mashed potato 
Oxo Good Grips smooth potato masher 
Fine grid ricer 
Easy to clean 
Top-quality construction 
Cons:
Hand washing might be recommended for the ricer 
It may have a heavier design 
The ricer may lack a soft-grip handle 
When it comes to top-quality stainless steel construction, the FLYINGSEA potato masher comes in at the top of its class. This stainless steel potato masher can make smooth and chunky mashed potatoes with ease and promises long-lasting durability.
The FLYINGSEA stainless steel potato masher features a shiny mirror polishing with chrome-plated stainless steel construction. It also has a smooth edge design to help you mash all potatoes in your bowl.
This potato masher was also designed to be ergonomically balanced for improved comfort and ease of use. It is also easy to store as it can fit inside most standard-sized kitchen drawers and also has a loop on the end of the handle so you can choose to hang it if you want. 
This stainless steel potato masher might be somewhat less comfortable to hold because, unlike most mashers of a similar design, it does not have a soft grip or non-slip grip on the handle. The only potential con is that it was not designed on pots and pans with a non-stick coating.
Pros:
Rust and corrosion-resistant 
Shiny mirror polishing 
Smooth edge design
Easy storage 
Ergonomically balanced 
Cons:
It might be less comfortable to hold 
It may be slippery 
It may not be suitable for non-stick pans 
Another fantastic option on our best potato masher in the UK list is the MasterClass Nylon. It has a lightweight design and is easy to use.
This nylon potato masher features a wide handle with a soft grip. The handle also has built-in thumb grips for added comfort and a secure grip while you mash potatoes and other cooked or soft foods like yams or fruits. You can choose to store this masher in a drawer or hang it from a hook. 
The MasterClass Nylon potato masher is both heat and odour resistant. Conveniently, it is safe to use on all types of pots and pans, even ones with a non-stick coating. Additionally, it is safe for the dishwasher to clean up a breeze. 
Due to the design, this potato masher may not be the best choice for making lump-free mashed potatoes, and it may be a bit shorter than advertised. The seam joints could also prove to be less durable.
Pros:
Sturdy nylon construction 
Built-in thumb grips 
Wide soft-touch handle 
Heat and odour resistant 
Safe on non-stick coatings 
Cons:
Possibly shorter than advertised 
It may not be ideal for lump-free mash 
Possibly less durable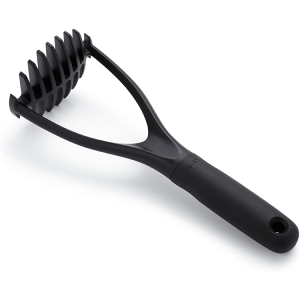 If you are looking for a superior heat-resistant option, we recommend the OXO Good Grips 77891 BK nylon potato masher. It has durable blades and is excellent for making chunkier style mashed potatoes.
This nylon masher has effectively designed claw-like blades that mash potatoes with great efficiency and speed. It is lightweight, and the handle has a soft grip, so it should be easy to hold and manoeuvre, even when making larger batches of mash.
The OXO Good Grips 77891 BK nylon masher can easily be cleaned in the dishwasher. It also has fairly good versatility thanks to the sharper blades, so you can use it to mash cooked foods like yams and other softer foods like avocados and fruits.
If you prefer a finer mash, this may not be our top recommendation for you. Also, it could be trickier to clean by hand and even though it claims it is safe for non-stick cookware, it has fairly sharp edges. 
Pros:
Comfortable grip 
Dishwasher safe 
Simple yet effective 
Heat resistant nylon construction
Lightweight design 
Cons:
It may not be ideal for a finer mash 
It might be trickier to clean by hand 
It may have sharper edges 
VonShef's Stainless Steel Ricer is one of the best potato mashers or ricers when it comes to multifunctional use. Their tiny holes paired with a pressing mechanism make pureeing, mashing, and pressing a variety of foods easily accessible using just a single device.
VonShef Potato Ricers come equipped with everything you need to make the smoothest mashed potatoes comfortably and efficiently. They have a soft grip on the handle that is slip-resistant and can press pasta, mince garlic, puree baby food, and of course, mash potatoes.
These potato ricers are made from top-quality stainless steel and feature a resting pad on the top so that they can rest on the lip of a bowl while you work. They are also easy to clean and dishwasher safe. 
VonShef Stainless Steel Ricers are not made for preparing chunkier mashed potatoes. They also require effort to press potatoes, and they might be messy at times.
Pros:
Highly multifunctional device 
Comfortable slip-resistant handle 
Designed to rest on the lip of a bowl 
Easy to clean 
High-quality stainless steel
Cons:
It may not be ideal for chunkier mash 
It may require some extra effort 
It might be a bit messier 
Choosing the Best Potato Masher: A Buyer's Guide
What Types of Potato Mashers Are Available?
Our list features traditional handheld manual potato mashers as well as potato ricers. Potato mashers are used to press down on potatoes and other softs foods to mash them. Ricers feature a lever and a press that forces potatoes through a fine sieve.
The main difference, aside from the design, is the consistency of the finished mash. Ricers tend to create a much smoother, finer mash. This can be viewed as a pro or a con, depending on how you lie your mashed potatoes. The other main difference is that ricers tend to process other foods.
An electric potato ricer or an electric potato masher is also an option, but we focused on manual options for our list.
What to Look For in the Best Potato Mashers
After reading through our potato ricer reviews, it may also be beneficial to understand what traits made these specific options stand out. Look for these traits to find the best potato masher for you and your preferences.
Materials
The materials used to make a potato masher determines the gadget's quality. The main materials used are nylon, stainless steel, silicone, and plastic.
A stainless steel potato masher is often the most durable, but if they don't have a silicone coating, they may not be safe for use on non-stick cookware. A plastic or nylon potato masher will typically be safe for use on all types of cookware and should also be more lightweight. Either way, we recommend you look for a non-slip handle.
Ease of Cleaning
We also recommend you look for a potato masher that is easy to clean. We prefer mashers that are dishwasher safe because all of the holes and crevices can often be trickier to clean without help from a machine.
Storage
You may also want to consider your storage options when choosing the right potato masher for your kitchen. Many potato mashers fit inside a kitchen drawer, but some also have a hook or loop on the handle, making hanging their options.
The Right Potato Masher for You
Our Editor's Choice for the best potato masher in the UK is the Anpro Stainless Steel. If you are looking for the best potato ricer in the UK, then you're in luck because this device just so happens to be both. It has a highly versatile design capable of mashing root vegetables to a super smooth consistency and more.
The Anpro has a stainless steel head with 0.3 cm holes, a soft silicone handle, and pan support. However, the pan support may not be the most durable; the handle could wobble a tiny bit, and it isn't recommended you clean it in the dishwasher, but we still think it could make an excellent addition to most kitchens.
If these sound like deal-breakers to you, we are sure another one of the many mashers on our list will be better suited to your preferences.
Let us know what you think in the comments below.
Additional Resources
Emily is a woman of many talents. She has a B.A. in English and enjoys writing. Emily loves accessorising her home with quality products that not only serve a purpose but also enhance the overall convenience and tranquillity of her living space; there's nothing like coming home to your own personal sanctuary after a long day! She loves anything that can make life easier or more comfortable—from dishware to furniture to lighting fixtures.