Last Updated on
Our editors independently research the best products online to produce this list. We may receive commission on purchases made from the links below but this will never affect our product choices.
---
Top 10 Best Kitchen Degreasers
Even the cleanest households will experience food spills and grease caused by cooking and preparing food in the kitchen. Grease can build up around your cooker, the extractor fan, on kitchen surfaces and splashbacks and looks unseemly with its yellow, shiny tinge to it. It can make things look run down and unclean in your kitchen and is best removed as soon as possible to prevent build-up.
The good news is there are plenty of kitchen degreasers available that will help make quick work of removing grease and grime from around your kitchen. These come in various types, from everyday cleaners to more professional industrial strength products, from sprays to liquid form and wipes. There is a great choice out there; you need to select the product types that suit your needs best.
We have put together our top ten products and provided valuable tips and helpful information in our buyer's guide on what to look for in kitchen degreasers, so read on to find the best kitchen degreaser in the UK!
How We Compared Kitchen Degreasers
To find the right kitchen degreasers we considered multiple factors, including:
Application
Scent
Ingredients
Our editorial team carefully researched and selected products that would suit a wide range of needs to take your kitchen experience to the next level. We set out this list after assessing customer reviews and evaluating pros and cons in line with the above comparison points.
Find more about our behind-the-scenes process here.
Kitchen Degreaser Reviews
This pack of ten Flash Kitchen Cleaner Spray is great value for money and is an all-rounder degreaser product, meaning that once you have it stored under your kitchen sink, you are unlikely to need to purchase any other cleaning products!
Flash degreaser products specialise in being able to tackle even the toughest grease and grime, cutting through it to leave your kitchen surfaces clean and grease-free. You can be confident that it is safe to use on cooker hoods, hob tops or grills, kitchen cabinets, worktops, sinks, and stainless steel surfaces. You spray the degreaser on, leave for a few moments and then wipe away with a cloth. 
The spray formula leaves a fresh citrus smell behind, and no trace of the grease there once was. Additionally, it has been formulated to leave surfaces streak-free, so you won't have to buff them again once clean.
One word of warning is that this degreaser is not suitable for use on granite worktops or other porous surfaces.
Pros:
Ten pack and great value
Suitable for almost all kitchen surfaces
Easy to apply through the spray mechanism
It leaves a fresh citrus smell
Streak-free finish
Cons:
This degreaser may not be suitable for porous worktops such as granite.
There may be some wastage of the product as the tube doesn't go all the way down to the bottom.
The spray mechanism may not always work well, so you may have to decant the degreaser liquid into another empty container.
This heavy-duty degreaser for kitchen cleaning by Inspired is of great value as it comes in a 5L container, which, when diluted down at a ratio of 10:1. This makes it a long-lasting option, perfect for professional cleaning.
This kitchen cleaner can be used neat against the worst cases of grease and grime or burnt-on food residue or diluted down and decanted into a spray bottle for easy application in everyday use. Additionally, it is designed to leave no streaks, so you won't have to go back over the surface once cleaned.
The Inspired kitchen cleaner can be used on all kitchen surfaces and is multi-purpose, from inside your oven door, to the hob top, inside and out of kitchen cabinets and kitchen sinks!
One thing to note with this degreaser is that it does have a strong smell, so it is best to clean in a well-ventilated room if you can.
Pros:
Large-volume 
The degreaser can be diluted and used in a spray bottle.
You can use it neat for the worst levels of dirt and grease.
No streak formula
Suitable for most surfaces
Cons:
The cleaner may have a strong smell
It may take longer to break down grime than some other degreasers
You may need to supply a bottle and spray attachment to decant diluted solution into 
This degreaser spray for kitchen cleaning by HG is specifically designed to tackle even the most stubborn of cleaning jobs. It works effectively on animal and vegetable fats and oils and is suitable for most kitchen use, including aluminium surfaces, stainless steel and ceramic tiles.
The bottle dispenser is refillable, making this more environmentally friendly than single-use containers. Additionally, a small amount of this cleaning solution goes a long way, so it is great value for money for professional cleaners.
This is a fast-acting kitchen cleaner; you only need to leave it to work on grease for a few seconds before you can rub it away, saving you time when cleaning.
When using it on stainless steel, something to be careful of is that it is not applied directly but onto a cloth and then wiped across the surface.
Pros:
Fast-acting degreaser
Refillable container
Specific degreaser rather than a general cleaning product
Suitable for many surfaces
Only a small amount of degreaser required
Cons:
It is advised to use gloves and eye protection when using this cleaner as it can cause serious irritation
It may be better as an everyday cleaner rather than on built-up dirt
It may have a strong smell that means it is best used in well-ventilated rooms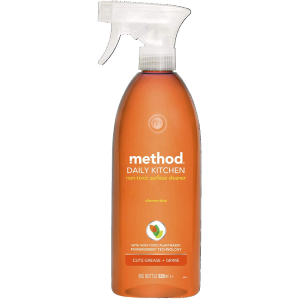 This is a fast-acting, eco-friendly kitchen cleaner by Method, suitable for everyday use. You spray onto the dirt and grime and then immediately sponge away. 
The ingredients in this degreaser are all non-toxic and naturally derived, so a great choice if you are worried about cleaning products in your house that could be dangerous to children or pets. The container continues this best kitchen cleaner's eco-credentials, making it 100% recycled materials. 
Coming in a large 828 ml container, this is a very competitively priced cleaner, and it is scented with clementine and will not leave a chemical smell behind. You can use this cleaner on any sealed surface and even on furniture!
Pros:
Fast-acting degreaser
Plant-based ingredients
Suitable for all sealed kitchen surfaces
Recycled container
Inexpensive
Cons:
The degreaser may leave streaks or residue
The smell may not be as strong or as fresh as some of the other products in the range
The degreaser does not have anti-bacterial qualities
A well-known brand, the Cillit Bang cleaner is easy to use and great for use when you need to clean away baked-on dirt and grease. It is perfect for use on grills, kitchen worktops and tiles, and on your oven, that is why we also think this could be the best kitchen degreaser in the UK for you.
If food residue is really baked on, then allow the degreaser to work for up to 5 minutes before scrubbing away those cooking marks. For less stubborn grime, this is a fast-acting cleaner, where you wait a few seconds before wiping away.
The packing of this degreaser is fully recyclable, and it comes in a large 750 ml container making it a good value for money. Your kitchen should shine and smell fresh after cleaning with this household brand cleaner, and you can go back to enjoying cooking without worrying about the mess it creates!
Pros:
Cuts through even baked on grime
Easy to use
You can use it on grills and kitchen hobs
Large 750 ml container
Quick-acting degreaser
Cons:
The degreaser should be carefully stored as it might irritate the skin and eyes
It might be better on light grime than heavily built-up oil and grease
This is a true multi-purpose cleaner that can be used in the kitchen and the bathroom. It can also be used on many different materials and surfaces, unlike some of the other best kitchen degreasers. You can use it to tackle grease and marks on glass and wooden furniture, kitchen worktops, grills, and tiles.
You can apply this best kitchen grease cleaner neat onto the sponge supplied and wiped over greasy surfaces or diluted down and used to clean. When the cleaner has done its work, you rinse with clean water. 
The degreaser comes as a two-pack and is a concentrated solution, so it goes a long way for your money. It is so multi-purpose also makes it great value; when decorating or cleaning, the degreaser works brilliantly for both tasks.
Pros:
It can be used for a variety of uses outside the kitchen
A concentrated solution, so a little, goes a long way
Works well on many different greasy surfaces 
It can be used in the bathroom as well as the kitchen
Supplied with gloves and a sponge
Cons:
It may not be strong enough against very greasy areas
It could irritate the skin after prolonged use and is best to use while wearing gloves
It might be more expensive than some kitchen degreaser products
If you have been looking for a great all-around degreaser, then this is probably the cleaner for you. 
You can use the Elbow Grease to clean grease from fabrics, plastics and metal and can be used in the kitchen and the bathroom. Doors, worktops, the tops of kitchen cupboards; nothing is too greasy for this kitchen cleaner to tackle.
This grease remover for the kitchen and the bathroom is easy to apply; you spray it where needed and then sponge away. Oil and grease come away straight away. Additionally, this best kitchen degreaser comes in a three-pack, making it a great price, and as it is so multi-functional, you won't need other cleaning products.
As with other degreaser products, this one can irritate the eyes and skin, so care should be paid when using it cleaner and storing it.
Pros:
Multiple uses, not limited to use in the kitchen
Easy to use and apply as a degreaser
It can be used on plastics, fabric and wood
Multipack makes it a great price
Solvent-free degreaser
Cons:
You may still need some elbow grease to remove tough dirt
It could irritate skin and eyes
This is our best degreaser for kitchen cleaning if you want your cleaning products to be environmentally friendly. The degreaser product comes in a pod which you drop into a reusable container to which a spray nozzle can be attached and add water. One pod can be mixed with water to make 750 ml of degreaser solution. Additionally, only plant-based ingredients are used, making it completely non-toxic, and the cleaner is not tested on animals.
Another feature of this cleaner that we love is that it kills up to 99.9% of bacteria, keeping your kitchen clean and free of germs! You can use the degreaser on kitchen surfaces, worktops, sinks and floors, even on your grill and oven.
Meanwhile, a major disadvantage of this kitchen degreaser is it may not be as sturdy compared to other models.
Pros:
A bottle for life is included when you purchase the degreaser
Plant-based ingredients
No plastic wastage
One pod makes 750 ml of degreaser solution
It kills 99.9% of bacteria for a germ-free kitchen
Cons:
The container may not be very robust, and the cleaner may leak when being used
The sprayer may shoot the degreaser at an odd angle
This degreaser has been specifically designed for use by professional cleaning or oven cleaning companies who tackle extreme grease daily. This best kitchen degreaser comes in a concentrated solution and can be used on hobs, kitchen units, extractor fans and tiles, areas where grease builds up.
Additionally, this degreaser is safe to use on pans as it is non-caustic; you can leave it on overnight and then scrub clean in the morning.
Despite being designed for professional use, this degreaser is non-toxic and biodegradable, unlike other best kitchen cleaning products. The degreaser cuts through oil and grease with ease, although it comes at a slightly higher price than some other best kitchen cleaners available.
On the other hand, as it is packed with great features, it is more expensive than many kitchen degreasers.
Pros:
Biodegradable
Non-caustic
Concentrated
Large 5 l container
Designed for use by professional cleaners
Cons:
This degreaser may have a higher price than other brands
It may not be able to cut through and remove oil and grease that has been there a while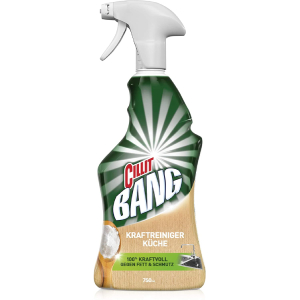 The last option in our best kitchen degreaser in the UK list is another product from the household brand Cillit Bang, with their Natural Power Cleaner. 
We love this best degreaser for kitchen cleaning using natural ingredients as it uses sustainable components, such as baking soda as the main cleaning agent. This kitchen cleaner is certified as being 98.8% natural.
It can be used on hobs, fridges, worktops and bins and cut through grease while being environmentally friendly. The active ingredient baking soda is also useful when tackling unwanted odours. The spray nozzle is powerful and makes light work of application! Additionally, we love the reasonable price of this cleaner.
Unfortunately, this degreaser leaves residues, and it may not work well with baked-on grease.
Pros:
Low price
Natural ingredients
Baking soda helps to remove bad odours
Powerful nozzle for spraying action
Multi-functional
Cons:
It may not be industrial enough for baked on grease
Streaks can be left after use
A residue may remain 
Buyer's Guide
Kitchen degreasers can come in many different forms and vary significantly in cost, so it is important to consider what kind of cleaning you intend to use the product for to have the right cleaner at the right price for you. Beyond its cleaning power, other things may be important to you, such as using an eco-friendly cleaner, or the cost may need to be right as you use it in your profession and want it to be as economical as possible. 
When using the best grease remover for your kitchen, you should be aware of certain things. First, some are not to be used on hot surfaces, while others can damage kitchen worktop materials such as marble or other porous materials. Another material to be careful of is any enamel in your kitchen, as this could also be damaged.
So below, we have put together some tips and useful information to help you find the best kitchen product for you at the right price.
Application
There are many variants of kitchen degreasers and how you apply them is an important decision to choosing the right one for you.
Spray
Spray kitchen degreasers have to be one of the easiest products to use. They are good at providing coverage of the product onto the surface, no matter how hard to reach it is, and they are quick and easy to use. You can spray the product onto a surface and then wipe one area down while letting the solution soak into another. You also don't need any equipment other than a sponge to wipe away the grease and spray.
There are some small downfalls to these kitchen products, though, as they can leave you with some wastage once the tube inside the bottle no longer reaches the cleaner in the bottom and sometimes the spray mechanisms can be temperamental.
Liquid
Liquid kitchen cleaners can come in a standard or concentrated formula. Quite often used for kitchen floors, these can be diluted in a bucket with water or used directly onto a surface or your cloth. 
A benefit of these kitchen degreasers is that they often come in large volumes, and a little goes a long way, especially when diluted down with water, making them very good value for money. 
Many containers now have a dosing mechanism so that one squirt will come out at a time, making them easier to use and apply to a cloth or surface. They could be quite cumbersome to lift and pour and difficult to measure before this.
Wipes
Wipes are a quick and accessible way to clean surfaces and are useful when you have kitchen worktops or surfaces prone to spills or keep clean regularly. 
They are, however, not generally classed as an eco-friendly approach to cleaning as they are single-use and will go into landfills. They are perhaps a great item to use alongside other products to remove grease.
Scent
The scent is an important part of the cleaning experience. It is important to check whether the product you are buying is scented and, if so, with what. There are many different options, from citrus to blossom, lavender to cotton fresh smells. 
Scents can mask the smell of chemicals in a cleaning solution, but you want to ensure that it is not too strong.
Ingredients
Kitchen degreasers can be highly effective at cutting through grease and grime, but they can often do this because of the chemicals they use, damaging skin and health if ingested. This is something to be very careful of and ensure that you always store your cleaning products safely away from children and animals. 
Some of the chemicals used can also be damaging to the environment. However, eco-friendly cleaners are available that use alternative ingredients that are still effective in removing grease, oils and germs.
Conclusion
We hope that we have provided you with helpful information and reviews to select the best kitchen degreaser in the UK, but if you are still undecided, then why not try our editor's choice – Flash Kitchen Cleaner Spray. This ten-pack Flash Kitchen Cleaner Spray has excellent reviews and is an all-rounder degreaser product.
Flash degreaser products are designed to take on the toughest grease and dirt, dissolving it to leave your kitchen surfaces clean and sparkling. You can be confident that it is safe to use on many surfaces. You spray the degreaser on, leave for a few moments and then wipe away with a sponge. 
The spray formula leaves your kitchen with a fresh citrus smell and no trace of the grime that was there before. 
Additional Resources