Last Updated on
Our editors independently research the best products online to produce this list. We may receive commission on purchases made from the links below but this will never affect our product choices.
---
Top 10 Best Salad Spinners
According to nutrition guidelines, leafy greens should be an important part of everyone's diet. However, washing and drying salad greens and herbs can often take some time, and it isn't always too easy to dry off wet lettuce leaves. That is, of course, unless you have a salad spinner. They make removing excess water from washing lettuce leaves and herbs easy and convenient.
While there are many options for buying a salad spinner, some perform better than others, and it isn't always that easy to tell at face value. That's why we compiled this top 10 list to help you find the best salad spinner in the UK for your home.
Who knows? If you add a salad spinner to your kitchen gadget inventory, you may even start eating more healthy salads, something many of us could benefit from!
How we Compared Salad Spinners
To find the right salad spinners we considered multiple factors, including:
Materials
Size
Ease of cleaning
Capacity
Ease of use
Our editorial team carefully researched and selected products that would suit a wide range of needs to take your kitchen experience to the next level. We set out this list after assessing customer reviews and evaluating pros and cons in line with the above comparison points.
Find more about our behind-the-scenes process here.
Salad Spinner Reviews
The OXO Good Grips 4.0 Large is our top choice for the best overall salad spinner. It is larger than normal capacity, so it can dry a good amount of washed salad ingredients at one time and also makes a great serving bowl.
This OXO Good Grips salad spinner remains stable during use, even if you only use one hand to operate the spinning mechanism. That's because this lettuce spinner features a soft non-slip knob and a non-slip ring on the base of the bowl. In addition to the easy-to-use spinning knob, a brake button gives you full control while you remove excess moisture from herbs and leafy greens.
OXO Good Grips 4.0 Large salad spinners are also dishwasher safe, and the lid pieces come apart for an easy cleaning process. It is available with either a fully transparent design or bright green and transparent plastic design.
We love this OXO Good Grips salad spinner, but it could be too large for some kitchens, and it may not make salad greens bone dry. The spinning motion might also be slightly slower than other options, but a couple of extra spins can make up for this easily.
Pros:
Large capacity 
Dishwasher safe 
Easy to use brake button 
One-handed operation 
Non-slip knob and base 
Cons:
It could be too large for some kitchens 
May spin slightly slower 
Might not completely dry salad greens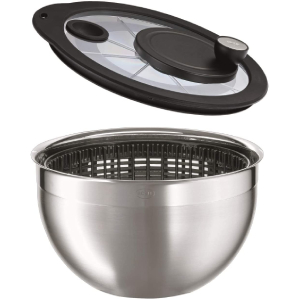 The luxury quality stands out most about the RÖSLE 15695 Salad and Herb Spinner. It is highly versatile, like a professional salad spinner in quality, and removes excess water from salad leaves with great efficiency.
This lettuce dryer is crank-operated, enabling you to control the speed and level of centrifugal force based on whether you are drying lettuce leaves or herbs which can be more fragile. It features a glass lid with a strong vacuum-tight seal, a durable stainless steel outer bowl, and a strong inner basket to hold your washed salad.
The well-sealed lid on this salad spinner increases its versatility and allows it to be used as a serving bowl or storage bowl for your leftovers or food prep. The RÖSLE 15695 can also be fully disassembled and is dishwasher safe.
The only potential cons we found for this salad spinner are that it could require a bit more effort to operate due to the crank handle and the spinning mechanism being made from plastic, so it may not be as durable as the rest of the device. In addition, there is a chance the product could arrive with a plastic lid instead of glass as advertised.
Pros:
Durable stainless steel outer bowl
Luxury quality 
Glass lid with vacuum-tight seal 
Crank handle operation 
Easy to clean 
Cons:
It might arrive with a plastic lid 
The spinning mechanism could be less durable
It requires a bit more effort to operate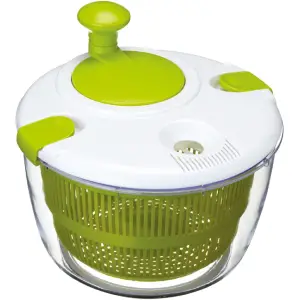 When it comes to value, the KitchenCraft Deluxe salad spinner delivers. It works easily and efficiently, allowing you to rinse, dry, add dressing, and serve your salad ingredients with one compact design.
The KitchenCraft Deluxe salad spinner comes equipped with a locking lid with a crank handle to facilitate spinning your leafy greens and herbs. Our favourite part about this option is that the lid also has a built-in hole for adding oil or dressing. Conveniently, you can use it as a salad tosser, a colander basket, and a serving bowl.
These salad spinners are constructed out of BPA-free materials. They feature an acrylic basin and a bright green internal basket for a fun burst of colour. The outer bowl also has soft feet to create a sturdy non-slip base.
This salad spinner's outer and inner baskets are both dishwasher-safe, but you will need to wash the lid by hand. Also, the inner bowl may be somewhat flimsy, and the outer bowl may prove to be relatively less durable when compared to other top options on our best salad spinner list.
Pros:
Excellent value 
Pouring spout for adding dressing
Locking lid 
Non-slip base 
BPA free materials 
Cons:
The lid may not be dishwasher safe 
The outer bowl may be less relatively durable 
The inner bowl could be somewhat flimsy 
Our top option for a salad spinner with a non-slip base is the Cuisinart 5 Quart. It has a sturdy and stable overall design, and the non-slip ring on the base should grip your kitchen counter with ease while you spin all of the excess water from your salad greens.
This compact salad spinner latches closed on either side, further enhancing its stability. Once locked in place, turn the easy spin knob on top until you achieve the desired drying results.
The lid is adorned with a hole. It can be used as a pour spout and add liquid. This means you can add water, drain water, and add the dressing of your choice without the need to transfer the ingredients out of the inner basket and into another container. 
The Cuisinart 5 Quart salad spinner could potentially withstand your dishwasher on the top rack. Still, Cuisinart recommends you wash it by hand to get the best results and enhance durability overall. 
Even so, it may be less durable than other options, and it could also be too small if you are looking for a large salad spinner.
Pros:
Dual latching lid 
Hole for added versatility 
Easy to turn spin-knob 
Stable with a non-slip base
Compact design 
Cons:
It might not be dishwasher safe
It might be relatively less durable 
It could be too small for some homes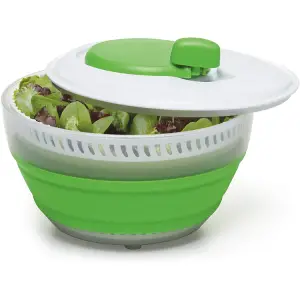 If you want to conserve space in our kitchen, the Progressive Small collapsible salad spinner is the best salad spinner in the UK for you. Not only is it compact to begin with, but it also collapses in on itself for easy storage in tight spaces.
When collapsed, this salad spinner is only about half its expanded size. Its space-saving design can also be deconstructed so you can use it as a colander and serving bowl too. It has a 3-quart capacity when expanded.
To dry your salad leaves and herbs, add the ingredient to the inner basket and pull the self-contained cord on the lid to activate the spinning with a minimal amount of effort on your part; make sure the pop-top is in place first. The base also features non-slip components to help it grip your table or countertop and keep it stable while spinning.
This option may be too small for some homes, and due to all of the moving parts, the bowl and the pull cord could prove to be relatively less durable as well. 
Pros:
Compact and collapsible design 
Great for making smaller salad bowls
Integrated braking mechanism 
Pull cord operation 
Non-slip base 
Cons:
The bowl could be less durable 
It might be too small for some homes
The pull mechanism may wear out faster than expected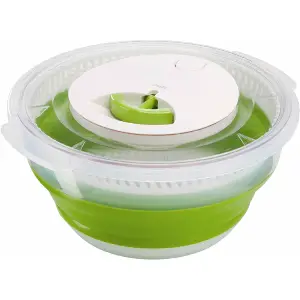 The Esma Basic 4.0 Litre salad spinner makes a great choice if you are looking to make salads for several people at one time. It has a large capacity with an innovative design that helps you save on storage space.
This salad spinner features a collapsible colander and serving bowl that make up the spinner kit. The lid has a pull cord with a belt mechanism to create the desired spinning motion. It also has a stop button.
The Esma Basic 4.0 Litre is dishwasher safe, even with the silicone parts facilitating compression. It is also available in various colour options, so you can match it to your kitchen deco if you want.
Be aware the cord on this salad spinner may fray over time, and the lid could potentially trap moisture inside, so you will need to disassemble it frequently for complete cleaning. It may also be less durable overall, but you can still expect to make many fresh salads before having to worry about a replacement.
Pros:
Integrated stop button
Pull cord operation 
Space-saving collapsible design 
Large 4.0 L capacity 
Available in a variety of colours 
Cons:
The cord may fray over time 
Moisture could get trapped in the lid 
It may be less durable 
If you live in a smaller household and only need enough space for a little salad, the Taylor's Eye Witness small salad spinner may be the best option for you. It is easy to use, clean and performs well when drying herbs and salad greens.
Thanks to the compact overall design of this salad spinner, you can also rest assured that it will not take up much kitchen counter or cabinet space. It is the ideal size for making salads for one to two people.
The Taylor's Eye Witness salad spinner lid has a smart lock system enabling one-handed, easy operation. The lid also has a hole for adding and draining water and dressing if you desire. We love that the hole also comes with a plug so you can use the device for food storage in the fridge.
Most of this salad spinner disassembles and is dishwasher safe, but the lid needs to be washed by hand. You should also know that this is not the ideal option for larger portions, and the inner basket may be somewhat flimsier when compared to other top options.
Pros:
Small and compact 
Great for 1-2 people 
Easy to use 
Add and drain water through the lid hole 
Smart locking lid 
Cons:
It might have a flimsier inner basket 
Not ideal for larger portions 
The lid should be hand washed 
The Vinsani Large salad spinners are a great choice for the best salad spinner in the UK if you are looking for something built with different functions.
This set gives you plenty of room to dry salad greens and herbs. They are our top choice for a multifunctional salad spinning tool. Thanks to all of the accessories that come included with your purchase.
To boost its multifunctional capability, you get four clip-in blades that allow you to shred, grate, and slice fresh vegetables and fruits, as well as spin greens. To complete the multifunctionality, you can also serve your salad or other dishes in the base bowl and use the inner bowl as a colander.
The 4.0 litre capacity of the Vinsani Large gives you enough space to make three to four servings in a single batch. They feature a winding handle, a single lock on the lid, plus a draining system built into the lid. They are also easy to clean, seeing as dishwasher safe and come apart easily.
Regretfully, grating some ingredients such as carrots could discolour the inner basket and lid. Its manual design also requires some effort to operate and could be unnecessarily large for some kitchens. 
Pros:
Four blades for slicing and grating vegetables 
Single clip lock on the lid 
Large 4.0 L capacity 
Advanced multifunctionality 
Built-in drainage feature 
Cons:
It may require a bit more effort to operate 
It could be a bit too large for some kitchens 
Some ingredients could lead to discolouration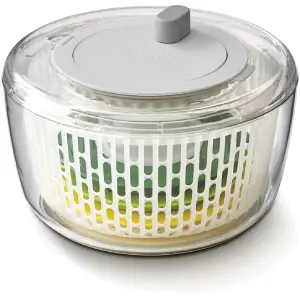 The Joseph Joseph 20154 Multi-Prep salad spinner and more is our favourite multi-tool option. This four-piece multi-tool makes an excellent choice if you want to save some space by combining useful kitchen tools into one device. 
With the Joseph Joseph 20154 Multi-Prep salad preparation tool, you get a one-stop shop for all your salad-making needs. You can wash, dry, cut, and serve all of your salad vegetables and fruits all in one place. It has four interchangeable disks that facilitate spiralizing, slicing, and grating.
This salad spinner also comes with a finger guard to help keep you safe while slicing and dicing, but the blades are sharp, so we recommend you use it consistently. There is a manual spinning knob on the top for drying salad. You have to rotate the knob, and the spinning begins. To help keep it stable during this process, it also has a non-slip base. 
Unfortunately, this salad spinner multi-tool is not microwave-safe, and it is also hand wash only. Lastly, the spiralizing attachment may not perform as well as some people expect, but considering its other uses, we think you can overlook this potential con. 
Pros:
Finger guard for added safety 
Four interchangeable cuttings disks
Easy to spin knob
Non-slip base 
Advanced multifunctional abilities 
Cons:
It may not come with the best spiralizer 
It may only be clean through hand wash
It may not be microwave safe 
The Focovida Large salad spinner is our best recommendation if you seek one that also comes with a slicing aid. It comes with a tong-like device that grips items such as tomatoes, potatoes, or lemons and lines up your blade for making thin slices.
The Focovida salad spinner has a stylish and unique square shape that is sleek and serves a purpose. The square shape helps prevent wobbling, and the non-slip base boosts overall stability. The easy-to-use pull cord enables one-handed operation and rapid spinning with minimal physical effort on your part.
To make using this device even easier, it also has a drain plug on the lid, a stop button, a sealing lid so it can be used for food storage and is dishwasher safe. This salad spinner could be the right choice if you want lots of space because it has an extra-large 5-litre capacity.
 This option could be unnecessarily large for some homes, and it doesn't come with a blade; to be clear, the slicing aid only grips the fruit or vegetable. Finally, it is heavier than other top options on our list, but we think the advanced design makes it more than worth it.
Pros:
Anti-wobble design 
Slicing aid included 
One-handed pull spin cord 
Drainage valve 
Brake button 
Cons:
The blade may not be included
It may be excessively large for some homes
Somewhat heavier design 
The Best Salad Spinners: A Buyer's Guide 
Our top 10 list above for the best salad spinner in the UK consists of the most recommended kitchen equipment. However, if you are still undecided and would like to explore more, here are some things to know and consider when shopping for salad spinners.
What Is the Point of a Salad Spinner?
A salad spinner removes excess water from washed leafy greens and herbs. They spin away cold water using centrifugal force and a well-vented colander bowl placed inside a salad bowl, which keeps the water contained. Some also allow you to add dressing, making them a salad tosser.
What to Look For in a High-Quality Salad Spinner
We think all of the tested salad spinners on our list make an excellent choice for most people, but how do you know which one is right for you? We recommend you pay attention to the following traits and cater them to your specific needs n order to find the perfect salad spinner product for you and your home's probable needs.
Materials
First, you want to consider salad spinners made from durable materials. Most salad spinners are made from either BPA-free plastic or stainless steel. A plastic salad spinner will be lightweight, but not all are dishwasher safe. A stainless steel salad spinner will be heavier but significantly more durable and long-lasting. Of course, they tend to come with a considerably higher price tag, so we chose to focus primarily on plastic options for our top 10 list.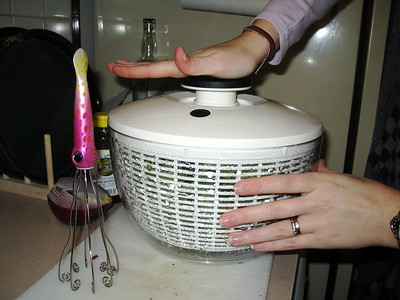 Size
You will also want to consider the size of the salad spinner. If you have a smaller household, you may not need a large salad spinner that will only take up a lot of storage or counter space. Instead, you may be better served by a more compact salad spinner that can be stored in small spaces. Adversely, if you live in a larger household, you may seek out a salad spinner with a 4-litre capacity or greater so you won't have to spin multiple batches of leafy greens to get the desired amount of servings.
Ease of Cleaning
Most salad spinners are easy to clean and dishwasher safe. However, some recommend only hand washing their components. You may want to consider this when determining which will best fit into your kitchen routine.
Is it Worth Getting a Salad Spinner?
If you like to enjoy dry salads at home, chances are pretty good it would be worth getting a salad spinner. It will make eating clean lettuce and greens easily attainable without purchasing prewashed ingredients.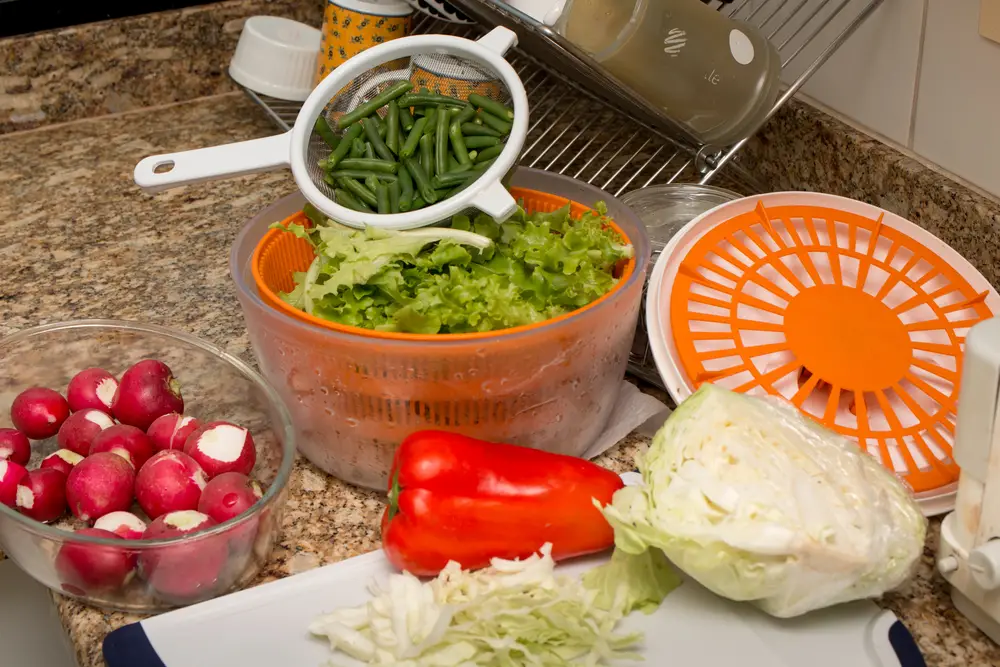 As you now know, the best salad spinners are also quite versatile. Aside from being a salad tosser and herb spinner, they can be used as colanders, serving bowls, food storage bowls, and even facilitating slicing and grating vegetables.
The Right Salad Spinner for Your Home
Our all-around favourite pick for our best salad spinner in the UK is the OXO Good Grips 4.0 Large Salad Spinner. It features a large capacity, a non-slip knob and base that enables one-handed operation, and an easy-to-use brake button, giving you full control at all times. It is also easy to clean and dishwasher safe.
This OXO Good Grips salad spinner may not be the right choice for you if you want an option with a super-fast spinning process and gets leafy greens bone dry. Due to the larger capacity of the outer bowl, it may not make for easy storage in smaller kitchens either; however, this may not make much of a difference for you. 
Is this the right salad spinner for you? Have you considered some great finds from our list? Do you have other salad spinners that you would like to recommend to others? How was your experience with them? We'd love to hear your ideas and experiences! Let us know what you think in the comments below!
Additional Resources