Last Updated on
Our editors independently research the best products online to produce this list. We may receive commission on purchases made from the links below but this will never affect our product choices.
---
Top 10 Best Food Steamers
Finding the best food steamer in the UK is not as easy as you think. However, this is because you have so many options available at any given time. It means it will be easier for you to get some additional help with this, and that is where we step in.
Food steamers will prove to be one of the best purchases you will make for your kitchen if you are serious about eating healthy meals. They also come in all sizes, from a 3 tier food steamer to a more simple electric food steamer that takes up almost no space.
But what we will do here is to not only take you through some of the best food steamers to buy right now but also offer some advice on how to select the right food steamer for your needs.
In addition, there will also be several tips on how to get the most out of whichever steamer you end up selecting. After all, you may never have used a steamer before and could have some preconceived ideas of what's involved. Well, we are going to change all of that in the next few minutes.
How We Compared Food Steamers
To find the right food steamers we considered multiple factors, including:
Type
Material
Capacity
Safety features
Extra features
Our editorial team carefully researched and selected products that would suit a wide range of needs to take your kitchen experience to the next level. We set out this list after assessing customer reviews and evaluating pros and cons in line with the above comparison points.
Find more about our behind-the-scenes process here.
Food Steamer Reviews
First, we have this food steamer by the guys at Russell Hobbs, and you probably already know how they are responsible for producing some pretty good kitchen appliances. In this instance, this is a 3 tier food steamer, so it can steam a lot of food at one time.
This model comes with 800w of power, and it has a capacity of 9L, so that should be enough for the average size meal with the average size family. This model also comes with a turbo steam option, which will certainly speed things up when it comes to cooking your favourite rice or vegetables.
The food steamer also has two water inlets, which makes a real difference in steaming. You can spread the food over three separate basket layers to cook everything simultaneously with ease.
Overall, we love this steamer, as it offers so much versatility with its design. And with so much space, you will simply love being able to steam so much food at one time.
Pros:
It has three tiers
It has turbo steam to speed things up
It's easy to control
It has two water inlets
It offers easy cooking that is exceptionally healthy
Cons:
Topping up water can be challenging if you don't have a small jug
The lid would be better with slightly larger handles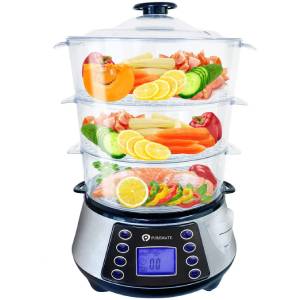 This food steamer by NaturoPure is our luxury choice, and it's all thanks to the capacity and the various cooking modes built into the item. Thanks to its options, this is one of the best food steamers on the market right now.
This food steamer is also quite large with an 11.5L capacity, and that's impressive. It can also hold 1L of water at any time, so it should be tough for it to run out quite quickly. The three tiers allow for spreading the food out across the steamer, and this electric food steamer is also very easy to clean. It also comes with a digital display. There are six different modes, and the timer can count down from 99.
Overall, as electric steamers go, this is one of the best. It is easy to use, which means you are highly likely to get perfect results even if using the steamer for cooking rice.
Pros:
The digital display is clear
It has a large capacity
It is very easy to clean
The different modes make a difference
All the pieces are dishwasher safe
Cons:
The steam trays come across as being slightly thin
The instruction booklet could be better
If you want a food steamer that represents great value, then this model by Russell Hobbs could be perfect. Finished in stainless steel, it has a 7L capacity, so while it may not be the biggest, it should still be enough if you want to cook healthy meals.
The timer is limited to 60 minutes, but that's more than enough for most uses. Also, you do get a rice bowl included, so it is used for more than just vegetables.
But what we also love about this electric food steamer is how the steam baskets stack well on top of one another. It does mean they take up next to no space, which is one of the key advantages of this 3 tier food steamer.
Overall, this small food steamer may not be the most advanced, but it certainly offers great value when it comes to steaming food in an easy to follow manner.
Pros:
The steam baskets stack easily
It is simple to operate
The baskets are dishwasher safe
The rice bowl is the perfect size for a serving
It's quick and makes for healthier meals
Cons:
At 7L capacity, it may be too small for larger families
The space between the baskets is relatively small
Next, we have this model by Salter, and we see this as being one of the best electric steamers on the market right now. This model comes with three tiers, and it provides you with ample opportunity to steam both meat or fish and vegetables.
It comes with a 7.5L capacity, which should be sufficient for most people. The steam baskets do stack on top of one another, so storage is also not a problem. Also, it has a larger than normal water reservoir, so you should not have to feel as if you continually have to fill it up.
For safety, it comes with an automatic shut off, so it's not going to end up steaming itself dry and damaging the item. That alone makes a significant difference in how you use your food steamer.
We love this electric steamer because you can make an entire meal in next to no time, and with everything being so easy to control, this electric steamer won't make a mess of your meal.
Pros:
It is very easy to use
It has an automatic shut off
It has a large water reservoir
The steam baskets stack easily
It has an average capacity
Cons:
Ventilation holes may allow too much steam out
Don't overfill, or the water bubbles into the food
A stainless steel steamer is not as common as other food steamers, but let this put you off. Instead, what you have here is an excellent example of a traditional food steamer that works well on any cooker, including induction.
The difference with this food steamer from KitchenCraft is the base doubles as a stockpot, so this model is highly versatile compared to most electric models. When it comes to how it operates, the encapsulated base means the heat is spread far more evenly across the base, leading to better cooking.
In this instance, you also have a glass lid, while the handles on each tier are riveted on, making it a sturdy food steamer.
This model is crafted from the best stainless steel around, and it makes it significantly easier when it comes to cooking an entire meal via one hob ring. Its ease of use certainly adds to the reasons why you may choose this out of the other food steamers on the market.
Pros:
It spreads the heat evenly across the base
The bottom tier also works as a stockpot
The stainless steel is strong and sturdy
It even works on induction hobs
It is able to cook food evenly throughout the different tiers
Cons:
The stainless steel can get exceptionally hot
Cleaning it can be tough if you cook food that sticks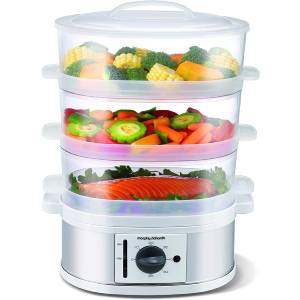 This 3 tier food steamer by Morphy Richards is an excellent choice, not just because of the slimline appearance from its design. This particular model has a 9L capacity, which is more than adequate for most families, and it makes being able to develop healthy eating habits a lot easier.
This food steamer also comes with something called Instant Steam Production, and this is an excellent feature. It means your food steamer will start working and doing its thing as soon as you switch it on, so the cooking time you set will indeed be that time: no warming up here.
The timer goes up to 60 minutes, but that's standard. Also, the baskets are dishwasher safe, so clearing up after making a meal is easy.
Overall, what we love about this, and why we see it as one of the best food steamer options, is all thanks to how easy it is to operate and clean up. It also comes with a large rice bowl, and the baskets are clear enough for you to keep a close eye on things.
Pros:
It is easy to clean
It is easy to operate
The rice bowl is larger than normal
The Instant Steam Production is a great tool
The clear baskets help during the cooking process
Cons:
It has no preset modes included
Food can stain the trays over time
If you want something a bit more rustic and traditional, bamboo steamers are a great option. Okay, it means they are not dishwasher safe, and you are restricted in size, but bamboo steamers also look pretty cool as well.
This model measures some 10 inches, so it's pretty large as bamboo steamers go. It also comes with two tiers, and that does make life easier. It's also made from organic bamboo and is designed to sit in a wok if you want to go for that real authentic Asian approach.
But be aware you need to care for a bamboo steamer in a different way. However, the instructions do make it easier for you, so pay attention to them. Overall, if you want to cook food traditionally, this bamboo steamer is the perfect solution.
Pros:
It has two tiers
It can fit in a wok
It is made from organic bamboo
It takes up little space when being stored
It works exceptionally well
Cons:
It can be tough to get it dry
You must be careful with how much water you use
If you want to own a food steamer to steam a lot of vegetables, then this model by Aigostar will fit your need. This is one of the best electric steamers on the market right now, and it is exceptionally easy to use.
With a 9L capacity, this 3 tier food steamer can cook vegetables and meat at the same time while there is still space for cooking rice in its dedicated rice bowl. It also comes with clear water gauges on either side of the base, so you know when to top up with water.
This 3 tier steamer can produce steam within 15 seconds, and that's fast. Also, it does it without you needing to wait for it to start boiling water either. Instead, it starts its healthy cooking instantly. One other feature we love is linked to the possibility of cooking meat in the steamer without the need to worry about juices, as the Aigostar steamer comes with a juice catching plate. Also, it makes it easier to clean everything as well.
Overall, the size of the baskets makes steaming vegetables on this model a whole lot easier. It means you can spread the vegetables out, which applies even if you want to steam fish at the same time.
Pros:
The baskets are large, giving you space for steaming vegetables
It produces steam in just 15 seconds
It has easy to see water gauges
The juice plate is a nice addition
It's easy to clean
Cons:
You must put the baskets in the right order, or it makes a mess
It does seem to go through a lot of water
If you plan on doing a lot of healthy cooking, then a heavy-duty food steamer could be the best option, and this one by Premier Housewares is fantastic. This model works on a hob, so it must start off by boiling water to then start to steam the food.
However, this model works on all types of hobs, and it comes with a durable stainless steel housing, so these pots should be capable of coping with a lot of pressure. Also, the design means it spreads the heat across the base with ease, so don't worry about food cooking unevenly. It just won't happen.
You should also find that stainless steel is very easy to clean in this instance. It then comes with strong metal handles and a glass top to finish things off. Overall, this is a well-made stainless steel food steamer.
Pros:
This is a large food steamer
It spreads heat evenly
It is very easy to clean
It has a durable stainless steel housing
It works on any type of hob
Cons:
It may take some time for the water to boil
It can take up a lot of space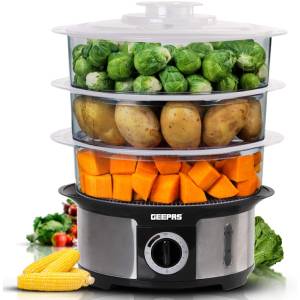 The Geepas 3-tier is one of the best food steamers on the market because it is easy to use. This electric steamer is not only dishwasher safe, but it also has a 75-minute timer, which is longer than the average. This model also has a 12L capacity, and don't worry about the safety of the steaming bowls as they are BPA free.
Once the timer has ended, this model will automatically switch off, so there is no need to worry about it boiling dry and damaging the food steamer. Also, it has a turbo steam design, so you do not need to use any cooking oils, but there's no waiting around for things to warm up either.
Overall, we love this electric vegetable steamer because you simply plug it in, and it's good to go. The cooking process is simple to follow, and with three separate basket layers, it means you can cook different foods simultaneously.
Pros:
It has a large capacity across all three steaming baskets
It has a longer timer suitable for a longer cooking process
It uses BPA free plastic
It comes with a turbo steam option
It automatically switches off when finished
Cons:
The numbers on the baskets are tough to see
It might be quite big, so if space is an issue, then this could be problematic
How to Choose the Best Food Steamer
So those are our different reviews, but how do you choose the best 3 tier electric steamer for you? Well, it's all a matter of knowing what you will tend to be cooking and how much space you have available for storage.
But we will make life easier for anyone looking at purchasing the best vegetable steamer on the market. So, the tips that follow should make a significant difference.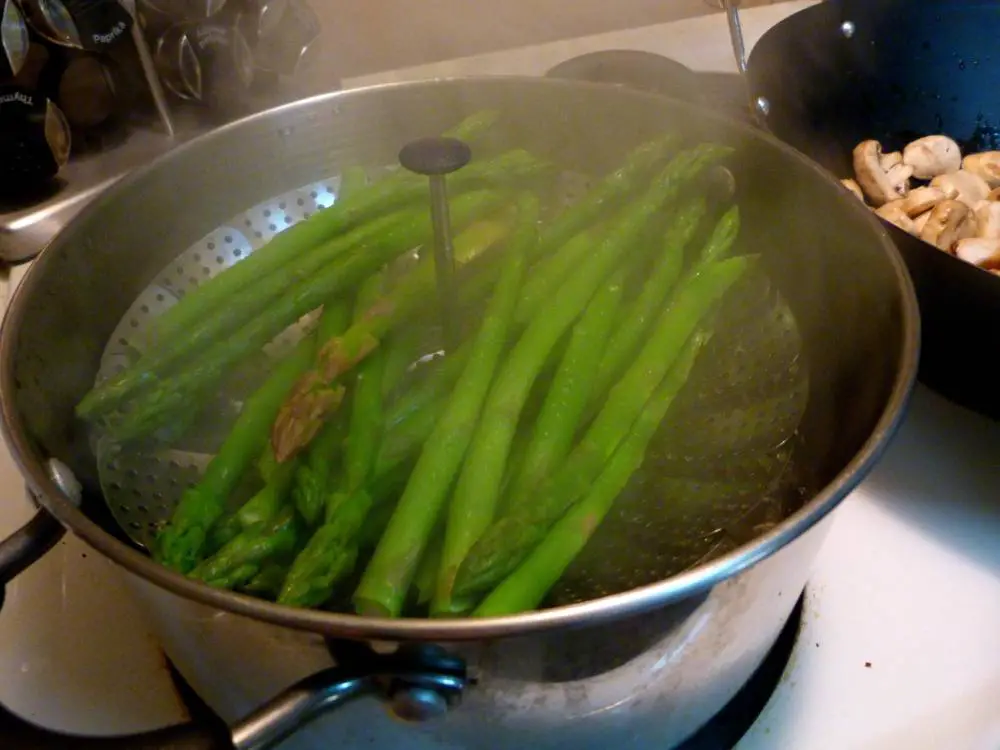 Electric or Hob?
The first thing to consider with a food steamer is how it will function. By this, we mean choosing between electric steamers and one that sits on a hob.
Electric steamers are more popular. This is due to them tending to have a collapsible steam basket because they sit in one another, leading to them taking up less space when being stored.
Plastic or Stainless Steel?
You must think carefully about the material that your food steamer is made from. You will choose from plastic baskets in your food steamer or for the entire thing to be made from stainless steel.
Most of the best food steamers in the UK are plastic, but you also want to check they are BPA free. That means the plastic is safe to use and free from various chemicals and toxins.
But be aware of something else when choosing the material, which is how things can become stained. In the case of plastic, it's easy for the baskets to stain with use, and that's going to be tough to get off.
Stainless steel is easier to clean, even though the plastic baskets are dishwasher safe. However, it's still something to think about when it comes to making your purchase.
Capacity
Food steamers come in all different capacities, and that is something else to consider when trying to find the best food steamer on the UK market.
The average size is around 7L, but we did include one that was 12L, and that is a large food steamer. In general, 7.5L capacity should be sufficient for most people, and most of the best food steamers available to purchase are around this size.
Safety Functions
You should also pay attention to different safety functions when it comes to food steamers. You may wish to see if your model comes with a boil dry prevention mechanism, as this will stop you from burning out your machine.
Also, see if your electric steam cooker has a keep-warm function. Not every compact food steamer has this, and yet a warm function is a wonderful way of making the entire experience of cooking healthy meals so much easier.
However, be aware that the keep warm function will always only work for a certain length of time. It will still help you produce the best food possible and maintain the nutritional value of the food, but overuse of the keep warm function will eventually mean your meal won't taste so good.
Additional Features
We also need to discuss additional features with your electric stainless steel steamer or any compact food steamer. Admittedly, some steamers keep things very simple and basic, but that's not always the case. Instead, some food steamers do incorporate additional functions you may find useful.
This includes preset modes, which will mean your food is steamed to perfection. All you need to do is select what you are steaming, whether it be vegetables, fish, or meat, and leave the electric food steamer to do the rest.
Why Use an Electric Steamer With More Than One Tier?
In our food steamers reviews, you will have noticed that they come with different tiers, and there's a good reason for that. Also, this will explain why you are best to look at buying food steamers that may even have items such as a removable divider wall within the basket.
First, if you steam meat, you need to have a way to ensure the juice of the meat, when raw, is not going to run into the vegetables. It's just safer that way. That is why you will see images of food steamers, and they have meat on the bottom tier.
But it's about more than that. You have different flavours going on when steaming different things, and you don't want to infuse food with the wrong flavours. The easiest way to achieve this is to make sure the food is kept apart when steaming. That is why you need different tiers.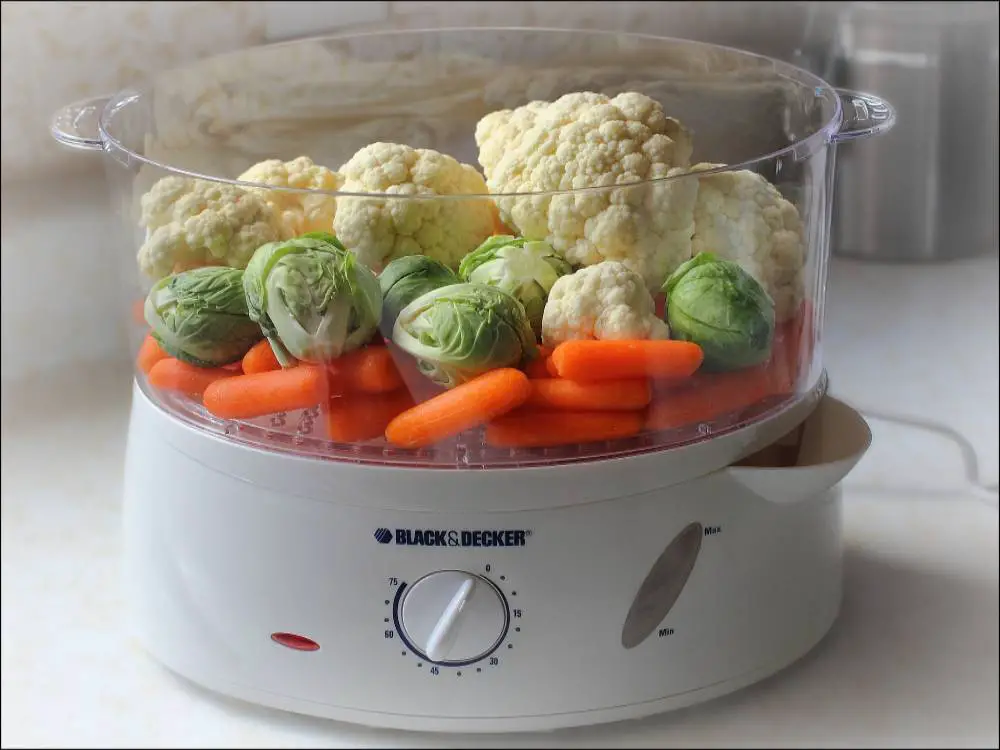 How to Get the Best Results From an Electric Steamer
Finally, you may want to know how to get the best results from your steamer. Thankfully, it's relatively easy to do.
Harder Vegetables Go On the Bottom
Our first tip is to ensure you have the hardest vegetables on the bottom tier. This is the place where the most steam will circulate, and harder vegetables need that slightly higher temperature to really cook right.
That means sweet potato, carrot, parsnips, or anything else along those lines need to go down there. If you don't do this, then the chances of them coming out undercooked, which means slightly raw, will go through the roof.
Pay Attention to the Water Gauge
While only some steamers will come with a boil dry prevention mechanism, you need to pay close attention to the water gauge. We admit that different steamers appear to go through water loaded into the reservoir at different rates, and that's a problem.
However, some models will beep to alert you whenever the water level has gone below a certain level. Others will simply shut off, and your food will stop cooking.
Filling most models will involve simply using a small jug and pouring it into a spout. However, this can be slightly awkward with some models. Check if they supply a water jug in advance, as this will make filling the appliance a lot easier.
Dealing with Frozen Items
A food steamer can cope with steaming frozen items, but exactly how well it copes does depend on the type of food you need to defrost. Most can deal with frozen vegetables with ease. Simply throw them in, set the timer, and the steam will defrost them and cook them.
However, if you plan on steaming frozen meat or fish, then you need to tackle things differently. Here, you must defrost frozen meat or fish before you put them in your steamer. Not doing this will result in the meat or fish being undercooked, and that's problematic.
Size of Items
A useful tip is to try to make items on an individual tier almost the same size. So, if you plan on steaming sweet potato, then cut it up into the same size chunks.
This is to try to make sure that everything steams at the same time. If you have large and small pieces mixed in, then some parts will be overcooked while others could be undercooked. It just helps to try to keep everything uniform.
Don't Forget Your Seasoning
Finally, do remember you can season the items you are steaming, as that shouldn't change. Simply throw it over the food, and the steam will cook it into the vegetables or meat with ease.
This is undoubtedly an important point. Some people think steamed food has to be completely plain, and that is just not the case. These steamers are built for food to be infused with flavours, and they will even help you to keep things apart, so the flavours don't intermix.
So don't be afraid to add seasoning to prevent your food from tasting bland when it's cooked. It can be healthy steaming everything, but that doesn't mean you need to make it boring.
These are our key tips on how to choose a food steamer and how to get the most out of it. Of course, you will tweak and change things according to your own personal preference, but the steamers out there on the market will be capable of helping you deliver the results you are looking for.
Choosing Your Food Steamer
That is everything you need to know before purchasing the best food steamer in the UK. As you can see, we have a wide array of brand names there, but for us, it's the Russell Hobbs 21140 model that fits the bill.
The Russell Hobbs 21140 is not only an electric cooking steamer. It packs so much functionality into such a simple model that anybody can produce a healthy meal in next to no time with this steamer.
It allows you to cook different foods across the different tiers to cook dumplings on one and be steaming rice on another. Its versatility and simple controls make it one of the best food steamers available right now.
However, any food steamers mentioned in our reviews are excellent purchases. All you need to do is follow the tips and advice mentioned above, and choosing from the various food steamers on the market will become a lot easier.
Let us know what you think in the comments below!
Additional Resources