Last Updated on
Our editors independently research the best products online to produce this list. We may receive commission on purchases made from the links below but this will never affect our product choices.
---
Top 10 Best Mini Fridges
A mini fridge is ideal for keeping things cool when you are short on space: maybe you want chilled beers in your living room while you watch football or need something more effective than a cool box for camping. You could want to keep your lunch cool in your office or need to store cosmetics chilled in your bedroom. 
Before buying a mini fridge, you'll need to know what to look for to choose the right one. We are here to help with the best mini fridge in the UK reviews for ten different uses. In our buyer's guide, we will show you the essential features, so you'll be able to find the perfect mini-fridge for your needs.
How We Compared Mini Fridges
To find the right mini fridges, we considered multiple factors, including:
Capacity
Noise
Portability
Energy Efficiency
Cooling and heating functions
Power
Our editorial team carefully researched and selected products that would suit a wide range of needs to take your kitchen experience to the next level. We set out this list after assessing customer reviews and evaluating pros and cons in line with the above comparison points.
Find more about our behind-the-scenes process here.
Mini Fridge Reviews
Our editor's choice as the best mini fridge in the UK is from the well-known brand, Russell Hobbs. This mini fridge is available in three colours (lacquered black, white or silver), so it will blend well into most rooms.
The standard unit has an excellent 44-litre storage space. However, if you need a big mini fridge, there is a 63-litre version. Inside, you'll find flexibility for whatever you need to chill. There are two removable shelves to store both small and large items.
The fridge has adjustable levelling feet, and the door is reversible for convenient installation. The door has a built-in bottle rack with two levels. There is also a freezer compartment for ice cubes or frozen food.
Some users have commented that the compressor might be a little too loud to have in their bedroom. While the door-mounted bottle rack is handy, you may find its holding capacity for larger bottles is limited.
Pros:
Well-known manufacturer
Choice of three colours
Available in 43 and 66-litre capacities
Two removable wire shelves and reversible door
It comes with an ice box compartment
Adjustable feet
Cons:
Some users may find the door bottle rack space limited for larger bottles
Light sleepers might find the compressor a little loud for bedroom use 
We think this stylish mini fridge stands out with its glass door and attractive interior light that would be equally at home to store drinks in an upmarket bar.
The lockable door is reversible. There are three removable shelves, two flat and one for holding bottles. Fully loaded, you could store up to 55 standard 330ml cans inside the 50-litre capacity.
This mini fridge is rated class E for efficiency, which is better than many products. It has a reasonably low noise output of 42 dB.
The adjustable thermostat ranges between 3 – 18°C, so you can store drinks as cold as you want. However, there isn't an ice box, so you need to get your ice cubes elsewhere. The shelf positions are limited to four positions, and some users have commented that the top shelf is slightly too short to hold standard drink cans. However, you can lie the cans down or maximise the capacity by removing the rack and stacking the cans.
Pros:
Double-glazed glass door with lock
Attractive LED lighting
Three removable shelves
Low noise
Good energy efficiency and adjustable thermostat
Cons:
It doesn't have an ice box
The top shelf might be too small to hold cans standing up
Our best value choice is the fun looking Classic4 portable mini fridge. This small fridge comes in white, blue, or pink finishes. It has a carrying handle to make it easy to lift.
This basic mini fridge uses a thermoelectric system and is extremely quiet. Not only can it cool to 18°C below the ambient temperature, but it can also keep food items warm up to 45-65°C.
The Classic4 can be operated by regular mains electricity or run from USB power, so it's ideal in a car or when camping. You can even run it for short periods with a suitably high-output USB power bank.
The four-litre capacity holds six standard-sized drinks cans. There is a removable wire shelf for smaller items and a rack in the door. The Classic4 also makes a great bedroom cooler.
The thermoelectric system isn't adjustable. This means that you may find it doesn't cool quite enough on a very hot day or that it may cool too much if it is particularly cold. While we think the design is fun, some people might think it's not serious enough looking.
Pros:
Fun design and colour choice
Very quiet
Can heat as well as cool
Mains or USB powered
Readily portable with carrying handle
Cons:
Temperature isn't adjustable
Some people may find the design a little too fun for their tastes
The AstroAI Mini six-litre (eight standard can) capacity is a mini fridge with double function: it can heat and cool and is excellent for use in an office, bedroom or living room.
This mini fridge is also ideal for day trips or camping as you can run it from the 12V socket in your car. The fridge weighs a little over three kilogrammes and has a convenient carrying handle.
The temperature is adjusted via an easy to use digital control on the door. This makes selecting your desired temperature simple and more flexible than products that only have "heat or cool".
Some users have commented that the fridge is a little loud. However, a quiet mode makes it a lot less noisy. The refrigerator may take a while to cool warm drinks. You can solve this by filling it up with already chilled cans.
Pros:
Mains or 12V DC powered
Digital temperature controls
Cools and heats
Six-litre capacity
Carry handle
Cons:
Maybe a little noisy for some people, although there is a quiet mode 
It might take time to chill warm drinks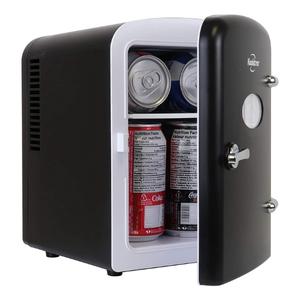 We love the fun retro design of this novelty mini fridge. You can choose from a smart lacquered black finish or brighter blue or pink colours.
The fridge uses thermoelectric technology, which is free from CFCs or other coolants. You can switch between heat or cool modes to keep the four-litre capacity either about 18°C below room temperature or heated up to 57°C.
You can take this portable mini fridge on trips with you as your car's 12V socket can power it. There's even a convenient carry handle. Inside there is a removable wire shelf, and you can fit either four 500ml or six 330ml drinks cans.
The door on the fridge is fixed to open on the left side only, which might limit where you can put it. However, as you need to leave a little space around the unit for air to circulate, this generally isn't a problem. Some have commented that the fan is loud at night, making this fridge perhaps unsuitable for bedroom use.
Pros:
Fun retro styling
Choice of three colours
CFC-free thermoelectric technology
Heats and cools
Mains or 12V battery powered
Cons:
The door is fixed to open to the left only
Some people might find it a bit loud for bedroom use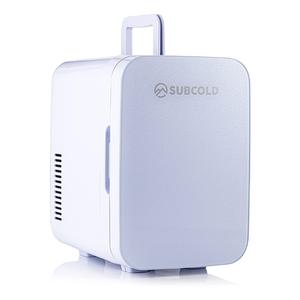 The best portable mini fridge is lightweight and has a carry handle. While travelling, it can be powered from a USB socket or a 2 Amp power bank.
You can choose from white, pink or black colours. The fridge has a six-litre capacity to hold up to eight standard-sized drinks cans. It can keep food warm at up to 45-65°C, as well as cool to 18°C below the ambient temperature. There is a simple hot/cold selector switch to switch between modes.
This portable mini fridge is great for travelling with, but it also works well for bedrooms or offices. The fan is a brush-free high-grade design and is one of the quieter models available.
The six-litre capacity might be small if you plan a long trip. However, the manufacturer offers larger units up to 15 litres. You can only choose between hot or cold and need to be aware that the temperature reached is related to how hot or cold the surrounding air is in common with similar designs.
Pros:
Portable design with carrying handle
It can be powered from a USB socket or power bank
Choice of three colours
Heats and cools
Quiet fan
Cons:
Six-litre may be too small if you are travelling for a long time
No way to control temperature precisely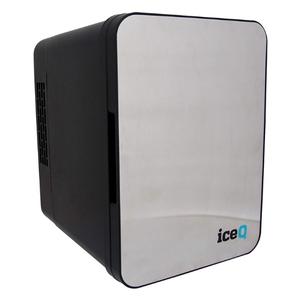 Our smallest mini fridge option has a compact four-litre capacity and comes with an attractive brushed stainless steel finish.
This would be a great mini fridge for office use with its smart looks and small size. However, as it can work from a 12-Volt car cigarette lighter socket, you could also use it for travel or camping.
The door has a magnetic closure which makes sure that it stays shut. The compact fridge will heat up to 65°C to keep food or hot drinks warm. The cooling mode will chill to up to 20°C below ambient temperature.
Some users have commented that the insulation on this small fridge isn't the best, so it may lose its temperature quickly when turned off. There have also been comments that condensation can collect at the bottom. However, this may be related to using it in exceptionally high humidity.
Pros:
Compact size
Attractive stainless steel finish
Magnetic door closure
Cools and heats
Operates on 12v car battery or mains
Cons:
Insulation may not be the best
Condensation may build up in the bottom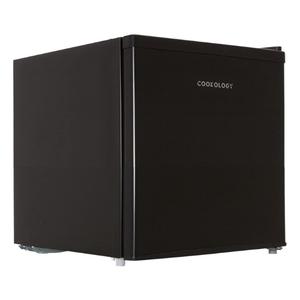 Our best countertop mini fridge has a 46-litre storage space and could be your main fridge if you're short of space.
The large capacity mini fridge comes in a choice of black or white. The door is reversible. If you want a mini fridge with freezer capacity, this product is worth considering as it has a small freezer compartment.
It comes with a removable shelf, andthe door has a built-in rack where you can put your favourite drinks.
As this is a compressor powered mini fridge, you may find it a little noisy to use in a bedroom. The internal shelf is removable, but you can only fit it in one position.
Pros:
Black or white colour choice
Reversible door
Removable shelf
Freezer compartment
Door mounted rack
Cons:
It may be too noisy for bedroom use
The shelf isn't adjustable
Our plug-in mini fridge choice comes in black, silver and even a Union Jack flag design. 
This mini fridge can heat or cool as desired. There is a clearly marked switch on the back to select between the two modes. It can cool as much as 20°C below ambient or heat to 65°C.
There is a convenient carrying handle, and you can power the mini fridge either by mains electricity or from a 12V car plug.
There are two removable shelves to organise smaller items. There's also a small basket built into the door.
You can't adjust the temperature, and on very cold days, some users have commented that their milk ended up frozen. Other purchasers have said that the black finish shows fingerprints and needs to be cleaned often.
Pros:
Colour choice including Union jack design
Carrying handle
Two removable shelves
12V DC or mains powered
Heats and Cools
Cons:
You can't adjust the temperature
Black finish may show fingerprints
The Livio 4L is the best mini fridge for bedroom: it is a particularly quiet mini fridge ideal for keeping drinks, cosmetics or medications cool.
You can choose from white, black or silver colours. There is a four-litre capacity that can hold up to six standard drinks cans.
There is one removable shelf to organise and access items and a basket on the back of the door.
A simple selector on the rear lets you choose between cooling and heating modes. You can power the mini fridge with a 12V DC supply when travelling.
You might find that the four-litre capacity is small for you, but larger sizes are available. You can't adjust the temperature, so it's essential to check that the mini fridge will reach the temperature you need.
Pros:
Quieter than average
Three colour choices
Removable shelf
Door basket for small items
Cools and warms
Cons:
It might be a little bit small
The temperature can't be adjusted
Choosing the Best Mini Fridge
Our guide to buying a mini fridge will explain everything you need to make an informed choice from our best mini fridges in the UK list.
What Is a Mini Fridge?
A mini fridge is less than about 50-litres capacity and often much smaller. Many mini fridges can be installed on a countertop and used where space is limited, but you want to keep perishable foods and drinks cool or use travel mini fridges, which are usually 8-litres and are powered by a car cigarette lighter or USB socket.
What Can You Use Mini Fridges For?
You can use a mini fridge for chilling drinks or storing food anywhere you are short on space, like an office, a student apartment, in the bedroom or when camping.
You can also use a compact mini fridge to keep medications and beauty products cool. Some mini fridges can also keep food or drinks warm.
Features to Consider in a Mini Fridge
Capacity and Physical Size
Mini fridges have a rating of their volume in litres: this can be difficult to understand, so there's usually a comparison to the number of standard-sized drinks cans it can hold.
Check the physical dimensions to ensure that the mini fridge doesn't need too much space. Make sure you allow sufficient air space around the fridge to operate correctly. If you don't think you'll have enough space, consider an option with a reversible door.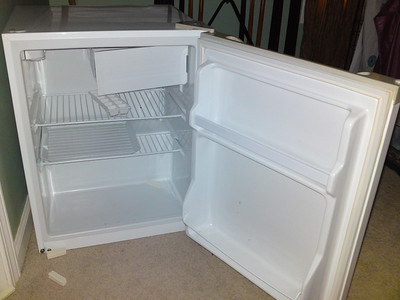 Energy Efficiency
Electrical appliances have a UK energy rating between A and G, with A being the best. These labels give you an indication of how much electricity your mini fridge will use. 
Insulation
The insulation of your mini fridge will affect how much electricity it uses and how well it holds its temperature when you switch it off: this could be particularly important for travelling. Smaller mini fridges will typically have thinner insulation, so they will need to operate more frequently to keep cool.
Power
Most mini fridges can be powered by mains electricity. If travelling, check that it can be operated using your car's 12V cigarette lighter socket. Remember that a mini fridge could flatten your car's battery if it's used while the engine isn't running. A USB power lead can also power some travel mini fridges.
Noise
The best mini fridges need to be quiet, especially if you use them as beauty fridges and you prefer to keep them in your bedroom.
Compressor-driven tiny fridges are typically louder than thermoelectric fridges using solid-state systems. If you are a light sleeper and need a mini fridge in your bedroom, go for one that has a reputation for quietness, like thermoelectric units.
Freezer Compartment
If you want ice cubes for your drinks or to keep frozen food fresh, look for a mini fridge with a built-in ice box.
Cooling or Heating
Some thermoelectric mini fridges can heat and cool, so you can use them to keep food or drinks warm. Note, however, that these units don't get hot enough to cook.
Portability
If you want to travel with your mini fridge, consider its weight and dimensions. Many units designed to travel have a carrying handle to make moving easier.
Additional Features
Check extra features such as removable shelves or door-mounted racks to organise the contents of your mini fridge. You might also want a design with a lockable door to keep everything inside secure. 
Larger mini fridges often have reversible doors so that they can be adjusted to open from your chosen side. This can be important if you need to fit it into a tight space.
Conclusion
We've shown you the best mini fridge in the UK to keep whatever you need cool in a compact space. If you're having a hard time making your choice, we suggest our editor's choice: the Russell Hobbs Table Top.
This mini fridge comes from a manufacturer with an excellent reputation for quality. There are three colours to choose from to fit perfectly in most homes or offices, two removable wire shelves to organise the contents, and there's a little freezer compartment to keep ice cubes or food frozen. There are even adjustable feet and a reversible door to make installation easy.
What do you think about our options for the best mini fridges? Let us know in the comments!
Additional Resources
Daniel is an experienced writer and freelance scuba instructor based on the shores of Egypt's Red Sea. When not spending time underwater, he can usually be found biking and hiking in his desert surroundings before getting in front of the laptop. Dan enjoys researching and writing high-quality content, particularly on subjects related to health and fitness.