Last Updated on
Our editors independently research the best products online to produce this list. We may receive commission on purchases made from the links below but this will never affect our product choices.
---
Top 10 Best Kitchen Taps
Installing a new kitchen tap can instantly update your kitchen décor. If yours drips, has seen better days or is just starting to look a little dated, now's the time to fit a new one.
Do you wonder how to choose the most exceptional kitchen taps in the UK without spending a fortune? Here are our top choices, complete with a buyer's guide to help you choose a new kitchen tap.
Read on as we'll share details of our hand-picked selection of the very best kitchen tap models!
How We Compared Kitchen Taps
To find the right kitchen taps, we considered multiple factors including:
Style
Material
Ease of installation
Type
Extra features
Our editorial team carefully researched and selected products that would suit a wide range of needs to take your kitchen experience to the next level. We set out this list after assessing customer reviews and evaluating the pros and cons in line with the above comparison points.
Find more about our behind-the-scenes process here.
Best Kitchen Tap Reviews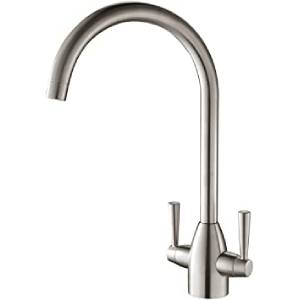 Simple yet elegant, this brushed nickel kitchen tap by Hapilife complements all styles of kitchen décor.
This classic kitchen tap works best with standard 0.5-1 bar water pressure. The set comes with flexible hoses, an aerator, and a filter to remove impurities and reduce your water bill. Thanks to its brushed finish, you won't have to waste time continuously wiping watermarks and fingerprints.
The dual control levers are easy to operate, while the drip-free internal valves are long-lasting ceramic. With its 360-degree swivel motion, this kitchen tap is suitable for single, one-and-a-half and double sinks.
As with many inexpensive models, this tap may not last very long. Also, it needs quite a large flat area around the hole for the base, making it less suitable for small sinks.
Pros:
Brushed nickel finish
Dual levers
Drip-free ceramic valves
360° swivel
Cons:
It may not be very durable
The base may be too large for small sinks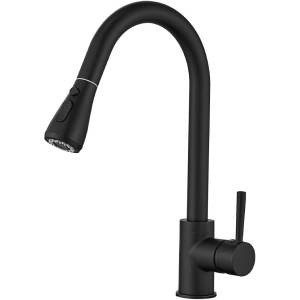 The Heable solid brass kitchen tap features a contemporary matte black finish that resists fingerprint marking while adding a touch of modernity to your kitchen.
Thanks to its ergonomic handle and high arc, this kitchen tap is easy to use single-handedly to fill up your kettle or regulate the water temperature for hot and cold water. The three-function pull out spray head allows you to pause the water supply or switch between spray and stream mode, which is handy when washing dinnerware.
Use the water jet from the pull-out spray head for more effective washing and filling, and give your sink a good rinse. The spout swivels 360-degrees for more convenience, and all hardware is included for a fast installation.
Bear in mind that this tap may be less suitable for low-pressure systems, and the pull-out nozzle could be of better quality.
Pros:
Three-function spray head tap
Single handle design
Sophisticated tap with a contemporary matte black finish
Pull down sprayer
Cons:
The pull-out nozzle may not be the best quality
It may not be suitable for low water pressure systems
If you're on a budget or need a stand-in tap, the Hapilife Single Lever is our top value pick in this kitchen tap reviews list.
With its stylish polished chrome finish, this kitchen tap looks like a top-end model. Its single handle design makes it easy to regulate water temperature and flow single-handedly, while its 360-degree swivel ensures its suitability for various sink models and sizes.
Thanks to its durable ceramic dish cartridge, this chrome kitchen tap should last for quite some time. In addition, the spout's aerator will help you to save water.
As the installation instructions could do with some improvements, you may want to do extra research if you install this kitchen tap yourself. Also, you may find the mechanism to be a little stiffer than other models.
Pros:
Polished chrome finish
Single handle design
Durable ceramic disk cartridge
Water-saving spout aerator
Cons:
Installation instructions could be improved
It could be a little stiff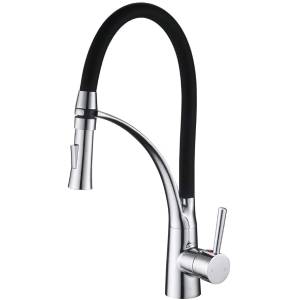 The Healable Dual Function kitchen tap is our top pick if you are looking for an option with a silicone hose to make cleaning your kitchen sink easier.
This solid brass tap features an elegant chrome finish. The black silicone hose is quick to pull down and flexible for rinsing off dishes or filling up your pots and pans.
Choose between spray and stream mode via the button on the pull-up spout, complete with an aerator to mix air and save water usage. Thanks to its 360-degree swivel, this affordable kitchen tap is suitable for single and double sinks.
On the downside, this kitchen tap could be tricky to use single-handedly. Plus, it may be less suitable for use with low water pressure or gravity-fed installations.
Pros:
Solid brass with chrome finish
Flexible silicone hose and pull-up spout
360° swivel
Spray and stream modes
Cons:
It may be less suitable for low-pressure systems
It could be difficult to use with one hand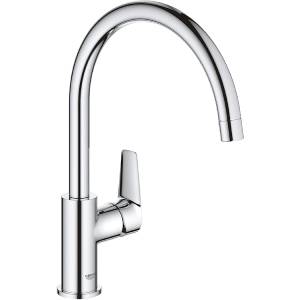 Renowned for their high-quality, stylish taps that last, Grohe is the largest manufacturer of sanitary fittings in Europe. It's a name you can trust.
The BauEdge high-quality kitchen tap is an excellent choice, featuring a beautiful design with a nice high arc and a solid metal handle. Grohe's hard-wearing StarLight chrome finish ensures long-lasting good looks. But most importantly, its separated internal waterways ensure that your drinking water is completely free of nickel and lead.
With a smooth 360-degree swivel spout for double sinks, this best kitchen mixer tap can be quickly installed without any tools required. All in all, it's one of the best looking and best-designed taps on the market at an affordable price for such high quality.
Don't forget to order adapters if you're connecting this mixer tap to standard UK pipes. You may want to look at some online guides as the instructions could do with some improvements.
Pros:
Smooth 360° swivel
Solid metal handle
Separated internal waterways
Quickfix tool-free fitting
Cons:
Instructions could be improved
May need to buy adaptors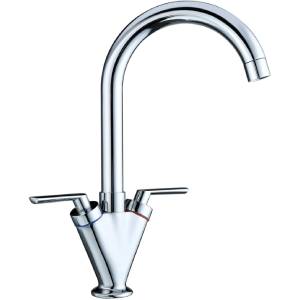 If you are looking for a unique dual control kitchen tap, the Funime DT03A tap, with its quirky looks, could be just what you're looking for.
With its solid brass construction and polished chrome exterior, this kitchen tap suits various kitchen décor styles thanks to its unusual triangular-style base. It boasts dual control lever handles to enable you to get your water flow and temperature just right, while the spout aerator helps you to save more water.
It features a tall gooseneck spout suitable for filling up kettles and tall carafes. This kitchen tap swivels 360-degrees for use with both single and double sinks. Ceramic disk cartridges ensure greater durability and no leaks, complete with Funime's drip-free valves.
Unfortunately, this kitchen tap may be too small for some kitchen sinks, and you may also find it a little more fragile than most mixer taps.
Pros:
Solid brass construction
Polished chrome finish
Dual control lever handles
Water-saving spout aerator
Cons:
It may be too small
It may not be very sturdy
With its elegant design and brushed nickel finish, this Hapilife kitchen tap could easily be mistaken for a premium model.
Made from high-quality, lead-free stainless steel for durability, its brushed finish ensures it remains fingerprint-free without polishing. The high-grade ceramic valve has been tested to ensure this tap has a leak-free operation.
Thanks to its built-in aerator, you could save money on your water bill, while the 360-degree swivel makes this tap suitable for single and double sinks. UK mounting hardware and an installation guide are included as standard.
Unfortunately, this tap's design may be too short to accommodate standard UK worktops, so check the measurements of your tap hole before you buy. Also, getting the flexi-pipes connected could be challenging with this mixer tap.
Pros:
High arc 360° swivel design
Stainless steel with brushed nickel finish
Premium ceramic valve
Built-in aerator
Cons:
It may be too short for standard UK worktops
Connecting flexi-pipes may be challenging
Are you looking for a premium kitchen tap with a pull out flexible hose to do cleaning, rinsing, and filling that little bit easier? Take a look at the Hapilife DT37K, the best pull out kitchen tap.
This tap is extremely easy to use with its 50cm self-retracting hose and nozzle. It also benefits from two spray modes – stream for filling and spray for rinsing or saving water. You can install it on a double or single sink. Its 360-degree swivel makes it compatible with both.
Its high arc and stylish chrome outer layer make this an aesthetically pleasing and incredibly practical kitchen tap. Top-quality ceramic disk valves ensure your kitchen remains drip-free, while the single lever design is great for single-handed operation.
Bear in mind that this mixer tap will need some space below for the retraction mechanism. Also, you may require some additional fittings for 15mm pipes.
Pros:
Dual spray modes
Single lever design
360° swivel
50cm self-retracting pull-out hose
Cons:
May need additional fittings for 15mm pipes
It may be less suitable if short on space below
Like Grohe, Bristan is another popular brand well-known for its durable, high-quality taps.
The Cashew Easyfit benefits from Bristan's simplified installation system allowing you to fit your kitchen tap from above. Thanks to its smooth swivel spout, this tap can be used on double sinks. And it is also one of the few models at this low price point to be suitable for both high and low water pressure systems.
Dual-lever controls make setting your flow and temperature easy, while the smooth turning ceramic disks ensure a drip-free operation. With its stylish high-shine chrome exterior, this modern, angular kitchen tap will turn heads.
On the downside, its spout angle may cause some splashing, and sets with missing components are not uncommon.
Pros:
Dual-lever control with swivel spout
Polished chrome outer
Suitable for low and high-pressure systems
Easyfit technology
Cons:
May cause splashing
May have some missing components
The Hapilife DT03E has a frosted black matte finish which truly sets it apart from other kitchen taps. It's ideal if you are looking for an unusual kitchen sink mixer tap.
This solid brass tap features a double handle monobloc design similar to the quirky Funime DT03A. Its tall spout is ideal for filling up large containers, while the 360-degree swivel makes it suitable for double sinks.
Thanks to its no-leak ceramic cartridge, this tap is drip-free and smooth to operate. Additionally, its built-in aerator helps you to keep your water consumption down. Installation is fairly simple, and an installation guide and accessories are included.
Unfortunately, this mixer tap could have a more scratch-resistant finish. Also, you may wish to change the highly visible silver handle screws.
Pros:
Solid brass with matte black finish
Double handle monobloc design
No-leak ceramic cartridge
Tall spout with 360° swivel
Cons:
A black finish could be more durable
May wish to replace visible silver screws
Different Types of Kitchen Taps
Wondering which is the best type of kitchen tap to go for? Here are some of the most popular kitchen tap styles.
Pillar Taps
With two separate hot and cold water taps, pillar taps are a traditional choice or essential if you own a sink with two tap holes. They also remain useful in very low hot water pressure systems, which benefit from having separate hot water taps. If you have an instant boiling water tap fitted, you may also want to consider individual hot and cold water taps. 
Monobloc Mixer Tap
One of the most popular types, the monobloc taps can be installed on your sink or worktop. They include dual lever mixer taps with a single base and individual levers for hot and cold water on each side. 
Single Lever Mixer Tap
Single lever mixer taps are just like monobloc mixers, but they have one lever for easy one-handed use. These mixer taps are ideal for quickly filling up a pan or the kettle.
Pull Out Spray Head Mixer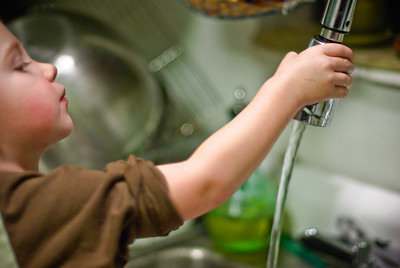 Originally designed for use in commercial kitchens, home kitchen taps with pull out spray head mixers have grown in popularity. 
They feature a detachable spout that pulls down to reveal a retractable hose. This makes them a good choice for rinsing off dishes in double sinks and filling up containers of various sizes. 
How to Choose a Kitchen Tap
Before you purchase a new kitchen sink tap, make sure that you consider the following essential features. 
Style
While you shouldn't put style before substance, appearance is often the main deciding factor. Look for a model that complements your kitchen style and that you find pleasing to the eye. After all, you'll be looking at and using it every day, so it has to be visually appealing. 
Material
Most taps are made from brass, which is recommended. You will also find some stainless steel versions available. As for the finish, brushed nickel is a popular choice as it is less difficult to maintain than a shiny chrome exterior that will attract fingerprints and water stains. Brushed nickel is also much more robust and will look good for longer.
Features
Here are some of the best features you should consider looking for in your next kitchen sink mixer tap. 
High Arc – this handy feature looks good and allows you to fill up tall containers such as kettles, buckets, and vases. 
Ceramic Disc Valves – the latest technology for kitchen taps for better water control and more reliable protection against dripping. Two ceramic discs control your water flow. And, when locked, form a trusty seal which is an improvement on older versions that rely on rubber washers. 
Spray/Stream Modes – some kitchen taps allow you to switch your water flow between a fast-flowing stream for filling up pans, for example, and a spray for rinsing off food.
Spout Aerators – aerators add air to your water flow. This water-saving feature could save you a lot of money on your water bills over several years and help the environment. 
Dimensions
It's all too easy to get carried away with a new tap that looks the part. However, don't always forget to check the exact dimensions and compare them to your old tap and kitchen sink tap hole, including the worktop depth if you'll fit it directly to your worktop. Taps with retractable hoses may need additional space below your sink. 
Installation
If you will be installing your kitchen sink mixer tap yourself rather than hiring a qualified plumber, look over exactly what is included and compare it to your old tap and tap hole. 
Some new kitchen taps have been specifically designed to allow easy installation, making them a better choice if DIY is not your strong point. 
Your Best Bet
A good kitchen tap is not only an essential item. You can also create a style statement with the right kitchen tap that complements your décor. Our Editor's Choice and overall favourite, the Hapilife Hapi-T03N, combines simplicity with elegance making it the best kitchen tap for any kitchen style. 
Its brushed nickel finish doesn't attract fingerprints and water stains, while its dual control lever handles make setting your flow and temperature nice and easy. 
This outstanding model also features drip-free ceramic valves and a 360-degree swivel for use with both single and double sinks. It's truly a great all-rounder for any home kitchen.
Additional Resources
Kelly is an expert in consumer product research, which is very important when it comes to finding the most useful and aesthetically pleasing items for your home. This became her passion after finding it very time-consuming to wade through all the product information online.
She has keen attention to detail which she brings to her articles. Kelly's goal is to help you find what you need without spending too much time searching for it.