Last Updated on
Our editors independently research the best products online to produce this list. We may receive commission on purchases made from the links below but this will never affect our product choices.
---
Top 10 Best Hot Water Dispensers
If you are on the hunt for a hot water dispenser, you have several key points to consider before making your purchase. However, there is often a problem. The problem is the sheer number of hot water dispensers available out there. There are just so many that it makes life so much harder to make your decision.
But worry not, because we are here to assist you! We aim to help you find the best hot water dispenser on the UK market and offer advice on making your decision with our buying guide.
By the end of this article, you will be better placed to choose the ideal hot water dispensers for your needs and have a far better understanding of how they perform.
And with all of that, we will now move on to the reviews to see which instant hot water dispenser is the best on the UK market right now.
How We Compared Hot Water Dispensers
To find the right hot water dispensers we considered multiple factors, including:
Capacity
Filling and weight
Adjustability
Water filter
Temperature Adjustment
Boiling Speed
Our editorial team carefully researched and selected products that would suit a wide range of needs to take your kitchen experience to the next level. We set out this list after assessing customer reviews and evaluating pros and cons in line with the above comparison points.
Find more about our behind-the-scenes process here.
Hot Water Dispensers Reviews
First up, we have this Breville BRITA model, and not only does it look really cool, but it also works exceptionally well at the same time. The water tank with this model holds 1.8L, and it also provides you with a fast boil option, so no wasting time waiting on things.
We also enjoy the fact that it comes with its own built-in water filter. Not all hot water dispensers come with this, which can be a problem if you live in an area where limescale is an issue. However, this Breville model will take care of that in an instant.
This filtered hot water dispenser also comes with nine different cup sizes, and that is also something you don't always get with other hot water dispensers on the market. Add in a removable drip tray, and it is energy efficient, and what you have is an excellent all-around dispenser.
From a look perspective, this is modern and stylish. It illuminates and will look perfect in pretty much any kitchen. However, the way it produces piping hot water makes this one of the best dispensers on the market right now.
Pros:
It comes with a limescale filter
It has a fast boil option
It has a relatively large capacity
It comes with nine cup size options
It is energy efficient
Cons:
It doesn't have a variable dispense rate
Some people may prefer the larger version if using frequently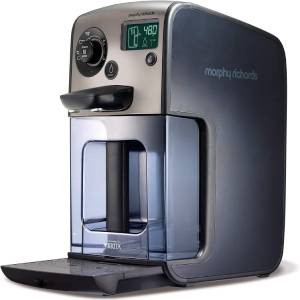 Next, we have this model by Morphy Richards, and this is one of the best instant hot water dispensers on the market for several reasons. Of course, Morphy Richards is a name you will be familiar with, but they have really pushed the boat out with this dispenser.
First, the water tank can hold up to 3L at a time, and that's a lot. However, you can boil only the water you need, so no wasting energy here. Also, you can select the temperature you want the water to reach. This is perfect for making different drinks, and it's all easy to adjust. So, if you thought it would just be boiling water to the same temperature, then think again.
It also comes with BRITA technology included. That will improve the taste of your water, thanks to the reduction of limescale. Also, it will dispense the exact amount of water you need, so this model has you covered even if you are going for a smaller cup.
While the Morphy Richards also looks amazing with its design, the adjustability makes this model stand out for us.
Pros:
It has a large capacity
You can adjust the temperature that the water will reach
You can adjust how much water is dispensed
It contains a filter
It looks stylish
Cons:
It may be too large for some individuals
You need to boil it a number of times when new to remove a horrible taste
This Breville model represents a great value when it comes to your search for a high-quality hot water dispenser. With a 1.7L capacity, it's not the biggest on the market, but it has a number of other positive points to be aware of.
First, it has an adjustable cup height, which makes a surprising difference. It also operates via the single touch of a button, while it only boils the water you need. That saves both time and energy and is a great thing.
We also love that this model has a manual button. It makes it easier to control this water dispenser, and then there's a large window to the front, which lets you see how much water is in the water dispenser. This does make a difference when filling, and it avoids spillages. The only downside is that you have to be quick and careful with the stop button to prevent it from overflowing!
Add in a detachable drip tray along with a permanent limescale filter, and this water dispenser packs in so much into such a small machine.
Pros:
It has a manual button, so you can control the water dispenser
It has a large viewing window, making for easier filling
It has an adjustable cup height
It comes with a limescale filter
It works in seconds
Cons:
At 1.7L, the capacity may be too small for some people
You need to be quick with the stop button to prevent it from overflowing
Not all of the best hot water dispensers come with manual flow control, and if this is important to you, then this model by Breville may fit the bill. It not only has this control option, but it also comes with a 2L water tank which allows it to make a few cuppas before you need to fill it again.
This model is not only energy-efficient, but it also provides you with a variable one cup dispense option. So it does change how much water comes out of the water dispenser at any given time. This is all achieved via the manual flow control, so you are able to decide exactly how this water dispenser is going to operate.
The model is finished in a stainless steel body, and it also lights up when in use which is quite cool to see. Filling it is easy, thanks to a large window, and the drip tray can be easily removed when it needs to be emptied.
All of that aside, you can produce just one cup, and there are nine cup sizes to choose from. However, the manual control of this water dispenser is the best part. It operates just with the touch of a button, and you can stop the dispenser in mid-cycle once you are happy that the water has reached the needed boiling point. It comes with a downside, though: you need to lift it to fill, which might not be ideal for some people.
Pros:
The manual control is very easy to operate
The model is very energy efficient
It has adjustable cup sizes
It comes with a filter
You can stop it whenever you want safely
Cons:
You need to lift it like a kettle to fill, so it can be quite heavy for some people
The filters do not last as long as others
If space is an issue, then this model by Breville could be the answer. However, it still has a 2L water tank, so that means it can create up to 10 cups before you need to think about filling it.
This model does come with a manual control button, and you can produce just one cup at a time with this hot water dispenser. Also, filling the Breville VKT111 is easy, as this comes with a hinged lid, and it works better for those individuals unable to fill a kettle style.
For us, this is one of the best hot water dispensers on the UK market because it is relatively light but still have a great capacity and can boil a lot of hot water in a matter of seconds. This model will get things up to the boiling point, and you do not have to worry about spillage. So, if safety is a concern, then this could be perfect.
Add in the removable drip tray and a filter included, and what you have is a wonderful hot water dispenser surprisingly compact in size.
Pros:
It still has a 2L capacity even though it is quite small
It has a manual control button
It comes complete with a filter
Filling is easy thanks to a hinged lid
It boils water in seconds
Cons:
It can spit a bit, so be careful
You really must flush it through when new or it changes the taste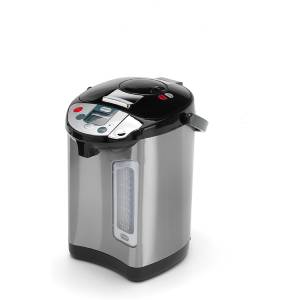 If you are looking for a hot water dispenser with a larger water tank, then this model by Addis comes with a 3.5L capacity, making it one of the larger water tank options on the market. Also, don't expect this hot water dispenser to take longer when boiling water. Instead, this is one of the best hot water dispensers in that area since it takes seconds even though the water tank is so large.
The 3.5L capacity means it can produce around 24 cups of hot water, cutting down on filling time. However, it won't be ideal for small spaces due to its size.
This hot water dispenser does offer you the chance to choose from five different temperature settings, and that means it changes the boiling point: you can use this hot water dispenser for making a hot cup of tea, coffee, herbal tea, or anything else. It's very useful to know that the Addis 516521 water dispenser will get the water to the right temperature to deliver the best possible hot drink.
From a safety perspective, it does come with boil-dry protection. That means you won't destroy the powerful heating element. This is important because the large tank capacity can lead to us forgetting to fill it up, so having these safety features is key.
Pros:
The large water tank capacity is impressive
It's easy to choose between temperatures
It has a clear display
It protects itself from boiling dry
You can make multiple cups
Cons:
The stainless steel casing is not as good as other models
It is large, so not suitable for small spaces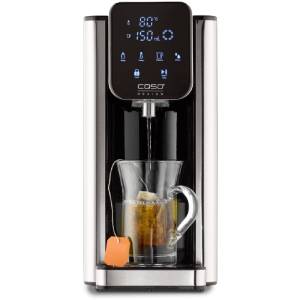 If you have a stylish kitchen, you may want to have the best hot water dispenser both for its capabilities and overall design. This particular hot water dispenser comes with a 2.7L water tank. It also incorporates a digital display on the front, and it's fair to say that this really is the best instant hot water dispenser from a stylish perspective.
This hot water dispenser allows you to produce hot water in seconds, and there's also the ability to select your desired temperature via the easy to use controls. Select your hot water option, hit that button, and you will have a hot cup of water to your desired temperature almost instantly. Just be aware that it may occasionally drip.
It also comes with eight different dispensing settings depending on the volume. This also makes the Caso Turbo hot water dispenser more energy-efficient, so it's not all about the looks with this machine.
Overall, it doesn't do anything different from what you would expect, but it is sleek to look at, which is why this hot water dispenser made it onto our list.
Pros:
The water dispenser is indeed very stylish
It produces hot water in seconds
It has variable dispensing settings
It is energy efficient
The digital display is easy to use
Cons:
Dripping can be an issue
The amount of water it dispenses is often short of what it should be
This particular instant hot water dispenser comes with a 2.5L water tank, and it has the amazing ability to produce hot water for your morning coffee within 8 seconds. It also provides you with the opportunity to only boil what you need, which saves some energy.
To fill it, you can leave it on its stand and take water to it, which means it's safer for anybody struggling to lift a kettle due to the weight. This is just one of several safety features of this hot water dispenser.
This model also looks rather stylish in its design, but overall, we love this model because it uses as little energy as possible while in operation. It may not have as many other features as other hot water dispensers on the market, but it still produces water to the exact temperature you need, which is great if you are a green tea drinker.
Pros:
It is indeed energy efficient
It has multiple safety features
It produces water in seconds
You can fill it without moving the dispenser
It produces the perfect temperature every single time
Cons:
It can leak from time to time
It doesn't really stop without you hitting the button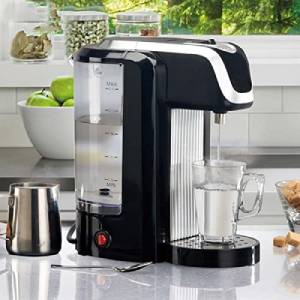 If you worry that your hot water dispenser is very difficult to use, then this model by Bargain Galore could resolve that issue. It comes with a 2.5L water tank, and while it doesn't do too much in the way of offering variable dispense settings, or anything else like that, it does cover the basics.
It has a double button safety feature, and one of the best features is the ability to fill it while leaving the hot water dispenser on its stand. That does make this a safer option for people who struggle to make their morning cup with a normal kettle.
But the best thing about this dispenser is the way that you can control how much is dispensed at any given time. While the dispensing pressure is weaker than other models, and you cannot change the temperature, which influences the quality of your drinks, it is consistent with the water dispensed via this machine.
Pros:
It is indeed very easy to use
It has a large enough water tank
It does have safety features offering you control
It's easy to fill
It produces hot water in seconds
Cons:
It doesn't give you the option to vary anything
The dispensing pressure is weak
Having a built-in filter in your hot water dispenser could be the most important feature you need. So, here we have the Aqua Optima model, which comes with a brilliant water filter built into the machine.
This instant boiling water dispenser also comes with a 3.8L water tank, so that is a lot of cups of tea or coffee from one single fill. But perhaps the best feature is it has a total of 49 different temperature settings, and that means you can make any drink you want.
Also, there's more than just a cup size selector on this model. You can choose from it filling a single cup size up to dispensing 1L at a time, and that is seriously cool. This is all made possible via an easy to use control panel. So even though it has a number of options, it's still not a complicated machine.
But it's the filter aspect that makes this model stand out from the crowd. It actually has a 5-step filtration system, so you only get pure water at the end without any limescale or anything else that may be in it. Basically, there will be no impurities in the water by the time this filter is finished with it.
Pros:
The filter system has to be one of the best on the market
The size of the water tank is impressive
It has so many temperature settings that you can use it for anything
It can dispense up to 1L at a time
It's not that complicated to use
Cons:
It is a large machine, so not suitable for small spaces
If you just want to make a simple cup of tea, then it has more features than you need
How to Choose the Best Hot Water Dispenser
Our hot water dispenser reviews have hopefully made your life that little bit easier when it comes to choosing an instant hot water dispenser. However, you may be interested in trying to find out the best way to decide which option is right for you.
To help, we have a number of tips and pieces of advice that we feel can make a difference.
Capacity
The first tip is to think of the capacity, as there is some variation. We have covered hot water dispensers of all shapes and sizes in our reviews, and you will have noticed that the amount of water that can be held by a dispenser also varies.
In general, we suggest you think carefully about how often you will use it. A 1.8L capacity tank will typically be able to produce between 7 and 9 cups before it has to be refilled. It all depends on how often you want to add water to your dispenser.
Filling and Weight
But rolling on from the capacity aspect is something else that is important, and that is how you fill the water tank and the weight that is then involved.
Keep in mind that if you have to fill the tank at the sink, then a 3L tank filled to the brim will weigh considerably more than a 1.8L tank. If you plan to purchase a hot water dispenser due to the difficulty of lifting a kettle with boiling water, then this weight aspect is something to consider.
If you struggle with the weight aspect, then having a dispenser that is easy to fill, which means you can take an unboiled kettle to the dispenser instead of carrying the dispenser to the sink, might be the better option.
Adjustability When Dispensing
If you plan to repeatedly make the same cup of tea or coffee, then the ability to adjust how much water is dispensed won't be as significant. However, if you love to make different drinks, then the option to adjust this part would come incredibly handy.
The good news is that the different hot water dispensers do make it easy to do this. It really is just the touch of a button. So, if this is key, then you need to look out for it when searching through our reviews.
Also, be aware that not every instant hot water dispenser will come with manual controls to adjust how much water comes out. That does mean you will need to stick with the same size cup to ensure there's no problem.
Water Filters
You may have to also ask a question regarding filters, depending on where you live in the country. A water dispenser may not always come with a filter built into it, which may make a difference. However, the best hot water dispensers do come with the option of including a filter via the water tank, and it does make a difference to the hot drink you can then make.
A permanent limescale filter will also then make it easier when it comes to cleaning. You will probably know how limescale builds in a conventional kettle, so the fact that so many dispensers come with a Brita filter included is a real bonus.
If this is an issue, you should pay attention to the permanent limescale filter. It will extend the lifespan of your hot water dispenser quite considerably.
Cup Sizes
Not every hot water dispenser is suitable for a range of cup sizes. We mentioned this in passing earlier on when talking about adjustability, but this is such an important part it deserves its own tip.
Be aware that not all hot water dispensers have this option of adjusting according to cup size. This will be required if you prefer a hot cup of coffee, or a mug of tea, as an example.
Adjusting the size is easy to do, so don't stress about any of this being complex. That is just not the case.
Temperature Adjustment
Variable temperature control may be an important point for you to consider. A water dispenser with variable temperature control allows you to change the water temperature depending on what you need it for. For example, the water temperature for a hot cup of black tea differs from boiling water for green tea. Also, some models produce water for cooking pasta, and this all requires different temperatures.
So, try to plan ahead and see what you would be using your machine for when it comes to trying to dispense boiling water. It can change how you cook when you can have boiled water at different temperatures.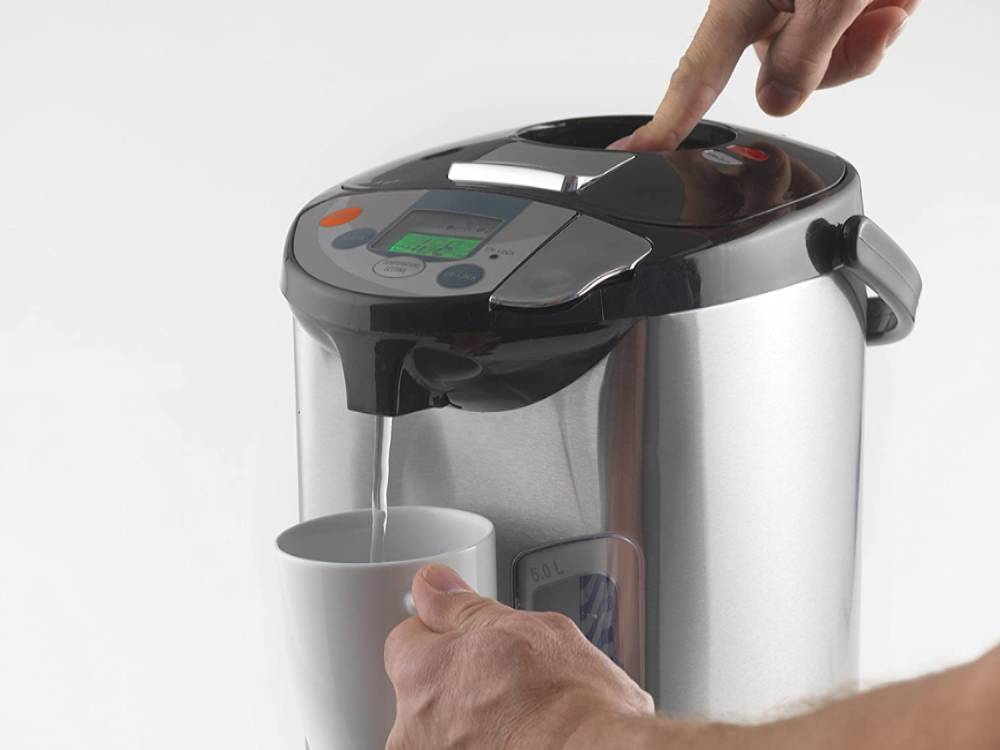 Boiling Speed
Be aware that each electric instant hot water dispenser can boil water for a hot cuppa at different speeds. However, while it's useful to look at how long it takes for a single cup, you need to remember the size of the water tank and the difference it makes when those water tanks are full.
In general, you should be looking at hot water dispensers capable of turning cold water into perfect hot beverages in under a minute for a single cup. Anything longer than that is deemed to be slow, as one cup of water should never take longer than that with these machines.
Admittedly, the time it takes does depend on how you have the temperature control set, as one cup for tea is different to one cup for pasta. However, this should all be well explained, including how to use the variable temperature control before you buy the product.
And those are the key tips for selecting the best instant hot water dispenser on the market right now. As you can see, you do have several elements to think about, and they do go far beyond what you would expect from a normal kettle.
Why You May Want One Cup Kettles
But what happens if you are still undecided as to why you may want a hot water kettle dispenser as opposed to a normal kettle? Well, let's run through the main reason why an instant hot water kettle such as one of those listed above could be such a good idea.
Now, we aren't talking about things such as nine cup sizes, as your usual kettle can do that since you are in control of how much water you pour out. So, let's look at the reason how these water dispensers are capable of outperforming kettles.
If you love herbal teas, then you may find it difficult to get your water to the right temperature. A kettle heats water, but you cannot judge the temperature. It boils water and nothing else.
An instant kettle, such as one of those listed in our reviews, will make a significant difference. It is easy to use since you can set the temperature control depending on what you plan on brewing. You just cannot do that with anything other than an instant kettle unless your regular kettle has a variable temperature function.
Choosing Your Hot Water Dispenser
For us, the best hot water dispenser is undoubtedly the Breville VKJ376 which is our editor's choice. It is not only the best instant hot water machine due to its looks, but also because it does a whole lot more than a normal kettle.
With a built-in water filter, this water dispenser allows you to make a cuppa in under a minute, and it also doesn't take up too much space in the kitchen, thanks to it being relatively compact in size. However, all of the instant hot water dispensers that appear in our reviews are excellent in their own right.
The key is to consider our different tips when making your decision. They will help you decide the features you need, whether it be variable temperature settings or even how much hot water it can dispense at any given time.
There has never been a better time to get your hands on a large hot water dispenser with safety features being common and with so many products out there. Hopefully, after checking out our reviews, you will now find the process of selecting one a whole lot easier.
Additional Resources
Paul is the type of person who never met a problem he couldn't fix. He can always be found tinkering with something in his house, even if it isn't broken! His tips and tricks are often shared on our site. He's the one you call when something breaks because he has been known to improvise fixes for everything from leaky faucets to malfunctioning dryers.