Last Updated on
Our editors independently research the best products online to produce this list. We may receive commission on purchases made from the links below but this will never affect our product choices.
---
Top 9 Best Yoghurt Makers
If you enjoy eating yoghurt regularly, we highly recommend adding a yoghurt maker machine to your collection of kitchen appliances. Yoghurt-making machines allow you to make fresh yoghurt in various flavours with minimal effort whenever you choose. However, to make the most delicious yoghurt, you need to have the best yoghurt maker in the UK.
The question is, what should you look for and where to find the perfect yoghurt-making equipment? This article aims to help you learn how to choose the best yoghurt maker for your needs, offering you a wide range of excellent design styles and features to suit your specific yoghurt-making needs. We have also added a buying guide, so you know what to look for if you don't find here the right yoghurt maker for you.
So without further ado, let's get started!
How we Compared Yoghurt Makers
To find the right yoghurt makers we considered multiple factors, including:
Style
Size
Settings
Cook time
Cleaning ease
Versatility
Our editorial team carefully researched and selected products that would suit a wide range of needs to take your kitchen experience to the next level. We set out this list after assessing customer reviews and evaluating pros and cons in line with the above comparison points.
Find more about our behind-the-scenes process here.
Yoghurt Maker Reviews
The Country Trading Co. Culture Cupboard is the top all-around choice for our best yoghurt makers list. This non-electric yoghurt maker makes bulk batches of regular and Greek yoghurt and produces more probiotic bacteria than other capsules.
This top option is both simple to use and clean. It has a compact size featuring a durable double-walled stainless body and a 1-quart glass jar interior. This entire yoghurt maker device is plastic-free making it more durable and environmentally friendly.
The Culture Cupboard contains a recipe book explaining the easy 4-step recipe process, approximately 14 hours to complete. You can use other standard mason jars if you desire more pots.
Regretfully, this yoghurt maker doesn't retain heat super well in a colder room due to a lack of insulation on the lid. We recommend warping it in a towel or storing it in a cupboard while making yoghurt to help remedy this issue.
Pros:
Simple to use and clean 
Non-electric 
Compact for storage
Plastic-free design 
Double-walled stainless and glass
Cons:
May not feature insulation on the lid 
May not retain heat well in colder rooms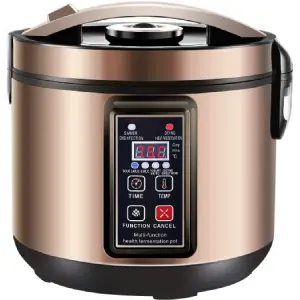 The MLGB Multifunctional Fermenter is fully automatic and highly versatile, making this an excellent luxury option. If you are looking for one machine to reduce the need for multiple kitchen appliances, this could be the best yoghurt maker for your needs.
This electric yoghurt maker features a stainless steel 6-litre inner pot for making large batches of fresh yoghurt. It has comprehensive heating around the entire pot, including underneath and above, for consistent yoghurt in as few as 8 hours. The MLGB also features a fully adjustable temperature range and a digital timer on its large control panel.
This machine can also make fruit wine, sweet rice wine, kimchi, black garlic, enzyme, fruit vinegar, baking yeast, and natto. A stainless steel basket comes included to help make black garlic.
Some of the cons for this yoghurt machine include less detailed instructions, a larger machine footprint, and reports of the rubber seal hardening over time. 
Pros:
Multi-functional electric yoghurt maker
Fully automatic machine
6L fresh yoghurt capacity
Comprehensive heating 
8-hour yoghurt setting 
Cons:
A larger footprint may be too big for smaller kitchens
Less detailed instructions may be difficult to operate
Rubber seal could harden over time 
If you are searching for a great value alternative to store-bought yoghurt, the EasiYo Non-Electric yoghurt maker could be just the tool you are searching for. It has a compact design making it easy to store and is a great beginner yoghurt maker choice.
The EasiYo yoghurt maker features a thermos style design that is easy to use and clean. It makes larger, single flavour 35 oz batches without significant counter space.
Thanks to the unique baffle system used by the EasiYo, this basic yoghurt helps you make regular fresh yoghurt in a simple three-step process. Just add the ingredients, shake, and sit while the yoghurt cultures activate and the milk thickens.
You may experience a trickier screw thread on the lid with this option. It also has a flimsier inner container and could be less durable overall when compared to other top yoghurt making machines on our list.
Pros:
Easy to clean 
Easy to use 
Compact design 
Excellent value 
Unique baffle system 
Cons:
Screw thread on the lid may be trickier
Inner container may be too flimsy
Maybe less durable overall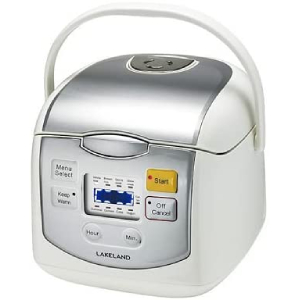 The Lakeland Multi-Cooker Mini could be the best yoghurt maker for you if you are searching for high versatility in a compact, space-saving machine. Thanks to its digital control settings, this white and silver multi-cooker is easy to use.
This digital yoghurt maker features an LED digital control panel with eight preset programmes that you can activate with a one-touch power button. It also features a temperature range with a keep-warm function and a live countdown of the digital timer. The inner pot is non-stick, making it easy to clean and 1.4-litre capacity.
Aside from making regular and Greek yoghurt, this machine can also make soup, casserole, curry, oatmeal, rice, cake, and more. It has a carry handle, rice paddle, measuring cup, and three-year return policy to enhance the design. 
Among the drawbacks to this yoghurt maker include its less detailed instruction booklet and having a less durable lock latch.
Pros:
8 one-touch programmes 
Multi-cooker capability 
Compact space-saving design 
Digital control panel 
Countdown timer 
Cons:
Lock latch may be less durable
Less detailed instructions may be difficult to understand
The Duronic YM1 Electric is another fantastic option on our best yoghurt maker reviews list. It is easy to use, clean, and good to make yoghurt in larger batches.
The YM1 yoghurt maker by Duronic has a large 1.5-litre inner ceramic pot capacity for bulk production of yoghurt. It has a digital control panel with an adjustable temperature range and cooking time. The keep-warm function and an automatic shutoff function can make yoghurt in as few as 8 hours.
This machine comes with one large yoghurt pot, but smaller individual serving size pots are available for purchase if you prefer to make different flavours at one time. All of its parts are safe to go in the dishwasher.
Be aware, due to the bowl's design. It is trickier to insert and extract without putting your fingers inside. This yoghurt maker may also have less consistent heat dispersal resulting in an inconsistent yoghurt texture.
Pros:
1.5L capacity
Ceramic inner pot 
Easy to use digital display 
Safe to go in the dishwasher
Automatic shutoff 
Cons:
May have to search for recipes online
Bowl may be trickier to insert and extract 
Inconsistent heat dispersal may affect yoghurt texture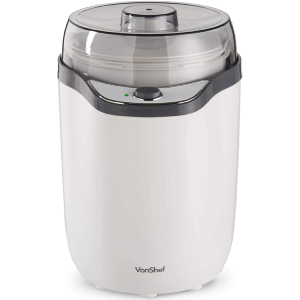 The VonShef One-Touch is a great quality option that allows you to make Greek and regular yoghurt. It also makes a good choice if you are searching for a machine that comes with two different sized pots.
This VonShef yoghurt maker features a 1.8-litre capacity when using the larger internal pot. Aside from the two removable containers, it also comes with a strainer. It has an easy to use the one-touch power button for automatic yoghurt making with minimal effort on your part.
This yoghurt maker comes in a compact package and can make yoghurt in about 10 hours. A two-year warranty is also included to back the product's quality and craftsmanship.
Unfortunately, this yoghurt maker does not have dishwasher-safe components, so you'll have to wash the pots by hand, which may take more time to clean. It also lacks an automatic shutoff function, and the smaller strainer is not large enough to strain your yoghurt in one batch. 
Pros:
Small and large containers 
Compact quality design 
2-year warranty included
One-touch power button 
10 hour cook time
Cons:
Parts may be hand-washed only
May not have automatic shutoff function
A smaller strainer may not be large enough for a whole batch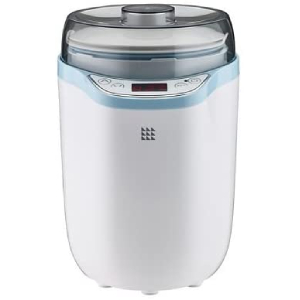 The Lakeland Single Container Yoghurt Maker brings you quality and versatility. It comes with two different-sized pots and is great to make regular and Greek-style yoghurt and soft cheese. 
With this device, you can choose between making a 1.8 or a 1.6 litre batch of yoghurt. It has a digital control panel with adjustable time and temperature range controls and can make yoghurt in as few as 8 hours plus the time required for chilling.
In addition to the two pots, this model also comes with a fine mesh strainer to help make Greek yoghurt. It also comes with several yoghurt and cheese recipes and a 3-year return policy guaranteeing quality and craftsmanship.
While this yoghurt maker stands out for several reasons, the parts are not designed to go in the dishwasher, and it does not alert you when the yoghurt is ready. There are also reports indicating that the thermostat is less accurate.
Pros:
It makes yoghurt and soft cheese 
Adjustable timer and temperature
3-year returns 
Two container sizes 
Easy to use 
Cons:
May not have an alert when ready 
It may not be dishwasher safe 
The thermostat may be less accurate
The Lakeland 7 Jars yoghurt maker includes seven individual jars so that you can make preportioned yoghurt in a variety of flavours in one batch. This is also a good option if you seek a machine with rapid cook times. 
This yoghurt maker features a large digital control panel with an adjustable timer and temperature range controls. It can make fresh yoghurt in as few as eight hours when using whole milk and about 12 hours when using skim milk.
The Lakeland design with seven glass jars is dishwasher safe, making it clean. It also comes with a three-year return policy to ensure you are completely satisfied with your purchase and back craftsmanship and quality.
Be aware; this Lakeland yoghurt maker is not ideal for larger batches of yoghurt. Additionally, the temperature control could be less consistent and may fluctuate somewhat, resulting in the centre jar not always heating properly.
Pros:
It comes with seven jars 
The large digital display panel 
Dishwasher safe
Adjustable temperature and time controls 
Yoghurt in 8-12 hours 
Cons:
Temperature control may be less consistent
It may not be ideal for larger batches 
The middle jar may not heat properly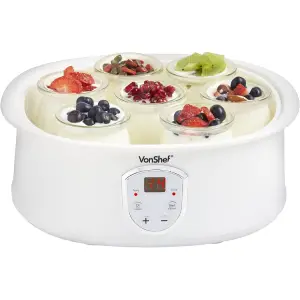 The VonShef Digital 7 Jars is another great choice for the best yoghurt maker in the UK for anyone seeking a yoghurt machine that is good for making different flavours at the same time. It has a contemporary design style, and its sleek white shell and internal components are easy to clean.
This yoghurt maker comes with seven 200ml glass jars that make as much as 1.5 litres of yoghurt at one time. It has advanced control settings with a digital LCD control panel that enables adjustable temperature and timer settings. 
In addition to yoghurt, this VonShef model can make a variety of dips and other sauces that need to be cooked at a low temperature. This yoghurt maker model comes with a two-year warranty included to give you peace of mind. 
Keep in mind, this yoghurt maker option has a larger footprint and uses quite a bit of countertop and storage space. In addition, it does not come with any recipes included, and a lower durability overall is possible with this machine.
Pros:
7 200 ml glass jars 
Easy to clean 
Digital LCD 
Adjustable time and temperature settings 
Easy to use 
Cons:
A larger machine footprint may not be ideal for smaller kitchens
May have to search for recipes online
Lower durability possible
What to Look For in the Best Yoghurt Makers
Above are our top contenders for the best yoghurt maker in the UK. Don't worry if you are still undecided on which yoghurt maker is the right one for you! In this buying guide, we hope to answer any lingering questions you may have about these devices and how to choose the right model.
Style
Yoghurt makers come in two main styles: electric and non-electric. Electric yoghurt makers feature more advanced control settings and make smaller individual-sized portions in one large batch. Non-electric yoghurt makers do not require electricity but often take longer to make yoghurt.
We recommend determining which type you want early on to narrow down the choices.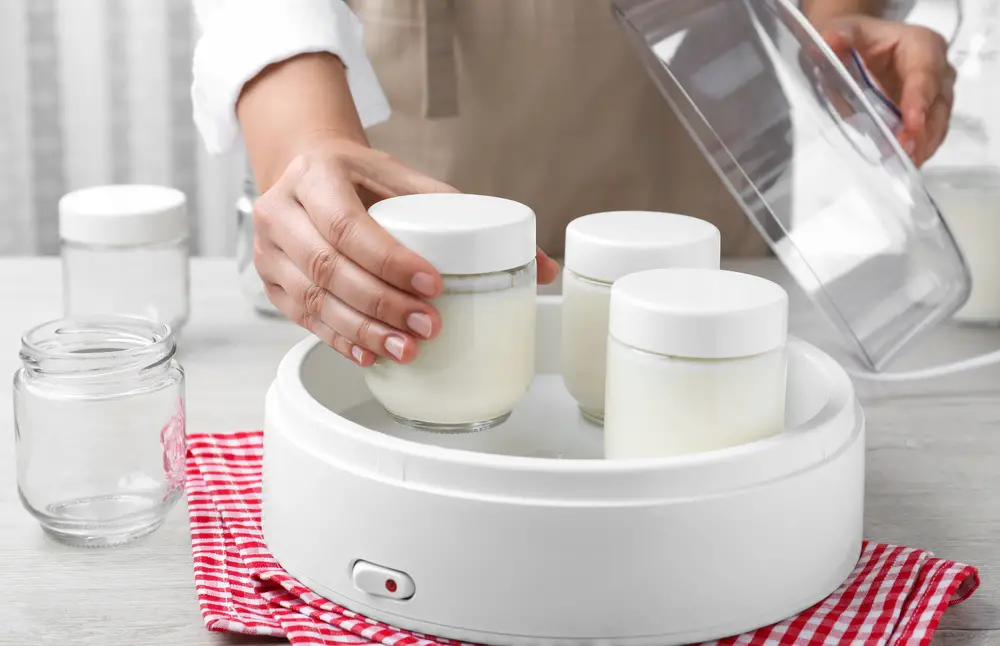 Size
The size of a yoghurt maker and the amount of yoghurt it makes in a single batch are important traits to look for when comparing your options.
Would you be better served by a yoghurt maker that makes one large batch with a uniform flavour? Or, do you want to make individual portions in various flavours? Either way, there are a variety of models on our top 10 list to accommodate your size and capacity preferences.
Settings
We also recommend considering the settings provided by a yoghurt maker when comparing your choices. Some yoghurt makers offer advanced settings to manipulate temperature and cooking time. Other handy settings include a countdown timer, an auto-shutoff function, and an alert that notifies you when your cooking process is complete.
Cook Time
The amount of time needed to cook yoghurt varies depending on the specific yoghurt maker model and the type of milk you use. Yoghurt makers generally take between 8 and 14 hours to make yoghurt. In addition, skim milk typically takes longer to turn into yoghurt than whole milk. If you want to make yoghurt faster, look for machines with a cook time of around 8 or 10 hours and use whole milk as the base.
Cleaning Ease
We think the best kitchen appliances are easy to clean, yoghurt makers included. Many options on our best-of list feature dishwasher safe components, making cleanup as easy as rinsing and sticking the parts in your device. However, even the options that do not feature safe dishwasher parts are fairly easy to clean by hand.
Versatility
While many yoghurt makers are only designed to make yoghurt, a wide variety of machines can also make different types of foods. If you choose a device that can make more than just yoghurt, you will increase its usability and versatility and, ideally, minimize your need for additional kitchen appliances.
Common bonus cook modes found in yoghurt maker machines include settings that make foods like rice, cake, soup, roasted garlic, dips, curries, and various other low-temperature food recipes.
Benefits of Using a Yoghurt Maker
Yoghurt makers pose a series of benefits. Compared to store-bought yoghurt, the yoghurt you make at home is significantly fresher and does not contain any added preservatives, colours, or thickeners. Yoghurt makers also allow you to choose specific ingredients, like skim milk, resulting in a healthier finished product if you so desire.
Is Making Yoghurt Cheaper Than Buying It?
Another one of the main benefits of using yoghurt makers is that they are cheaper to use. Buying the ingredients to make yoghurt, which includes the milk and the culture packets, is less expensive than buying store-bought yoghurt. We recommend buying the culture packets in bulk to make them as cost-efficient as possible.
How Does a Yoghurt Maker Work?
Yoghurt makers are generally easy to use and require only a couple of steps to complete the entire process. For the most part, you add the ingredients to the yoghurt maker, turn it on, and wait for it to complete the job. The yoghurt maker itself cooks the cultures and milk in a low-temperature setting for an extended period.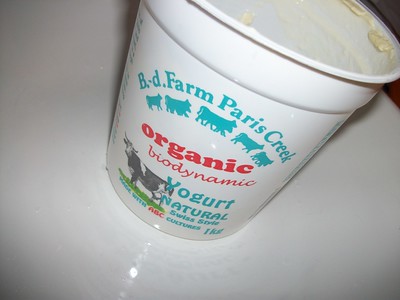 What Is the Best Temperature to Make Yoghurt?
The best temperature to make yoghurt depends on the type of yoghurt you are making. However, as a general rule of thumb, a temperature ranging between 37 and 46 degrees Celsius is best. This temperature range gives the ingredients time to ferment while keeping the bacteria or cultures alive, which is important for health benefits.
The Right Yoghurt Maker for You
Now that you have read through our yoghurt maker reviews and our buying guide, let's review our Editor's Choice before making your final decision.
Everything in our list is a great choice for the best yoghurt maker in the UK, but if we have to choose one, our most favourite yoghurt maker is the non-electric Country Trading Co. Culture Cupboard. We love that it is simple to use and clean, compact for storage, and has a double-walled stainless and glass design that is plastic-free.
Do you have other suggestions for yoghurt makers? How was your experience, and what makes them stand out? Let us know your thoughts in the comments below!
Additional Resources