Last Updated on
Our editors independently research the best products online to produce this list. We may receive commission on purchases made from the links below but this will never affect our product choices.
---
Top 9 Best Vacuum Sealers
If you don't already own a vacuum sealer, you should consider buying one. Inexpensive and easy to use, these vacuum sealers can revolutionise the way you shop for food while also helping you to save space, money and time. Sounds too good to be true? Find out all you need to know about vacuum sealers right here, including how to choose the best vacuum sealer in the UK and the numerous advantages that you can benefit from when you invest in one.
How We Compared Vacuum Sealers
To find the right vacuum sealers we considered multiple factors, including:
Ease of use
Design
Extra modes/functions
Value for money
Included accessories
Our editorial team carefully researched and selected products that would suit a wide range of needs to take your kitchen experience to the next level. We set out this list after assessing customer reviews and evaluating pros and cons in line with the above comparison points. 
Find more about our behind-the-scenes process here.
Best Vacuum Sealer Reviews
Thanks to its easy-to-use design and excellent performance, the Caso VC10 is our overall favourite and editor's choice. Powerful yet lightweight, this top-rated vacuum sealer makes a great buy for your kitchen.
This food vacuum sealer is fully automatic, making it very easy to get the hang of using. Its simplified control panel has three large buttons, designed to be easy to press even after handling food. Use the seal button to reseal packets without vacuuming, ideal for snacks, or the seal and vacuum for a strong vacuum seal. The stop button allows you to vary the vacuum strength according to the type of food you're packaging. 
Thanks to its electronic monitoring system, this model ensures that your sealer bags won't melt with the heat ensuring you get a perfect seal every time. At 30cm wide, its extra-wide sealing strip means it's a good size for all standard vacuum bags and rolls. Plus, it also comes with ten vacuum bags to get you started, as well as an English user guide.
There are just two things to bear in mind if you decide to go for the VC10. Firstly, the writing on the buttons may be in German, and secondly, given its high suction power, it can be a little noisy.
Pros:
Fully automatic
Electronic temperature monitoring
30cm maximum bag/roll width
Includes user guide and ten vacuum sealer bags
Cons:
Button writing may be in German
May be a little noisy
With an impressive number of features, stylish stainless steel exterior and handy vertical storage design, the FFS005X by popular brand FoodSaver is our top luxury pick. 
Thanks to its moist and dry food settings, the FFS005X makes vacuum packing all food types extra easy. Plus, it even has a delicate mode for fragile items and a marinade mode, making it a good vacuum sealer for meat. Use the automatic vacuum and seal operation for vacuum sealing all standard foods or the seal only button to create a bag from a roll or to reseal open packaging. 
Aside from its sleek design that allows for space-saving vertical storage on your worktop, one of the main advantages of this particular food vacuum sealer is its built-in roll bag storage compartment, complete with an integrated bag cutter. It comes complete with a dishwasher-safe drip tray, an accessory hose, a vacuum canister, a vacuum roll, ten bags and a well-written instruction manual. You'll have everything you need to get started vacuum sealing. 
Unfortunately, the included vacuum container could be improved to ensure a better seal, and you may find it takes you a short while to get used to this model's closing mechanism. However, these observations do not detract from this food vacuum sealer's overall excellent performance.
Pros:
Sleek stainless steel design
Moist, dry, marinate and delicate settings
Built-in cutter and roll storage
Includes one roll, ten bags, a container and an accessory hose
Cons:
The container could be improved
The closing mechanism may take some getting used to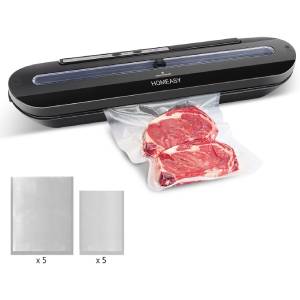 If you're not sure how much use you'll get out of a food vacuum sealer, you may want to try out a good value model first rather than splashing out on other versions. The Home Easy One-Touch is our best value pick. 
This best value model has a compact, space-saving design, making it a good choice, even for small kitchens. Its one-touch operation means it is fully automatic. Simply place your vacuum sealer bag inside the machine, close and press the vacuum and seal button. You can press it again to stop the process for delicate items, plus you can also use this model in seal mode without vacuuming – handy for resealing snacks.
This vacuum sealer also has a really useful indicator light that turns green when it has finished sealing, so you know just when it's time to remove your bag. 10 BPA-free sealer bags are included with your purchase, making this vacuum sealer fantastic – ideal for trying out vacuum sealing for the first time or anyone needing an appliance for occasional use.
On the downside, you may find that the side clasps are a little stiff when using this food vacuum sealer. However, its main disadvantage may well be its poorly translated instructions that could be difficult to follow.
Pros:
One-touch operation
Indicator light
Compact design
Includes 10 BPA-free vacuum bags
Cons:
Side clasps may be a little stiff
Instructions could be written in better English
The FFS015 by FoodSaver, the original consumer vacuum sealing system, is our best pick for easy storage thanks to its compact design that can be stored vertically on your worktop, saving space inside your cupboards. 
This new FoodSaver vacuum sealer machine features an intuitive one-button mechanism for one-touch vacuum and sealing, complete with progress indicators so you can tell when a vacuum has been created. Use the seal-only function to reseal packets or make sealer bags from a roll. Thanks to this model's most/dry food function, you can adapt the seal level to better suit the type of food you vacuum packaging. 
Thanks to its removable, dishwasher-safe drip tray, you can keep this food vacuum sealer perfectly clean with next to no effort, even when packaging moist foods. The FFS015 comes complete with five small vacuum bags, five large ones, a 28cm x 3m long roll and an accessory hose for use with FoodSaver's extensive range of additional accessories and food containers. 
Bear in mind that the locking system on this model can be a little stiff, so some force may be required to close it tight enough to ensure it activates. Also, it is worth pointing out that this model does not come with a built-in cutter, which may be a slight disadvantage if you prefer to use rolls over individual bags.
Pros:
One-touch vacuum and seal operation
Dishwasher-safe drip tray
Moist/dry food function
Includes ten vacuum bags, 28cm x 3m roll and an air suction hose
Cons:
The locking system may be a little stiff
May prefer a model with a built-in cutter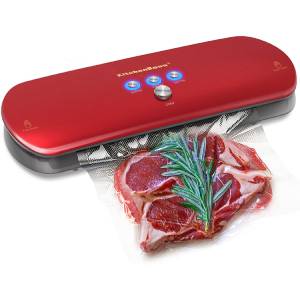 The KitchenBoss G200 comes complete with a vacuum hose and 20 sealer bags, making it our best model with a starter kit – ideal if you are new to vacuum sealing. 
Its compact design ensures this vacuum sealer machine won't take up too much space on your worktop, while its high-gloss finish makes for easy cleaning and stylish looks. Thanks to its three-button controls, you can adjust the sealing and vacuuming process to suit the foods you are preserving.
Use the manual vacuum button to incrementally increase your machine's vacuum intensity when vacuum sealing fragile items. The middle button allows you to vacuum and seal automatically with one touch, while the third button is for seal only mode. With its maximum 30cm seal width, this model can be used with standard vacuum seal bags making restocking much easier than ordering in a special brand. 
On the downside, the instructions could do with some improvement, although the food sealer itself is easy to use. If you have used more expensive models in the past, you may find that this model's suction could be a little stronger, although it is perfectly fit for service.
Pros:
Three controls for varied sealing
One-touch automatic vac and seal
Easy-clean gloss finish
Includes vacuum hose and 20 sealer bags
Cons:
Suction could be stronger
Directions could be improved
Are you looking for an easy to clean vacuum sealer? The Bonsenkitchen 2-in-1 Vacuum Sealer machine features removable lids with a washable bottom lid allowing you to rinse it off to ensure your sealer stays hygienically clean. 
Featuring dry and moist modes, this 2-in-1 vacuum sealer allows you to adapt your bag's seal depending on the type of food that you are preserving. It also has a one-touch automatic vacuum and seal button, a seal only function, as well as a handy cancel button. Indicator lights let you know which type of food mode you have selected.
This vacuum sealer also boasts a compact design, taking up a minimum of space on your kitchen worktop. Easy to use with its four central buttons, this model also has great value and is well worth considering if you are looking for a model to try out before investing in a more exclusive version.
Bear in mind that the instructions included with this vacuum sealer may be unnecessarily complex, making them too difficult to follow. Also, as this may not be the most durable food sealer, it could be less suitable for regular use.
Pros:
One-touch vacuum and seal
Dry and moist modes
Removable top and washable bottom
Includes a cutter and a bag roll
Cons:
It may not be the most durable
Instructions may be too difficult to follow
This stylish looking vacuum sealer machine by Tobeelec boasts five vacuum modes, plus a modern user interface, making it a popular choice.
Thanks to its one-touch operation, this model is very easy to use. Simply select one of the top buttons on the touch panel to automatically vacuum and seal. Choose between dry and wet modes, gentle and seal only, to ensure that you get the best performance to suit your food type. This vacuum sealer also comes with an integrated air suction hose that can be used to remove air from open wine bottles or canisters.
Thanks to its modern LED progress bar, you can tell when your machine is about to finish sealing. It comes complete with a removable, washable drip tray for an easier and more hygienic clean-up after use. Compatible with most types of vacuum sealer bags on the market, this model comes complete with a small cutter, five BPA-free vacuum seal bags and a user guide.
As this food sealer needs regular breaks between each use, it may be less suitable if you are looking for a vacuum sealer for preserving large quantities of food. Also, rated at 60dB, it may be considerably louder than some other models. 
Pros:
Five modes
Touch controls with LED progress bar
Washable drip tray
Includes a cutter, five heat seal bags and a user manual
Cons:
May be less suitable for vacuum sealing large quantities
It could be a little noisy
With its built-in cutter and three selectable modes, the Goscien VSM-001 vacuum sealer machine has some great extra features at a good value, premium vacuum sealers.
This vacuum sealer has a fully automatic vacuum sealing operation for extra ease of use. Choose between dry, gentle and most modes to ensure you get the best seal on your bag for the food you are preserving. Thanks to its soft-touch digital buttons complete with LED indicators, it is easy to see at a glance what settings you have selected. This unit can also be used to seal as well as vacuum and seal simultaneously.
This vacuum sealer machine comes with an air hose for wine bottles and vacuum canisters. There is also a built-in cutter, plus a washable removable drip tray for easy cleaning. Thanks to this model's compact design, it won't take up too much space in your kitchen. This sealer comes complete with ten vacuum bags, the hose and a user manual.
Unfortunately, this model may not be the most durable. Also, the sliding cutter design may need a rethink as it is quite tricky to use correctly. 
Pros:
Dry, gentle and moist modes
Soft-touch buttons with LED indicators
Washable drip tray
Includes a hose, built-in cutter and ten vacuum bags
Cons:
Cutter design may need improving
It may not be the most durable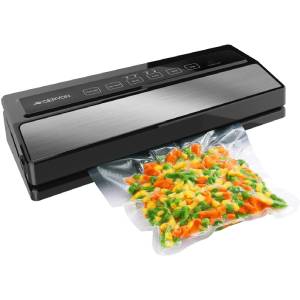 If you're short on space in your kitchen, the Geyron 4-in-1 Vacuum Sealer Machine, with its space-saving, compact design, could be your best choice. 
This food sealer features a 4-in-1 vacuum sealing system. Use the seal function to reseal open packets and the vacuum seal button for long term perseveration. Then, press 'canister' to use the included vacuum hose with bottles and jars or the food mode selection to alter your seal to better suit your food type. The Geryon 4-in-1 has a sleek, modern design complete with soft-touch digital buttons and indicator lights for an enhanced user experience. 
One of this model's main advantages is that you can entirely remove the top for easy cleaning, giving you easy, unhindered access for cleaning out the vacuum chamber and changing the gaskets. This vacuum sealer comes with an air suction hose, five vacuum bags, a vacuum roll and a user manual. 
On the downside, the buttons on this unit may be a little annoying as they are extremely sensitive, so the slightest touch could end up starting up your machine or switching modes. Also, the vacuum seal could be more reliable to ensure that it functions every time.
Pros:
4-in-1 vacuum sealing system
Fully automatic sealing operation
Detachable upper lid
Includes five seal bags, one vacuum sealer roll, air suction hose and manual
Cons:
Buttons may be too sensitive
It may not be the most reliable
Advantages of Vacuum Packing Food at Home
Vacuum packing your food helps to keep it fresh for longer. Exposure to the air can cause your food to lose its freshness; when you use a vacuum sealer, you remove the air from your food's packaging to ensure that it still tastes and looks great, even weeks or months later.
Here are some of the main advantages to vacuum packing your food at home.
Save Money
A vacuum saver is a great way to save money on your shopping. As you can keep food fresh longer with a vacuum sealer, it means you can take advantage of supermarket special offers and buy in bulk. Reducing the amount of food waste will also save you a lot of cash.
Save Time
Busy week ahead? We all know homemade food is best, but preparing dinner at home every weeknight after a long day at work can put a serious dent into even the very best of intentions. Save time and cook ahead, reducing food waste. With a vacuum sealer, you can freeze meals, and they will not only keep for months and years, but they will also still taste delicious.  
Save Fuel
When you know you can extend the shelf life of your fresh produce, you can stock up on all of your favourites, as well as the household essentials. This can help you save money on your fuel bills by driving to the supermarket every couple of days. What's more, fewer visits to the supermarket also means less impulsive, unnecessary purchases, which also translates to further savings. 
Better Marinades
Using food vacuum sealers to marinate your meats is a great way to more flavour in a shorter time. It's a great way to get a quick lunch ready without having to remember to marinade the night before. Simply place your marinade and meat in a vacuum bag and vacuum seal. It will be beautifully flavoured, tender, and ready to cook in just half an hour. 
Portion Control
If you're on a diet, using a vacuum sealer is a great way to portion up your meals and any treats you may occasionally indulge in. Let's face it; once you've cooked up a tasty meal, it's all too easy to go back for a second helping or to carry on eating snacks once the packet has been opened. Armed with your vacuum sealer, you can easily portion up your calories for the days ahead and even write down nutritional information on your sealer bags to help you to stay within your calorie intake goals. 
Sous Vide Cooking
If you want to try out sous vide cooking, you will need a vacuum sealer. Sous vide involves cooking vacuum-packed ingredients in a pan of water at a precise temperature, usually for several hours. This will give your food an incredibly tender texture with a full flavour.
Meal Planning
If you're into bulk cooking, then your vacuum sealer is about to become your new best friend. Food vacuum sealers make meal planning much easier and allow you to easily store and label your meals as far ahead as you care to cook. 
Save Space
Getting rid of the original packaging and removing the air from your food can save you a huge amount of food storage space inside your fridge freezer. Save even more space by stacking your vacuum-sealed bags vertically. This will also allow for easier access when you're choosing which home-cooked meal to enjoy tonight. 
Prevent Freezer Burn
As vacuum sealers remove the air from your food and its packaging, they also prevent freezer burn from forming.
What to Look For in a Vacuum Sealer
Are you having difficulty choosing the best vacuum sealer in the UK? Here's what to look out for when choosing a new food vacuum sealer machine.
Sealing Modes 
If you are going to be doing a lot of vacuum sealing, you'll want to invest in a model with several different sealing modes to better accommodate different food types. Here are some of the most popular vacuum sealing modes:
Dry Mode – for snacks (crisps, cakes, biscuits etc.) and dry goods (pasta, bread, sugar, herbs etc.) 
Moist Mode – for moist foods, including meat, fish, sauces, most cooked dishes, liquid foods, fruits and other wet foods.
Delicate Mode – vacuum sealing at reduced power to prevent delicate foods such as biscuits, eggs, and fruits from breaking.
Marinade Mode – a special mode that is compatible with liquids for easier marinating.
Controls
Almost all food vacuum sealers will have an automatic vacuum and seal button. This makes it easy to quickly vacuum pack standard food items at the touch of a button. The best vacuum sealers will also have a seal only mode. This is handy for resealing all types of packaging, especially opened snacks. 
We also recommend looking out for food sealer machines with a cancel or stop button. However, some models without a dedicated button may stop automatically if you press the same button a second time. If your vacuum sealer comes with an accessory hose, it will probably also have a dedicated control button. 
Controls should be easy to press, even in the kitchen when you may have your hands full or covered in meat juices or oil. Indicator lights next to your controls are a good way to display your current settings, allowing you to alter them before you start vacuuming. 
Footprint
If you're short on space in your kitchen, pay particular attention to your vacuum sealer's dimensions. Most models are around 30cm wide, with varying profiles. Choose a compact handheld vacuum sealer if you will be leaving it out on your worktop, or opt for a lightweight version if you are going to be putting it away and taking it back out regularly. 
Price
Like most things in life, you tend to get what you pay for, and quality comes at a price. However, you should also consider your anticipated vacuum sealer usage. If you haven't used vacuum sealers before, you may want to start with a good value model to see just how much you actually use it before sending more money on the best food vacuum sealer on the market. 
Cheap vacuum sealers start at around £30, making them a really good bargain considering what you could save on your shopping bill and on takeaways. Premium home vacuum sealers are generally priced at around £100, although you can easily spend more on some of the best models. Commercial chamber vacuum sealers tend to start at around £200. 
Extra Features
Consider the following extra features that you may wish to look out for when choosing your new vacuum sealing machine:
Integrated roll storage
Roll cutter
Removable drip tray
Detachable top/bottom (allows easier access and cleaning)
Vacuum hose
Included food bags and rolls.
Easy to clean exterior
Cord storage
Electronic temperature monitoring
Alternative Uses for Your Vacuum Sealer
While you're probably looking at purchasing a vacuum sealer for your kitchen, vacuum sealers can come in use for loads of other stuff. Here are some of our favourite alternative uses for home vacuum sealers:
Make your own ice packs – for your drink coolers, lunch boxes, transporting shopping or even sprained ankles and minor injuries.
Waterproof your phone – going kayaking or spending time at the seaside? Seal your phone in a bag to waterproof it. 
Protect your documents/old photos – seal your old photos or small documents safely in your food bags to protect them. This is a great way to transport them or provide extra protection when showing them to other people. Unlike laminating, it's temporary. Later on, you can simply cut open the sealed bag. 
Waterproof your first aid kit – especially wound dressings.
Protect your coin collection – vacuum pack your coins and protect them from oxidation and dulling. 
Protect your silverware/silver jewellery – save time polishing and keep your best cutlery or jewellery polished, clean and ready for use in a vacuum-sealed bag.
Packing your holiday toiletries – ever opened your case to find your clothes smothered with sun cream? Safely seal your toiletries and beauty products before they go in your case with your vacuum sealing machine.
Choosing the Right Vacuum Sealer
You've made an excellent decision by choosing to invest in a vacuum sealer. Our editor's choice, the Caso VC-10, is by far the best vacuum sealer in the UK in terms of performance, durability and usability. This fully automatic vacuum sealer machine is straightforward to use, even if you are new to vacuum sealing. 
Thanks to its electronic temperature monitoring, you won't have to struggle with any faulty seals caused by overheating. At the same time, its simplified control panel with three large buttons make it extremely easy to use. Measuring 30cm wide, it is compatible with most UK vacuum bag brands, and it comes ready for use, complete with ten vacuum seal bags and a helpful user guide. Powerful and lightweight, you won't find a better vacuum sealer for the value. 
Additional Resources
Kelly is an expert in consumer product research, which is very important when it comes to finding the most useful and aesthetically pleasing items for your home. This became her passion after finding it very time-consuming to wade through all the product information online.
She has keen attention to detail which she brings to her articles. Kelly's goal is to help you find what you need without spending too much time searching for it.