Last Updated on
Our editors independently research the best products online to produce this list. We may receive commission on purchases made from the links below but this will never affect our product choices.
---
Top 8 Best Upright Freezers
Whether you're short on floor space or want to optimise your freezer organisation, there's never been a better time to invest in an upright freezer with so many fantastic models to choose from. Shop less often, make the most of special offers, bulk cook and rotate your meal plan; there are numerous advantages to having extra freezer space.
Are you thinking about getting one? But, with so many choices in the market, which freezer should you get? It can be quite confusing since this is a great investment for you. But, no need to worry, as we have made this article.
Please find below the best upright freezer in the UK in our reviews and buyer's guide. Read on!
How we Compared Upright Freezers
To find the right upright freezers we considered multiple factors, including:
Capacity
Dimensions
Energy efficiency
Frost free
Internal configuration
Control panel
Suitable for garage/outbuilding
Reversible door
Our editorial team carefully researched and selected products that would suit a wide range of needs to take your kitchen experience to the next level. We set out this list after assessing customer reviews and evaluating pros and cons in line with the above comparison points.
Find more about our behind-the-scenes process here.
Upright Freezer Reviews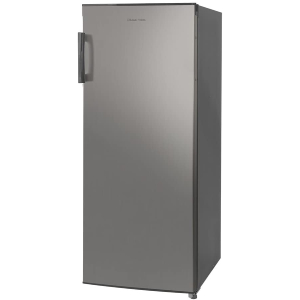 Our editor's choice is the outstanding RH55FZ142SS by Russell Hobbs. Overall, it's the very best upright freezer in the UK thanks to its stylish looks, high capacity and easy-to-organise compartments.
With its 157-litre capacity, this stainless steel effect tall freezer has plenty of space to store a week's worth of food shopping or accommodate a large quantity as an overflow freezer. Thanks to its two flaps and three-drawer interior, you can easily organise the contents so that you won't have to waste time and energy rummaging. 
Set the temperature to suit your food, plus there is a 23-hour power failure safe storage feature to keep internal temperatures consistent as long as possible in the event of a blackout. Suitable for storage in a garage and complete with a reversible door, this upright freezer offers a maximum of placements options, measuring just 55 cm wide. 
The drawers could be more robust on the downside, so care may be needed when removing them fully. Also, the door may be a little stiff to open, given the high-performance seal that keeps the cold in. 
Pros:
157L capacity
Reversible door
Two flaps and three drawers
Manual temperature control
Suitable for garage storage
Cons:
Drawers could be more robust
The door could be easier to open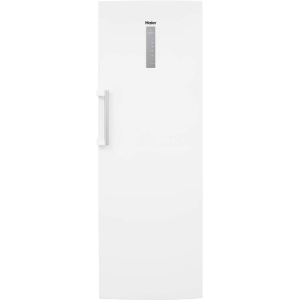 With its good looks and high capacity, the Haier H3F-280WSAAU1 is our luxury choice. The quietest running model in our selection is whisper quiet at 32dB, making it ideal for any home, including small apartments. 
Unlike most other upright freezers, this best tall freezer by Haier can also be used as a refrigerator, allowing you to easily convert between the two – ideal for special occasions or family visits when you need extra fridge space. It has a stylish exterior touch control panel to alter the temperature and function.
With its extra-large 285L capacity, this is the largest upright freezer in terms of capacity in our upright freezer reviews. It is also frosted free for easy maintenance and comes complete with Shock Freeze technology, plus intelligent temperature alerts.
While this is undoubtedly one of the very best upright freezers on the market, the open door alert could be improved. Also, as the external display has to be touched to activate, you will not be able to check on your freezer's temperature from afar. 
Pros:
285L huge capacity
Convertible – use as a freezer or fridge
Frost-free
Shock Freeze technology
Intelligent temperature alerts
Cons:
The alarm could be improved
The external display might only be touch activated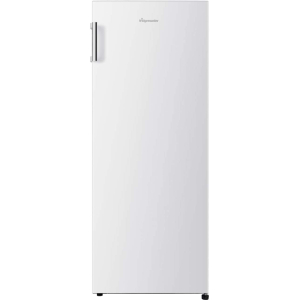 Opt for the Fridgemaster MTZ55153 Upright Freezer, and you'll be left with more money to spend on filling up your freezer, thanks to its low purchase price. 
With a 165L capacity, it can take a lot of food – all neatly organised in the four transparent drawers, plus there is also a convenient open upper shelf for frequently used items. Thanks to its user-adjustable temperature, you can ensure that it's at just the right settings for freezing your favourite food.
Surprisingly, this is a very quiet upright freezer for the money; at 40dBm, it's quieter than most of the other upright fridge freezers in our reviews, making it an excellent choice for homes with limited space. The irreversible door also extends your placement options. 
Unfortunately, as this model is not frost-free, you may have to defrost it from time to time manually. Also, while it is a good, spacious upright freezer, bear in mind that the bottom drawer does not extend back.
Pros:
165L capacity
Four huge drawers and one open shelf
User adjustable temperature
Reversible door
40dB quiet operation
Cons:
Manual defrost may be time-consuming
The bottom drawer may not be very deep
Next on our list for the best upright freezer in the UK is the Beko FFG1545W. Our choice for the best small upright frost-free freezer, combining good value and excellent design to make it one of the best upright freezers on the market. 
This tall upright freezer has a large 177L capacity and comes with five large, transparent drawer compartments. The drawers slide out easily and are nice and roomy, allowing you to stock up on all of your essentials and find them without hassle when needed. 
Other notable features include an alarm for leaving the door ajar, Fast Freeze technology and Freezer Guard technology. The latter allows this upright freezer with drawers to operate perfectly in external conditions as low as -15°C, making this an ideal extra upright freezer to store in your garage or outhouse. 
If you are thinking of going for this frost-free upright freezer, bear in mind that it has a left-hanging door that is non-reversible, limiting your placement options. While this upright freezer is by no means noisy, at 42dB, it is not the very quietest either, rated a D for noise.  
Pros:
177L capacity
Frost Free technology
Five huge drawers
Fast Freeze technology
Suitable for storage in a garage or shed
Cons:
You may not like its non-reversible door
It may be a little noisy
The British brand Cookology prides itself on its range of affordable household appliances. If you are looking for the best quiet upright freezer but don't want to pay out for the Haier and the Fridgemaster isn't for you, then you may want to take a closer look at this model. 
With its 153L net capacity and a four-star freezer rating, this upright freezer can store your frozen food for months on end. It benefits from three drawers and two swing door compartments, making it easy to find frequently used items without disturbing the rest of your organised supplies. 
Thanks to its reversible door, you have more placement options. What's more, given its SN-T Climate Class rating, this upright freezer can be stored and used in outbuildings and garages with a minimum temperature of 10°C.
Unfortunately, as this budget upright freezer has no frost-free function, you may have to manually defrost it from time to time to reduce the ice build. If you think of switching the door orientation, you may find this version unnecessarily complex and opt for another model. 
Pros:
153L net capacity
4 Star Freezer rating
Reversible door
Three drawers and two swing door compartments
Suitable for use in outbuildings from 10-43°C
Cons:
CIt may have to defrost manually
The door could be easier to change sides 
If you are an organised type of person, the Cookology CTFZ163IX is most likely the best upright freezer in the UK for you. It has six transparent drawers, allowing you to store your frozen food by product type, use-by-date, preference, or just about any system that works for you. 
It has a good 163L net capacity, keeping your food frozen at internal temperatures of-18°C. Its handle is located high up, keeping your freezer safely inaccessible to young ones, while the adjustable thermostat is located right at the top.
This upright freezer is suitable for use in your kitchen, where you can easily retrofit its reversible door and handle to open to the left or right. Otherwise, it is also designed to perfectly function in an outbuilding or garage with a minimum ambient temperature of 10°C. 
However, bear in mind that as it is not frost-free, so this upright freezer may need manually defrosting from time to time. Also, at 42dB, there are quieter models on the market; however, this one is by no means loud. 
Pros:
163L net capacity
Four-star rated
Six transparent drawers
Suitable for use in outbuildings (from 10°C)
Reversible door
Cons:
May need manual defrosting
It could be a little quieter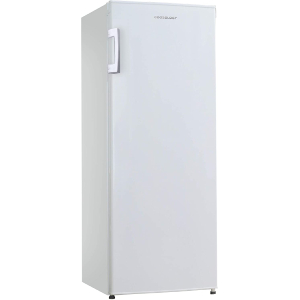 The Cookology CTFZ160WH is our best small upright freezer pick. Despite its average 142cm height by 55cm width, this model gives you a large 153L net capacity – more than enough for a family's weekly shop.
With its four-star freezer rating, this upright freezer will keep your frozen food safe for consumption for months long. Thanks to the three drawers and two swing door compartments, organising your frozen items and quickly finding them again when needed is easy.
This freestanding upright freezer features a reversible door for multiple placement options within your home, including a utility room. Alternatively, you can also store it in your garage or any outbuildings where the temperature does not fall below 10°C. 
As this standalone freezer is not frost-free, it may need a manual to defrost from time to time. Also, you may wish to purchase a glass shelf for the upper compartment to prevent your food's packaging from directly contacting the lower cooling element. 
Pros:
153L net capacity
Four Star freezer rating
Reversible door
Three drawers and two swing door storage compartments 
It can be stored in outbuildings between 10-43°C
Cons:
May need regularly defrosting by hand
May want to purchase a shelf for the top compartment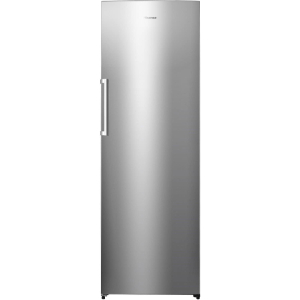 With its impressive 235L net capacity, the Hisense FV306N4BC11 Upright Freezer is almost as spacious as the luxury Haier model, making it our best large capacity upright freezer – ideal for your big family. 
This tall frost-free freestanding freezer has a stylish stainless steel effect exterior, with an easy-to-use digital temperature touch control panel on the inside. Multi Air Flow technology ensures that your freezer benefits from circulating chilled air, while the Super Freeze function rapidly freezes new items – ideal for freezing batch cooking.
With its pull out drawers, ice cube tray box and two open shelves, this stainless steel coloured upright freezer makes it very easy to organise your frozen items. Despite its numerous advanced and easy-to-use features, this freestanding freezer remains a reasonably priced model to keep your food fresh.
On the downside, whilst this upright freezer is by no means loud, at 43dB, it is the loudest model in our reviews. Also, the door may occasionally be a little difficult to open, given its highly effective seal. 
Pros:
235L net capacity
4.5 drawers and two shelves
Digital display with easy temperature control
Fast Freeze function for fresh food
Frost Free
Cons:
The freezer door may be a little difficult to open
It could be quieter
Why Choose an Upright Freezer? 
There are two main advantages of upright freezers. Firstly, they have a small footprint, making them easier to fit into smaller spaces as they take up less floor space than most freezers. Secondly, they are much easier to organise than traditional chest freezers to ensure adequate food rotation without excessive rummaging.
Also, upright freestanding freezers are generally available in a good range of finishes to better suit your kitchen décor. They also often come with extra modern features and capabilities, such as touch controls, alarms and Super Freeze functions. 
How to Pick the Best Upright Freezer
While most upright freezers are fairly similar, paying close attention to the little details will ensure that you find the best new freezer for your home.
Capacity
An upright chest freezer capacity is measured in litres. For a household of three to four persons, a freestanding upright freezer with a capacity between 100 to 300 litres should more than suffice, with 150 litres being plenty large enough for most small families. Bear in mind that you will want to keep your frozen food rotated and that a half-empty freezer is less efficient than a full one, as space allows for warm air, which consumes more energy to cool. 
Dimensions
Most standard-sized freestanding upright freezers are approximately 140 to 200cm tall by 55 to 60cm wide and around 55cm deep, not including any handles. These measurements can vary from one model to another. When measuring up your kitchen layout dimensions for a freestanding upright freezer, don't forget to factor in approximately 5cm extra for ventilation. 
Energy Efficiency
Freezers, in general, tend to have a pretty high energy consumption, being on 24/7 all year round. All of the best upright freezers in our reviews are a category F, from A-G energy efficient ratings. If you are more familiar with A+ energy-efficient rated models, you should know that most of these F-rated versions were A+ rated on the old energy scale. Find out more about the new appliance Energy Efficiency Ratings at the Energy Saving Trust. 
Frost Free
Do you have the time to defrost your freezer manually? If so, you could save money and pick up a manual defrost model. If time is precious or it's just a task that you loathe, opt for a frost-free upright freezer and save yourself the hassle. 
Internal Configuration
Upright freezers are a much easier to access, more organised way to store your frozen food. Drawers are good for stocking bags of frozen foods, while shelves are great for frequently used items and stocking products in uniform boxes. Some tall models have shelves only, others just drawers, or you will also find plenty of models with a combination of both. What makes the best freezer depends upon what you tend to fill your freezer with most and what you find easiest to use. 
Control Panel
Do you prefer a model with a simple adjustable thermostat, or would you like to be able to set your freezer's exact temperature? Some newer models also display your freezer's current temperature, which can help you to make the necessary adjustments to set up your freezer for your needs better.  
Suitable for Garage/Outbuilding
If you are looking for an upright freezer for your garage or store in an outbuilding, make sure that your freezer is suitable. Most household freezers are designed to operate at room temperature; however, some models are specifically designed to function at an optimal level at -0°C. 
Reversible Door
If you are short on placement options and think of giving your kitchen a reshuffle, an upright freezer with a reversible door can give you extra flexibility, both today and several years down the line.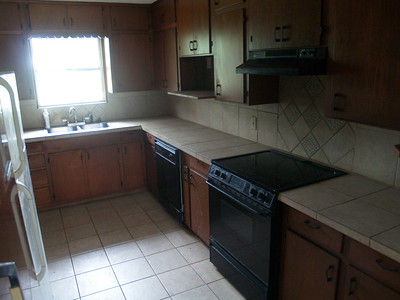 Conclusion
Upright freezers are a great way to organise your household's frozen supplies and take advantage of special offers by stocking up. If you've not yet chosen your new upright freezer from our top-rated reviews, we highly recommend the Russell Hobbs RH55FZ142SS. 
By and far the very best upright freezer in the UK, the RH55FZ142SS has a generous 157L capacity, three large drawers and two flap compartments, not to mention a reversible door stylish look fact that it is suitable for use in a garage. All in all, it's an excellent all-around buy for the money. 
Additional Resources