Last Updated on
Our editors independently research the best products online to produce this list. We may receive commission on purchases made from the links below but this will never affect our product choices.
---
Top 10 Best Pressure Cookers
Looking for the best pressure cooker in the UK store have to offer? Today's article has an array of appliances to assist with your pressure cooking needs and provide a helping hand around the kitchen. Because who doesn't want to reduce cooking time, make kitchen time less stressful, and reduce waste? Whether you're looking for the best electric pressure cooker or something for the stove, these reviews will leave you wondering how you ever coped without a pressure cooker before.
Discover the Best Pressure Cookers in the UK
We want to help you find the best pressure cooker for your needs and budget, which is why we've sifted the internet for the top 10 appliances. Explore our findings below.
How we Compared Pressure Cookers
To find the right pressure cookers we considered multiple factors, including:
Type of pressure cookers
Capacity
Built-in features
Safety features
Pressure levels
Material
Delayed start
Keep warm setting
Automatic pressure release
Ease of use
Spare parts
Our editorial team carefully researched and selected products that would suit a wide range of needs to take your kitchen experience to the next level. We set out this list after assessing customer reviews and evaluating pros and cons in line with the above comparison points.
Find more about our behind-the-scenes process here.
Pressure Cooker Reviews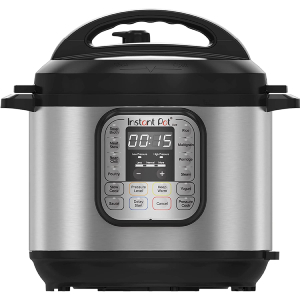 This Instant Pot pressure cooker boasts a convenient and customisable design and can even remember how you prefer to cook. Meanwhile, smart programs, such as "set it and forget it", allow you to get on with other tasks while dinner cooks safely and efficiently.
This seven-in-one pressure cooker includes 13 one-touch smart programs to revolutionise how you cook completely. In particular, its features include Soup/Broth, Meat/Stew, Bean/Chili, Slow Cook, Sauté, Rice, Porridge, Steam, Yogurt, Multigrain and Poultry, Keep Warm, and Pressure Cook.
It is designed with a spacious 5.7-litre capacity. This Instant Pot kitchen appliance can cook up to five dishes at once, so you needn't own multiple kitchen appliances as this can replace all of them. Above all, electric pressure cookers are easy to use thanks to their LED screen display that shows the mode you're using, while the labelled buttons provide a quick one-touch function for adjusting features. 
Finally, it's easier than ever to release steam with a push of a button for quick release while making this pressure cooker easy to clean up with minimal mess left behind.
On the other hand, this pressure cooker might be prone to wear and tear and scratches on its stainless steel interior, so you'll need to remain careful while cooking and cleaning. Additionally, it might tend to dry out rice while it cooks. 
Pros:
Generous 5.7-litre capacity to cook five dishes at once
13 smart programs for easy cooking
Releases steam easily
All modes and programs are easily showcased on the labelled buttons 
The "Set it and forget it" function allows you to leave the food unattended
Cons:
Stainless steel interior might be prone to scratches 
Might leave rice dry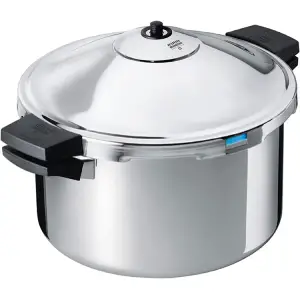 This stainless steel pressure cooker can prepare up to 12 food servings in one go, making it ideal for a larger household. It features a spring-loaded valve. This appliance reflects the internal pressure of the pan to prevent any spoilage.
Use it day or night thanks to its quiet operation that minimises unwanted noise and hissing associated with pressure cookers. It is designed for optimal safety thanks to the automatic locking system that prevents removing the lid while any pressure is built up within the cooker.
This Kuhn pressure cooker for design will look stunning on any kitchen countertop as it boasts an aluminium base that not only looks impressive but provides quick absorption for quicker meal preparation and even heat distribution. Additionally, it's crafted with polished stainless steel that won't rust, corrode or chip.
Furthermore, this appliance includes a sandwich floor for fast and even heat distribution. At the same time, it boasts an ecological design to save up to 70% energy and cook up to 70% quicker than traditional kitchen appliances. 
However, this pressure cooker might take up a lot of room in the kitchen since it has a large capacity, making it unsuitable for smaller spaces. Plus, its heavy design might not be best for weak wrists or little strength. 
Pros:
Suitable for all types of cookers
The aluminium base provides quick absorption and even heat distribution
Can prepare up to 12 food servings in one, making
High-quality stainless steel material for durability
The spring-loaded valve prevents spoilage 
Cons:
It might have a large footprint that's unsuitable for smaller kitchens 
It might be too heavy for those with weak wrists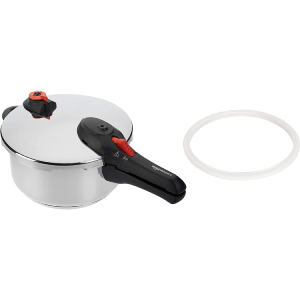 Are you looking for a pressure cooker for exceptional value? Then the next on our list could be the right choice for you.
This Amazon Basics appliance might be the best pressure cooker for you. It's crafted with a stainless steel body for maximum durability and to cook tasty, nutritious meals in minimal time.
Moreover, this Amazon Basics pressure cooker offers a four-litre capacity to produce around four meals at once, making it a great go-to for small families or couples looking for meal prep.
It's equipped with two cooking pressure levels—50 kpa and 90 kpa— so you can choose between a gentle and fast cooking process. This means you also have the option of dishes cooked slowly and thoroughly or preparing food quicker.
Once your meal is thoroughly cooked, you'll love that this pressure cooker is dishwasher safe (except for the lid) to aid with cleaning up and provide minimal maintenance. It also offers a water-level indicator for adequate filling so that you can perfect your recipes with ease.
Alternatively, it's worth bearing in mind that this pressure cooker might sometimes leak, so you may need to supervise this appliance during use. Also, it might not include a digital display, which some people find easier for selecting a program.
Pros:
Stainless steel body for durability and to enhance flavours
Available with two cooking pressure levels
Dishwasher safe body
Water-level indicator assists with filling the right amount of water
Four-litre capacity is perfect for a smaller household
Cons:
Might sometimes leak, requiring supervision
It might not include a digital display
This is the best stovetop pressure cooker for a host of reasons. Primarily, it's simple to use with no digital display and includes two cooking programs that you can choose depending on the ingredients and results you're looking for.
Additionally, this pressure cooker features an auto-lock system that allows you to close the lid safely with an audible noise. It also boasts ergonomic handles for optimal comfort and security when moving the appliance around the kitchen. And its automatic locking mechanism improves safety and prevents spillages while you do so.
Its interior is finished with a brushed stainless steel coating and a mirror-polished stainless steel coating on the exterior for a stunning result that'll complement any kitchen setup. And with a six-litre capacity, this appliance can accommodate a host of guests or allow you to prepare multiple dishes for one household. 
Unfortunately, two cooking programs might not be enough for those looking for more control and versatility over their dishes. In addition, some steam might escape from these stovetop pressure cookers while they cook.
Pros:
Suitable for all hob types, including induction cooking
Stainless steel interior and exterior coating for great cooking results
Auto-lock system for safety while moving this pressure cooker around
Ergonomic handles for maximum comfort and safety
Generous six-litre capacity
Cons:
Two cooking programs might not be enough for some people
Some steam might escape from the appliance 
Use less energy when cooking when you use this kitchen appliance. This pressure cooker allows you to enjoy healthy, nutritious food with ease and less time. 
It features a curved body for easier stirring to ensure no ingredients get stuck to the sides. It's also made from a fine aluminium material to remain corrosion resistant and absorbs heat faster than other materials, helping to keep it energy efficient. 
It is designed with pressure regulator controls. This feature regulates the pressure level inside this pressure cooker for accurate, easy use. And its 3.5-litre capacity, it's one of the best pressure cookers for a two- or three-person household without taking up too much space in your kitchen.
It's designed with sturdy handles to make kitchen duties easy. Its airtight steel lids prevent moisture from damaging the cooked food inside. Leakproof, these lids prevent your food from coming out of the container, even if it's mainly liquid.
However, this pressure cooker might be more difficult to clean than other pressure cookers on this list. In addition, the whistle connected to this pressure cooker might not be as reliable as other appliances.
Pros:
A curved body provides an easier stirring
3.5-litre capacity is ideal for a two- or three-person household
Corrosion-resistant material
Absorbs heat quicker for an energy-efficient design
Airtight steel lids prevent moisture from ruining the food inside 
Cons:
It might be slightly difficult to clean
Whistle might not be as reliable as others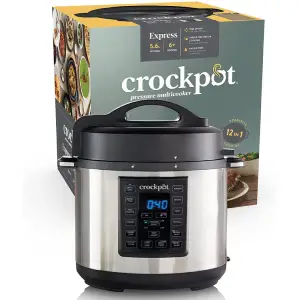 Enjoy 12 different ways to prepare food with this best electric pressure cooker with various functions. It features straightforward digital controls to make cooking at home easy and quick. Best of all, it includes pre-set programmes for ease of use: meat/stew, yoghurt, dessert, soup, and more. Additionally, it offers other functions, including slow cook, keeps warm, time adjustment button, and more. 
It's also equipped with a super-safe lid that you can only remove once the pressure has been released. The locking lid and sturdy carry handle make this pressure cooker easier to transport.
Electric pressure cookers make it easy to prepare meals in advance thanks to the delay timer that cooks meals ready for when you're home or hungry so that you can come home to a cooked dish after work. Above all, the digital display counts down the remaining time while the auto keep-warm feature activates shortly after, so you never have to have a cold dinner again.
On the other, you might struggle to find replacement parts for this electric pressure cooker if some elements break. It's also worth considering that the Teflon coating might begin to scrape off after a while.
Pros:
Includes 12 cooking programs for versatility 
Sturdy carry handle for easier transportation
Automatic keep-warm function
Digital display countdown for easy usability 
5.6-litre capacity is ideal for a large household
Cons:
It might be difficult to find replacement parts for broken elements 
Teflon coating might start to scrape off after regular use 
This Prestige appliance is one of the best electric pressure cookers for families. Sporting a six-litre capacity, it can help you cook and prepare large quantities of food (up to 10 meal servings) in one pan while remaining easier to store on display in your kitchen. 
Above all, it includes practical accessories including a separator, divider and wire trivet, enabling you to cook various dishes and unleash your culinary creativity. 
This six-litre pressure cooker creates delectable meals 70% quicker than traditional cooking, making it a no-brainer for preparing nutritious dinners in a fraction of the time and energy. This appliance keeps all of the nutrients inside of the food throughout the cooking pressure, resulting in healthy dishes.
It also comes with a multifunctional locking safety handle as well as heat-resistant handles that prevent the risk of burns while you're cooking in the kitchen, making it the best pressure cooker if you're looking for safety, too. It'll also display a virtual pressure indicator during use.
On the other hand, this pressure cooker might scratch easily, so you'll need to remain careful during use to keep it in tip-top condition. In addition, the lid might require some fiddling around to place it on top securely. 
Pros:
Six-litre capacity is ideal for a large household
Prepares up to 10 meal servings in one pan
Includes practical accessories, making it great for first-time users 
Heat-resistant handles keep you safe during use
Cooks food 70% quicker than other kitchen appliances
Cons:
It might scratch easily and require careful handling
The lid might not fit on easily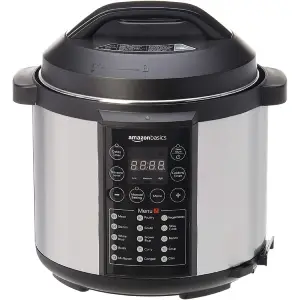 This is the best electric pressure cooker on this list for many reasons. 
Firstly, it's super easy to use thanks to its control panel with LED display and included manual mode. So even if you're a beginner, this pressure cooker will support you in the kitchen.  
Additionally, it comes with a generous 24-hour delay start, allowing you to prepare tomorrow night's dinner in advance. Plus, it can automatically keep food warm, so you'll never have to endure a cold meal again. 
It's the best electric pressure cooker for entertaining a large number of guests or for preparing food for a larger household, thanks to its 5.5-litre capacity. It's certified with ten proven safety mechanisms to keep family members—especially children—safe during use. All the while, the brushed stainless steel housing expertly retains heat and remains easy to clean. 
On the other hand, this pressure cooker might be too complicated for people who aren't technically minded.
Pros:
Features a function to keep food warm automatically
LED display makes it easy for navigating
24-hour delay start to prepare food in advance 
Manual mode to assist beginners 
Includes ten safety mechanisms 
Cons:
It might be too technical for non-technophiles 
Includes ten safety mechanisms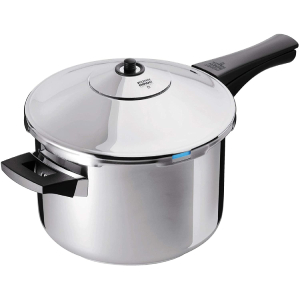 This five-litre pressure cooker can make up to five servings of food at one time and features a valve that's extremely quiet to eliminate any vibrations or hissing while you cook food.
It's designed for safety as it features an automatic locking system that means you can't remove the lid whilst there's pressure inside the pan. Additionally, its advanced, spring-loaded valve reflects the internal pressure within the pan. This means that you'll never have to encounter spoiling or overcooked food.
Furthermore, this is the best large pressure cooker on this list because it has multiple steam release backup systems to prevent unwanted rises. It's crafted with premium-quality stainless steel that's rust-, corrosion- and chip-resistant for maximum durability. Also, its aluminium base provides rapid moisture absorption while remaining compatible with all stovetops.
Unfortunately, this pressure cooker features a tall but wide shape that might not suit some kitchen spaces. Additionally, there might not be a warranty included with your purchase. 
Pros:
Five-litre capacity to cook up to five meals at once
Remains quiet (with no vibrations or hissing) during use  
Rust -, corrosion- and chip-resistant design
It uses 70% less energy than conventional cooking 
The aluminium base provides rapid moisture absorption for the best results 
Includes an instruction manual and recipe book
Cons:
The design might be too tall for some kitchen spaces 
It might not include a warranty with your purchase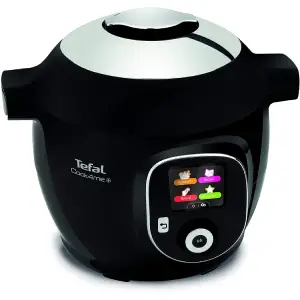 Finally, this is one of the best pressure cookers with a smart control panel that enables you to cook 100 recipes with step-by-step instructions. It's unique step-by-step technology for healthy meals that you can make at the touch of a button. 
Furthermore, this pressure cooker boasts a six-litre capacity, making this a family-friendly design so that you don't have to worry about cooking meals separately. 
Designed with a Set and Forget feature, it automatically releases pressure and includes a Keep Warm function so that your meals don't go cold once you've cooked them. This appliance easily includes time and temperature settings to further assist you with cooking for the best results.
It boasts an ergonomic and user-friendly design thanks to the automated steam release function, cool-touch handles and hinged lid that provides safe and easy handling once you've finished cooking.   
However, it's worth noting that this model might only include three functions: pressure cooking, slow cooking and browning, however it is still the best electric pressure cooker for all your basic needs. Plus, the appliance's instructions might be fairly difficult to follow if you're a beginner with kitchen units. 
Pros:
Its smart screen makes it easy to switch between programs
Set and Forget feature allows you to cook dishes while you're out of the house
Includes accurate time and temperature settings 
Cool-touch handles to prevent you from burning your hands 
Includes 100 built-in recipe ideas
Cons:
It might only include three functions 
Instructions might be difficult to follow 
Things to Consider When Buying a Pressure Cooker
Considering the best pressure cooker in the UK but not sure how to choose an appliance for batch cooking? Below are some of the most important factors to consider to help you choose.
Type of Pressure Cookers
One of the first things to decide is what type of pressure cooker to choose between, an electric pressure cooker or stovetop model.
Electric pressure cookers include the most features, modes and programs out of these two appliances and provide various cooking functions, including simmering, sauteing, warming, browning and more. The biggest advance of electric pressure cookers is that they double up as yoghurt makers, rice cookers and more. All the while, they won't take up much countertop space when you're preparing a large quantity of food. If you're looking for the best electric pressure cooker, then consider how easy they are to use and if you think you can navigate all the different functions.
Alternatively, stovetop pressure cookers allow you to control the heat, similar to a regular stove. For the best results, consider a stainless steel appliance, which is more durable, retains heat well and more. Opt for an aluminium pressure cooker for a budget-friendly alternative, which might be less durable and react to acidic foods. Still, it's ideal if you're looking for a less costly version.
Capacity
Next, you'll want to bear in mind the pressure cooker's capacity based on the kitchen space you have available because nobody wants to have an appliance that's too large for their countertop space.
If you like to batch cook, you might require a large capacity, such as a four-litre design. Although, if you're just cooking for one or two people, you might prefer a two- or three-litre capacity, compact pressure cooker. The size of the kitchen device is an important factor for choosing your electric pressure cooker because you don't want to not have enough room for cooking multiple dishes at the same time. At the same time, bear in mind that you can only fill pressure cookers up to two-thirds full, so you'll need to keep this in consideration when choosing the capacity, too.
The best pressure cooker for you and your household will be one that can accommodate all of the meals you plan on cooking.
Built-in Features
Possibly one of the most important factors to consider when buying a pressure cooker is the number and versatility of the built-in features. You might be happy with just a slow cooker setting, or perhaps you'd prefer the appliance to double up as a rice cooker or a slow cooker. If you want to get more out of your appliance, the best pressure cooker will have more than one function.
Safety Features
To maintain kitchen safety, you might want to look at safety features on the range of pressure cookers available. For example, ergonomic, heat-resistant handles make the pressure cooker easier to transport around the kitchen and prevent burns and accidents. 
With all of the built-up pressure inside of pressure cookers, they must include a safety lid that keeps closed throughout all of the pressure built up inside and a secure pressure release valve so that you can open it safely when you're ready. A secure locking system ensures that modern pressure cookers won't release any steam when there's too much pressure inside. 
Pressure Levels
Another thing to take into consideration is the pressure levels. The standard pressure level is 15 PSI, and not all electric pressure cookers have more than one setting, and some may not even feature a pressure indicator to let you know you're at the correct pressure. However, if you'd like more than one setting, you'll need to look into the various settings, usually 6–8 PSI, 8–13 PSI and 13–15 PSI.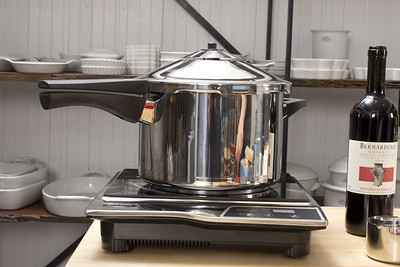 The lower settings are ideal for delicate foods and to make vegetables crispy. It's typically labelled a multicooker to provide multiple cooking modes such as slow cooking and making rice. 
Material
The pressure cooker's material plays a huge role in longevity, maintenance ease and heat retention. The most popular and recommended materials include stainless steel and aluminium. The aluminium pressure cookers are lightweight, making them ideal for transporting and offering a lower price. 
Alternatively, a stainless steel pressure cooker cooks food evenly since it retains heat much better and is more durable by nature.
Additionally, you may want to consider a non-stick coating that makes it easier to clean and maintain without having to scrub the interior of any stuck-on food and liquid. But it's worth noting that non-stick coatings do require some maintenance since they don't always react well with high temperatures, so you might need to renew the interior coating yourself after several uses.  
If easy cleaning is important, look for safe dishwasher materials, such as stainless steel pressure cookers.
Delayed Start
It's a great idea to consider a pressure cooker with a delayed start feature because this means that you can set the appliance to switch on and cook food at a certain time. So, for example, let's say if you don't return home from work until 6 pm. You could then set it to begin cooking at 5 pm so that food is ready for when you return home.
Keep Warm Setting
Another useful function to have is a keep warm setting, which the appliance will automatically switch on to keep your meal at a warm temperature for a certain amount of time. If you consider a smart pressure cooker, you can even extend or alter this time based on your plans that day.
Automatic Pressure Release
Some pressure cookers feature an automatic pressure release setting that fully automates the cooking stages. Therefore, you can select your desired setting and leave the appliance to cook food. Then, you'll return to a fully cooked meal rather than waiting around for the pressure to release manually. While this is a useful function, bear in mind that it'll cost you extra.
Ease of Use
Some pressure cookers include cool-touch handles on the side that make them convenient to transport around the kitchen, as well as keep your hands safe when the appliance might otherwise get hot.
Furthermore, various pressure cookers include many features to make cooking in the kitchen easier. This can include a built-in timer and thermometer to assist you. Additionally, a two-valve mechanism provides several options for keeping it cool while also speeding up heating the water.
Spare Parts
Pressure cookers don't last forever, which means that it's inevitable that you'll need to buy spare parts for them. But not all brands make replacement parts easy to get hold of, which is worth looking into when considering the brand. 
In particular, the airtight seal located inside the pressure cooker can easily become loose. And once this happens, your pressure cooker won't work until you replace this part.
The Benefits of Using a Pressure Cooker
Electric pressure cookers are beneficial for cooking in a single-person or multiple-person household, so let's look at some of the benefits of pressure cooking. 
Reserve Energy
Pressure cooking is a more efficient way of cooking compared to conventional cooking methods where you'd ordinarily have multiple pots and pans on various burners. Plus, food requires less cooking time and energy to reduce the size of your outgoings while positively impacting the environment. 
Save Time Preparing Meals
After a long day at work, the last thing you want to do is spend a couple of hours in the kitchen preparing dinner. Fortunately, pressure cooking makes food up to 70% faster, so not only will you save money on electricity, but you'll also have nutritious, delicious food in a fraction of the time of traditional cooking. Simply throw all the ingredients into the pressure cooker, and your dinner will be ready in no time. You can even set it to cook while you're out at work, and it'll be ready for when you're home.
Less Maintenance and Cleaning Required
Not only is a pressure cooker easy to use, but there's virtually no cleaning up required afterwards, too. This is especially true if you choose a stainless steel pressure cooker that won't hold onto cooking residue and stains like other materials. A pressure cooker features a secure lid that eliminates splashes or sprays from the cooking vessel while preparing your food. Therefore, it'll eliminate liquid from spilling at boiling point, resulting in less cleanup for you. Not to mention that having only one pot for easy cleaning will make your life a little easier, too.
Food Retains Nutrients
Finally, pressure cookers retain natural nutrients and vitamins without needing lots of oil; just use boiling water with a stock to cook food. (Plus, the unit's non-stick coating will prevent any burnt-on food). Thanks to the boiling cooking process, your ingredients will maintain their nutritional value while cooking in a short amount of time. This cooking method also means that vegetables taste fresh and delicious without blandness. 
Cooking food in a pressure cooker is a much healthier way of preparing food since it's cooked at a lower temperature for a longer time.
Pressure Cooker Reviews
Overall, today's pressure cookers are an effective way of cooking food while you're out of the house and if you want to replace multiple kitchen appliances with one gadget. Plus, they include various pressure settings and heat settings to customise your meals.
Although we have included many stovetops and electric pressure cooker reviews, choosing the best pressure cooker in the UK would be the Instant Pot Duo 7-in-1. This pressure cooker is available in three sizes: three, six and eight litres. Plus, its 13 programs (which are all easily selected at the touch of a button) provide versatility while you're in the kitchen, making it the best electric pressure cooker on our list.
Skip the conventional cooking methods and enjoy cooking food with pressure cookers. Which of the above appliances caught your eye? Let us know your thoughts, along with any other recommendations, in the comments.
Additional Resources