Last Updated on
Our editors independently research the best products online to produce this list. We may receive commission on purchases made from the links below but this will never affect our product choices.
---
Top 10 Best Omelette Pans
Omelette pans ensure that you can experience easy cooking at home. Whether you want to make the classic cheesy omelette, or frying eggs, prepare a frittata or a toasted sandwich, the best omelette pans don't stick and have curved sides.
You may be looking for a unique frying pan shape, like the square Japanese-style pan ideal for making tamagoyaki. Also, look out for pans with sloped edges that help you flip the pan's contents more easily.
To help you, we made a list of the best omelette pans in the UK below to find the right frying pan for your needs. Some fold in half, some are dual, and others are rectangular-shaped. With the right pan, you can cook to perfection! Read on to discover which one is the best for you.
How We Compared Omelette Pans
To find the right omelette pans we considered multiple factors including:
Size
Material
Hob suitability
Handle
Coating
Ease of cleaning
Our editorial team carefully researched and selected products that would suit a wide range of needs to take your kitchen experience to the next level. We set out this list after assessing customer reviews and evaluating pros and cons in line with the above comparison points.
Find more about our behind-the-scenes process here.
Omelette Pan Reviews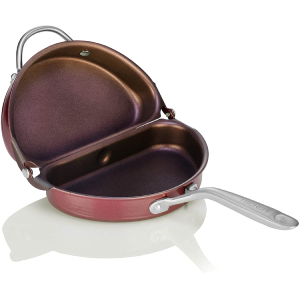 The TECHEF Frittata and Omelette pan is our choice for the best omelette pan in the UK. With the TECHEF, you will even receive a free 'one-pot holder', a protective cover on the handle.
This frying pan has a non-stick coating to make high-quality fry-ups with less oil. You can create fluffy and light dishes with a non-stick surface. Furthermore, cleaning will be much less hassle with a non-stick pan because the dirt should wipe away with less effort.
The TECHEF is made of high-quality aluminium so that the cooking surface is provided with even heat distribution. Not only this but the handle is made of stainless steel. It is also double-riveted, so it will not get as hot as quickly as other pans. You can trust in the durability of TECHEF as it is made to be strong.
This non stick omelette pan is even oven safe – it can withstand a temperature up to 230 degrees celsius. To make your life even easier, the TECHEF is dishwasher safe. Hence, mo need to hand wash!
Some customers claimed that the coating began to peel off after use. Others found that the hand sometimes became hot – try to point the handle away from the other hobs' rings. Moreover, the bottom of the pan may be ribbed, so you may need to be careful about moving it on the hob to avoid scratches.
Pros:
Bonus' one-pot holder' protective cover
High-quality metal
Nonstick coating
Dishwasher and oven-safe
Cons:
The non-stick coating may peel away after some time
The handle may become hot to hold
May scratch hob surface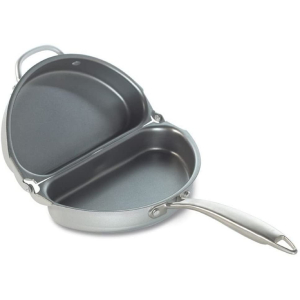 Our luxury choice is next on the list: the Norden Ware Italian Frittata and Omelette Pan. This will enhance your other cookware with the sleek grey stainless steel surface.
This stainless steel omelette pan has the ideal non-stick coating that will save you time when frying eggs. You won't have to clean it as hard as the non-stick coating will work with you to remove any hardened dirt. The coating also makes the omelette release much smoother.
With the Nordic Ware Italian omelette pan, the hinge design ensures less mess than with other types of pans. In addition, when folding the pan, the hinges help to ensure that there are no leakages.
This compact non stick omelette pan will fit nicely in your cupboard; the folding mechanism helps decrease its space capacity.
So when cooking eggs or other foods that tend to stick, you may need to watch out for the non-stick coating. Some customers have said that the coating usually fails, and the pan may leak. Also, it can be a little fiddly to get used to the folding pan if this is your first time using it.
Pros:
Modern and sleek design
Hinge design for less mess
Non-stick coating
Cons:
The non-stick coating might sometimes fail
Pan may leak when flipping
It can be difficult to get the hang of the fold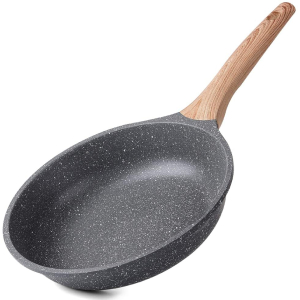 The ZUOFENG is a rustic omelette pan made from high-quality materials with an ergonomic wooden handle and an exposed grain pattern. Interestingly, this pan would look fantastic in a bohemian or rustic kitchen style. So if you want to add an earthy touch to your kitchen decor, this pan is the man!
This good omelette pan is a worthwhile choice, not only in design but also in the materials!
The ZUOFENG omelette pan is made of an eco-friendly granite coating, so it is non-stick and scratch-resistant. Also, this omelette pan is 100% PFOA free, and there are no harmful chemicals used in the non-stick coating: a greener choice if you are looking for that kind of kitchen equipment.
Moreover, its aluminium alloy material has a magnetised base so that it can be transferred quickly and longer if the temperature's high. You can use this pan on different hob types, which is handy and so makes the ZUOFENG a versatile pan. Also, you can quickly clean up with the helpful coating, and this pan is also dishwasher safe.
Some reviews comment that this pan may be best for a flat cooker surface, such as an induction hob, because the handle's weight may cause the pan to tip. The pan is, therefore, easier to balance on a flat surface. However, after some time, possibly half a year or so, the pan may need replacing as it may show signs of use.
Pros:
Ergonomic wooden handle
Rustic design
Eco-friendly materials
Works on different hob types
Cons:
The pan may tip when not on a flat surface
The handle may be heavy
It may need replacing after some time
The Braisogona Dupla Double omelette pan has been chosen for our list of best omelette pans because it is highly renowned for its fantastic non-stick coating. This makes the Braisogona the best non stick egg pan because eggs are known for sticking!
The pan's design looks like two pans placed on top of each other, which works effectively to create a heat seal for high temperatures. Like a frying pan for eggs, you can cook them well on both sides.
This omelette pan is made from the BRA Première Dupla range in high-quality die-cast aluminium. These pans are better than cast iron pans because they are less likely to rust and easier to use. In addition, the Braisogona pan is 5.5 mm thick at its base, allowing optimal heat retention (in the pan) and transference (from hob to pan).
More than that, you can use this excellent omelette pan on induction hobs and other heat sources. The handle has a comfortable grip, and the ratio of handle-to-pan is perfect for weight distribution.
On the flip side, this non stick egg pan might be heavy. Also, some customers have experienced permanent surface marks on the exterior after use. Hence, it may need replacing after a few months, depending on how much it is used.
Pros:
Excellent non-stick coat
Works on all cooker types
High-quality aluminium
Ergonomic design
Cons:
The pan may be quite heavy
Marks may appear on the exterior after use
It may need replacing after a few months
Tefal is a well-known brand that has professed excellent quality for a long time. They are trusted to provide you with the best pan for eggs. Our favourite out of the Tefal range of pans is the Tefal Extra 20 cm omelette pan.
With this pan's Thermo-spot technology, you will be creating omelettes and frittatas to perfection in no time. Also, this pan is non-stick with easy cleaning and is easy to cook with features. In addition, Tefal provides a lifetime guarantee for the coating against blistering and peeling.
The Bakelite handle is designed to grip comfortably, providing a secure place to hold the pan. You can use this pan on gas and electric hobs. The main body of the pan and the lid of the pan have a two-year guarantee.
However, this Tefal omelette pan may show scratch marks after multiple uses, and the coating could peel off. Try washing in warm water or hot water if you feel the dishwasher affects the item's quality. You may need to replace this omelette pan after a few months if these problems occur.
Pros:
Trustworthy brand
Non-stick frying pan
Lifetime guarantee for coating
2-year guarantee for the pan and lid
Cons:
After use, scratch marks may appear
The coating may peel
The pan may need replacing after a few months
The ibili Natura is a non stick omelette pan handy for cooking the traditional Spanish omelette. It is a dual pan, which means the two pans fix together to create a sealed pot. This way, you can easily flip the pan over to get an even cook on each side of the omelette.
You can use these frying pans for cooking eggs, as the flipping motion allows the eggs to be cooked on both sides. The non-stick allows the ingredients to be cooked easily, with the even heat distribution providing the perfect atmosphere.
You can use this stone frying pan on induction hobs and other hobs. Its diameter is 20 cm, which is the usual size for the cooker hob, so that pan should fit nicely on your work surface. It is also the ideal size for an omelette!
However, the handles may be a little weak, so be careful not to overload the pan. Also, one of the pans is deeper than the other, which may mean that ingredients could leak.
Pros:
Useful dual-pan design
Easy to flip
Non-stick coating
Works on all hobs
Cons:
Handles may be weak
One of the pans is deeper than the other
May experience leaks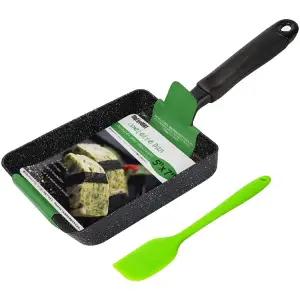 The MyLifeUNIT frying pan is a tamagoyaki Japanese omelette pan, and it has a unique sloped shape that allows you to flip the contents of the pan easily. So why not try out this uniquely designed pan and test the easy flipping! The pan is square-shaped, too, and the black finish makes the pan have an altogether modern and sleek look.
This tamagoyaki Japanese omelette pan is non-stick, which is always helpful. You can also use this pan to fry vegetables, sausages, or even cook steaks. The pan is 7 x 5 inches, ideal for cooking large portions.
The MyLifeUNIT frying pan is made of aluminium-manganese alloy, ensuring that the frying pan will last you long. You can use this pan on both induction hobs and gas stoves. However, beware of the temperature limit, which is 230 degrees celsius.
The downside is that its coating may peel off if the item has been misused. To avoid this, make sure to follow the instructions so that the pan will last long. Also, some products may arrive dented, so take a look before using just in case it needs to be returned.
Pros:
Unique sloped shape for flipping ease
Square shape
It can be used for multiple purposes
Can withstand high temperatures
Cons:
Pan may be small for some
The coating may peel off
Need a thorough check before use since it may arrive with a dent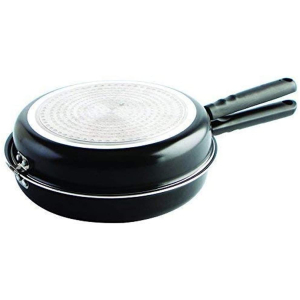 This omelette frying pan is our choice for the best double pan. This product has two pans to create a tight seal and flip the omelettes or sandwiches to perfection.
This pan is made with high-quality aluminium and a non-stick coating that is also PFOA-free. So this is a healthier way to cook.
The handle is ergonomic and makes it easy to flip the contents of the pan. As well as having a good handle design, the pan is quite light, so you are less likely to have an aching wrist after multiple flips.
What's fantastic is that you can use the MGE frying pan on all types of hobs. This includes induction hobs, electric, gas, and ceramic. Hence, this versatile pan is useful for your everyday cooking, especially if you ever change your cooker. That way, you won't have to change your kitchen equipment.
On the flip side, some customers felt that the non-stick coating was ineffective. For instance, food may easily burn if not enough oil is used, or there could be leaks if the pan lid is not fully closed before flipping.
Pros:
Useful double pan design
PFOA-free and high-quality materials
It comes with a guarantee
Versatile pan
Cons:
Pan may leak
The coating may be ineffective
Food may burn without ample oil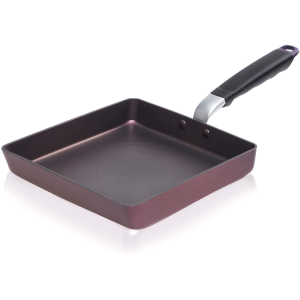 TECHEF Tamagoyaki Japanese is another tamagoyaki pan which is an excellent choice for a non-stick omelette frying pan. From DuPont Teflon Select, this pan comes from one of the world's highly-respected brands, made in Korea.
The TECHEF tamagoyaki pan has a stainless steel base for even heat distribution all over the pan whilst cooking. The non-stick coating created by Teflon also aids in easily releasing the contents from the pan. This coating is PFOA free too!
With the unique sloped shape, you will be creating perfect omelettes in no time! Depending on your preference and needs, you can purchase this stainless steel omelette pan.
Customers have pointed out that the coating may sometimes peel off. Also, the pan may wobble, so it is best to balance it correctly during use. Lastly, if you are cooking on a circular hob, you may find that the corners of the square pan do not heat up.
Pros:
New Teflon non-stick coating
Unique slope shape for easy flipping
PFOA free coating
Cons:
The coating may peel off
Pan may wobble
Edges may take longer to heat up
Are you looking for a small omelette pan? The Lazmin Japanese omelette pan will serve you well. This pan is non-stick, made from aluminium and is square-shaped to create perfect tamagoyaki.
If you are cooking for one or just want a small portion, then the Lazmin Japanese frying pan will be good. The measurements are 13 by 35.5 cm so that it will fit nicely in a cupboard in a kitchen with minimal space.
This is a cast-iron pan, so the heavy-duty material works on most cookers. The handle is strong and durable to hold the weight, as cast iron omelette pans can be heavy.
It would be best to check the pan before using it since some customers received warped pans. In some cases, the pan may stick to the ingredients, so use cooking oil to lubricate the pan. Also, you should fry on medium heat to medium-high heat for best results.
Pros:
Ideal for small portions or one portion
Heavy-duty cast-iron material
Works on most cookers
Useful shape for Japanese omelette
Cons:
May arrive warped
Ingredients may stick to the pan
It may wobble
What to Look for When Purchasing an Omelette Pan
When choosing your next or first frying pan, there are some things you should look out for. Here is a concise list to help you find the best pan.
Non-Stick Coating
The best omelette pans will have this coating because you do not have to use as much oil. A bonus feature is if the pan is PFOA-free, as this is healthier for you and the planet. Non-stick frying pans will save you time cleaning and scraping burnt food from your equipment.
Ergonomic Handle
Omelette pans need to have strong handles because you are often lifting them into the air with the contents and wanting to flip them. Therefore, make sure that the handle is comfortable and strong.
Material
Look for a pan that is oven safe for a range of cooking. Choose heat-resistant pans to transfer heat to the food more effectively. Copper pans and aluminium are excellent for heat responsiveness. On the other hand, the carbon steel element will protect the pan against rust for long use.
Type of Hob
The best omelette pans will be safe to use on all cooker types. This includes the induction cooker, gas, electric, and ceramic.
Get Your Ideal Omelette Pan Now!
Out of the best omelette pan in the UK list, we have chosen the TECHEF – Purple omelette pan as our favourite, as it has outstanding features that place it at the top of the market. You'll find yourself creating the perfect omelette in no time!
The TECHEF omelette pan is made of durable aluminium that helps spread heat to the entire pan for even cooking. Not only does this pan have a useful non-stick coating, but you'll also receive a free protective handle cover.
The handle is designed to lose heat easily so that it's not too hot nor too hold, as you often use the handle for flipping with an omelette pan! All the more, it's dishwasher safe! This is the saviour of many cooks at home.
Which do you think is the best omelette pan? Let us know in the comments!
Additional Resources