Last Updated on
Our editors independently research the best products online to produce this list. We may receive commission on purchases made from the links below but this will never affect our product choices.
---
Top 10 Best Nespresso Compatible Capsules
Whether you're looking for more variety or want to save yourself a bit of cash, Nespresso compatible capsules are readily available in a wide variety of flavours, blends and intensity levels. We've reviewed ten of the very best Nespresso compatible capsules in the UK, so you can find a great new coffee for your Nespresso coffee maker without relying too much on trial and error.
Let's get started!
How We Compared Nespresso Compatible Capsules
To find the right Nespresso compatible capsules we considered multiple factors, including:
Capsule construction
Variety or single packs
Intensity level
Certifications
Our editorial team carefully researched and selected products that would suit a wide range of needs to take your kitchen experience to the next level. We set out this list after assessing customer reviews and evaluating pros and cons in line with the above comparison points.
Find more about our behind-the-scenes process here.
Nespresso Compatible Capsules Reviews
L'Or makes some of the very best Nespresso compatible capsules for the UK market, and this variety espresso pack is the best way to get better acquainted with this brand to find your new favourite.
A good espresso is the base of every coffee, so whether you enjoy an intense shot or want to make cappuccinos and lattes with a milk frother, this variety pack makes an excellent choice. Consisting of 100 capsules in eight different varieties from 7 right up to 12 on the intensity scale, this Nespresso compatible variety pack of capsules makes a great buy for treating yourself at home or for the office.
These capsules are one of the closest matches to genuine Nespresso capsules made entirely from aluminium. Not only does this mean that they are a great fit for Nespresso machines, but it also means that you can recycle your used capsules, something that isn't always possible with plastic versions.
If you don't like very strong coffees, you may find that the most intense flavour has a hint of bitterness. Also, while these capsules are an excellent substitute for Nespresso ones, they can occasionally cause your coffee to dispense slightly more slowly. 
Pros:
100 capsules 
Eight varieties of espresso
Aluminium capsules
Fully recyclable
Cons:
Stronger varieties may have a hint of bitterness
May flow slightly slower than originals
If you're a Starbucks fan, you'll want to opt for our luxury choice and treat yourself to a variety pack of Starbucks by Nespresso capsules. Easy to use, set the bars on your machine to match those on the pod, then place the pod in the machine and brew. 
If you are looking for great Nespresso capsules alternatives, you can't go wrong with these pods as they are genuine Nespresso capsules, and you won't risk any compatibility problems. Made from aluminium, you can return them to Nespresso for recycling or recycle them with your other home aluminium products. 
This 120 coffee capsule variety pack features three roasts for you to sample, dark, medium and blonde, with a total of eight different varieties to try. An excellent selection to have in for when guests call around, the standard of the coffee in these Nespresso capsules is second to none. Take advantage of this variety pack of Nespresso capsules to find your new favourite coffee blend or to try something new. 
While undoubtedly, this is an excellent variety pack of Nespresso capsules, you may not appreciate the decaf pack if you only drink caffeinated coffee. Unfortunately, the packaging may not always be adequate protection for transporting these delicate Nespresso capsules.
Pros:
120 capsules
Actual Nespresso pods
Variety of roasts and blends
100% recyclable
Cons:
Decaf may not be appreciated
They may not be adequately packaged
If you drink your coffee with milk or prefer a mild-tasting black coffee with sweet overtones, then the Solimo Lungo capsules could be your best buy. They are also an excellent value choice, making them a popular Nespresso capsule substitute for the office or small businesses, as well as anyone counting the pennies. 
Delivered in two boxes, each containing 50 Nespresso compatible capsules of 100% pure arabica roast and ground coffee, you'll struggle to find a better bargain. It is designed for use making long coffees, such as americanos. These capsules are also suited to medium and shorter coffee-based drinks, rated three out of five in intensity. 
As the coffee beans used in these capsules are certified by the Rainforest Alliance, you can rest assured that your money is helping to promote more sustainable farming for a better future for both the environment and coffee growers and plantation workers. 
Note that as these capsules are slightly larger than original Nespresso pods, they may get stuck in your machine, although they are easily pushed out. If you like intense coffee, these capsules are unlikely to be the best match for you.
Pros:
100 capsules
100% arabica beans
Rainforest Alliance certified
Mild with sweet overtones
Cons:
May get stuck in your machine
It might be less suitable if you prefer strong coffee
Real coffee is a Danish company specialising in Nespresso compatible capsules. If you are looking to try out some new blends with your Nespresso machine, you may want to test their Mixed Coffee Taster Pack – our best variety pick.
This pack of 100 Nespresso compatible capsules contains nine varieties, all of which you can also purchase individually at very reasonable prices. Most of the variants contain organic or Fair Trade coffee beans, with some containing both ensuring you get a better quality coffee that is helping to make a difference to the planet and the livelihoods of small coffee growers. 
Compatible with all Original Line Nespresso machines, this mixed taster pack makes an interesting choice with a good variety of medium roast blends at a highly reasonable price. Ideal for drinking at home or work, you can also offer any guest a choice of blend and intensity. 
On the downside, these capsules may leak a little, like most similar versions on the market. Strangely, the individual pods do not feature any labels, and some of the colours can be easily confused, so you may want to store them separately with a part of each original packet so you know what to reorder. 
Pros:
100 capsules
Nine different varieties
Selection of organic and Fair Trade blends
Compatible with all Original Line Nespresso machines
Cons:
They may not fit as snuggly as genuine capsules
May struggle to identify which blend you're drinking
Rosse Caffe purchases coffee from worldwide, sourcing beans directly from local farmers, cutting out the middleman to ensure lower prices.
This variety pack contains 60 capsules. Out of respect for the environment, Rosso Caffe has used a recyclable and food-safe polypropylene plastic capsule for their coffee which in most cases can be recycled with your normal plastic waste. This should help to keep your capsules out of landfills.
The six varieties in this pack cover a huge selection of roasts and intensities, ranging from a light roast rated four out of ten to an extra dark roast rated ten out of ten. If you are looking for a low-budget equivalent to Nespresso capsules and are not a huge connoisseur, this pack makes a nice set to try out.
While these pods fit all Original Line Nespresso machines fairly well, unfortunately, they may lack some of the freshness you get from a tightly sealed, original Nespresso capsule. While this company endeavours to work with farmers directly, some customers may be unconvinced of their green credentials due to the lack of any form of independent certification. 
Pros:
60 pods
Six varieties
Intensity levels 4-10
Recyclable food-safe polypropylene capsules
Cons:
They may not taste as fresh as Nespresso pods
Lack of eco-certification may put off some potential customers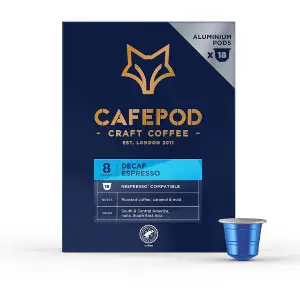 If you struggle to find a decent decaf coffee for your Nespresso machine, you should consider purchasing from London firm CafePod, renowned for craft coffee.
CafePod's decaf Nespresso compatible capsules are blended for making espresso coffee with all the flavour of regular coffee but with only a small amount of caffeine and decaffeinated using just CO2 for flavour conservation and integrity. This special blend is sourced from South and Central America, India and South-East Asia. 
This pack of 108 decaf pods boasts notes of roasted coffee with sweet caramel and malt. It is ideal for drinking a flavoursome coffee after dinner without ruining your early bedtime. This coffee is also certified by the Rainforest Alliance, so you can be sure that your purchase is helping to protect nature as well as local farmers. 
If you like Nespresso original capsules but are looking for a cheaper alternative, this brand may not save you much money. Also, while you may be tempted to keep your capsules in their nice boxes, the boxes do not stay closed very well once opened. 
Pros:
108 capsules
Decaffeinated using only CO2
Rainforest Alliance certified
Arabica and robusta blend
Cons:
Packets could be improved
Maybe a little expensive
Lavazza is one of the best Nespresso compatible capsules in the UK. It has created a special eco-friendly compostable Nespresso compatible capsule that keeps your coffee fresh for extra high-level intensity. 
Thanks to their innovative compostable biopolymer construction, when sent to an industrial composting scheme, such as Terracycle, Lavazza Eco Cap compatible pods completely break down within 180 days. Not only are these capsules eco-friendly, but they are also excellent at protecting your coffee, providing a thoroughly effective barrier against oxygen for fresh coffee without extra packaging. 
It is shipped as ten boxes of 10 eco caps for 100 capsules. The Espresso Deciso coffee pod blend uses both arabica and robusta beans for extra depth and intensity. This dark roast develops a velvet crema for a full-bodied espresso with a rich aroma and dark chocolate and wood notes. Blended from beans sourced in Central America, Brazil and Asia, this strong blend is rated 10 for intensity. 
Unfortunately, the eco caps do not always work correctly, and you may end up throwing quite a few away. What's more, caution is needed when using them as you may cause your machine to fail from overpressurisation if a capsule fails to rupture correctly, so pay close attention when using this type of capsule if you need to stop your coffee machine. 
Pros:
100 capsule
Intense dark roast
Arabica and robusta beans blend
Compostable, eco-friendly capsules
Cons:
May lose a lot of coffee
Could damage your machine if not used with caution
Made in Italy, the BrewBlack Variety Collection represents excellent value for money. It is a great way to try out different blends of the best beans and some single-origin coffees. 
This variety pack features five blend types, including pure arabica, arabica, and robusta blends. Each variety is individually packed in boxes of ten, with two boxes of each house blend to try for a total of 100 capsules. 
From the delicate yet vibrant Supremo made with pure Arabica beans and rated a 7 out of 12 for intensity, up to the strong Intenso espresso rated 12 out of 12, there is a coffee for everyone in this popular Italian set of Nespresso compatible capsules. Each capsule is entirely airtight to ensure that your pod stays as fresh as possible, just like the best Nespresso capsules.
BrewBlack has gone the extra mile and developed a special technique involving micrometric technology. By putting two different grain sizes inside the same capsule, you get a better depth of flavour with extra layers of undertones for a unique blend.
Not every pod will perforate the first time, so that you may need some patience. Also, you may find that you need to empty your drip tray more often due to the plastic capsule construction. 
Pros:
100 capsules
Five variety multipack
Uses micrometric technology
Airtight capsules for extra freshness
Cons:
Pods may not perforate the first time
May need to empty the drip tray more often
Like Nespresso capsules and those by L'Or, this Variety pack by Jacobs Douwe Egberts uses high-quality all-aluminium pods for a better fit, taste and recyclability. 
This five variety multipack consists of 100 capsules, with 20 in each flavour. It is designed to appeal to espresso and longer coffees. This set features two types of mild brew, medium roast Lungo capsules, a classic and an intense rated 6 and 8 out of 12, respectively. There are three espresso capsules, Classico, Intenso and Ristretto, ranked 7, 10 and 12. 
Whether you are looking for a long, mild coffee to start the day or a short, sharp mid-afternoon pick-me-up, this set has it all. All five coffees are also UTZ certified, for sustainability, enabling farmers to grow better crops with less environmental damage. Thanks to the aluminium capsules, you can be sure you get a near-perfect brew as these pods enable sufficient pressure for a thick crema on your espresso. 
Note that if you are purchasing this variety pack to make long coffees predominantly, you may want to use two capsules per coffee, making this brand less cost-effective than genuine Nespresso capsules. Also, you may find that these coffee blends lack the depth of flavour compared to other capsules from South America. 
Pros:
100 high-quality aluminium capsules
Five variety multipack
UTZ certified coffee
Good value for money
Cons:
May need to use two capsules for a long coffee
It could have a better depth of flavour
Made in Italy, if you are looking to save money on Nespresso compatible capsules, this variety pack by Grano Milano could be your best coffee choice. 
It is consists of 50 capsules in total, with 10 of each of the five varieties. This complete set has plenty of options to suit all coffee drinkers. Opt for a strong, intense Ristretto espresso to shake off any mid-afternoon tiredness or relax with a morning cup of mild, well-balanced Lungo. Whatever the occasion or time of day, you're sure to find at least one of these great coffee capsules that suits your mood.
These original blends have been specifically designed with all Nespresso Original Line models. Suppose you are looking for a cheaper alternative to buying Nespresso capsules or some inexpensive spare Nespresso pods alternatives. In that case, this variety pack makes a good choice and is excellent value for money considering its popularity and low price. 
While these capsules are compatible with most Nespresso machines, you may have some difficulty ejecting them when you've finished, as well as needing some force to lock them in to brew as they are plastic. In contrast, Nespresso machines are only designed for aluminium capsules. 
Pros:
50 capsules
Five different coffee
Original Italian coffee blends
Suitable for all Nespresso Original Line Machines
Cons:
May struggle a little to eject them
They may require some force to pierce
How to Choose the Best Nespresso Compatible Capsules
Without sampling coffee before purchasing, it's pretty hard to tell if it will be a hit or a miss. Check out our guide to choosing the best Nespresso compatible capsules to make shopping for coffee capsules much easier. 
Capsule Construction
Nespresso compatible capsules are made of three main materials: aluminium capsules, plastic capsules and compostable/biodegradable capsules. 
While plastic capsules are commonplace, they don't always fit as well as their aluminium counterparts, and not all plastics are readily recyclable. Aluminium Nespresso coffee capsules are undoubtedly the best pods in terms of performance and flavour preservation, plus aluminium is also 100% recyclable.  
For the moment, compostable pods/biodegradable Nespresso compatible coffee pods are not that common, but hopefully, this will change very shortly. While some coffee makers have developed biodegradable capsules for environmentally conscious coffee lovers, we're yet to see ones that perform just as well as aluminium ones and can be composted at home. 
Variety or Single Packs
Do you like different styles of coffee throughout the day, or do you prefer to stick to one type? Variety packs make a great choice if you fancy trying some new blends while also allowing you to choose your coffee capsules to suit your mood. 
If you don't have a current absolute favourite, trying out a variety pack of coffee capsules is more likely to result in you finding a closer match to your ideal coffee. It's then easy to order just the varieties you liked the most next time you order. 
Intensity Level
Intensity levels are usually measured out of 10 or 12. Extra strong ristretto espresso coffees are at the top of this scale, packing a strong and intense flavoursome caffeine hit, whereas mild long coffees will likely be around a six or seven. Variety packs of coffee pods will usually provide mild, medium and strong coffees, so you can better get a taste for what suits you best and enjoy a different coffee experience. 
Certifications
It's easy to get carried away with some of the marketing hype around supporting sustainable farming and helping small-scale local coffee growers. If you are looking for a coffee truly making headway towards environmental improvements, we recommend looking for an independently certified coffee.
There are plenty of organisations, such as Fair Trade, the Soil Association, UTZ, certified B Corp and many more. You can find more details and check your coffee's credentials via the website for each organisation that has certified your coffee. 
Do Nespresso Compatible Pods Fit All Machines?
If you own a Nespresso Original Line machine, then the best Nespresso compatible pods in the UK will work with your Nespresso machine in almost all cases. 
Nespresso compatible pods usually work fine with the following Nespresso machine (unless expressly stated otherwise):
DeLonghi Nespresso coffee machines
Breville Nespresso coffee machines 
Le Cube models
Inissia machines
Essenza models
Pixie machines
Nespresso U machines
Maestria coffee machines
Nespresso compatible pods may not work with the following:
KitchenAid machines
Gaggia machines
Siemens machines
Other professional coffee machines
Some built-in coffee machines
If you own any of the above, we recommend contacting the manufacturer of your coffee maker for individual model compatibility information. 
Note that Nespresso compatible capsules are not compatible with Nespresso Vertuo coffee machines. Vertuo pods come in various sizes, and each capsule has a special barcode that prevents the use of third-party capsules with this type of machine. 
Conclusion
Are you looking for the best Nespresso Compatible Capsules in the UK? Save yourself time and effort searching and try out our overall favourite and editor's choice, the highly popular L'Or Espresso Variety Pack.
Just like genuine Nespresso capsules, these espresso coffee pods are made from aluminium for a perfect fit in your Nespresso coffee machine. This also ensures that your coffee stays fresh and that adequate pressure can build up for a decent cup of coffee without risking damaging your machine, unlike plastic versions. 
Reasonably priced with a good selection of intensity levels and blends, if you have a Nespresso coffee machine, you need to try out the L'Or Espresso Variety Pack. Overall, they're the best capsules on the market. 
Additional Resources