Last Updated on
Our editors independently research the best products online to produce this list. We may receive commission on purchases made from the links below but this will never affect our product choices.
---
Top 10 Best Kitchen Tongs
There are a lot of different kitchen utensils you can invest in. Some are single-purpose, whereas some have multiple purposes, like the best kitchen tongs in the UK.
You can use kitchen tongs for so many different things in the kitchen. Firstly, you can use them for serving food. Secondly, you can use them for turning food and handling hot food from the grill or oven. Additionally, there are many special tongs like tongs for BBQs, salad, and pasta. There is no doubt that kitchen tongs are the most versatile and widely used utensils!
They can either be made from plastic, metal or stainless steel. For added convenience, today's tongs may come with a locking feature to store them easily or a spring-loaded mechanism to make it easier to use them.
Are you interested in buying a reliable pair of tongs or a replacement? Well, this is your day! We have hand-picked ten suitable options for your choosing below!
How We Compared Kitchen Tongs
To find the right kitchen tongs we considered multiple factors, including:
Purpose
Length
The Shape of the Head/Clamps
Materials
Our editorial team carefully researched and selected products that would suit a wide range of needs to take your kitchen experience to the next level. We set out this list after assessing customer reviews and evaluating pros and cons in line with the above comparison points.
Find more about our behind-the-scenes process here.
Kitchen Tongs Reviews
First up, our pick for the best kitchen tongs in the UK is the OXO Good Grips Tongs. 
These durable cooking tongs are made from stainless steel and silicone. The head and handles are mainly metal, and the handles have silicone inserts for comfort and to make them heat resistant.
We like the longer 23cm handle design, which helps reach into your oven. Also, the scalloped edges of the heads help pick up a variety of food.
For simple storage, these cooking tongs also have a lock mechanism. This lets you keep them clamped together to take up less space in your drawers.
However, please note that you could find that eventually, the silicone heads could fall off. Also, due to the curved shape of the silicone heads, you could find it tricky to slide under some foods like bacon.
Pros:
Sturdy and robust design to hold food securely
A large pull-tab locks the clamps and can also be used for hanging
Made of durable stainless steel and plastic
Long handle design for a greater reach into your oven
Scalloped edges for a firmer grip
Cons:
You may find that the silicone heads of the arms could come off
It may not be easy to slide them under food like bacon
Next, we have the Joseph Joseph 10162 12-inch Elevate Stainless Steel Tongs. 
These locking tongs have some nifty features. For example, they have a silicone tool resting on one side of the handles. This allows you to place them on your worksurfaces without scratching them.
We like the simple lock mechanism – simply pull the ring to lock the handles open or closed. This makes storage that much easier.
These tongs are heat resistant to 270 degrees Celsius / 520 degrees Fahrenheit for versatility. The heads of these tongs are also relatively wide and should allow you to easily grasp different foods like meat and salad.
Unfortunately, you could find the holes in the grips difficult to clean as you can't easily get a wet cloth in-between. In addition, some customers have found that the silicone tips could eventually break.
Pros:
It has weighted handles that help with balance during storage
It also has an integrated tool rest to prevent damage to your kitchen surface area
Silicone tips for improved heat-resistance
The handles are lockable for better storage
Has a wide tong area for holding larger food items firmer
Cons:
The holes in the tongs may be difficult to manually clean
Some customers have reported that the silicone tips may break eventually
If you want a great value pair of kitchen tongs for BBQs and serving food, the iNeibo Smart Locking Kitchen Tongs are a good option.
In this set, you get two pairs of silicone tongs. They are also available in three stylish colours – black, red, and silver. The heads and handle inserts are the parts that change colour.
We like the stylish modern design of these tongs, and they are also made from high-grade stainless steel. The heads and inserts are made from food-grade pure silicone – this is highly heat-resistant and durable. The locking mechanism and handle bending motion are both easy to use too.
This is an excellent set of stainless steel kitchen tongs, but they could have some minor issues. Some customers have found the tongs damaged on delivery, and the smaller tongs may be less durable and could bend if you use them with too heavy food.
Pros:
Available in three different colours – black, red, and silver
Each pair of tongs has a stylish and contemporary design
Made from high-grade stainless steel
The silicone parts are food-grade pure silicone
The deal includes two pairs of tongs of different sizes
Cons:
They may be less durable, so there might be a chance that you will receive the item with minor damages
You could find that the smaller tongs can get bent easily
If you primarily use your kitchen tongs for handling hot food, the HOTEC Stainless Steel Kitchen Tongs are a great choice. This is because they are made from food-grade stainless steel. 
This has an improved heat resistance but also has anti-rust and anti-corrosion properties. They are incredibly durable and are great for work with high temperatures, such as BBQs or meat directly from the oven or grill.
The tongs also have an ergonomic design with scalloped heads and a silicone grip for easy handling. These kitchen tongs also have a lock to help with storage. Furthermore, HOTEC stainless steel tongs are a good heat-resistant option. 
However, it is important to note that some customers have reported scratches on the metal parts on delivery. Also, you could find the lock is difficult to use one-handed.
Pros:
Made from food level stainless steel
Anti-rust, anti-corrosion, and highly heat resistant
Two pairs of tongs include – serving tongs and bbq tongs
Simple pull ring locking mechanism for improved storage
It has an ergonomic handle for a comfortable grip and safe use
The scalloped edge on the tongs makes for a firm grip
Cons:
Some customers may have found scratches on the tongs
The locking mechanism may be difficult to use one-handed
If you want to own multiple kitchen tongs for different purposes, the HENSHOW Kitchen Tongs set is a great buy. This set includes three high-quality kitchen tongs are various lengths, making this set the best kitchen tongs in the UK for you.
The lengths include a 7″ pair, a 9″ pair, and a 12″ pair. Each pair of tongs has a combination of silicone and stainless steel. The heads and handle grips are silicone, while the handles are made from dishwasher-safe stainless steel.
The smaller pair could be useful for lighter good items like pasta and salad. Alternatively, the middle-sized pair could be great for general serving. Lastly, the longest pair at 12″ is great for taking food from your grill or oven.
This set of kitchen tongs could also make the perfect gift for a cooking enthusiast.
These are a great set of locking tongs; however, some may find that the curved edge of the scalloped heads can be tricky to slide underneath foods lying flat on a surface like a baking tray. Also, it can only be manually washed and is not less convenient dishwasher safe.
Pros:
Includes 7″, 9″, and 12″ stainless steel tongs
Made from 18/8 SS that is rust-resistant and durable
The hands are made from BPA-free, food-grade silicone
Each handle has a smart lock to keep them in the closed position for storage
Versatile set of tongs for many different uses
Cons:
The curved edge of the tongs may be difficult to slide under foods
It may not be suitable for dishwasher cleaning
Many people like having colour-coded utensils for different purposes as this is a common practice for food hygiene. If this is something you want, the ZesGood Non-Scratch Silicone Kitchen Tongs set is a brilliant choice.
You get three pairs of tongs in this set – red, green, and orange. Each pair of tongs is a different size too. This allows you to use different tongs for different things. For example, you could use the larger green tongs for handling meat and the small orange tongs for salads and pasta.
The tongs are made from both silicone and stainless steel. This gives them excellent heat-resistant properties, and they can withstand the heat of up to 250 degrees Celsius / 480 degrees Fahrenheit. We also like the simple, smart locking clip that can hang.
These non-scratch silicone tipped tongs are a good choice; however, you could find that one of the silicone grip sections is missing on delivery. The tong heads may also be a little bendy if you try to pick up heavy food.
Pros:
Stylish colours for easy identification and specific uses
Three tongs included in varying sizes (8″, 10″, and 13″)
The heads are made from premium FDA-approved silicone
Heat resistant up to 480 degrees Fahrenheit
The handles are made from 1mm-thick corrosion-resistant SS
Cons:
Some customers may have reported missing silicone grips
You could find that the tong heads can bend easily
If you prefer an all-stainless steel pair of tongs instead of silicone kitchen tongs, the KitchenCraft Kitchen Tongs are a top choice.
These kitchen tongs have a simple design, but they are effective and durable. The heads have multiple holes for handling meat from the grill or oven. This allows meat juices and oil to drip through to drain easily.
We also like the lightweight design of these kitchen tongs. They are highly portable and could easily be used when camping or on staycations.
For easy maintenance, these stainless steel tongs are also dishwasher safe. Although there is no lock for storage, the end of the handle has a large circular loop so that you can hand them easily on your kitchen walls.
Although these KitchenCraft stainless steel kitchen tongs are versatile, they may not be perfect. For example, as they are all-metal, you could scratch your kitchen surfaces or cookware if you don't use them carefully, and the handle of these cooking tongs may also be a little flexible.
Pros:
The clasping plates have holes in to allow oil and juice to run out
Dishwasher safe and incredibly easy to clean
It can be used for flipping burgers due to its excellent heat-resistance
Made from high-quality stainless steel
Simple and lightweight design that makes them highly portable
Cons:
It could easily damage kitchen surfaces if not handled carefully
You may find that the handle can bend easily
The VENIZIO Premium Quality Silicone Tongs are a great option if you don't want to scratch your kitchen tops.
This is because the heads are made entirely from silicone. The handles are stainless steel, but large silicone inserts cover most of the surface.
For usage, these silicone tongs have large heads with scalloped edges. As a result, you should be able to easily hold, flip, and serve many different types of food.
You can either clean these tongs manually or throw them in the dishwasher as they are fully dishwasher safe. There is a lock at the end of the handle. This helps store the tongs in a drawer or a utensil stand.
The VENIZIO premium quality tongs are not without their potential flaws, however. The tab to open the tongs can occasionally be stiff, and these tongs do not have a lock to control the opening and closing action, making storage a little tricky.
Pros:
These bbq tongs can withstand temperatures of up to 315 degrees Celsius
Made from 1mm thick 304 stainless steel
The grips are made from non-slip silicone
Great for use with non-stick pans and cookware
Easy cleaning as they are dishwasher safe
Cons:
You could find the tab to open them a little stiff sometimes
They don't come with any locking mechanism 
Another great choice for the best kitchen tongs in the UK is the LessMo Non-Slip Kitchen Tongs. They have an excellent grip on the heads, which means you can comfortably hold heavier items without slipping. 
We also like the large drain slits in the heads. Each head has three large drain slits. As a result, these tongs are perfect for flipping burgers and handling fatty foods like pork, beef, and steak.
These tongs also have heat-resistant silicone handles to protect your hands. Like the heads, the handles are also non-slip and comfortable to hold.
Lastly, to store these tongs with silicone easily, they have a simple hanging ting at the end of the handle. In this set, you get two pairs of utensils. One pair is 9″ long, and the other is 12″.
These LessMo non-slip tongs are a good choice; however, they may not have the longest handles compared to other tongs. Also, the storage locker to keep them closed can sometimes be a little stiff.
Pros:
Made from 304 non-toxic stainless steel
Includes two kitchen tongs – one pair at 9″ and one at 12."
The handles are covered with silicone for a comfortable grip
It has a built-in hanging ring for convenient storage
Suitable for various purposes, including salads, BBQs, buffets, ice, and serving
Cons:
Some may find the handle a little short
You could find the storage lock a little stiff sometimes
If you want an easy opening pair of tweezers instead of traditional tongs, the UIEEGPG 30cm Stainless Steel Food tweezers are an excellent option.
These tweezers are mainly meant for professional or business use. For example, you can use them to serve fine cuisine or delicate cakes and pastries from a cake stand.
They are made from high-quality stainless steel that has anti-corrosion properties too.
Although these tongs are an excellent product, some may find them small. They are better suited for handling fine food where fitness and a light touch are required, and as they are made entirely of metal, care is needed as they could scratch your cookware and kitchen worktops.
Pros:
Made from anti-corrosive, durable stainless steel
They can be used for multiple purposes, including serving, BBQs, or as tweezers
Long length art 30 cm for delicate work and a long reach
High quality and easy to use
Cons:
Relatively small tongs and may not be suitable for handling larger food
May scratch your work surfaces and pans due to the all-metal design
How to Choose the Best Kitchen Tongs?
As you can see, there are many different types of tongs available! The ones listed above are just some of the best kitchen tongs in the UK! Are you still confused about which one you should get? So how do you pick a pair that suits your needs and preferences? No need to worry; we are here to help! Below are some of the main considerations when buying kitchen tongs:
Purpose
Firstly, think about why you want this utensil. What do you intend to use it for? Do you want to use it for BBQs? Or perhaps you regularly eat salads and want a better way to serve them? Understanding what you intend to use the product for will help you choose the right style and design.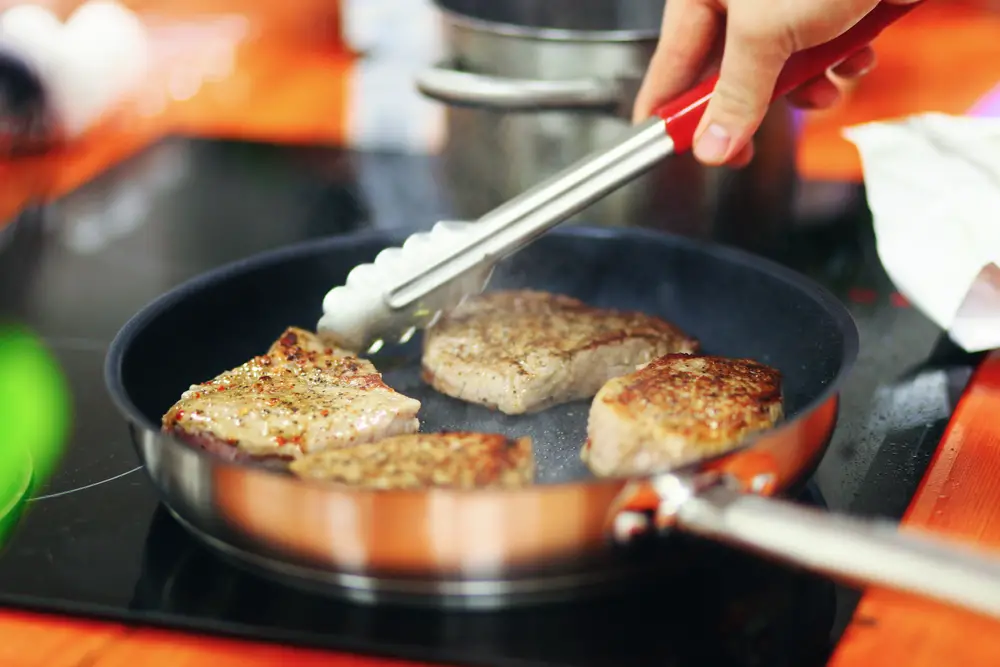 Length
Next, look at the length of the handles and heads. This again depends on how you intend to use them. For example, if you intend to use them for BBQs, you want the handles to be much longer. This will help prevent burns or fat spitting up. 
The handle length is not as important if you want to use them just for salads and pasta.
The Shape of the Head/Clamps
The shape of the clamps/head is also vital. There are several common head shapes for these items. The most common is the oval shape that has scalloped edges. 
This is a great multi-purpose head and makes the handling of food easy. Alternatively, you can get tweezers or even clamps similar to medical tongs.
Material
Lastly, consider the material the handles and heads are made from. The most common materials used are silicone and stainless steel. These materials are durable, have greater longevity, and have great heat-resistant properties.
Wood is also used, but wood is generally not as durable or long-lasting as the above two materials. Also, wood can easily rot and attract mould if not cleaned and dried properly.
Kitchen Tongs FAQs
To further give you a better understanding of kitchen tongs, here are some of the frequently asked questions about these utensils.
Do I Need Kitchen Tongs?
This depends on how and what you typically cook. However, a pair of tongs is an incredibly useful utensil to have. They are particularly useful for handling hot food and reducing the chance of burns or injury.
Can I Use Silicone Cooking Tongs on a Grill?
Yes. Silicone is durable and has some degree of heat resistance. However, for temperatures above 500 degrees Fahrenheit, metal cooking tongs are the best option.
What Are the Different Types of Tongs?
There are multiple types of tongs, including utility tongs, serving tongs, stainless steel tongs, bbq tongs, pasta tongs, and scissor tongs. It is important to look at the design and usage of tongs before buying them so you get the right pair for your needs.
Utility tongs are the most common and are considered all-around tongs. They generally have scalloped tips, non-stick and comfortable handles, and their tips are made from stainless steel. 
Serving tongs are those you don't need, but they make you look more sophisticated. They have an elegant design and are typically used for appetizers.
Stainless steel tongs are all about usability and durability. These tongs are known to have a really good grip, and since they are made from steel, you can expect them to last long.
As their name implies, barbecue tongs are those that you use in, well, grilling barbecues. These tongs are long and large to ensure that the user is far and safe enough when cooking barbecues.
Scissor tongs are those that look like scissors. Hence, the name. However, do not get confused with the name. These tongs are not used for cutting food into smaller portions. Instead, these tongs are perfect for gripping and grabbing bigger food, such as pastries, deep-fried food, and toasts.
The newest types of tongs are those made from silicone. This material is known to handle really hot temperatures, making these tongs the perfect choice when grabbing food fresh from boiling oil. What's more, silicone has softer edges, so it does not scratch cooking pans and damage the non-stick feature, which is a common problem with metal and stainless steel tongs.
Conclusion
We believe everyone should have a pair of kitchen tongs for cooking in their kitchen! As you can see, these utensils are incredibly useful. Even if you are not a fan of BBQs or salads, you can use kitchen tongs for serving food, turning food, and handling hot items from the oven.
Any of the above kitchen tongs would make a great option for your kitchen. However, if we need to choose, our pick for the best kitchen tongs in the UK is the OXO Good Grips 23 cm. At 23 cm, these locking tongs have a great reach. 
Also, the stainless steel and silicone combination makes them durable and ergonomic to use. The locking mechanism allows you to keep them closed to store in tight spaces if you have limited storage space.
Did you find this article useful? Do you have other kitchen tongs that you believe are among the best in the UK? How was your experience with them? We'd love to hear from you! Let us know by commenting below!
Additional Resources