Last Updated on
Our editors independently research the best products online to produce this list. We may receive commission on purchases made from the links below but this will never affect our product choices.
---
Top 10 Best Hand Blenders
A hand blender, also known as a stick blender or immersion blender, can be used for making soups, sauces, dips, and more. Some of the best hand blenders also come with attachments that allow them to work as food processors or electric whisks. If you have been considering adding a hand blender to your collection of kitchen appliances, we say go for it, considering the expansive number of tasks they simplify; what do you have to lose?
We researched and compared the best immersion blenders on the market to bring you this list of our top 10 picks. Whether you want a basic device or are searching for something more versatile, the best hand blender in the UK for your needs can be found on our list. We also include a buyer's guide at the end to explain how we chose the products we did and answer some common questions.
How We Compared Hand Blenders
To find the right hand blenders, we considered multiple factors, including:
Design
Material
Ease of cleaning
Speed settings
Attachments
Size and weight
Our editorial team carefully researched and selected products that would suit a wide range of needs to take your kitchen experience to the next level. We set out this list after assessing customer reviews and evaluating pros and cons in line with the above comparison points.
Find more about our behind-the-scenes process here.
Hand Blender Reviews
We think the Russell Hobbs 24702 is one of the best hand blenders to buy on the market today. This multipurpose hand blender comes with all the attachments you need to accomplish a number of food prep and cooking tasks, all with one compact device.
This hand blender comes with several different attachments. In addition to the blending wand, it comes with a vegetable chopper, electric whisk, 700 ml blender beaker, and a 500 ml chopping bowl. The blending wand is made with stainless steel, so it shouldn't take on any colour or stains from foods like tomatoes.
The 500-watt motor enables two-speed settings and a manual pulse option. All of the attachments and accessories are dishwasher safe making them easy to clean. Russell Hobbs backs this product with a 2-year guarantee plus the addition of one more if you choose to register your purchase online.
While we love the Russell Hobbs 24702, it may not be the most durable option on our list. It may also not be the most compact option and may have a larger handle that could be harder to grip if you have smaller hands, but overall, it still makes a great choice.
Pros:
Stainless steel blending wand
Dishwasher safe parts
500-watt motor
Chopper and whisk attachment included
Beaker and blending bowl included
Cons:
Less comfortable grip for smaller hands
Could be less durable
Not the most compact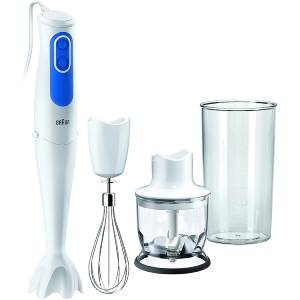 Our top choice for the best stick blender UK companies can offer is the Braun MultiQuick 3, thanks to its luxury design and build. This immersion blender is easy to use and features top quality materials, attachments, and blades.
This stick blender comes with an electric whisk attachment, a 350 ml chopping bowl, and a small beaker for added versatility and enhanced usability. The entire stick blender is lightweight and has a comfortable grip, so you should be able to use it for extended periods of time without your arm or hand becoming overly tired.
These stick blenders feature a powerful 700-watt motor to help you cut through foods with ease. The design also features an anti-splash blade guard at the end of the wand to help prevent accidents and unnecessary messes in your kitchen. The power button has two-speed settings and a manual pulse function. 
The blending wand on the Braun MultiQuick 3 is made from plastic which helps the device be more lightweight; however, it may also have the potential to stain or become discoloured over time. This option may not be ideal for larger batches, and it may not be the easiest to clean as it has some smaller crevices, but we think its top quality design makes up for these minor drawbacks.
Pros:
Anti-splash blade guard
Lightweight with a good grip
Powerful 700-watt motor 
Bowl, beaker, and whisk attachment
Luxury quality
Cons:
The plastic wand might stain over time
It may not be the easiest to clean
Not ideal for larger chopping jobs
If you want a quality immersion blender that comes at an excellent value, the Russell Hobbs 22241 could be just the thing you need. It has a compact and lightweight design and is backed by the well-known Russell Hobbs appliance brand.
These hand blenders feature a continuous press power button with two speeds and the option to pulse manually when needed, fuss-free. The blending wand has rust-resistant stainless steel blades and a smaller splash guard for ease of use and added safety.  
The blending wand on the Russell Hobbs 22241 hand blender is also easily removable with a small twist. This makes it easier to clean without having to worry about getting the cord or motor wet accidentally. It comes with a guarantee from the manufacturer for up to three years if registered online.
Compared to other top options on our list, this hand blender may have relatively less power with its 200-watt motor, and it could prove to be somewhat less durable with extended use. It also may not come with any additional attachments or accessories, but overall, it is still a decent hand blender that can be used effectively in a variety of ways.
Pros:
Detachable blending arm
Two variable speeds with pulse option
Stainless steel blades
Compact and lightweight design
Excellent value
Cons:
Less powerful 200-watt motor
Lacks additional accessories
Could be less durable
The Braun MultiQuick 1 MQ100 immersion blender is a great lightweight and compact option that won't take up much cupboard space. It brings you fast and efficient blending power and has BPA free components.  
This immersion blender features Braun's patented PowerBell technology, which is essentially a large splash guard that also works to draw food into the blades. It brings you a faster, more even blending experience. The stainless steel blades within the splash guard are durable and rust-resistant. Combined, the blades and PowerBell are able to chop ingredients finely and efficiently.
A 450-watt motor further compliments the design of this immersion blender, giving you a decent amount of power to chop through food. It has a one-touch power button that you can easily use to pulse as well. Braun also includes a 600 ml BPA free blending beaker that is dishwasher safe with your purchase.
The MultiQuick immersion blender has a plastic blending shaft which could become discoloured over time if you do not take special care to clean it immediately after use. It may also lack variable speed settings and additional attachments, so it may not be quite as versatile as other options on our list.
Pros:
Large splash guard
Lightweight and compact
BPA free blending beaker
One-touch power button
Fast and efficient blending
Cons:
The plastic wand may discolour over time
Lacks additional attachments
Only one-speed setting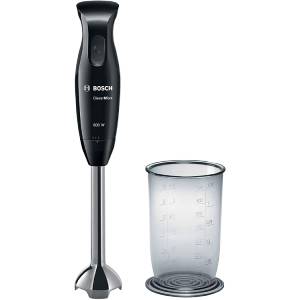 If you are looking for a hand blender that is easy to use and clean, this is our top choice. We also love that it is surprisingly quiet, considering how much blending power and speed it has.  
The sleek black and anthracite design of the Bosch CleverMixx immersion blender looks stylish but will also stay looking new for longer. This hand blender comes equipped with a four-pronged QuattroBlade and a powerful 600-watt motor that ensure you get finely chopped ingredients quickly. The main body features a non-slip and ergonomic grip handle which adds to the overall ease of use.
The metal blending wand has a splash guard covering the blades to help draw food in and prevent messes. The entire wand is detachable and can go in the dishwasher, making light work out of cleanup. A measuring beaker comes included for blending small batches of foods. Braun also backs their hand blenders with a 2-year manufacturer warranty.
Be aware that this hand blender only has a one-speed setting and may not come with any additional attachments. It may also have a deeper blade guard, which means it isn't the best for making mashed potatoes or chopping larger sized chunks of food.
Pros:
Powerful 600-watt motor 
Quiet operation 
Ergonomic non-slip handle 
Four winged QuattroBlade
Detachable metal blending wand
Cons:
Lacks variable speed settings
No additional attachments
Not ideal for larger chinks of food
When it comes to versatility and variable speed settings, the Tefal Optichef Quartzite hand blender could be your best bet. It has a powerful motor and comes with several accessories to help make light work out of blending and other meal prep activities.
This hand blender deals with a variety of kitchen tasks with ease thanks to its powerful 800-watt motor. It features 20 variable speed settings plus a turbo mode so you can cater the speed to the specific ingredients. It has a bell-shaped splash guard on the base that helps to facilitate a better flow of food to the extra sharp blades.
To help you maintain a good grip, even at higher speeds, it features a soft non-slip handle. The Tefal Optichef hand blender comes with a beaker, mini chopper, and an electric whisk attachment. You can put all the accessories in the dishwasher for easy cleaning.  
We think you should know that the mini chopper bowl could be less durable, and the chopping attachment itself may have some issues with tougher foods. Lastly, it may have a somewhat shorter power cord, so you will need to use it close to a mains power outlet.
Pros:
Powerful 800-watt motor
20-speed settings and turbo
Mini chopper, whisk, and beaker included
Soft non-slip handle
Dishwasher safe accessories
Cons:
Mini chopper bowl may be less durable
May have issues chopping tougher foods
Shorter power cord
The Healthomse is our top choice for the best immersion blender. It has a uniquely versatile 5-in-1 design and brings you fast and efficient blending power and more in one simple device.
An 800-watt motor powers this immersion blender. It features four-pronged stainless steel blades and 12-speed settings with a turbo function allowing it to blend foods into a finely chopped consistency with ease. This immersion blender also has a non-slip ergonomic handle and speed control dial for easy handling.
Each Healthomse immersion blender comes with a 500 ml chopper, electric whisk, 700 ml beaker, and a milk frother so you can accomplish a myriad of cooking tasks with minimal effort. To make things even easier, all of the accessories and attachments are also dishwasher safe.
Regretfully, there are some reports indicating that this immersion blender may have a shorter lifespan when compared to other top models due to the internal gears being made out of plastic. In addition, the whisk may wobble a bit, making it somewhat less sturdy, and Healthomse may offer incentives for positive reviews, so you may want to take them with a grain of salt.
Pros:
12 speeds with a turbo function
Stainless steel blades and blending wand
Milk frother, chopper, whisk, and beaker included
Powerful 800-watt motor
Ergonimoc design style
Cons:
It may have a shorter lifespan
Whisk could wobble somewhat
Might offer incentives for 5-star reviews
Cleaning kitchen appliances can often be a tedious, time-consuming task, but not with the OSTBA 4-in-1 hand blender. All removable parts are easy to clean by hand but can also go in the dishwasher.  
This hand blender is not only easy to clean but also easy to use and hold. It has a non-slip ergonomic handle and an easy to use speed control dial, power button, and turbo activation button. The speed dial features eight variable speeds, which are powered by the 400-watt motor.
To enhance durability, the blending wand on this hand blender is made from durable stainless steel. The end has an anti-splash design which works well, even on the higher speed settings. Each device comes with a 700 ml chopper, stainless steel whisk, and a 700 ml mixing beaker for added versatility. With all of these attachments, you will be able to use your hand blender, similar to a hand mixer and a food processor, without the need for three separate appliances.
This hand blender may have a somewhat less powerful motor when compared to other top options on or list. It may also have a heavier build, and it is possible you won't notice much difference between the speed settings.
Pros:
Eight-speed settings and a turbo function
Stainless steel blending wand
Anti-splash head design
Chopper, whisk, and beaker included
Easy to clean
Cons:
Somewhat less powerful motor
Heavier design
Less noticeable speed variation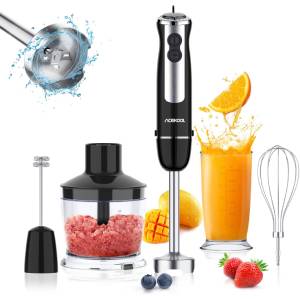 If you want a hand blender that eliminates the need for several other kitchen appliances, the Acekool 5-in-1 could make an excellent choice. Its versatile design allows you to blend, chop, froth, and whisk using one compact, easy to store device.  
An 800-watt copper motor powers the heavy-duty stainless steel blades and is surprisingly quiet. The blade has four leaves surrounded by a bell-shaped anti-splash head to help it blend and chop quickly and efficiently. The design also features non-slip power buttons and a non-slip ergonomic handle.
Acekool built their hand blenders with a speed dial containing 12-speed settings. They also have a one-touch Turbo mode and power button. Each hand blender comes with a 600 ml beaker, milk frother, 500 ml chopper, and an electric whisk, all of which are dishwasher safe. A 2-year warranty from the manufacturer backs your purchase.
Potential cons for this hand blender include the whisk not being the best with thicker batters, and reports indicating a lower durability overall is possible. Lastly, due to the smaller size of the chopper, it probably is not ideal for larger food processor tasks.
Pros:
800-watt copper motor 
Heavy-duty stainless steel blades 
Frother, beaker, chopper, and whisk included
Easy to clean accessories
12-speed settings plus turbo function
Cons:
Could be less durable
Not ideal for larger food processor jobs
Not great with whisking thicker batters
The VAVSEA hand blender is another fantastic option on our list that comes with an array of attachments to make the appliance more versatile overall. It is also made with durable materials and has varying speed settings for enhanced usability.
VAVSEA hand blenders feature a powerful 1000-watt motor that easily cuts through tougher foods. It has a stainless steel blade and a detachable stainless steel wand. To complement the blending wand, Vavsea includes a frothing wand, whisk, chopper, and beaker in the hand blender package. All of the removable parts are also easy to clean in the dishwasher. 
In addition to the range of accessories, this hand blender also features a turbo function and 12-speed settings on an easy-to-use dial to help make this device good for a large number of cooking tasks. The speed dial is located atop the ergonomic handle and can easily be turned while in use with your thumb.
We think this hand blender could have a deeper splash guard with holes for circulation. Also, you may find that the release button for attachments may take some getting used to, but we can overlook these potential drawbacks in light of all the positive traits we discussed above.
Pros:
Powerful 1000 watt motor
Detachable blending wand
Easy to clean
Stainless steel blades and wand
Frother, chopper, beaker, and whisk included
Cons:
Could have a deeper splash guard
The splash guard lacks circulation holes
The release button could be a bit tricky at first 
What Features to Look For in a Hand Blender
Here are some essential factors you should consider when shopping for a hand blender.
Materials and Design Style
The best immersion blender will be made from durable, high-quality materials like in common blenders. The most common materials used are thick plastics and stainless steel or other metals.
We like metal blending wands best. Metal shafts resist staining from rich, dark coloured foods like tomatoes and tend to be more durable overall. Of course, metal wands are often more expensive and heavier, which can become tiring during longer blending jobs.
Plastic blending wands and attachments are typically lightweight and less expensive, but they tend to be less durable and stain easier.
Most immersion blenders are also designed with an anti-splash guard at the tip. The best hand blenders have deeper splash guards that also help draw food into the blades for a more even consistency in less time.
A cordless hand blender is also an option. However, cordless models tend to be less powerful, so we didn't include any on our list.
Speed Settings and Controls
Varying speed settings on a hand blender allow you to blend ingredients easier and more effectively. Thinner ingredients often benefit from lower speeds to prevent unnecessary splashing. Thicker ingredients often benefit from faster speeds. The best immersion blender can have anywhere from 2 speeds to 20 speeds with a turbo function. Some people find that too many speeds can be unnecessary, but we like some variety.
Accessories
We think the best immersion blender will also come with some accessories and attachments for added versatility. The most common accessories include a whisk, chopping attachment and bowl that act as a food processor, a blending beaker for small batches, and sometimes a frothing wand as well.
While we like hand blender accessories, you may already have other appliances that accomplish these same tasks, so a range of special attachments may not be so important for you and your kitchen.
Power
The last thing we recommend looking for in the best immersion blender is how much power the motor has. The more power the motor has, the easier and faster it will blend and chop ingredients. A low power hand blender typically has 200 to 400 watts of power. A high power hand blender can have anywhere from 500 to 1000 watts of power. If you plan on chopping ice or blending harder ingredients, go for a hand blender with a more powerful motor.
What Can You Make With a Hand Blender?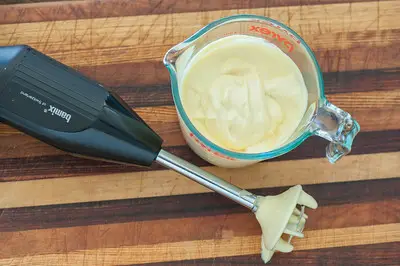 Hand blenders are more compact and easier to store than a traditional jug blender, but what can they be used for? The best immersion blender can help make a large number of recipes and cooking tasks easier to accomplish. If you add attachments and accessories, the number of things a hand blender can do only multiplies.
Some of the most common things hand blenders are used for include:
Sauces
Dips
Milkshakes
Smoothies
Salsas
Smooth soups
Baby food
Whipping eggs and egg whites
Whipping cream
Potato masher
Crushing ice
Chopping herbs or nuts
Frothing milk
The Best Hand Blender for You
After reading through our buyer's guide and hand blender reviews, you should have a pretty good idea of what the best hand blenders could be capable of. Now all that is left is to choose the best hand blender in the UK for your specific kitchen and personal needs.
We think the Russell Hobbs 24702 is the best immersion blender available on the market today. It features a 500-watt motor, stainless steel blending wand, comes with a chopper, whisk, beaker, and blending bowl included, and is both easy to use and clean.
It might not be the most compact or durable hand blender, and the handle could be large for smaller hands, but we really like it as a great all-around choice, and we think you will too.
Let us know what you think in the comments below!
Additional Resources
Emily is a woman of many talents. She has a B.A. in English and enjoys writing. Emily loves accessorising her home with quality products that not only serve a purpose but also enhance the overall convenience and tranquillity of her living space; there's nothing like coming home to your own personal sanctuary after a long day! She loves anything that can make life easier or more comfortable—from dishware to furniture to lighting fixtures.