Last Updated on
Our editors independently research the best products online to produce this list. We may receive commission on purchases made from the links below but this will never affect our product choices.
---
Top 10 Best Copper Pans
Durable, excellent heat conductors, and visually appealing, copper pans are often classed as the best and most preferred cookware. However, they come with a hefty amount and some maintenance.
Copper coloured pan sets are an excellent alternative to add a touch of class to your kitchen décor without spending much. They are also much easier to maintain than pans made from premium materials without extensive polishing. Here's our guide to choosing the best copper pans in the UK to help you find the best set for your kitchen.
How We Compared Copper Pans
To find the right copper pans we considered multiple factors including:
Constructions
Style
Set contents
Ease of cleaning
Hob suitability
Our editorial team carefully researched and selected products that would suit a wide range of needs to take your kitchen experience to the next level. We set out this list after assessing customer reviews and evaluating pros and cons in line with the above comparison points.
Find more about our behind-the-scenes process here.
Copper Pan Reviews
Our editor's choice and overall best copper pan in the UK is this high-performance pan set by Sineuri RCS-Tech made with real copper coating.
These 10-piece aluminium pans with a copper-infusion coating have everything you need to update your cookware collection. These include a 20cm frying pan, a 22cm frying pan, two saucepans, one stockpot, a steamer basket, and four lids. Dishwasher safe and treated with a ceramic non-stick coating, these pans are very easy to use and clean, saving you time and hassle. 
If you struggle with heavier old-fashioned real copper pans, you may want to try this set. Thanks to the long, ergonomically shaped, riveted handles, these copper pans are much easier to use and maintain. What's more, this set is extremely worthy considering its popularity and performance.
Unfortunately, the non-stick ceramic coating may not last very long with highly regular use, although the same is true for most similar pans. Also, remember that water may get trapped inside the handles during washing, so make sure you angle them correctly for drainage before use.
Pros:
10-piece set
Copper-infused coating
Dishwasher safe
Very lightweight
Cons:
The non-stick ceramic coating could be more durable
Water may get trapped in handles
Are you looking for a great value pan and bakeware set resembling genuine copper? If so, our luxury choice, the Gotham Steel Hammered Copper Collection is well worth considering.
This comprehensive cook and bakeware 15-piece set includes two frying pans with one lid, three saucepans, all with tempered glass lids, a stainless steel steamer, a bread pan, plus one large baking tray, a muffin tray, and two small trays. This is ideal if you are looking to upgrade your entire cookware collection.
Thanks to their solid aluminium construction, these non-stick pans heat up quickly and evenly, plus they are also oven safe up to 260°C, including the lids. The sturdy stainless steel handles are designed to stay cool and are firmly riveted on for extra durability. Dishwasher safe and compatible with all hob types, this handy set is good for kitting out any home kitchen.
On the downside, the Ti-Cerama non-stick coating may be scratched easily, so great care is needed when using these copper-coloured pans. This could make them less durable compared to some other models.
Pros:
15 piece pan and bakeware set
Solid aluminium construction
Ti-Cerama non-stick coating
Dishwasher safe
Cons:
May scratch too easily
It may not be the most durable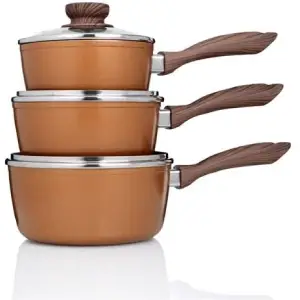 This Copper Stone Saucepan Set from JML will certainly stand out in any kitchen by combining a stone-effect interior with a copper-coloured exterior and wood-effect handles.
With three saucepans and matching glass lids sized at 16cm, 18cm, and 20cm, you'll be able to cook a wide variety of dishes, from soups and stews to pasta and braised beef. Thanks to their ultra non-stick lining, these copper pans are easy to clean and long-lasting.
Moreover, you can use these copper saucepans on all hob types, including induction, since they are made from a fast-heating aluminium core with stainless steel base plates. While you may wish to have them out on display when not in use, as they are stackable, they can also be easily stored in your kitchen pan drawer or cupboards.  
While you can wash these copper-effect pans in the dishwasher, they will invalidate their warranty. Hence, it would be best to hand wash only. Also, as the handles are screwed on rather than riveted, you may find that they may work a little loose with regular use.
Pros:
Three saucepans with lids
Aluminium core with stainless steel base
Stackable
Ultra non-stick lining
Cons:
Screwed on handles may work loose
May prefer to handwash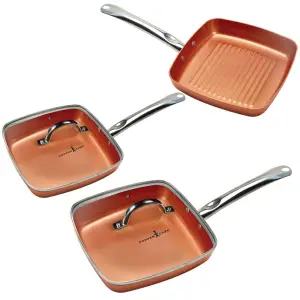 The Copper Chef Frying Pan Collection is our top choice if we're all about square-shaped copper-coloured pans.
Ideal for frying, sautéing, and searing, this set consists of three square frying pans, sizes 20cm, 24cm, and 28cm, plus two glass lids. These frying pans feature a Cerami-Tech non-stick coating for easier cleaning and healthier cooking and can be washed in your dishwasher. 
Thanks to their thick layer of stainless steel at the base, you can use these pans on all hob types, including induction hobs. Heat-resistant up to 450°C, these pans feature long riveted ergonomic handles for easier control and a comfortable grip when flipping and sautéing your favourite dishes.  
With regular use over high heat, you may find that the bottom of these lightweight pans buckles, creating a raised area in the centre. Also, the non-stick coating could be more durable to allow you to cook for several months longer without adding oil.
Pros:
Five-piece set
Stainless steel induction plates
Cerami-Tech non-stick coating
Dishwasher safe
Cons:
The non-stick coating could be more durable
The base may rise in the centre with the use
This copper-coloured aluminium set is the best choice if you are looking for an all-in-one set complete with accessories, coming complete with a steamer tray and frying basket for extra cooking options.
Aside from the accessories, this nine-piece set includes two frying pans (20cm and 25cm), three saucepans (5.5L, 2.6L and 0.95L), plus two glass lids for the larger saucepans. These pans, made from fast-heating aluminium with an induction-compatible base made from stainless steel, can be used on all hob types and are even oven-safe up to 450°C.
Dishwasher safe for easy cleaning, this Copper Chef pan set features securely riveted handles for your safety and ease of use. Treated with a Cerami-Tech coating to ensure that your food does not stick, this comprehensive set is well worth trying out if you want to add some copper colour to your kitchen without cleaning a real copper pan set. 
Make sure that you have a set of potholders to hand when using this set, as the handles may get very hot. Also, take care when handling and storing these pans to ensure that you do not chip the copper-coloured coating.
Pros:
Nine-piece set
Aluminium with stainless steel induction plates
Ceramic non-stick coating
Riveted handles
Cons:
Handles may get very hot
The copper-coloured coating may chip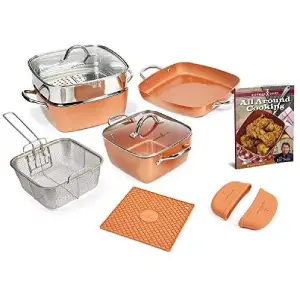 Are you looking for a copper effect casserole set? Copper Chef's popular comprehensive pan set comes with everything you'll need for cooking up hearty dishes.
The set, consisting of 12 pieces, includes three square casserole pans plus two lids, an extender ring, a steamer tray, a frying basket, a silicone mat, silicone pot holders, and even a recipe book. In addition, the pans feature a fast-heating aluminium core complete with stainless steel plates for use on your induction hob.
Oven-safe up to 450°C, these pans can be used on your hob and transferred to your oven to finish off. Riveted sturdy side handles make these non-stick pans easy to carry with the included pot holders, while the set is also dishwasher-safe for your convenience. 
As with most similar pans, you may find that the copper colouring chips away with regular use, so providing extra care is essential to maintain this set's looks. You may also find that some pans buckle at the centre, causing your oil to flow to the edges and your food to stick.
Pros:
12 piece set (incl accessories)
Aluminium core
Stainless steel induction plates.
Ovenproof pans up to 450°C
Cons:
Pan bases may not be flat
Copper colour may chip away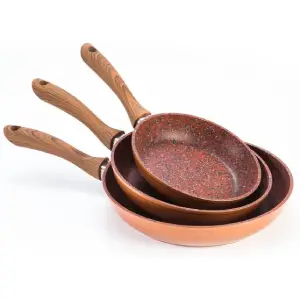 If you are looking for copper stone frying pans, this set by JML could be just what you need! These unique-looking copper and stone effect pans, featuring forged aluminium bodies with stainless steel bases, are a surprisingly popular choice.
This set consists of three frying pans sized 20cm, 24cm, and 28cm in diameter, making them suitable for cooking many dishes. Thanks to their cutting-edge PTFE-free non-stick coating, these copper frying pans benefit from anti-scratch technology, making them more durable than many competitors. 
These copper stone pans could match kitchen switch wood-effect counters or accessories with their wood-effect handles. Their golden exterior colouring certainly makes them stand out from regular cookware.
Bear in mind that the copper-coloured outer layer of paint may flake off with use. Also, as only one large lid is included with this set, you may wish to purchase some additional ones for the medium and small frying pans, depending on your needs.
Pros:
Three copper-coloured frying pans
Forged aluminium body
Stainless steel base
Durable PTFE coating
Cons:
Copper-coloured paint may flake off with use
May wish to purchase additional lids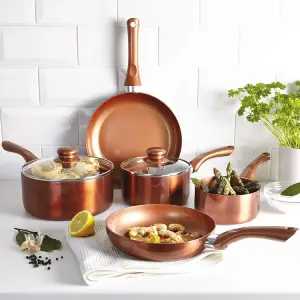 The Urbn-Chef Cookware Set is a good practical choice for most home kitchens, being both dishwasher-safe and oven-proof up to 160°C
This set includes five pans: a 24cm frying pan and a 28cm frying pan, plus three saucepans (14cm, 16cm and 18cm) with two lids, making it a very comprehensive cookware set. Made from 2.5mm high-quality ceramic-coated aluminium with a metallic copper exterior coating and a stainless steel induction base, these pans can be used on all hob types.
The non-stick ceramic coating is durable and more resistant than many similar pan sets thanks to their anti-scratch technology, making it a good choice for regular use. Moreover, the ergonomically designed soft-touch handles are easy to hold and ensure a safer, more secure grip.
On the flip side, these pots and pans may be less suitable for use with gas hobs as the flames may melt the handles. Also, with use, the copper-coloured exterior coating tends to fade, especially when used at high temperatures.
Pros:
Five pans plus two lids
2.5mm ceramic-coated aluminium with copper exterior
Dishwasher safe
Oven safe up to 160°C
Cons:
Maybe less suitable for gas hobs
May easily lose copper colour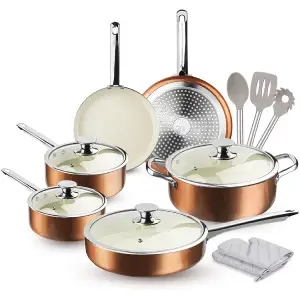 This copper-effect ceramic cookware set by Fruiteam is a good choice if you are looking to replace all of your pans in one go, featuring 13 pieces, including silicone cooking utensils.  
With two frying pans (22cm and 28cm), one sautés pan plus lid (25.4cm), and three saucepans (4.28L, 2.66L, and 1.43L), you'll have a suitable new pan for all of your favourite recipes. Thanks to their three-layer bases, they are ideal with all stove types, plus this set is also oven-safe up to 450°C.
This ceramic copper pots and pans set features a premium non-stick interior for easier, healthier meals with little or no oil. Also, unlike lesser quality models, these pans have riveted handles, making them much safer and longer-lasting than some screw-on handle models.
Despite these pans' high levels of thermal conductivity, unfortunately, some of the pots and pans may not be compatible with all induction hobs. Also, the frying pans may be a little tricky to cook certain items with as they are slightly raised in the centre, which could cause pooling at the sides if you use too much oil.
Pros:
13 piece cooking set
Three-layer bases
Oven safe pots up to 450°C
Riveted handles
Cons:
Some items may not work on induction
May prefer flat-bottomed frying pans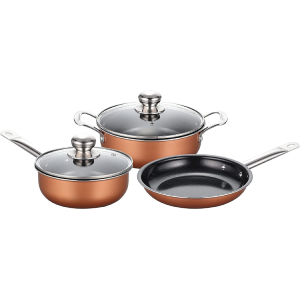 This copper inspired aluminium pan set by Nuovva is a handy compact set to own. This copper cookware set consists of five individual pieces and includes two saucepans, with glass vented lids measuring seven (17.78cm) and nine inches (22.86cm) in diameter, plus a frying pan. 
These copper style pans, featuring an aluminium core with ceramic non-stick coating and a stainless steel base, are suitable for use on all hobs and are even oven safe up to 450°C. In addition, the riveted stainless steel handles ensure a secure grip and extra longevity.
Unfortunately, some pans in this set may not work with all induction hobs, so try them before discarding the packaging. Also, as these pans are fairly compact, with the frying pan measuring just under 23cm, they may not be large enough for cooking two or family meals.
Pros:
Five-piece set
Riveted handles
Oven safe up to 450°C
Stainless steel bases
Cons:
It may not work on every induction hob
It may be too small for couples/families
The Advantages of Cooking With Copper Pans
Despite their hefty value in the global market, solid copper pans are popular in the kitchen, both at home and in commercial settings. While they have some drawbacks, there is plenty to love about authentic copper pans.
Unsurpassed Heat Conductivity
Copper is an excellent conductor of heat, making it fast to heat up and extremely responsive to changes in heat. As soon as you turn the heat down, your pan will immediately cool, unlike cast iron, which will continue to radiate heat. 
Even-Heat Distribution
As copper is such an excellent heat conductor, copper pans have even heat distribution throughout, without any hot or cold spots for more evenly cooked food. This is particularly important if you are precision cooking and want to ensure your food is heated at a precise temperature with no hot spots.  
Antimicrobial Properties
Did you know that copper kills bacteria? Despite being only recognised by the USA's Environmental Protection Agency as the first metallic antimicrobial agent, copper has been renowned for its germ-killing properties since ancient times. It was used extensively by the Ancient Egyptians, Aztecs, Romans, and Ancient Greeks.
Looks
Nobody can deny the aesthetic appeal of beautiful shiny solid copper pans. Aside from performance, copper pans look good. With use, your copper pans will develop a vintage-looking patina that may improve your pan's thermal efficiency. 
Durability
When appropriately cared for, a real copper pan will last for generations. You can even pick up antique copper pans that can still be used today after cleanup and being re-tinned. Hence, purchasing a copper pan is a true investment that you can pass down to family members for future generations to enjoy. 
Disadvantages of Copper Pans
Before you invest in your first piece of copper cookware, you should bear the following disadvantages.
Reactivity 
Copper needs to be lined, usually with a tin lining or stainless steel interior, to prevent it from reacting to acidic food. While tin tends to be non-stick, you'll have to be careful to make sure you keep temperatures low, ruling out searing due to tin's high melting point. Also, while incredibly hard-wearing and beautiful, a stainless steel layer is not the easiest to cook with if you are used to other non-stick pans.  
Handwashing and Frequent Polishing
Real copper pans cannot go in your dishwasher, and you'll need to polish them to keep them looking shiny regularly. Having invested several hundred pounds in a pan, caring for it becomes a labour of love for most of us. On the other hand, you may be tempted to stick with your regular pans for day-to-day cooking when you're busy and don't quite have the time. 
Sounds like too much hassle and expense? Alternatively, you could opt for an easy to care for copper-coloured cookware set to add a hint of class to your kitchen.
How to Choose the Best Copper Pans in the UK
Purchasing a copper pan is a major investment; you'll use your copper cookware for many years. Here's how to choose the right copper pans for your kitchen.
Construction
Aside from copper jam pans, which are 100% copper, all other types of copper pans will be lined with a non-reactive metal. This is to prevent the copper from reacting with your food. Traditionally tin was used, although today, stainless steel is a popular choice, and you can also find stainless steel pans with a copper core sandwiched between two layers of steel.
Look out for pans with copper layers between 2-2.5mm thick. This will ensure that you benefit from copper's excellent heat conductivity. If you have an induction hob, you'll want to opt for the best copper cookware with a stainless steel induction plate base, as copper alone will not work on induction hobs. 
Set Contents
If you are looking at purchasing a set of copper pans rather than individual pieces, make sure you choose a set that fits your needs. For instance, some sets consist of saucepans only, with others focusing on frying and sauté pans, whereas larger copper pan sets will have a selection of both.
One word of advice, if you are not familiar with buying cookware and the different sizes, make sure that you measure your existing pans to get a better idea of their actual size. While an 8cm frying pan may look large in a publicity photo, in real life, you may be surprised to find you'll only have enough space to fry a single egg! This is not ideal if you wish to use it for cooking a family meal.
Suppose you are shopping for a copper pan set you can use for various dishes. We highly recommend selecting a collection that includes 16cm and 18cm saucepans. These sizes are ideal for cooking pasta, making sauces, and one-pot meals. Don't forget a 24-26cm frying pan, a good all-purpose size. Your copper saucepan should also come with a lid, or there should be an option to purchase some. 
Depending on your household composition, a second frying pan can also be helpful, either a larger one with higher walls and a lid floor sautéing or a smaller one for cooking individual portions. 
Handles
Don't underestimate the importance of good handles! Your pan's handles should be securely attached, ideally either welded or riveted, to prevent any movement, which could cause burns when transporting hot liquids in your copper pan. Handles should have a comfortable grip, be made of premium materials, and stay as cool as possible, although pot holders may be advisable with high-temperature cooking. 
Design
It's only natural that you'll want one that aesthetically and functionally appeals to you. So we understand that you'll prefer to buy a solid copper pan more than its design features, such as owning a copper pan set that will last for years.
Traditionally, you'll find two finishes, smooth or hammered copper cookware. Aside from the finish, handles, rivets, and form can all add to the looks of your copper pan and manufacturer branding. Take your time looking through what's available before purchasing your copper cookware. 
Get Your Ideal Copper Pans!
While copper pans are beautiful to look at and a great choice for cooking temperature-sensitive dishes, they also require regular maintenance. If you are looking for an alternative to traditional copper pans, then the Sineuri RCS-Tech Copper Infused Pan Set makes an excellent choice – easily the best copper pan set in the UK.
This 10-piece pan set features two saucepans, one stockpot, two frypans, and a steamer basket, ready to cook every family recipe. This pan set, made from fast-heating aluminium with a non-stick ceramic interior and a copper-infused exterior coating, is easy to use and dishwasher safe. 
Additional Resources