Last Updated on
Our editors independently research the best products online to produce this list. We may receive commission on purchases made from the links below but this will never affect our product choices.
---
Top 10 Best Coffee Beans
If you're here for all things coffee, we've got you covered. With coffee consumed worldwide, it won't come as a surprise that there is a huge variety to choose from, all with different flavours, sources, and recommended uses.
The variety of flavour is overawing, but what flavour would the best coffee beans in the UK consist of? What blend would it comprise, and how velvety would its crema have to be the nation's favourite? 
Overall, there's a lot to consider when picking out the best coffee beans, especially for UK coffee lovers! Luckily, we've provided some noteworthy picks (and a favourite) to make navigating the coffee verse a little easier. Here are some of the best coffee beans for coffee lovers out there. 
How We Compared Coffee Beans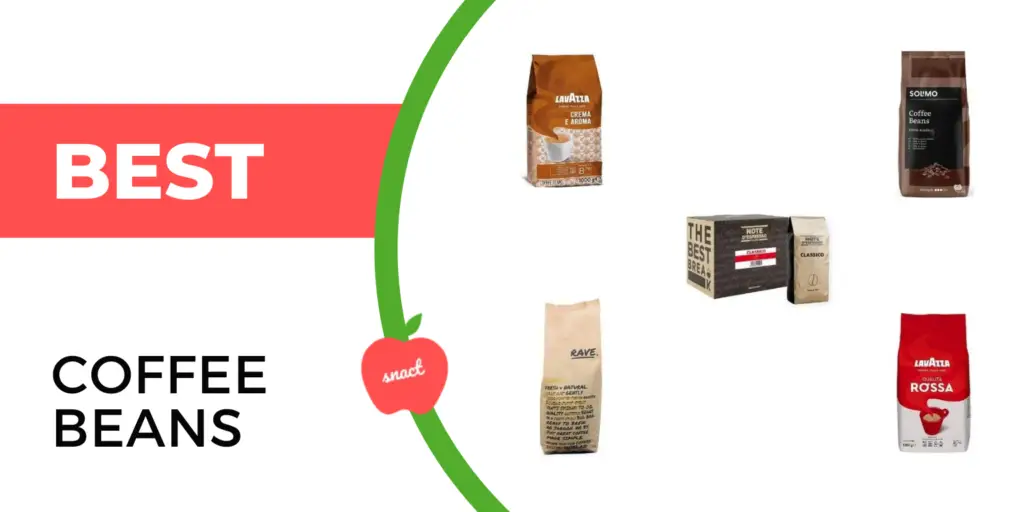 To find the right coffee beans we considered multiple factors, including:
Varities
Single origin coffee or blend
Roasted or charred
Our editorial team carefully researched and selected products that would suit a wide range of needs to take your kitchen experience to the next level. We set out this list after assessing customer reviews and evaluating pros and cons in line with the above comparison points.
Find more about our behind-the-scenes process here.
Coffee Bean Reviews
Welcome to Italy, a booming coffee industry that invented the espresso machine! Hailing from Torino, Italy, Lavazza Coffee is a reputable brand producing nothing short of the best tasting rich Italian coffee beans. In a kilogram of their Crema e Aroma coffee brand, you are met with a blend of the best coffee beans for latte drinks from South America, Africa, and Asia. 
The medium-roasted coffee beans feature the mellow notes of pure Arabica coffee beans, accompanied by the earthly tinctures of Robusta beans, which are then infused with trickles of chocolate. Whether you brew coffee from a machine or French press, you can savour the cream and lasting fragrance in your morning sips or casual espresso. 
The blend has been reprimanded for its mostly mild taste, which contradicts its proclaimed level 8 intensity. In the same breath, other criticisms denounce a char-like taste in the blend. 
Pros:
A fragranced coffee brand with a lush cream-like taste
Best ground coffee beans for lattes and cappuccinos
Great for any time of the day
Beans retain flavour even when diluted
They're vacuum package for fresh and long-lasting beans
Cons:
There may be slight inconsistencies with bean appearance
Beans may vary in flavour; either they're too bitter or too mild
There may be infiltration of knock-off products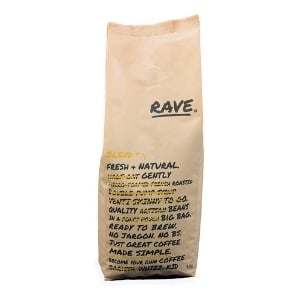 Rave Coffee is prized for its high-quality coffee beans, and 'The Italian Job Blend' is no exception garnering some of the best coffee bean reviews. Roasted in the heart of Cotswolds, this coffee comprises top selections from farms all around the world. 
Their coffee beans are roasted in batches daily to make their distinctive Continental Blend. By the influence of Robusta beans and a dash of rich dark chocolate and cocoa, The Italian Job tastes a little darker than their usual blends; this is why it maintains its rich flavour even when diluted. 
It's also worth mentioning that the beans have a slight oiliness and may require coarser grinding. Other than that, Rave Coffee has an eye for distinction and the aim of sustainable production, which they fulfil by making an effort to ethically source the best coffee beans that serve a fulfilling brew. 
Pros:
These coffee beans are freshly roasted and dispatched on the same day
Conscientious packaging; natural kraft bags with foil and LLDP barriers
Nitrogen flushed coffee beans to prevent oxidation and ensure long-lasting freshness
Coffee beans have a savoured nutty and chocolatey taste
Coffee beans can be frozen to extend freshness
Cons:
Coffee beans may be slightly oily
There may be quality differences between direct and indirect purchases from Rave Coffee
Coffee beans may have a slightly bitter taste that can be uninviting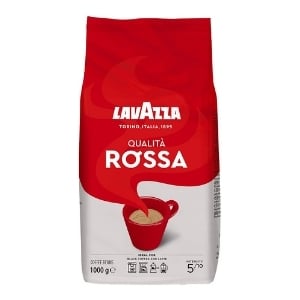 With its rich and flavorful blend and a coffee brand that we trust, Torino's Lavazza coffee lands on the list as a second feature of the brand. Qualita Rossa is the ideal blend for your morning brew or espresso, and it fares well under many means of preparation, from a filter coffee machine or espresso machines to moka pots.
The blend of Robusta and Arabica beans gives the coffee its robust flavour, layered in dried fruit and chocolate strokes. The medium roast and burst of flavours provide the coffee beans their level 5 intensity, meaning that they aren't bitter but can hold their taste with or without dilution. 
Unfortunately, some people have complained of slight flavour inconsistencies, so you may be disappointed if you are a recurring buyer. This is also the case if you buy directly or indirectly, but this hasn't been confirmed and is only based on personal experiences.
Pros:
These rich Italian coffee beans have a full-bodied taste with fragrant flavours
Coffee beans may be strong but not bitter
Versatile; the best coffee beans for lattes and cappuccinos
Beans aren't oily; therefore, they may be easier to grind
Packaged in recyclable and resealable packaging
Cons:
Their packaging can be troublesome
There may be slight flavour inconsistencies
There may be slight quality differences between direct and indirect purchases from Lavazza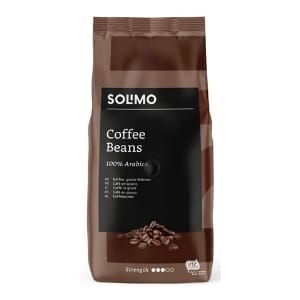 Environmentally friendly and palatable are the attributes of a cup of coffee by SOLIMO. The coffee beans are 100% roasted Arabica beans, sugar-free, and have a subtle strength. What makes these coffee beans so unique is their impact on the environment; SOLIMO is a UTZ certified brand, meaning that their coffee beans are sustainably farmed. 
UTZ is the most extensive program for sustainable coffee and cocoa farming and actively fights against climate change whilst improving farmers' livelihoods. At the same time, the taste of SOLIMO's coffee beans is regrettably forgetful and struggle to have character without their environmental causes. 
Nonetheless, their level of duty to the environment makes their coffee beans a drink to better the industry. 
Pros:
Carefully packaged to ensure freshness
UTZ and Rainforest Alliance Certified
Moderate strength and consistent taste for a smooth drinking experience
Generous serving 
Enhance the taste with milk, flat whites, and cappuccinos
Cons:
Drinking too often may get boring
The coffee isn't as 'full tasting as some coffees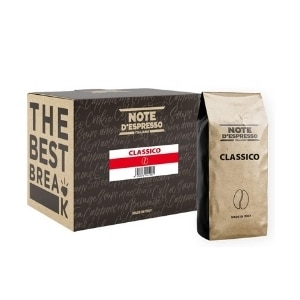 Classico's Note d' Espresso coffee beans blend Arabica from Brazil and Honduras, as well as Robusta from India and Uganda. The blend prides itself in a high intensity marked by lingering acidity to enthral your mornings or enliven you during the day.
Its resounding aftertaste proceeds the traces of chocolate and nuts that maintain their taste when paired with milk. This is why it is the ideal base for your lattes and cappuccinos; if you're not too big on those, it still has a pleasant crema and espresso. 
Some may find that the beans can be quite bitter, but that's normal for this kind of blend.
Pros:
These Arabica coffee beans have a full-bodied taste with fragrant flavours
It makes great espresso and americano
Great in lattes and cappuccinos
Quality selection of beans
Cons:
Beans can be too bitter
There may be potential difficulties with grinding whole beans
There may be a pungent smell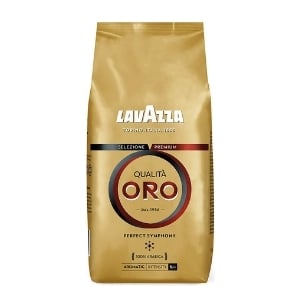 Returning once more is the Italian classic with their golden quality blend of beans. Lavazza Oro is characterised by its intense Arabica flavour, roasted to make nothing but the best espresso. 
The golden quality boasts a sweet and enduring taste coloured with fruity and floral notes. With that being said, it could be on the mundane side of tastes if you prefer something complex. 
Despite this, these quality beans are easy to grind and are perfect for use in drip coffee machines, a french press, or even a moka pot. What's more, this 1kg bag is responsibly packaged in recyclable material and is even resealable for your convenience.
Pros:
Beans are easy to grind
Consistent taste and texture
Their Arabica beans make great espresso
Resealable bag
Perfect for a range of brewing methods
Cons:
The flavour profile can be bland
There may be quality differences between direct and indirect purchases from Lavazza
This Brazilian coffee makes all the right moves to take its place on our list of great beans. Could this South American gem be the best coffee bean in the UK? 100% Arabica beans, medium roasted, and ethically sourced from Brazil's Mogiana Region create a full-bodied flavour that is perfect for cafetières.
The Espresso Roast is fairly intense and laced with tastes of almonds and dark chocolate. Presto House could work on their labelling of roast dates; however, we are happy to let this slide as they work hard to reduce their impact on the environment.
Pros:
They boast a long-lasting aroma
Great for espresso-based drinks
They're packaged in a recyclable and resealable bag
Beans are easy to grind
100% Arabica beans produce a full-bodied flavour
Cons:
Roasting of their Arabica beans may be inconsistent
Labelling of roast dates may be inconsistent
Coffee makers, Spiller and Tait, produce one of the best organic coffee beans in the UK. The Signature blend features Arabica coffee beans sourced from South America, Africa, and India, brought to the UK to be carefully roasted in small batches. The attention to detail makes the Signature blend stand out; roasting in small batches has ensured the award-winning flavour and fragrance garnered by the brand.
You can savour a cup of this brew at any time of the day, in any way you'd like it prepared; AeroPress or stovetop espresso – the choice is yours. Bear in mind that Spiller and Tait pride their coffee beans in being a rarity, so getting your hands on the exclusive kilogram might be a task.
Pros:
Premium quality coffee beans

Experiencing the award-winning flavour
Nitrogen flushed for long-lasting beans
Attentive Customer service
Versatile preparation methods
Cons:
Coffee production may sell out fast
There may be quality differences between direct and indirect purchases from Spiller and Tait
Taylors of Harrogate is another runner-up for the best coffee beans in the UK with their 'Rich Italian' flavour. A fourth-level roast of nothing but pure Arabica coffee is rich and refined, designated for sips after a meal.
Inspired by the deep roasts of Northern Italy, Taylors of Harrogate aim to give their coffee beans a regal edge by delivering dark chocolate and almond flavours for a luxurious brew. You are also invited to grind the beans to your palate's content; a coarse grind will be perfect for a French press, a medium grind for filter coffee, and a thorough grind for espresso.       
Unfortunately, some customers have complained of an inconsistent flavour profile, but this could also be affected by storage and brew conditions. Make sure you store your coffee in an airtight container to make it last longer.
Pros:
Conscientious production; Rainforest Alliance Certified
Great for lattes, cappuccinos, and flat whites
Clean grinding 
Can be frozen
Memorable aroma and flavour
Cons:
Labelling may be inconsistent
The flavour profile may be inconsistent
From the coast of Santos, Brazil, to the Mountains of Central Africa, coffee beans make their way to be blended to make AROMISTICO, the intense, artisanal dark roast coffee. Formally Italian, the eclectic brand boasts a malty and smoky roast of Arabica and Robusta with hints of chocolate.
Though their range of coffee beans is extensive, AROMISTICO trademarks their craft with a reappearing aftertaste in each one of its blends. You can prepare this dark roast in any coffee maker you prefer.
What's more, for every 10kg of AROMISTICO coffee they sell, they plant another coffee tree in Tanzania, boosting the local economy.
Pros:
Strong flavour and lasting fragrance
Great beginner coffee
It can be stored in the fridge
Great for a range of brew methods
High-quality bean production
Cons:
The flavour profile can be too bitter
Different preparation methods may yield different tastes
Buyer's Guide: Some Coffee Tips and Tricks
How to Select Good Coffee Beans
Coffee bean grounds come in various flavour notes and intensities, each bearing its speciality. However, it's important to know what makes a good coffee bean so that you can assess the quality before you go ahead and buy the best tasting coffee beans to brew that perfect cup.
The Main Beans – Arabica and Robusta
There are two main varieties of coffee beans; Arabica and Robusta. Arabica is low in acidity and has a delicate flavour which makes it great for everyday consumption. Robusta beans are usually grown in harsh weather with little water; this makes them more economically favourable. They have a more bitter and acidic flavour which lend blended coffees a richer taste; you can also find them in instant coffee blends. 
Quality and flavour are enriched even in a single type of bean. Varying flavour in the resultant cup is often due to unpredictable process methods and growing conditions. When grown on one location as compared to the other, the successfully grown coffee bean takes on a completely different set of characteristics.
Arabica Beans
Arabica Beans are often considered superior in taste as compared to Robusta despite containing less caffeine. Arabica beans exhibit a sweeter and smoother taste with notes of sugar and chocolate. They often host hints of fruit flavours like that of berries. On the contrary, Robusta seems to have a harsh, strong, and more bitter taste with overtones of grain or rubber.
Typica, which is one of the two varieties of Arabica, is regarded as New World original coffee. Its highly eclectic flavour and low-yielding variety are quite appreciated for its fabulous cup quality. The other variety of Arabica- Bourbon is often admired for its balanced and complex aromas.
Robusta Beans
Robusta is known to produce a better crema; hence it is widely used in espresso blends. It's a super-powerful pack of caffeine! Produces better yields and is more resistant to disease. Chlorogenic acids and the amplified caffeine content together impart coffee's high flavour profile.
Single Origin Coffee or Blend?
Single-origin coffee refers to coffee from one location, and high-quality coffees are particularly single origin. This is because the intricacies of a single-origin coffee are unique to its location; for example, African coffee has a distinctive fruity and floral taste; Ethiopian coffee, specifically, has a trademarked blueberry flavour. 
However, single-origin coffee is only as great as its roast, and not all are compelling alone, which is why we have coffee blends. Some coffees need a contrast while others require a complement, and high-quality blends seek to fill in those gaps. Most coffees on the market are blended to maintain a consistent taste and steady supply, whereas single origin coffees have varying supplies.         
Roasted or Charred?
There are many misconceptions about the roasting process, from what it does to the coffee beans to how it affects the taste and caffeine content. For starters, coffee beans start green. As they are being roasted, the internal sugars are being caramelised, so darker coffee has an intense burnt taste. 
Nonetheless, the burnt taste doesn't imply that there's more caffeine. In fact, there's less caffeine because it's been burnt off; so, if it's caffeine you seek, look to lighter roasts. Light freshly roasted coffee maintains its regional characteristics, such as a berry or chocolate note. 
Medium-dark roast coffee loses some of its acidity. It develops a toastier flavour that slightly subdues the regional flavours, and roasted darker coffee barely has any noticeable regional characteristics, but it is favoured for roast quality.
How Do You Brew?
Thankfully, unlike pre-ground coffee, whole bean coffee is flexible with preparation methods; however, some roasts pair better with specific methods. Light-medium roasts are best served with the filter method, and medium to dark roasted coffee is best prepared in a French press or on a stovetop and served as an espresso or bitter chocolate!
Great coffee has been the go-to beverage for more than half the world's population for decades. With such popularity, it isn't a surprise that it has its fair share of critics. Although coffee generally has a good reputation, so why not reinforce it by telling you how you benefit from your coffee beans and how else you can use your grounds.
Benefits of Drinking Coffee
You Live Longer
The AARP and National Cancer Institute have reported that drinking either decaffeinated or caffeinated coffee can help prevent early death. This is due to the reduced risk from fatal diseases that coffee beans contribute. 
Lowers Your Risk of Cancer, Especially Skin Cancer
Coffee was suspected to be a carcinogen for some time until studies showed that regular coffee drinkers were 40 to 50 per cent less likely to develop liver and prostate cancer than people who didn't drink coffee.
With regards to skin cancer, which is one of the most common and fatal cancers, coffee drinkers who consume a minimum of four cups are 20 per cent less likely to develop skin cancer. It's important to note that decaf drinkers do not have the same advantage.
Lowered Risk of Type 2 Diabetes
By drinking as much as five cups of decaf or caffeinated coffee a day, you reduce your risk of developing type 2 diabetes. This is partly due to antioxidants such as CGA, which also even out insulin levels.  
Enhances Energy Levels
Coffee is known to boost energy levels, thereby making people feel less tired. This is due to the presence of a stimulant called caffeine. Caffeine is broadly consumed as a psychoactive substance.
After consumption, your bloodstream tends to absorb caffeine, and it travels to the brain. As a result, the inhibitory neurotransmitter adenosine gets blocked in the brain. This leads to enhanced firing of neurons due to escalating rise of dopamine and norepinephrine.
Assists in Burning Fat
Caffeine is an ingredient that is omnipresent in almost every fat-burning supplement. According to the studies published, caffeine enhances fat burning up to 29% in lean people and 10% in obese individuals. However, the longtime coffee lover may yield diminished effects in the aspect of fat burning.
Drastically Enhance Physical Performance
Caffeine is a stimulant that signals the fat cells to break down fat, thereby stimulating the whole nervous system. Apart from that, it also escalates the levels of epinephrine (adrenaline) in your body.
Epinephrine is a fight-or-flight hormone that preps your muscles for physical exertion. It can enhance physical performance by 11-12%. It makes complete sense to sip in a strong cup of coffee before heading to the gym.
Protects your Liver
Our liver is an essential organ that carries various crucial life functions. It is primarily affected by fatty liver disease, Hepatitis, and a variety of other diseases. These conditions lead to cirrhosis.
By drinking coffee, you may protect your liver against cirrhosis. According to the studies published, people who drink 4 or more cups of coffee per day have an 80% lower risk of developing cirrhosis.
Can Make You Happier by Fighting Depression
Depression leads to reduced quality of life and is a serious mental disorder. According to a Harvard study, females who drank 4 or more cups of coffee per day have a lower risk of up to 20% of getting depressed. It can also dramatically reduce the risk of suicide.
Creative Uses for Your Coffee Bean Grounds
Use It as Fertiliser
Coffee bean grounds contain various minerals, namely; nitrogen, calcium, iron, potassium, magnesium, and chromium, that would be beneficial to your plant and garden soil. The grounds also attract worms which make for great compost while simultaneously absorbing contaminating metals in the soil. 
It's also thought that coffee grounds will deter ants from going near your plants, so if you have persistent ants that are affecting your greenery, your grounds could kill two birds with one stone.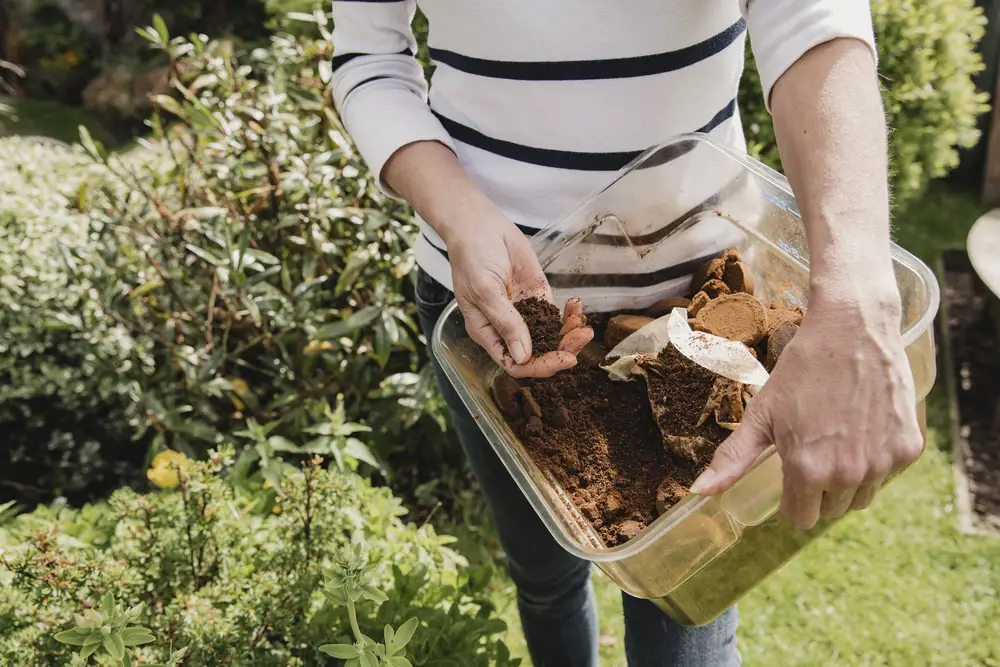 Odour Absorbent
The nitrogen in coffee grounds gives them the ability to absorb foul odours in the air. Places you can put your used coffee grounds are in the fridge or freezer to neutralise any strong scents. You can also place them in shoes and clothing cupboards to absorb any odours and maintain freshness.
Skin Exfoliator
Coffee bean grounds have a coarse texture and contain antibacterial properties, which make them an ideal skin exfoliator. It can help remove dead cells and dirt off the skin and provide sun-protecting antioxidants. Coffee grounds also exhibit potent antioxidant properties that protect the skin from extreme sun damage.
Reduce Cellulite
Cellulite is a condition that affects nearly 80-90% of women. It gives skin a lumpy, dimpled appearance. On topical application of coffee grounds, the fat deposits under the skin are broken down, thereby increasing blood flow to that area. Therefore, it decreases the appearance of lumpy cellulite on the skin. Scrub simply with coconut oil or water for 10 minutes twice a week on the affected areas.
The Winning Coffee
Although many of these coffees would help to keep us away from our favourite coffee shop, there's only one choice for the best coffee beans in the UK – Lavazza's Crema e Aroma, which is first on the list. 
Let us recount the taste of this Arabica and Robusta blend; a medium roast with smooth sips that end with a spell of chocolate- how delightful. Another great feature of this coffee is that it's a great blend for novice drinkers in that it has welcoming attributes while maintaining its competence as a classic coffee. 
Lavazza has been in business for over a century, so their experience has seen them through in this case, but if the Crema e Aroma isn't your style, there are nine and more speciality coffee beans for you to explore.    
Which is your favourite coffee? Do you prefer single origin, medium roast, coarse grind or do you buy ground coffee and don't bother with the grinding process? Share with us in the comments!
Additional Resources