Last Updated on
Our editors independently research the best products online to produce this list. We may receive commission on purchases made from the links below but this will never affect our product choices.
---
Top 10 Best Bread Bins
The best bread bins are a great way to reduce clutter and save counter space while at the same time adding an element of design interest into your kitchen. They are also the perfect solution to reducing waste from bread and baked goods that have gone either mouldy or stale from being left out.
The trend for making homemade bread has also brought the need for keeping bread fresh to the fore as home-baked products do not contain the preservatives that shop-bought items do. So a well-designed bread bin can keep up to two fresh bread loaves plus other items fresh for longer.
There are many styles to choose from, from a metal bread bin to ceramic bread bin to wooden bread bin, to those with a bamboo lid or ventilation holes. So we have put together our list of the bread bins and our buyer's guide to give you practical information and tips to help you find the best bread bin in the UK for you!
Bread Bin Reviews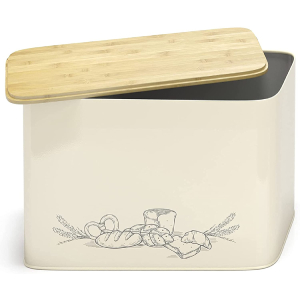 We have selected this Cooler Kitchen Bread Bin for our editor's choice award as it is a great size, competitively priced and has a bamboo cutting board lid!
With dimensions of 33 cm by 17 cm by 24 cm, this best bread bin has space for two standard-sized bread loaves, perfect for keeping your kitchen counter clutter-free! The cooler has also introduced a non-airtight lid that allows the moisture created by the bread to escape, which in turn keeps the crust of the bread crispy!
We also love that this vertical bread bin has a bamboo wood chopping board as its lid, so another great money and space-saving bonus to buying this top bread bin! Additionally, the whole bread bin is dishwasher safe making it incredibly easy to clean.
On the other hand, a major disadvantage of this bin is that the bamboo material may warp.
Pros:
Air circulation allows the bread inside to stay crusty
It can store two loaves
Bread bin with bamboo chopping board
Competitively priced
It can be cleaned in the dishwasher
Cons:
The lid may fall into the bread bin
There not being a handle on the lid makes it difficult to lift up 
The bamboo lid may warp
This sleek front-opening bread bin by Brabantia will complement the design and look of any kitchen! Its steel plate finish is modern and floorless and is the most stylish way of keeping bread fresh.
At 46.3 cm by 18.6 cm by 24.9 cm, this fall-front bread bin has plenty of capacity to hold two loaves and a flat top which means that you don't lose that storage space from your worktop counter! Additionally, the bread bin has hanging eyes built into the back, allowing you to hang it from the wall, saving even more space!
The bread bin is made from long-lasting corrosion-resistant metal, and you also get the benefit of the Brabantia 10-year guarantee when you purchase this item!
However, please note that this may not be as durable as you may expect as the metal is quite thin.
Pros:
It comes with the Brabantia 10-year guarantee
Rust-resistant materials
Flat top for additional storage
Hanging eyes to hang up rather than place on the worktop
Large capacity
Cons:
The metal may be thin and feel a little flimsy
There is no friction on the base of the bread bin so that it may move around on your countertop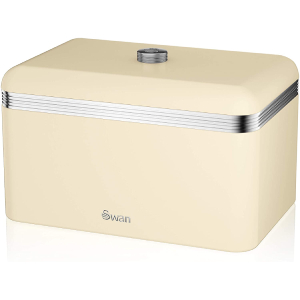 If you are looking for a lower-cost bread bin, then the Swan SWKA1010CN is the perfect option. It has a retro design that will look great in any kitchen and has a chrome-plated handle on the lid for easy access to the bread bin contents.
The stainless steel bread bin is colour-coated, inside and out, is available in 11 colour options and has a great capacity to store bread and baked goods for all the family. Its dimensions are 35.3 cm by 22.6 cm by 23.5 cm. A 2-year guarantee is available on this product, giving you complete peace of mind when you purchase.
Unfortunately, it does have some disadvantages. One thing to look out for is that the lid may be too shallow, preventing you from gripping well.
Pros:
Retro design
Large capacity
Colour-coated stainless steel finish
2-year guarantee
Handle on the lid
Cons:
The handle on the lid may be too shallow to grip well
The lid has a tight fit and may be difficult to lift
This bread bin by Lars Nysom has a lot to offer, from its bamboo lid, which doubles as a chopping board, to the food bag that is included when you purchase the item. We also love the minimalist design, making it suitable for almost any kitchen design!
There are ventilation holes on three sides of the white bread bin, ensuring that bread stays fresh for longer, and the linen bread bag also helps prevent mould. Unlike other bread bins, the lid becomes a robust, high-quality chopping board with grooves to collect the crumbs. The dimensions of this bread bin with chopping board included are 34 cm by 18.5 cm by 13.5 cm.
If you opt to go for this bin, one thing to look out for is mould. So, take extra care and effort when cleaning it.
Pros:
Holes for ventilation
Linen food bag for freshness
Sturdy chopping board lid
White minimalist design
Sturdy construction
Cons:
The height may not be sufficient for a freshly baked loaf of bread
The bag and lid may be susceptible to mould
This is one of the best largest bread bins in our top ten, at 44.5 cm by 17.3 cm by 26.2 cm, and can easily store two loaves of homemade bread. But it also comprises a flat roof so that you do not lose out on the storage space from your worktop.
The Brabantia roll-top bread bin does not take up any additional space when open as the roll-top door rolls into itself. Additionally, it is finished in matt steel which is sturdy and does not show finger marks! What's more, Brabantia offers a 10-year guarantee on its products so that you can purchase this bread bin worry-free!
On the other hand, please note that this bin is quite expensive. However, given all its features, it is safe to say that it is worth the price!
Pros:
Stainless steel construction
Roll-top bread bin
Space-saving bread bin with a flat top
Large capacity
The door rolls inwards not to use up additional space when open
Cons:
It may be at the upper end of the price range of our best bread bins
May struggle to hold two shop-bought large loaves
This roll-top bread bin by Morphy Richards merges style with practicality. The modern bread bin is large enough to store a standard loaf plus other baked items comfortably and is well ventilated to ensure that your products stay fresh.
The roll-top lid does not use up any additional space when open, and it has a large, sturdy handle to raise it. The contrasting lid and bin colour are stylish and practical, with the bread box being made from stainless steel. 
The dimensions of this bread bin are 39 cm by 27 cm by 19 cm, and it can easily be kept clean with a wipe from a damp cloth.
Unfortunately, like other metal bins, it is prone to denting, so you may need extra care.
Pros:
Modern design
Wipe clean
Stainless steel bread box
The roll-top lid does not take up extra space when open
Large handle to open the lid
Cons:
It may not be possible to store anything on top of the lid due to its curved design
Like other metal bread bins, it may be prone to denting
This small bread bin by Typhoon is the perfect size to help one loaf of bread stay fresh for longer. Its dimensions are 33.5 cm by 16 cm by 18 cm, and it is just the right bread bin for you if you don't have huge amounts of available space on your worktops!
The bamboo lid is made from responsibly sourced wood, and the bread box is made from a single piece of steel with a powder-coated colour over the top. Additionally, matching items are available to have coordinated kitchen storage for tea, coffee and sugar. The bread bin is easily cleaned by wiping it out with a damp cloth.
Meanwhile, a major drawback of this bin is that it may not have an airtight seal, which is an important feature when looking for a bread bin.
Pros:
Attractive design with matching items
Bamboo lid
Easily cleaned
Made from a single sheet of steel
Will not take up a large amount of worktop space
Cons:
The lid may fall into the breadbin
There is not an airtight seal around the lid and the bread box
This large roll-top bread bin by Morphy Richards gives you full and easy access to the bread box and bread within. The stainless steel is robust and has a mirrored, textured finish, giving it that extra element of interest and style.
At 39 cm by 18.5 by 28.3 cm, this is a large bread box with plenty of space to keep your bread and pastries fresh. It has a good height and depth to fit homemade bread, often higher than shop-bought bread.
Another feature that we like about this bread box is that it comes with non-slip feet and won't move around on your worktop like some other bread bins tend to do! There is also a 1-year guarantee provided.
However, please note that it might be a bit more expensive since it is packed with awesome features than other brands.
Pros:
1-year guarantee
Non-slip feet for stability
Interesting design with a textured finish
Stainless steel material
Large roll-top
Cons:
It might be on the upper end of the price range in our top ten bread bins
The lid may feel a little flimsy
The stainless steel finish on this bread box makes for a stylish finish and prevents any fingerprints from showing. The roll-top gives good access to the contents inside and doesn't take up any extra space when open.
The dimensions are 44 cm by 18.5 cm by 27.5 cm, which gives it a good capacity to store and keep your bread fresher for longer. The roll-top, when closed, makes this an airtight bread bin. Additionally, there are matching accessories to choose from in this range.
Like the other models, this bin also comes with some disadvantages. These include the roller lid may stick and feel flimsy on the sides.
Pros:
Stylish finish
Robust stainless steel material
Large capacity for bread
Roll-top for large access
It doesn't show fingerprints
Cons:
It may feel a little flimsy on the sides
The roller lid may stick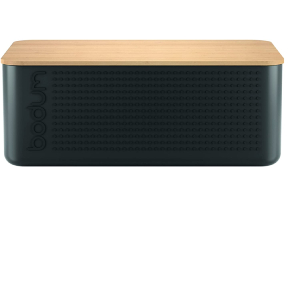 This large designer bread bin will be a good-looking addition to any kitchen! The bread box is made from BPA free plastic, which is safe to wash in the dishwasher, and the lid is made from bamboo and doubles as a chopping board!
The plastic container bread box has adjustable air vents built into it to keep your loaves fresh, and the lid has grooves to capture the bread crumbs and act as a cutting board. Additionally, its dimensions are 37.15 cm by 14.29 cm by 23.18 cm, making it large enough to hold a loaf of bread and other items as well!
However, please note that the cutting board may warp, common for bins made from bamboo materials.
Pros:
Attractive design
Bamboo chopping board lid
Adjustable air vents to keep bread fresh
This plastic bread box can be washed in the dishwasher
Large capacity
Cons:
The bamboo cutting board may warp
The height may not be suitable for fresh-baked loaves
Buyer's Guide
The best bread bin in the UK comes in all shapes and sizes, so it is important to decide upon a few key features before making your mind up!
Material
The main material for keeping your bread fresh is wood, durable carbon steel or plastic. 
A lot of your choice comes down to aesthetics and what kind of finish you like, but other factors to consider are: do you want your bread bin to be able to go in the dishwasher for cleaning? If you do, wood is probably not the right choice for you. What kind of lid do you want? For example, some lid types are not compatible with a wooden bread box.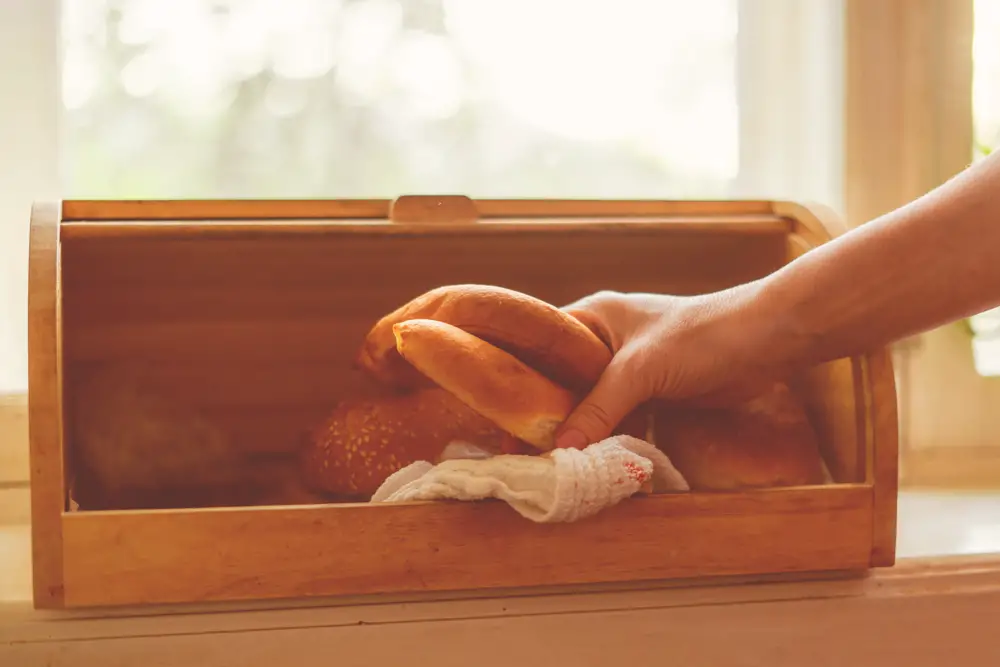 Lid Type
The common lid types that you can get are a flat top, often wooden, roll-top or front opening. Flat top lids will often double up as a chopping board, which is a useful feature, but you cannot place items on top of them for storage.
Roll-top lids are great space savers as the lid rolls into the bin, while front opening bread bins often have flat roofs, which allow you to place other items on top so that you don't lose the storage space. 
Any of the above will work to keep your bread fresh; it's just a matter of what works best for you!
Size
It is important to choose the right-sized bread bin for your household. Making a purchase, only to realise that you are still facing clutter with some items unable to fit, will frustrate you. So it is worth understanding the measurements and lid type before you buy!
Conclusion
We hope that the information we have provided in the top ten bread bins review and buyer's guide has helped you to decide on the best bread bins in the UK for you, but if you are still struggling to make your mind up, then why not go for our editor's choice – the Cooler Kitchen Extra Large Vertical.
It is our best bread bin in the UK because, unlike a fall-front bread bin, this bread bin has a flat bamboo lid, which doubles as a cutting board! The height of the bin means that either two loaves or a loaf of bread and other freshly baked items can be easily stored inside.
Unlike other bread bins, which use an airtight seal, this one keeps your bread fresh by allowing the moisture to escape, keeping your bread crust crispy! Additionally, it has a design that will fit into all most any kitchen, and it can be placed in the dishwasher to clean.
We hope that you will now be able to enjoy fresh crispy bread for much longer with your new best bread bin!
Additional Resources
Paul is the type of person who never met a problem he couldn't fix. He can always be found tinkering with something in his house, even if it isn't broken! His tips and tricks are often shared on our site. He's the one you call when something breaks because he has been known to improvise fixes for everything from leaky faucets to malfunctioning dryers.